Harry Pottery And The Chamber Of Secrets - Book Review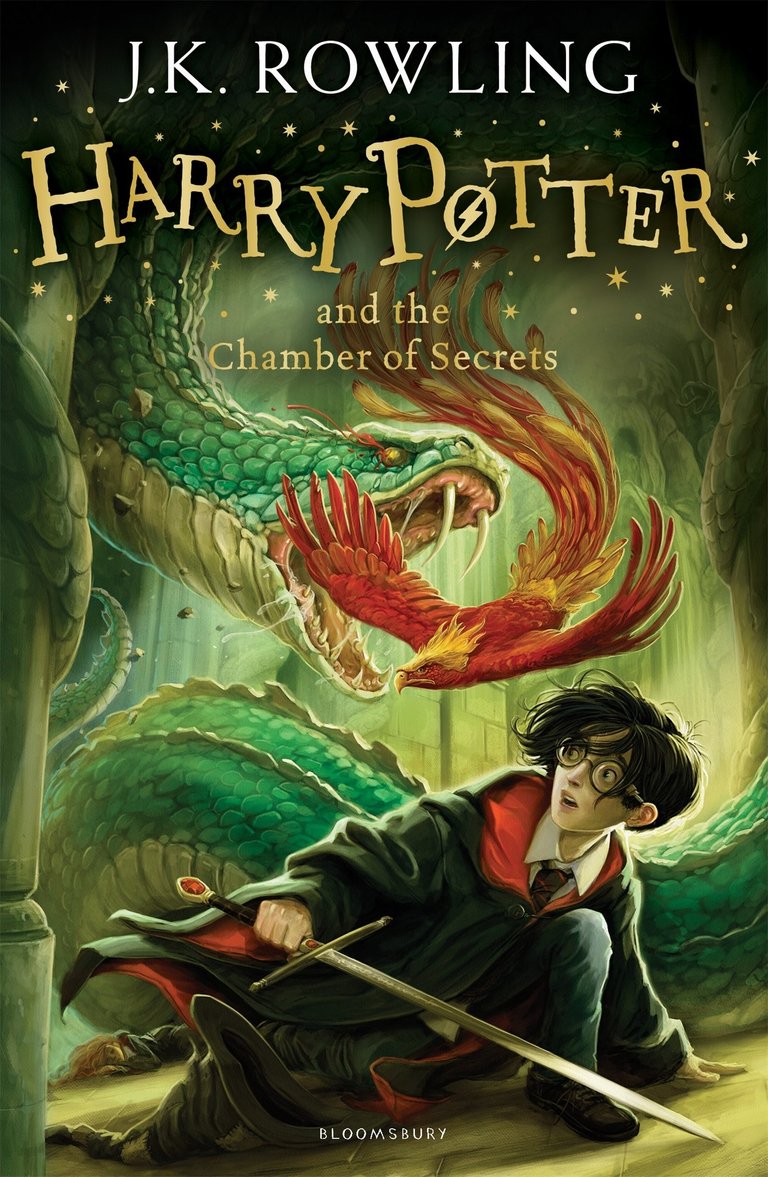 Source
Ahh i'm finally done with the 2nd book in the series and I can now get onto the review PHEW I got the Hufflepuff 20th Anniversary Edition Hardcover book a week back from Amazon and I was disappointed a bit with the stains on the cover, I had to clean them down using a nail polish remover and a micro fiber cloth.
It's really annoying when they deliver wrong/damaged products and this has happened countless times UGGGHH



Heres My Copy Of The Book ❤️
Few Spoilers Included
After the first book in the series Harry Potter and the Philosopher's Stone, the 2nd book Chamber Of Secrets delves deeper into the exciting world of magic and brings to the picture the various struggles and inequality of different magical beings as well as the inequalities among muggles.
The story begins with Harry once again being at home with the terrible Dursley's and they are unpleasant as always. You have a couple of new characters in this book and I will be talking only about two of them and this is where the first character comes into play.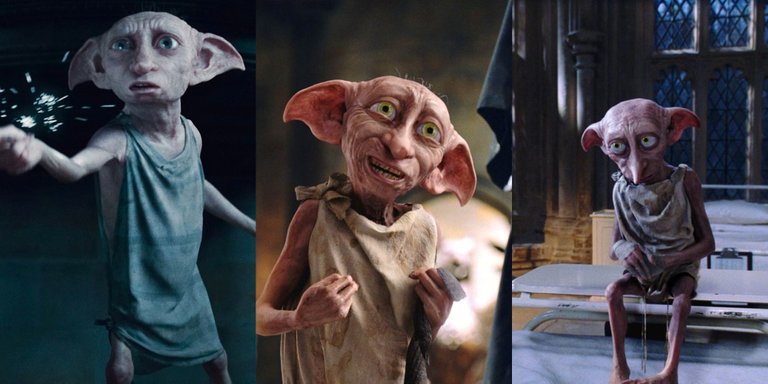 Source
Character 1: Dobby The House Elf - He appears in Harry's bedroom bedroom with a warning that Harry was not returned to Hogwarts (He Couldn't Give Him Any Details As The Unique Nature Of Elf Magic Prevented Him fFrom bBetraying His Master) and sets in place a chain of events which land is heavy in deep trouble with the Dursley's and ends up being caged in his room, But thanks to Ron, Fred and George Weasley they bust Harry out using their dads flying car.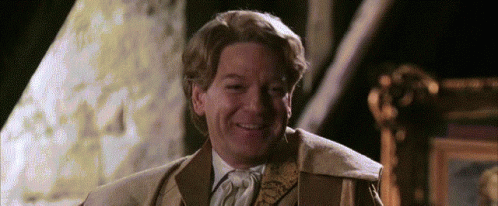 Source
Character 2: Glideroy Lockhart - Harry and his friends first meet him in Diagon Alley at a bookshop called Flourish and Blotts where he was held up at a book signing event. This is where he dragged Harry into the spotlight against his will and made a spectacle out of him as a publicity stunt. (Oh And There Are Many More Such Annoying Events With This Character 😂) He also happens to be the new faculty for Defence Against The Darks Arts
Upon Harrys arrival at Hogwarts mysterious & horrible events started to take place sent chills down everyone's spine, It starts of with Harry hearing mysterious voices and only he could hear them because he was a Parseltongue (The Reason To Why Only He Could Hear Them Is Found Almost Towards The End Of The Book) Harry then goes on and finds Mrs. Norris hanging from the ceiling with a message written on the wall that read "The Chamber of Secrets has been opened" turns out that the cat ain't quiet dead yet and that it's only been petrified.
Soon after students Colin Creevey, Justin Finch Bletchley, Sir Nicholas de Mimsy Porpington (Nearly Headless Nick), Hermione Granger, and Penelope Clearwater gets petrified and it was up to Harry to figure it out.
Also several chapters are involved in the development and use of the Polyjuice potion which is potion that allows the drinker to assume the form of another person/being. This potion was used to trick Malfoy in believing that Harry & Ron were Crabbe & Goyle, The reason the did this is because they suspected Malfoy to be the true heir of Slytherin and turns out he wasn't. Only the true heir of Slytherin could open the Chamber Of Secrets and release the monster within which happens to be a Basilisk (A Giant Serpent Also Know As The King Of Snakes)
The Chamber of Secrets was created centuries ago when Hogwarts School of Witchcraft and Wizardry was built Salazar Slytherin. He disagreed with the rest of the founders Godric Gryffindor, Helga Hufflepuff, Rowena Ravenclaw that only Pure Bloods should be allowed to study magic. This chamber was built so that one day someone would carry on his legacy and purge those who were unworthy to study magic.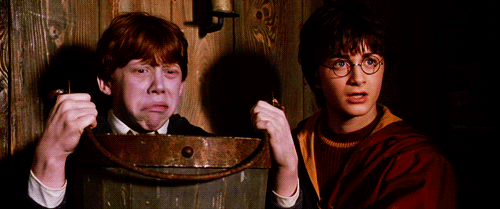 Source
Also Ron manages to break he wand in two and manages to get it back together using duct tape 😂 but boy oh boy did his decision to do that backfires multiple times to an epic proportion 🤣 The above GIF is one such scene where in an attempt to curse Draco Malfoy withe the slug vomiting charm in response to Malfoy calling out Hermione as a "Filthy Little Mudblood" and his wand was broken, the spell backfired which caused Ron to curse himself 🤣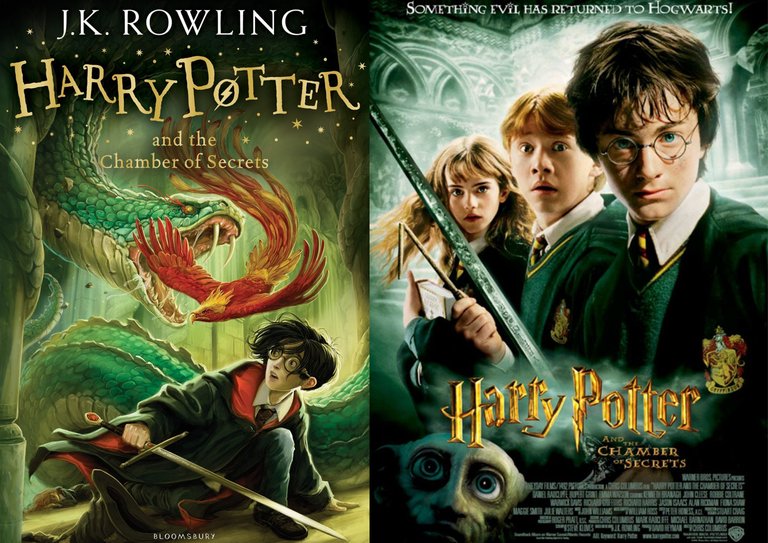 Book V/S Movie




In the book Fred & George enters the room and uses a lockpick to get the rest of Harry's belongings from underneath the stairs. This part was skipped in the movie as his trunk was right next to him in the bedroom.

In the book we have Mr. Weasley who repairs Harry's glasses but in the movie Hermione fixes it up.

Harry never hangs out of the flying Ford whilst making their way to Hogwarts the had a smooth ride to the castle but in the movie their journey was quite bumpy.

Arthur Weasley and Lucius Malfoy had a pretty amazing fight at Flourish & Blotts in the book which was fucking amazing because the Malfoy's deserve a beat down 😂 but sadly this was skipped in the movie. I'm sure the entire potter head race would have loved to see that go down 🤣

In the book Professor Binns is the one to explain the entire class about the Chamber of Secretsand in the movie it was Professor McGonagall tells the tale

Nearly Headless Nick has an entire chapter to himself and his 500th Deathday Party and in the movie he barely has any screen time whatsoever.

In the book Percy Weasley the perfect prefect has a girlfriend who happens to be from Hufflepuff 😂 and well yeah he was obviously single in the movie.

In the book Hermoine is clueless ASF as to what mudblood means but in the movie she's already aware of it.
That's going to be the only difference you get from me 😂 there's still quite a bit but i'll leave that for y'all to discover.
P.S My Order For Harry Potter And The Prisoner of Azkaban
Will Be Arriving Today 😍


So See Y'all Next Week For Another Review Hopefully 😂

Questions About Photography Are Welcome!
Upvote, Comment, Repost And Follow If You Like My Work!
Have A Great Day!


---
---