My Last Day In Bangalore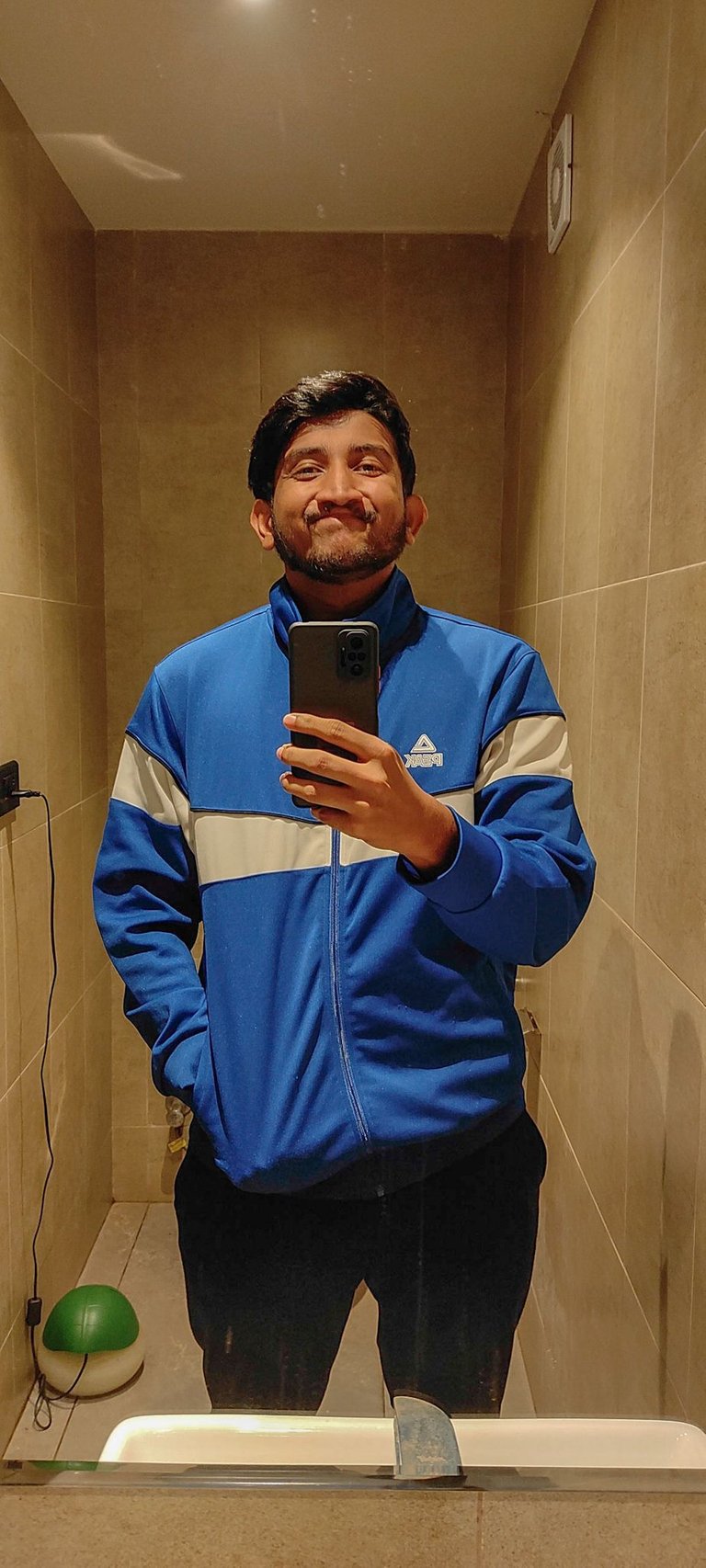 Well FML I got up at 5 AM the next morning with a bad sinus attack, It gets super cold in Bangalore during the nights so my sinus issues started acting up and I was down really bad till 7 AM thankfully my allergy meds started kicking in or else I would have had a fuck all day.
I got dressed, defrosted my balls 💀 and booked a cab to Starbucks in Koramangala which took about an hour to get there during the morning traffic and as usual the place is empty just as I like it (They just opened and I always visit in the early mornings when ever i'm in town)
Never Have I Ever Been So Disappointed In Starbucks That I've Given An On Spot Review. Im Here Right Now And They Didn't Even Bother To Get The Tables Cleaned, I Had To Clean It Myself. When The Food Arrived She Placed The Food On The Adjacent Unclean Table Even After Noticing Its Filthy Asf She Placed My Order On The Table.
I Ordered Their Bhuna Murgh Pie Basically A Chicken Puff And The Cheese On Top Was Like Rubber. That Was For Sure Older Than 3 Days.
I Never Minded Paying For Your Over Prized Food And Average Coffee Because I Come To Work There But Now I've Had It.
That's the review I left them on Google 🙂
Post that I went walking to a near by place to get night wears for mum (Every time I travel any where this is all she asks get my night wears 😂 Like EVERY TIME and if I get an expensive one i'm D.E.A.D )
once that was done I went to Theobroma which was really close by. Theobroma is this super famous pastry and snack place in Mumbai and just last month they opened up 4 Branches in Bangalore and another one is come up near the Airport road by the end of next month (I had a great talk with the manager there, He turned out to be a Tamilian like me 🤣)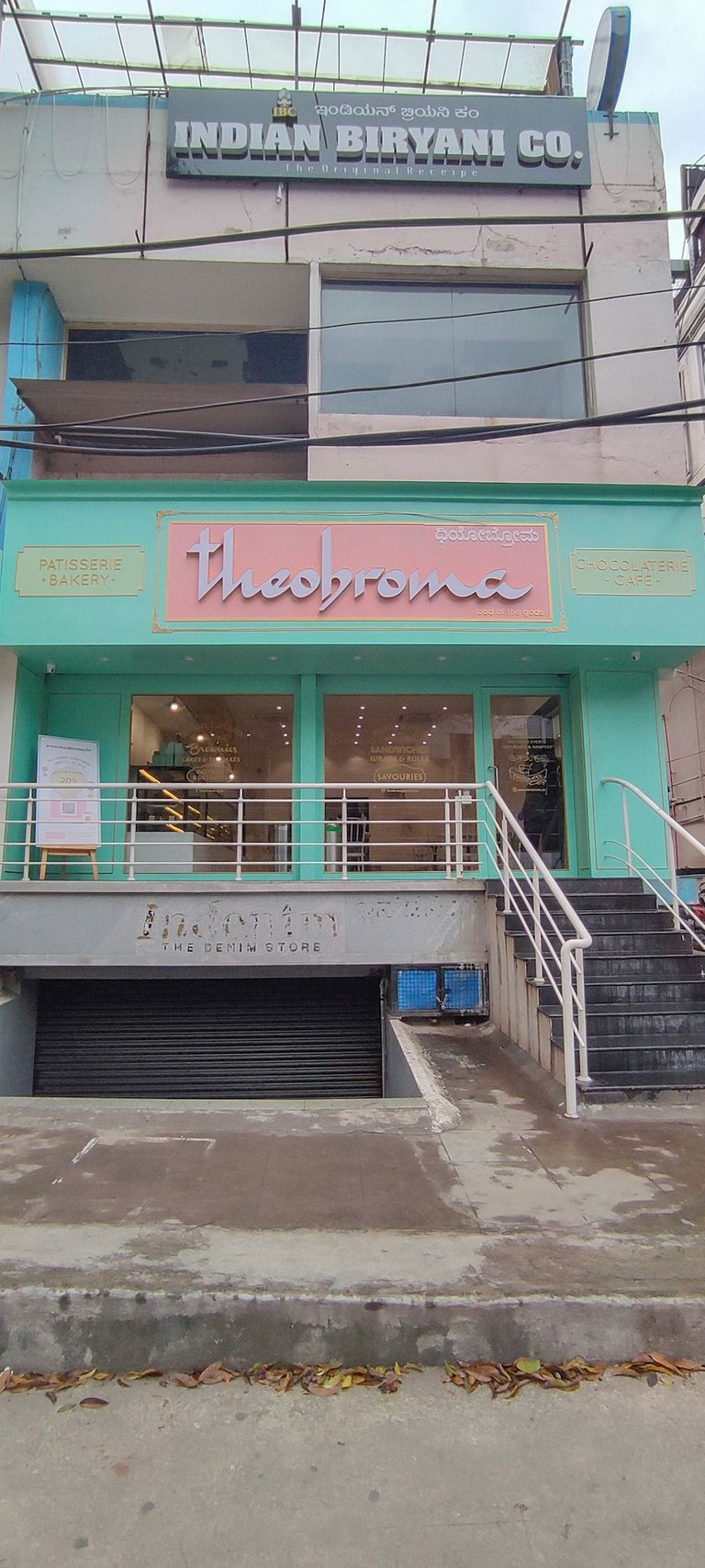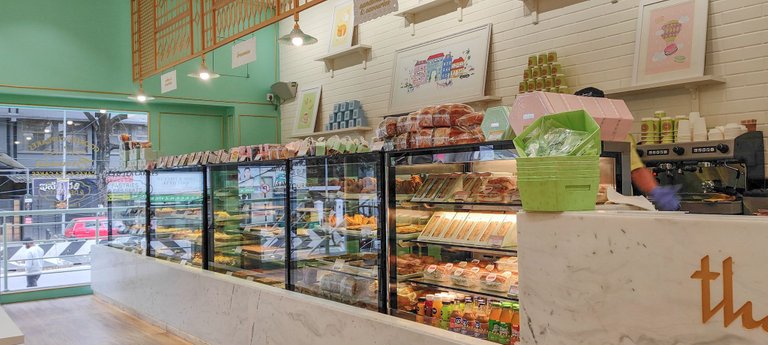 This was hands down the best decision of the day like wow whatever I had from here were fucking amazing.
I had their Roasted Chicken & Mustard Sandwich, Non-Veg Quiche, Sleepy Owl Classic Cold Coffee (Bottled Drinks), Eggless Fresh Cream Strawberry Pastry (Because Strawberries Are In Season), Chocolate & Nutella Cupcake.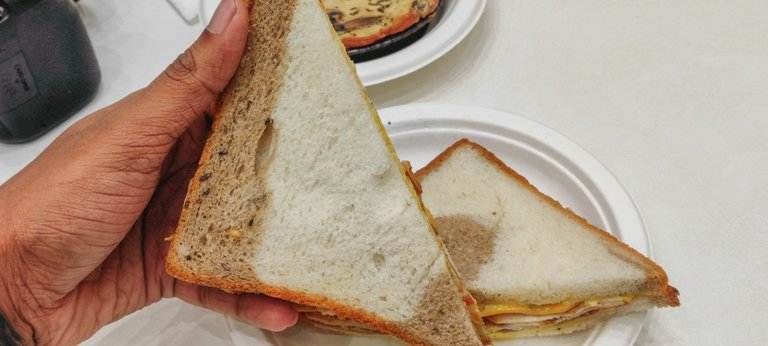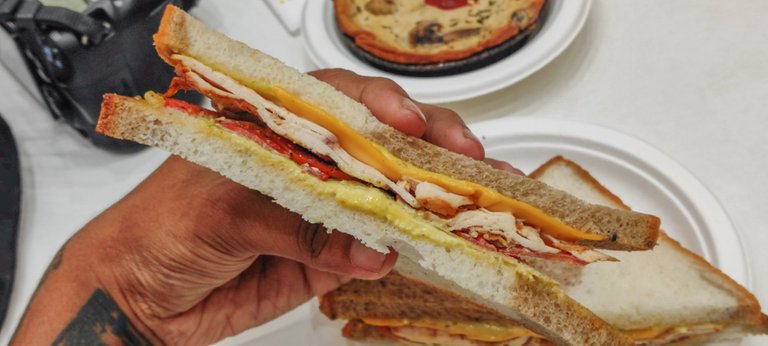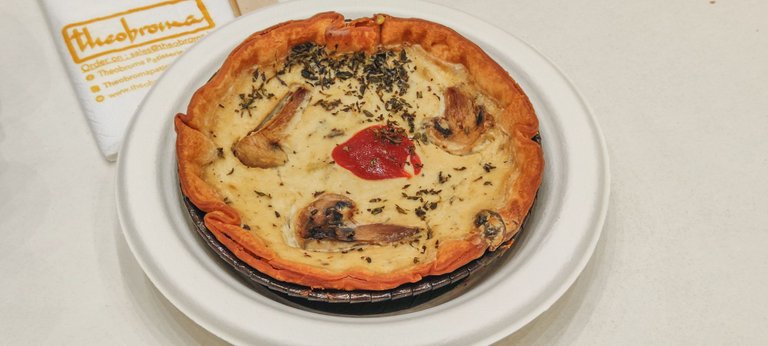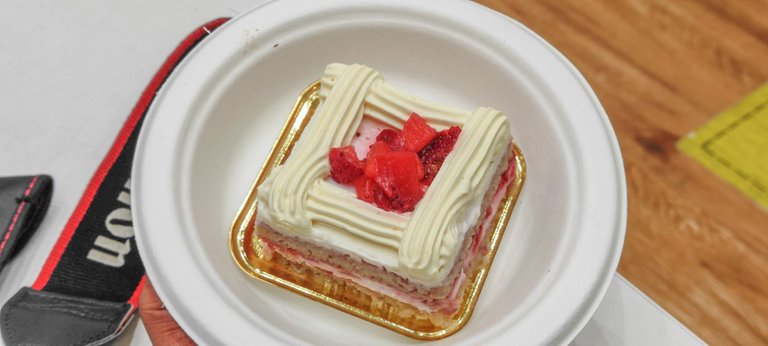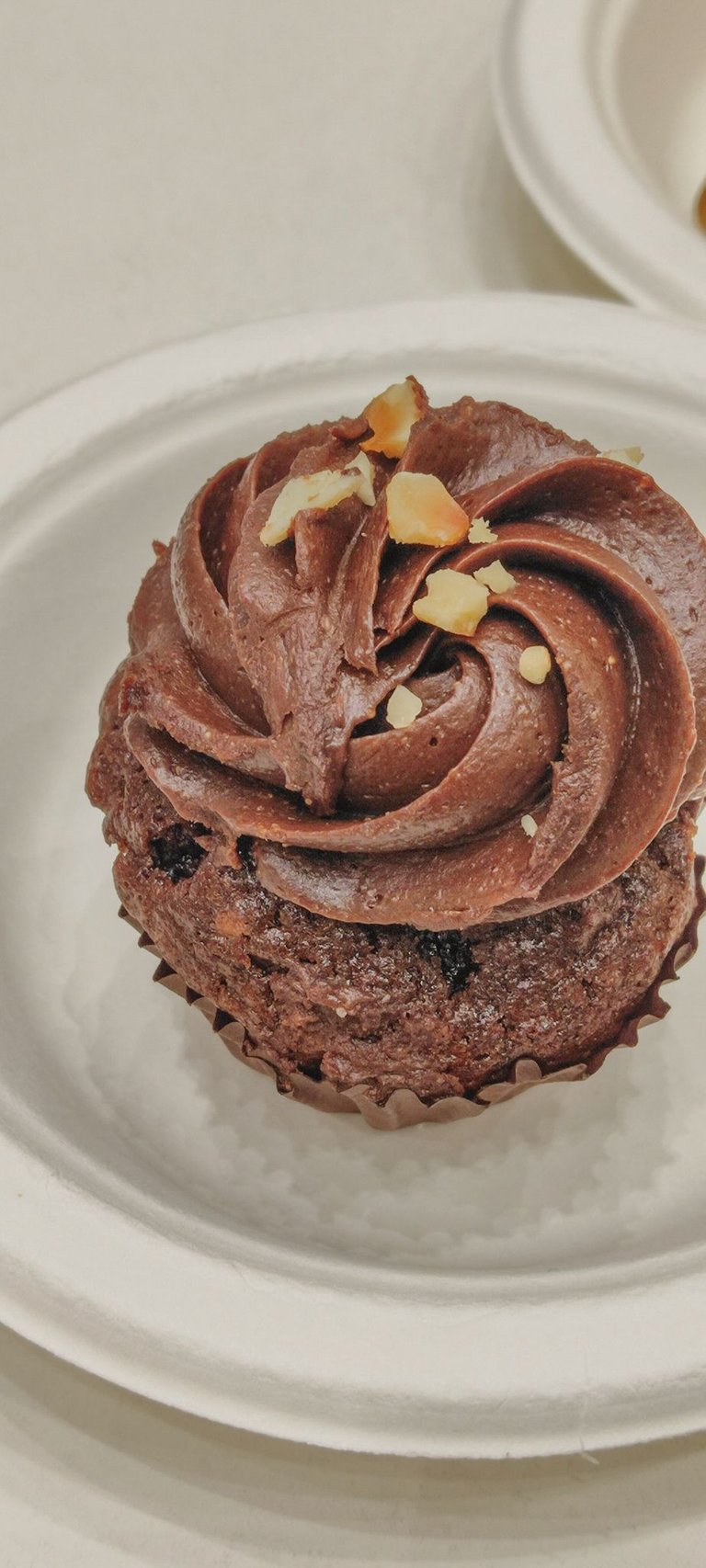 FUCKING LOVED ALL OF THEM
In between having all these yummy food I dropped a call to Merlin to figure out what time we all are meeting up. I waited there at Theobroma till 3 PM passing time watching a Tamil movie on Netflix called Annaatthe it's a Rajikanth Movie and I never miss them (South Indian Movies are stupid in its action sequences but mehh the movies are still kinda fun for a one time watch)
Sheizan came by around 3:15 PM and on the next call Merlin was like she'll take more time to come because it's been a while since she's cleaned up her rabbit's cage 😂
So me and Sheizan decided to go to Smokyy Sheesha Lounge to pass the time, now the thing is Shehzad had only one helmet and the traffic rules in Bangalore are quite strict compared to Bangalore so if you are caught without a helmet you kind of have to pay a hefty fine or bribe the cops which usually what a lot of people do in India.
So I told him that let's go we'll mostly not run into any cops and half way through we got a cop so he had to make me get down and he had to go and buy helmet hope it's apprising we just crossed Rs 100 which is basically around $1 15 minutes later it comes with a helmet and we were off to Smoky Shisha lounge.
Bangalore has a branch of Smokyy Sheesha Lounge but this one is smaller than what Bangalore has we went into was huge and it was quite crowded but we somehow managed to find a couch for the two of us.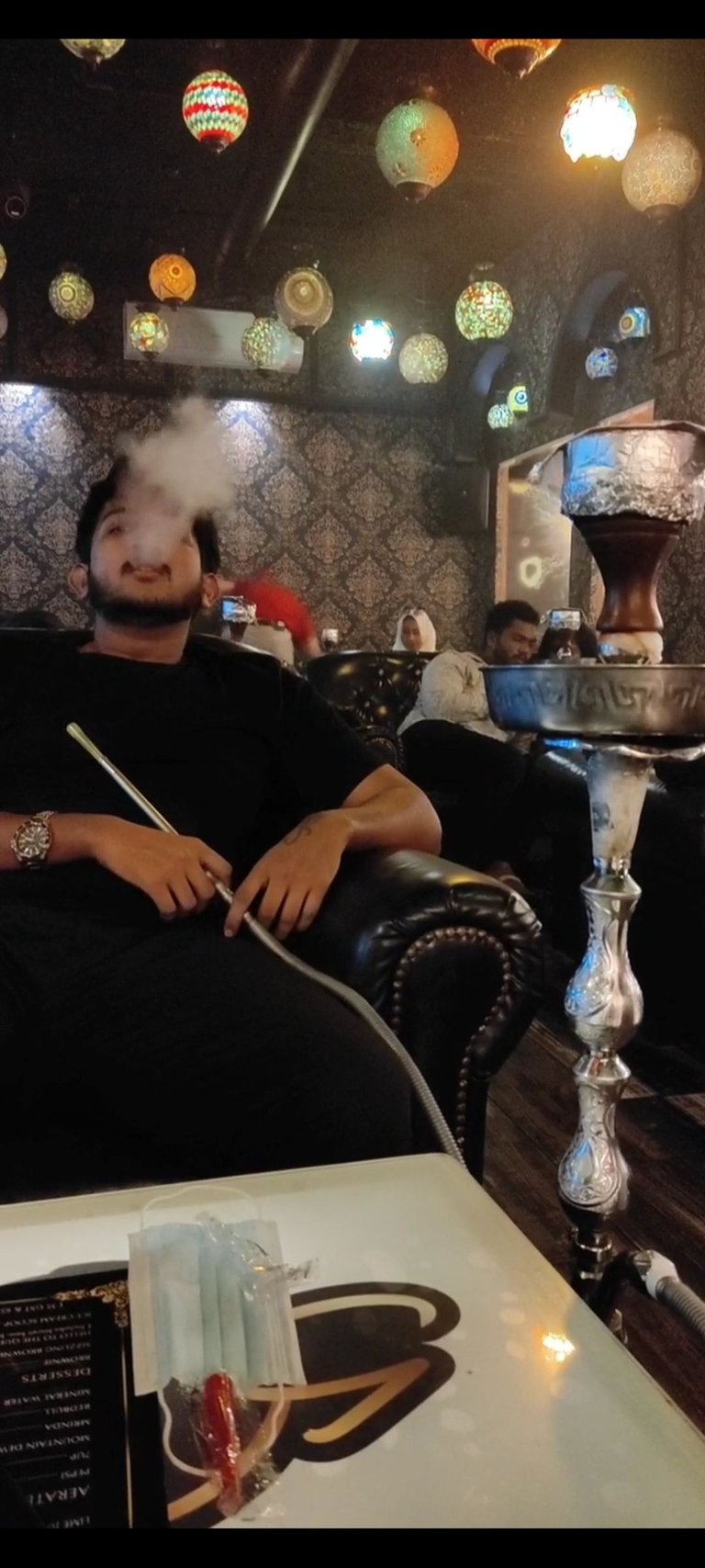 So we ordered a large pot of hookah and we selected a smoky black special which was apparently a medium strong version that freaking hookah lasted us for about an hour and a half and a apparently it would last about four hours is what my friend said which is very amazing and it only costed Rs.450 which was really amazing.
So what is the time called her to let us know if she was about to leave our home at 6 PM so we immediately left the hookah parlour and we went to the greenhouse which was near 1MG Mall (Weird name for mall don't you think 😂)
So we reach the Grill House and I call up Merlin and she's like she's going to take another 20 more minutes like yes okay so after 20 minutes Malik her cousin Andrea and her younger cousin was there which I apparently can't remember her name.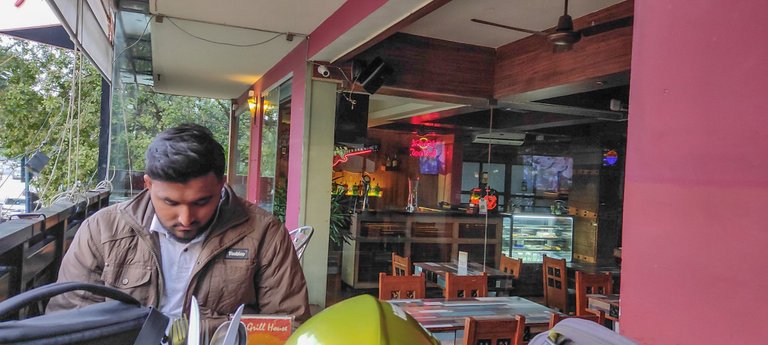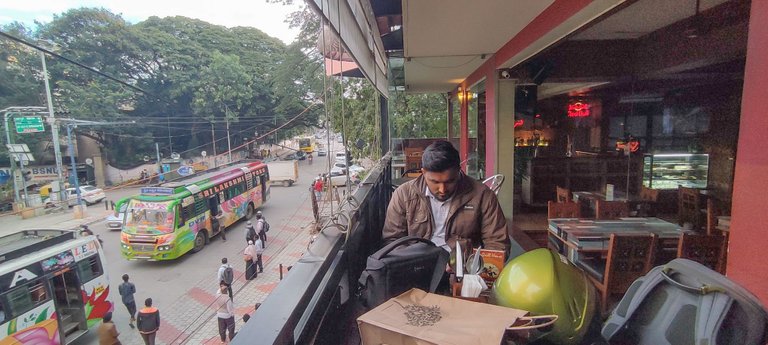 So the first thing we ordered was buffalo wings and this was the only good thing that we had for dinner and also the long island ice tea. This place is known for its beef steaks and we ordered around three large beef steaks and a T-bone and half of them were undercooked we sent it back it came out overcooked and the T-bones came out overcooked plus it was still halfway undercooked near the bone which was a total disappointment a bill came up to Rs 4000 and I was furious, I yelled at them to get the damn T-Bone off my bill because I so wasn't going to pay for half raw half undercooked food.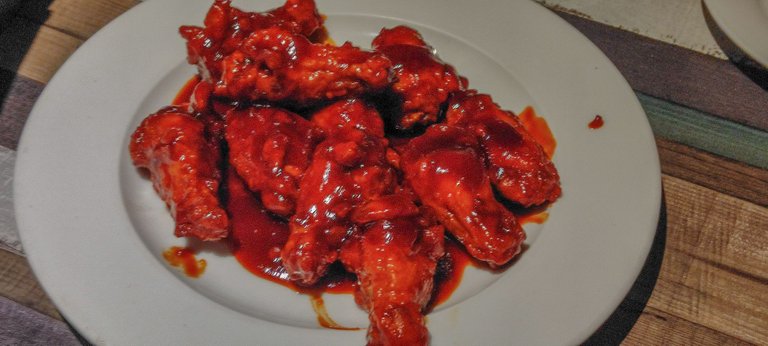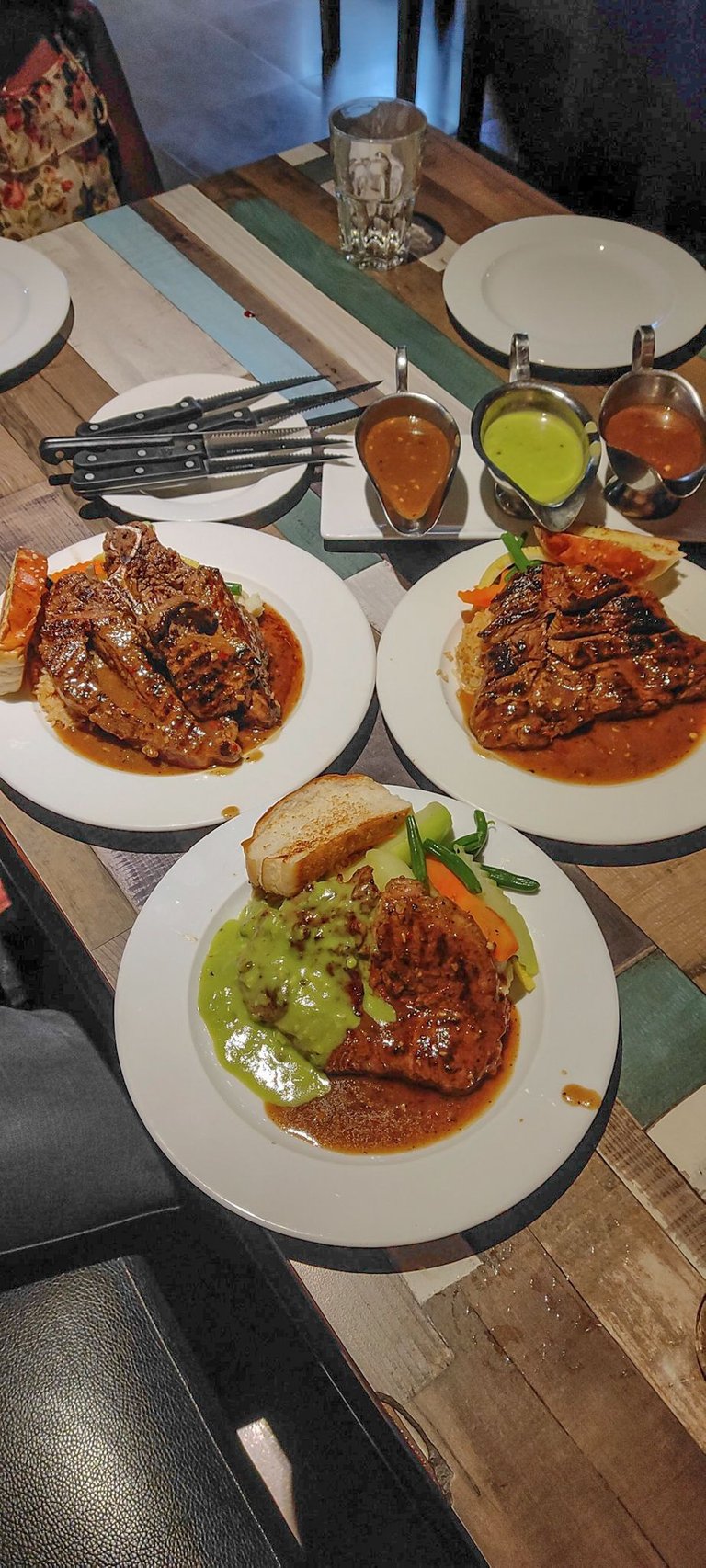 Somehow after such a long argument the gave a 17% off and that ended there also another really annoying thing happened. In the afternoon I book a bus for 9 PM from Indra Nagar and in between dinner like around 7 PM the driver calls to inform me that he cant come to Indiranagar and he wants me to come to some other stop so far away and that to my 7:45 PM I just got s pissed and started blasting at those imbeciles like are you fucking kidding me I booked a bus for 9 PM how TF can you tell me to come else where and that to earlier than my specified time.
like it was such a disaster we had to finish off the terrible dinner and to to another place near by called Corner House Ice Creams for desserts where another mutual friend was going to meet us.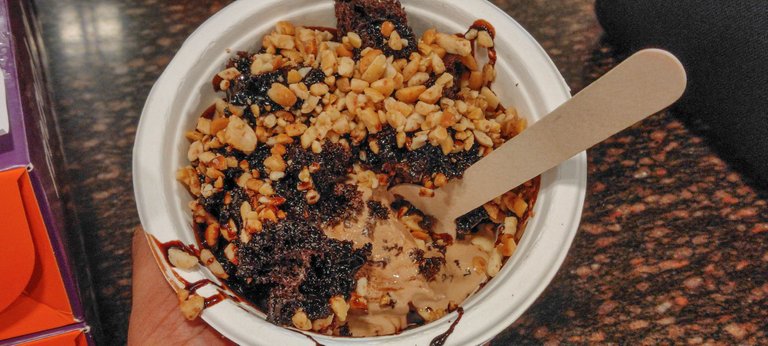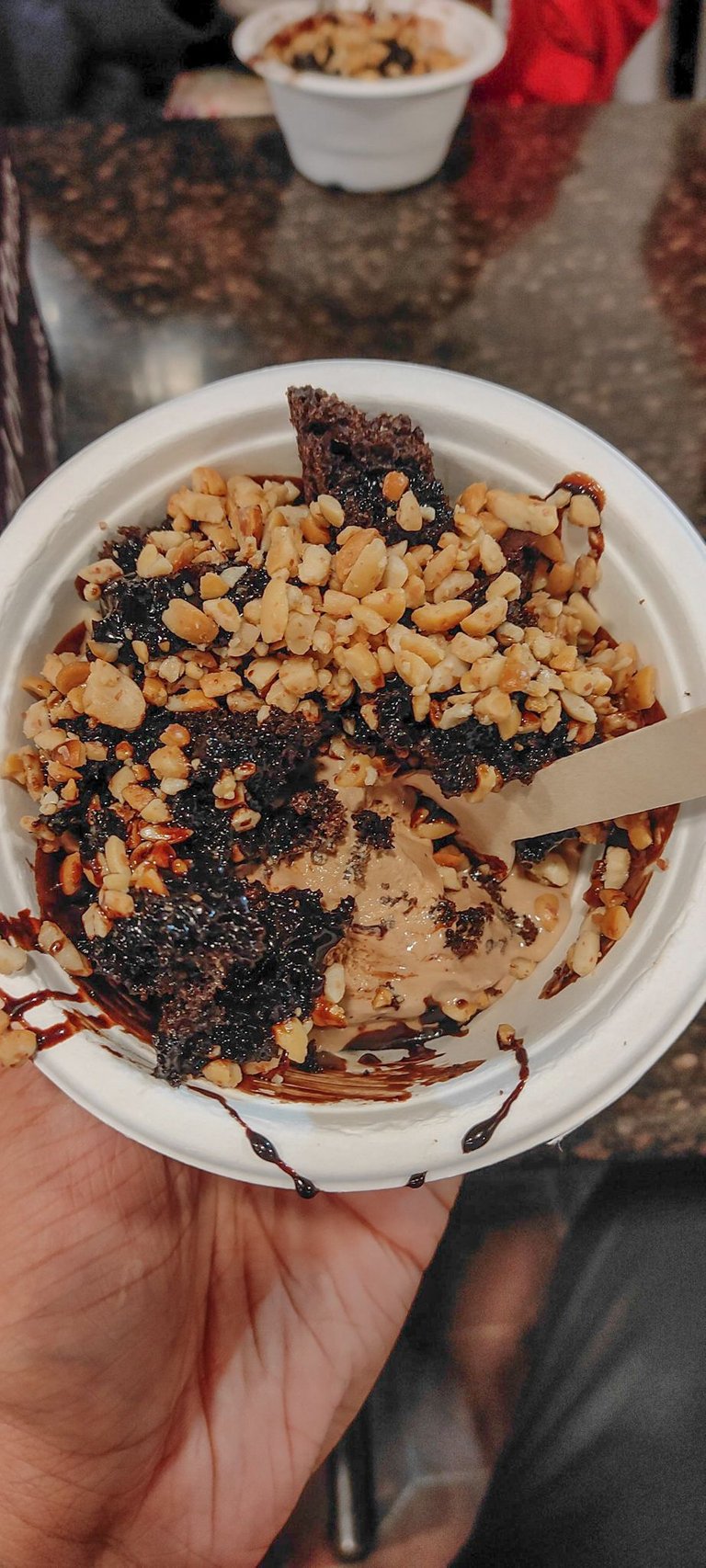 We quickly went there had a couple of Ice creams took a few pictures and I just ran off saying good bye to the metro station I had only 45 minutes to reach a place called Yeshwanthpur from MG Road.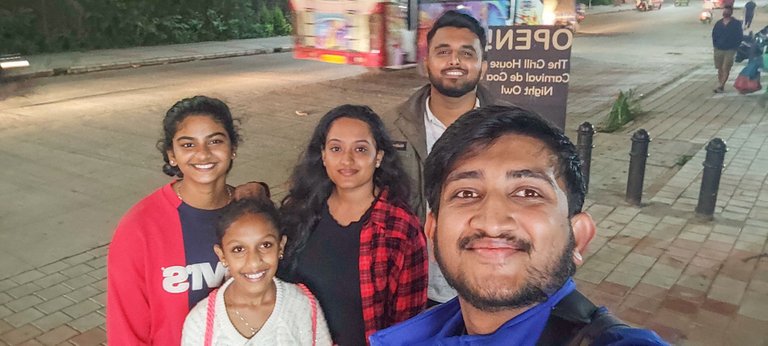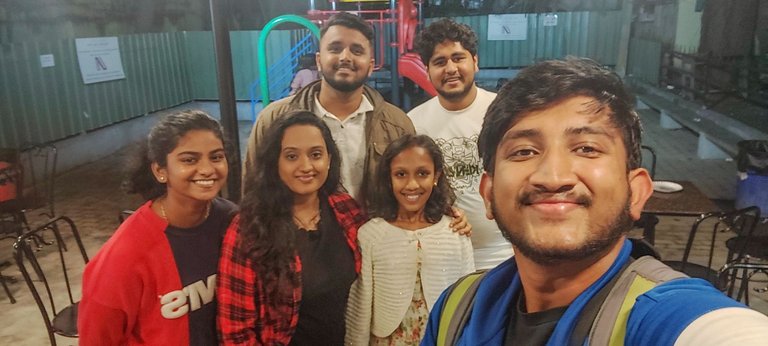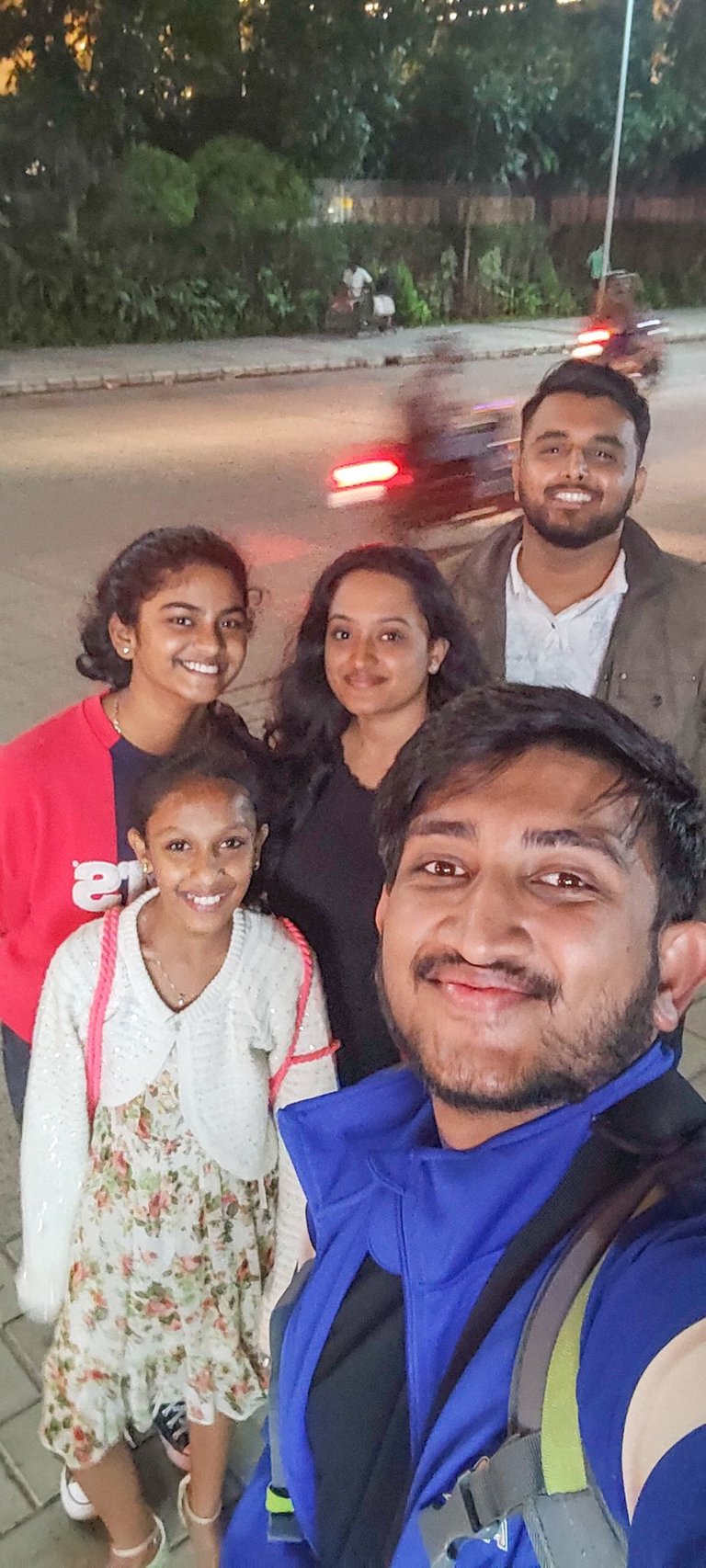 Somehow got to the station and I couldn't t get through ht the electronic gates because my metro pass ran out of balance jeez like of all the times why now WHY BLOODY NOW 😂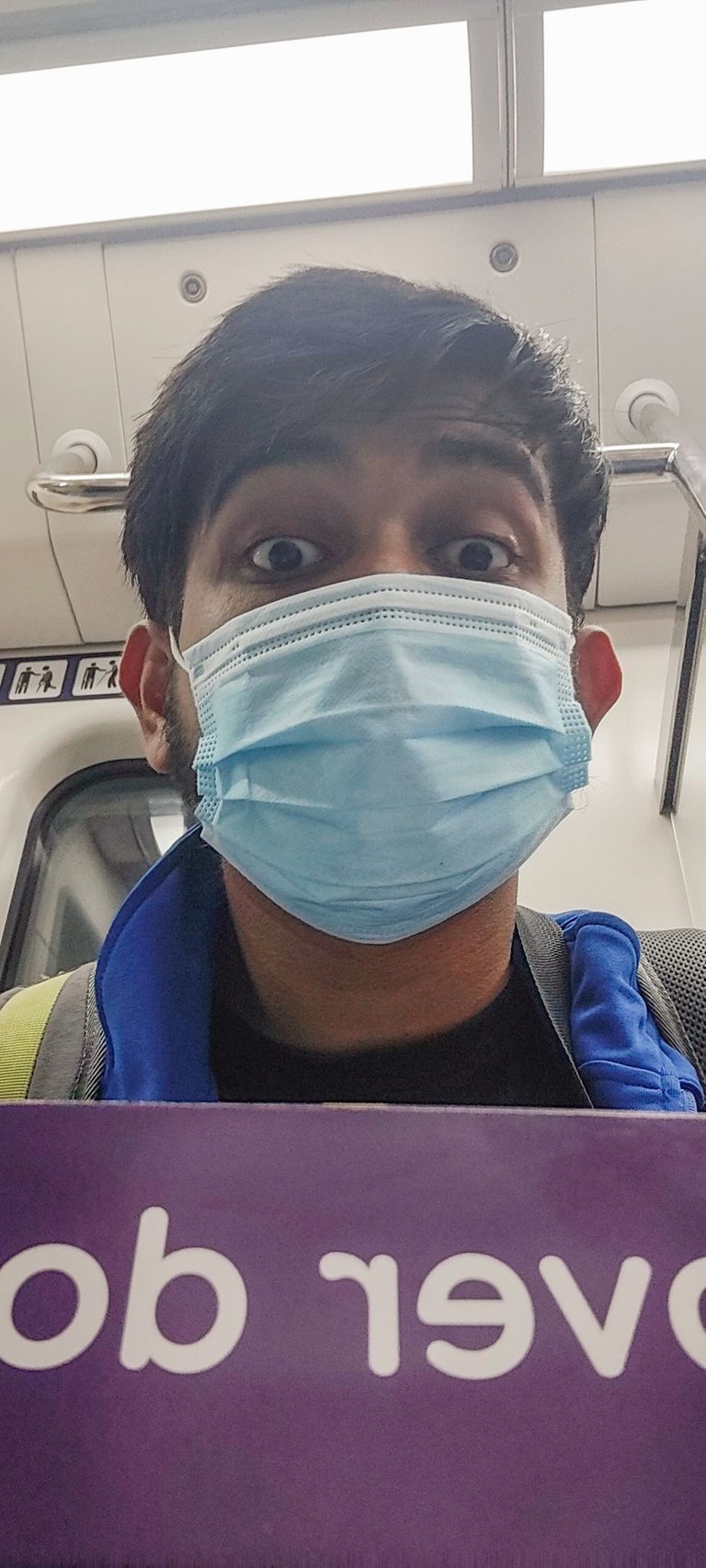 Well to cut the story short I made it with 2 minutes to spare and i'm at work right now writing this blog of mine 😂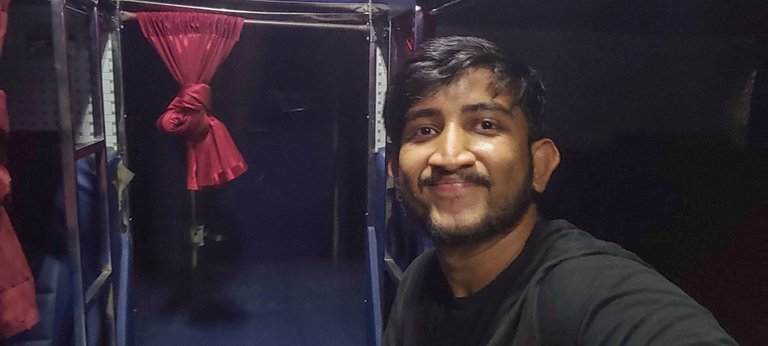 Questions About Photography Are Welcome!
Upvote, Comment, Repost And Follow If You Like My Work!
Have A Great Day!


---
---