Connecting With Others and Tokenizing Twitter With WaxHub!

One of the main things I like about Wax is how it allows me to tokenize my interaction on Web2 platforms like Telegram, Twitch, and Twitter.
Due to Wax having lots of artists that depend on Web2 platforms to get eyes on their work, they've made tools for people to incentivize activity on their telegram channels, reward people for activity in their Twitch Chats, and now the Wax Team has built a tool to allow community members to tokenize their ability to drive engagement to Wax content on Twitter.
https://twitter.com/TheDAOLabs/status/1635688941947957249?s=20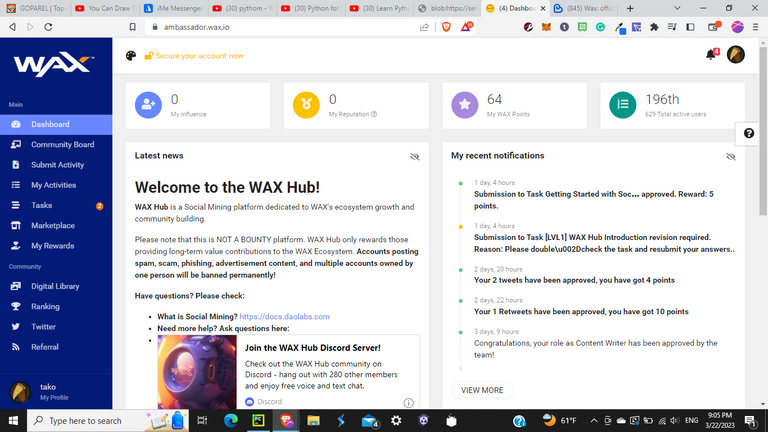 https://ambassador.wax.io/ is the wax platform that allows you to earn waxp, ambassador NFT's from the Wax team, and other NFTs.
But most importantly it allows you yo collaborate and connect with others in the Wax community in one place.
Wax has an awesome community and they love to collab and work with each other. It's almost hard to avoid collaboration with people after you've been it the community for a while. It just naturally happens...
But if you're a wax user and would like to tokenize your twitter and connect with others in Wax, be sure to check out the WaxHub: https://ambassador.wax.io//signup/gC9Is6x42u/
---
Lets Connect!
Be sure to follow me:
https://ambassador.wax.io/user/tako/profile/

---
---