It's Giveaway Time: FREE Upvotes on Me! 🎁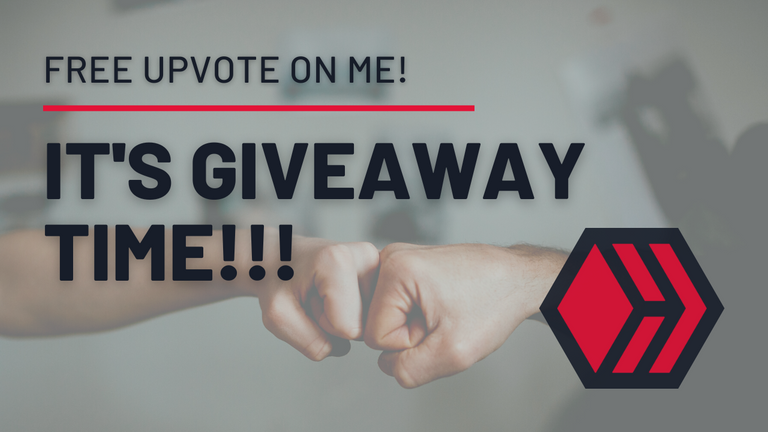 ---
---
This is a hive-exclusive giveaway to help support my growth as a content creator. I use my various accounts to interact and help others through blogging, vlogging, podcasting, and streaming!
I do tons of tutorials and share the tools that I enjoy using along my journey in building my online empire.
I'm mainly creating on really cool decentralized platforms, so be sure to sign up and follow me so you don't miss out!!
---
Giveaway Eligibility Rules
DON'T BE NO SUCKA!
Rule 1: Follow me on Hive
Rule 2: Upvote this post
Rule 3: Leave a comment with your latest hive post
Rule 4: Be on the lookout for more content coming to Hive!!!
Here's What I've been up to lately (Winners announcement below rant)
RANT
So I've made a goal to up my posting volume this year and so far it's been an experiment gone very well! My main strategy is to use a ton of Hive apps, 1 or 2 posts per week app, and try to 4x the number of posts I might publish on an average month.
I really started to focus on this after seeing my year-end recap. Another thing I wanted to do is to start moving my video content focus over to Hive from Lbry and get my percentage of posts coming from videos up.
But in my strategizing, I made a crucial mistake. I expected Dtube to work flawlessly allowing me to upload videos from my phone onto the platform. But that wasn't the case...
I originally wanted to do gaming and crypto videos on Dtube and Vlogs on 3speak. Because if I'm on Dtube I need to be doing Dtube things and if I'm on 3Speak I should do 3Speak things. But I can't upload screen-recorded videos to my Dtube channel no matter what I try. I stopped being able to upload twitch content to Dtube a long time ago and now having problems with this, It's making me lose faith in DTube, and more excited for the Speak Network...
I feel like Dtube is becoming a place to post Youtube links. Which isn't all bad, but it ain't what it used to be.
But overall, I'm really hoping that this is my mistake and that this is all a big misunderstanding. This kinda bummed me out and I didn't get to make any posts last week but I'm hoping to do a little better this week.
Wish me luck!
---
Other Ways to Help Support the Giveaway!!!
Repost
It would help me out a lot if you could repost this to help get the word out about the giveaway!
---
Winner Announcement!!!
This round I'll be selecting 1 commenter to receive 1 Hive SBI unit!
This will give you free upvotes when posting, courtesy of your guy: @bigtakosensei
The winners will receive their reward after this post pays out, and will be officially announced on the following giveaway announcement post.
The previous giveaways winners were:
Thanks a lot for taking the time out to check out my post and participating in this giveaway! You're greatly appreciated!
---
---
---
---

Don't miss out on the hive experience! Hit the link here to join the revolution:
https://hiveonboard.com/?ref=bigtakosensei
---
---