🍉 [MELN] Weekly EXODE Wrap-Up #50
Hello, Pilots!
A ton of information about future updates and Technology has been released this week, along with new card art.
📰News:
New Beta Origin
It has not been given a name yet, however it will synergize with cults and religious groups, especially the Flesh Cult. There will also be "Religious Orders" in the full game.
"One of this orders has yet to be revealed but it includes male leaders and "female Inquisitors".
Their Inquisitors focus on logic & empathy to detect and root out 'feelings in their order', because feelings are believed to be a source of corruption."
Here is an Epic+ card for them, Combat Inquisitor Ravenna Shobel: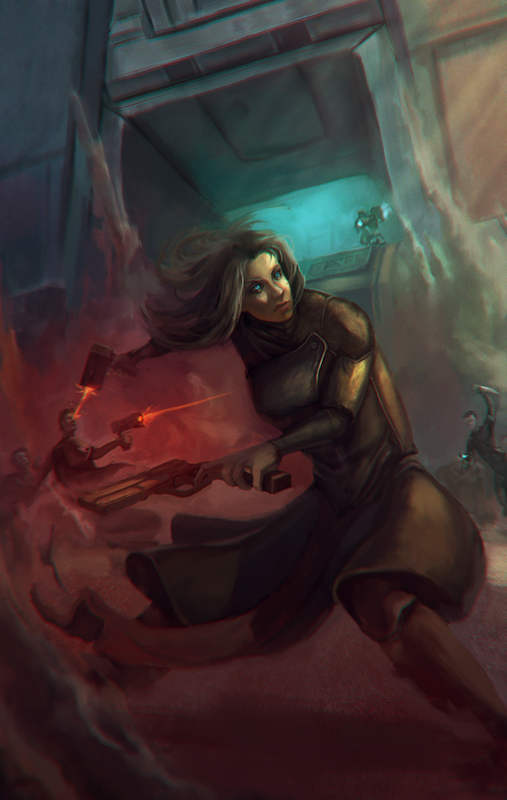 Tech Screen Rework
"You'll now always begin with the DISCOVER tab ; this is the screen from which you launch new projects.
It is also separated between "Summary" (or Status), "Rewards", and Assign/change team.
Summary will tell you the current rank of this technology for you ; this is the rarity you have already discovered.
Rewards will reveal more information about the techs and knowledge points you'll gain if you research it further.
About other tabs of this technology screen:
ANALYZE is there you start a project to study the wildlife/ore/... you gathered with your away teams in the previous challenge.
DESIGN is there to start a project to use a revealed design (gained from a technology) and make your custom new construction or item.
RESEARCHED will be where to browse technologies and GAINED KNOWLEDGE where to see how many knowledge points you have in each area and where to gain some more."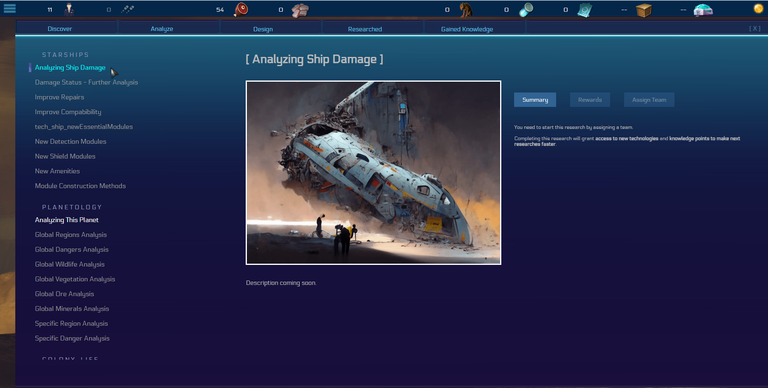 Other Technology Updates
When you complete a Technology, it can unlock:
New Unlocked Technologies, of course.
New Unlocked Designs, sometimes.
Knowledge Points, a precious game reward which will make other projects of the same knowledge domains going faster and better, which is also a way to succeed at a "better rarity" tech loot.
Knowledge Points and Designs will be important for the future game economy of EXODE. You can make productions based on Designs.
Dynamic Quests
Certain quests will always appear, like "Analyze Your Ship Damage", but the content of those quests will vary. IE the Cockpit is damaged in one game while the Engine is damaged in another. Comparable difficulty but different objectives.
Other quests will randomly appear, because they depend on the level of Technology you have acquired. If you unlock the Rare, Epic, or Legendary of a Technology might also unlock a secret campaign/quest line.
Basic Overview of Starters
"A military starter will shine during evacuation but should also be good at exploring a planet and fighting wildlife, thus expanding available resources for a colony.
A scientific starter will shine during these research steps and reach economical value thanks to its research teams, but surviving also requires more. Who would fight? How can they remain hidden?
A civilian starter will be able to get more from its numerous citizens, with more teams, more morale, more strength from colony events. Organization will be required, and it will be at the cost of not being as specialized as other decks!"
ETA For the Big Update
As you know, the Colonization update has taken quite a long time to develop. Personally, I prefer this as I'd rather have them do it right rather than do it fast. As @jacobpeacock said earlier, "Good to see exode development is still crawling along."
Next week, though, @elindos will be making an announcement and blog article with the final ETA of the update. I am very excited, and while there is no guarantee it will be the week after next, I would guess that it will be released within the next month.
🎁Giveaway:
This week, 3 different people have a chance of winning: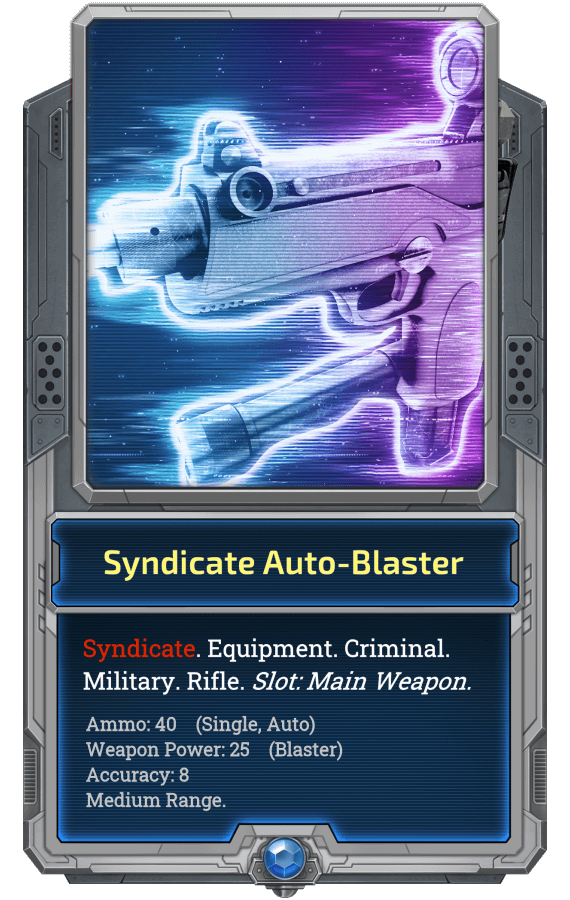 This card is the Syndicate's only non-bound weapon. I haven't tested the weapons extensively enough to know which is the best yet, however this one seems pretty good. The Rekatron SD is my personal favorite at the moment, although if you don't have the money to buy a bunch of weapons or a contract, I think the best weapon for you is whatever you can afford to equip your entire crew with.
🎉Previous Winners: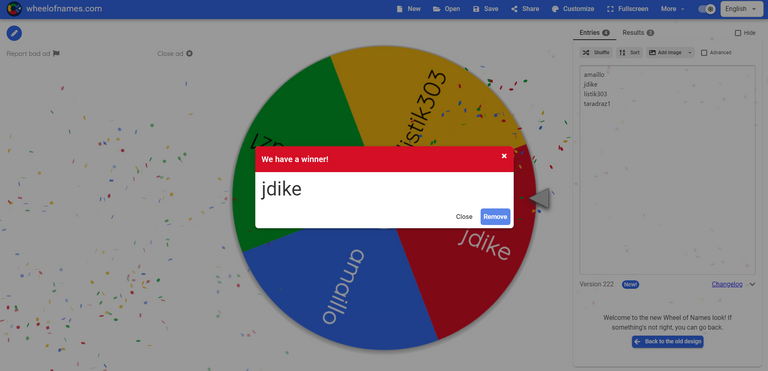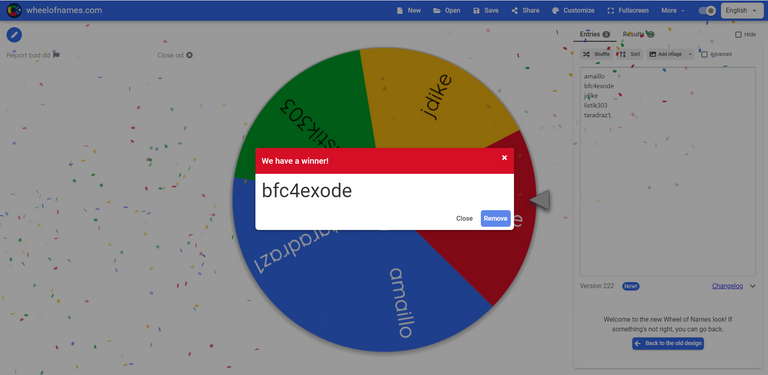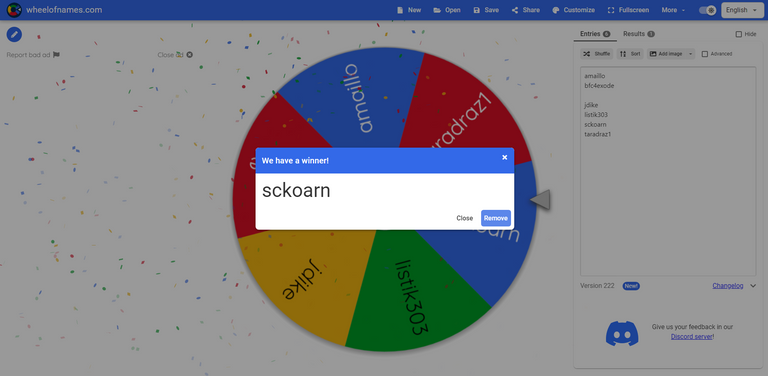 Congratulations @jdike, @bfc4exode, and @sckoarn You have been sent LITTLE Buddy # 06085cc94085acfef4eaa4807a5b2b3a # ac6d06cb4b47a595769a949c43a809df and # a2253d60df2c3c3ae1ba00a17a13c539 respectively.
There were too many comments that I loved this week to pick just one, so instead I am giving a GOOD MORNING to the following 5 people:
@blitzzzz, # acdab18510c74376cb706839ab3acb8e
Love the detail in the background artwork.
The shot of the plant actually looks like a macro mode photograph. There's an incredible amount of detail in it. Would be great to see where the artists got their "inspiration" from when drawing that. 😱
I'm also really impressed by the artwork for the Elite version of cards. Most card games would just slap a gold border or holographic foil over it, but this one makes subtle (but obvious) changes to the card details. A nice refreshing change indeed. 😊
@sckoarn, # 9b02a795e14ce48a74b773687046b202
Looking at the draft new cards the artwork looks a little more cartoony than most of the older cards. I assume this is because the finishing touches have not been done. The previous cards are smoother in transitions in the colors. It makes them look much more realistic even though you can tell they are art works and not pictures. I like the soft look of the previous issues.
The picture of the plant thing is totally incredible. That kind of artwork showing up as a picture of the plant you are researching would be very cool. If it could be parameter driven generation and create illustrations like that, you would truly have a break through.
Really looking forward to the coming artworks ...
@amaillo, # 9ba3c8cb5585f5e6c6a2ecf868f5c75a
mmm i would like a background with some sort of "filter" that gives to the background artificial movement like in this image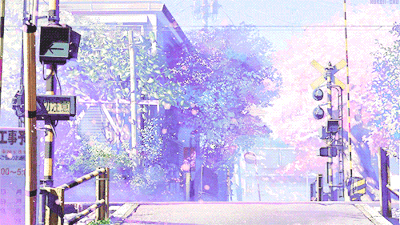 @taradraz1, # 9bf6548d767703701546fc987514d95c
I'm loving that colony illustration, i feel this background pictures are really important and the guys are doing a great job with the details and environment feeling.
I can't suggest any changes because i love it, but i can say that the themes maybe can change, i would like to see the same or another picture but red with the house destroyed with a volcano making some damage or something like that, maybe you can re-use the foundation and make another ambient just with some little changes.
Thats it!! love the work keep going.
@bfc4exode, # 9c58d10b16b1015f3a16ec15e7bbe89e
I do really like the idea of creating different art for Elite versions of the card, and the plant is awesome, very realistic looking. The colony background is a nice upgrade from the barren planet surface. It would be fun to have that background upgrade at cetian milestones in colony progress, and if we came across an abandond colony we could derrive the level of progress made there by the look of the ruins and potentially plunder their level correct left items that survived the atmosphere.
I was really impressed by the comments last week, keep it up!
➡️How To Enter:
Upvote this post
Reblog this post
Comment what you enjoy the most about EXODE, IE the strategy, roleplaying, or anything else, and a feature you would like to see implemented as part of Colonization.
The winners will be chosen by random on Monday, August 22.
As usual, I will be tipping comments with #hivepizza!
I will also be giving a 'SurPRIZE' to my favorite comment(s).
EXODE is a real-time strategy space colonization game here on the Hive Blockchain. If you still have not bought your starter pack and signed up, use this Referral Code(c956af8) and you'll also receive 2 free Alpha Booster Packs with 5 NFT cards each and a free Epic Alpha Character. For more information and links, check out the developer's page, @elindos and this post by 🍉 [MELN] Head Scientist @proto26. Join the EXODE Discord Server!
---
---