Big Splinterlands Updates Are Dropping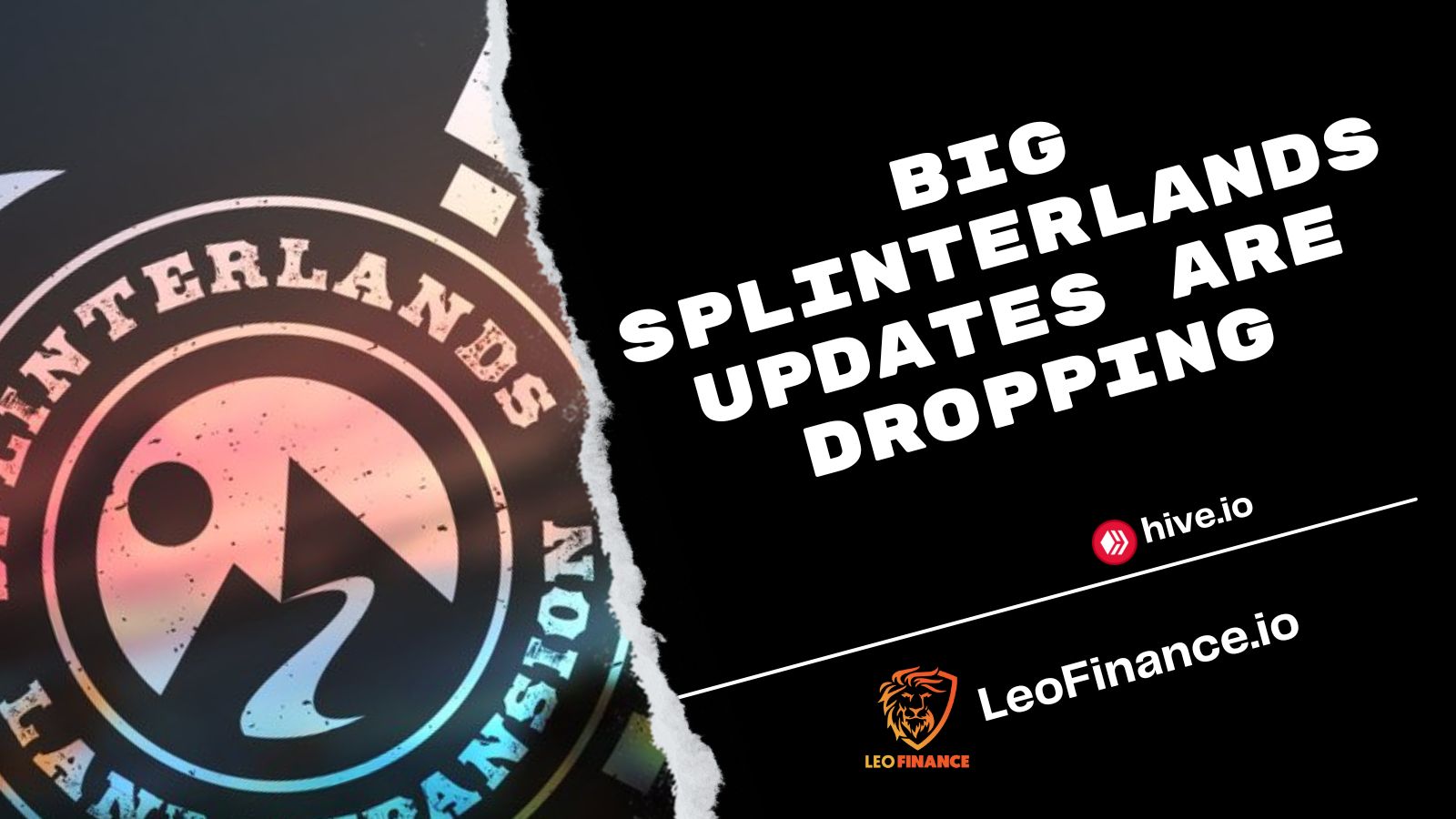 Big Splinterlands Updates Are Dropping
Splinterlands the largest crypto game on the Hive blockchain and arguable one of the biggest crypto games in the entire crypto space has just dropped a number of huge nuggets. In this post I'm going to go over what those are and my thoughts on each.
SPS For Land
Land finally gets some utility in the form of triggering the airdrop of SPS to land holders. Only lands within your account with be counted into the airdrop and land on 3rd party marketplaces will not be counted.
Yesterday was the first day we saw land drop SPS and it was said it would be around 40 SPS per plot of land per month. That number wasn't far off. Yesterdays payout was about 1.457 SPS per plot or just over 43 SPS per plot per month. Now of course that number will change as land comes on and off the markets but it's still a rather sizeable chunk of SPS. At some point hopefully early next year land will start producing resources and with it even more value and wealth on top of the continued SPS drop tokens.
SPS For Nightmare Packs
Packs for Nightmare which are a tower defense game that is expect to release early 2023 is also being triggered to release SPS. The airdrop on these are far lower though I think from my 50 or so packs I picked up about 6 SPS however it's still kind of nice to be able to buy some packs now and instead of waiting for 2023 to roll around (which it's kind of crazy it's only 3 months away!) you earn a little something on them in the form of SPS.
Release of GLG
GLG or Genesis League Goals is a new game released by the Splinterlands team. The front page and buying options very much so mimic Splinterlands and for good reason it saw huge success and is once again seeing huge success. At the time of me writing this only 299,000 packs remain to be bought at $5 each. There are some fat bonuses if you pick up 2k packs which would land you a big $10,000 bill but doing so would land you 2 special promotion NFTs, limited edition NFT title, Free managers license and beta access a long with most likely would me a fully stacked deck or close to it.
Now while that's all great what does it have to do with Splinterlands?
Splinterlands governance token called SPS will start getting a airdrop of tokens from this game. Here's the kicker though and where some might get confused. At least to me it seems like the GLX token is the core of the staking tokens the platform itself. This earns you a GLGT token for time staked of your GLX tokens.
The first game to be released by this core platform is what we are all seeing now called Genesis League Goals which is a soccer based NFT card playing game. The rewards however will be paying out other things in this first game.
The other interesting fact I found on the Genesis League Goals whitepaper (not the Genesis League Sports whitepaper) is the fact that the rewards type system that will be introduced such as buffs, cosmetics and drinks as boosts all very much so sound like things that are going to be added into the splinterlands game with the release of land. This side by side comparison might make it so that many of the new players to the Genesis games might very well come over to Splinterlands as they already have a feel for the layout and how the other game operates and vis versa. It's going to be interesting times ahead that's for sure!
As you can see that's some major airdropping and things going on with the game. Right now is an awesome time to build those decks, build that SPS and other rewards while the prices and markets are down. When the next bull run comes I firmly believe these assets will increase in value.
*This article is for entertainment purpose only and not investment advice.
Posted Using LeoFinance Beta
---
---