It's Surprising How Little Competition Hive Has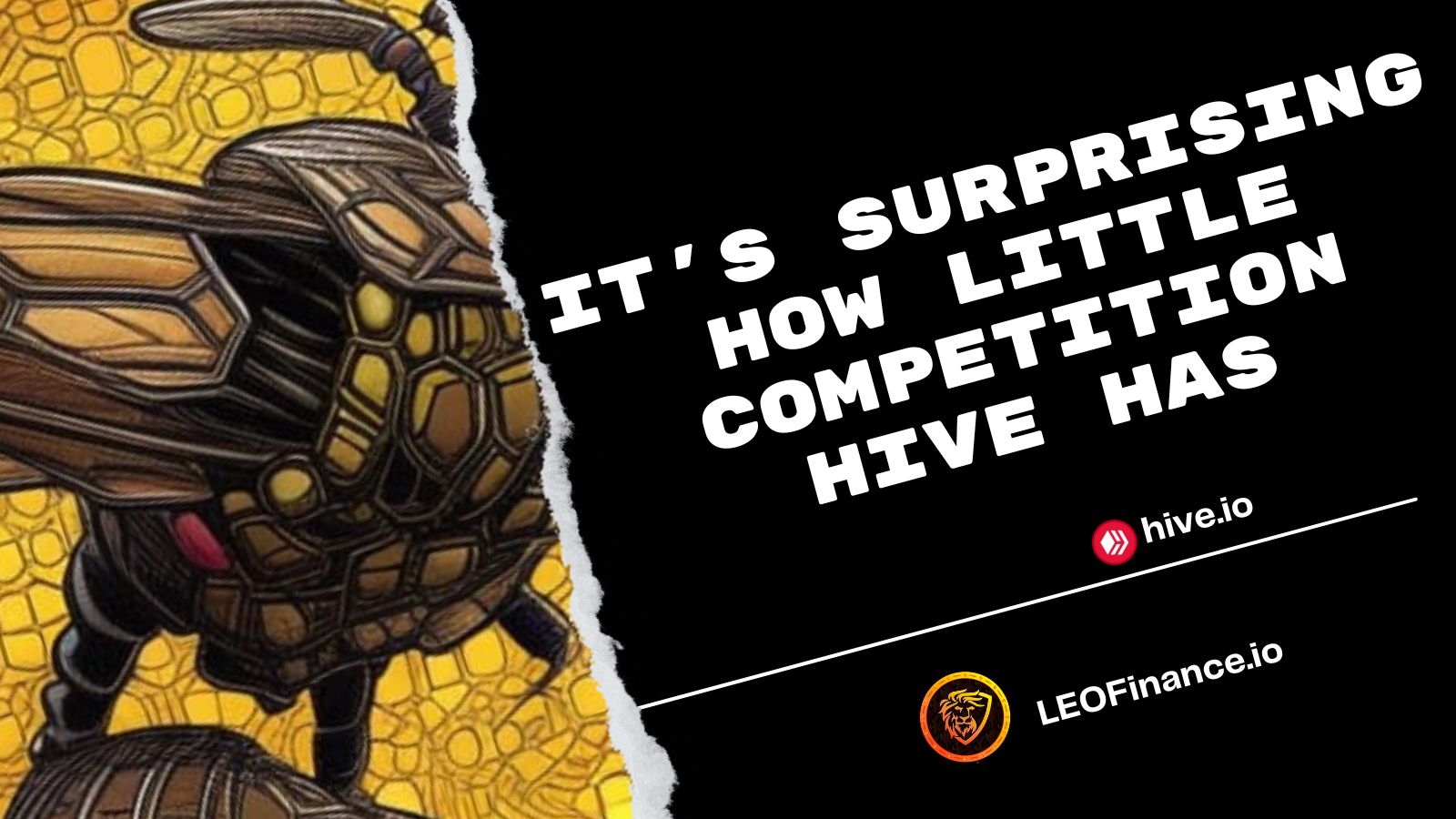 It's Surprising How Little Competition Hive Has
I'm always on the lookout for new crypto platforms that reward their users for using the blockchain and web 3 applications primarily in social. The big issue is they either lack any type of funding so the value to the token is so worthless or they make it near impossible to actully earn anything without investing a ton of money into it yourself first.
Hive Is It's Own
There's really nothing else that compares to Hive. Well of course Steem which is was hard forked from a few years back but that platform has pretty much been run into the ground. Hive however continues to evolve and honestly one of the reasons I feel the price has at least held out better then that of steem is because of the HBD price somewhat being stabilized around $1. It feels like steem just gets abused to the moon.
The closest Facebook example I've found is Torum which I have to say is a rather decent platform and shows you what's possible if you take web2 ideas and start implementing crypto into them.
I had thought somee would have been hive version and while it is what I hate about it is how it connects into hive and gets blogged. That has to be one of the worst "features" of hive is how every post ends up getting published as a blog post instead of using it's own external system. Also the whole voting thing means my vote is eating up my hive power as well as whatever their native token another HUGE downfall in my opinion I should be able to select how much I want to use or if I want to use my hive voting power at all on these front ends.
Hive has a lot going for it however the implementation of it all in my opinion is a disaster to the point where larger accounts such as myself don't really care to take a part in them because of 1) The short form posts I make on these other front ends goes into my core blog on hive which would kill my "blog" following on hive and 2) my hive power gets destroyed.
The only work around to this at the moment is a ugly one in which I have to create separate hive accounts for every hive front end in which I want to use their primary token and not my core hive funds. It's seriously one of the biggest downfalls for larger accounts on the hive blockchain and something front ends need to get figured out.
If anyone else finds themselves in this spot I would love to hear if there are better work arounds to this and what you currently do please.
Development
While I do constantly give hive a bit of a hard time in terms of development and what's being developed there are still many good projects. However the time frames on launch seem slow and cumbersome. Many of the applications and games I thought that would be out during the last bull run never happened and are only now start to release their alpha stages. While I don't have insight on these projects It seems like many became susceptible to the bear market which means the capital they did raise apparently was not invested very well.
However these applications are now finally being released and while in Alpha it's a huge stepping stone for what I feel could be quick development afterwards. It's like getting a early access game. It's core is good but could use a lot of work. However the funds from alpha help fuel faster development. Out of all the games still however I feel Splinterlands has the core foundation to be powerful. With the introduction of land and a number of other tokens which will be traded on the market to fuel buildings and growth within the game all of those fees add up to fuel the company. However I would honestly soon like to see less fees go to the company and instead a part of those fees returned into the games value such as SPS value.
Overall there's still a HUGE lack of any real web3 applications to use that would even start to challenge or take over web2 applications. It could be because of the decentralized nature of things which often times leads to a big mess where nothing worth wild ever really gets built. Or it could turn out to be a huge success like many free applications that have been built by devs and investors over the years. Time will tell but still Hive really has no competition which means all of these applications have a real chance if they start building it like a real company with revenue streams, a team and rewarding the content creators that bring life to their core projects.
Posted Using LeoFinance Beta
---
---