This Crash Will Actully Make Crypto Stronger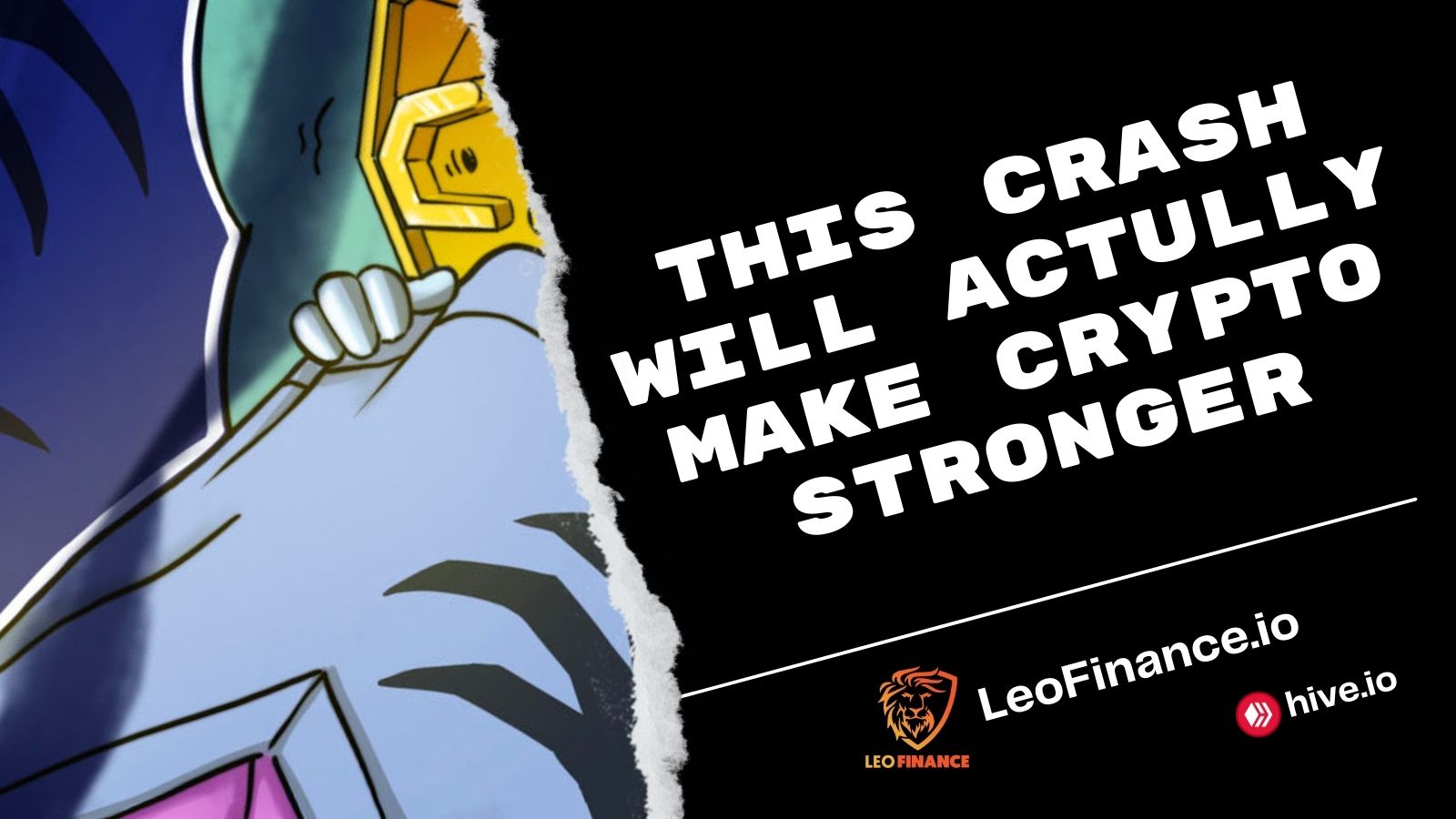 This Crash Will Actully Make Crypto Stronger
Many are looking at this rapid sell off of crypto as a doomsday event for crypto but in reality it's shaping it for what will be the next massive rally that will do miniate the rallies we saw in 2021.
Why?
Fake, Broken and not well planned systems are getting destroyed right now. This is actully a good thing. Over the last 2-3 years people have invested money into junk products, programs and so on and what's come of that are people thinking they are master investors. Pretty much it didn't matter where you invested your money you were going to skyrocket profits no matter what.
This creates what is known as an investor paradox where people get a false sense of knowing what they are doing and start throwing money around. When that happens smart investors who really know what they are doing start pulling there money out of these systems and into more stable systems like stablecoins.
This caught people seriously off guard when UST and LUNA went down. What was thought a secure source of a stable coin quickly became apparent that just because something is labeled as a stable coin does not me it's backed by what they say it is and actully stable.
This is why transparency and researching your investment before hand is CRITICAL.
This has rocket the markets and we are quickly seeing other platforms that are not prepared or relied on these unstable systems start to crumble and fall apart. The big kicker... There's no government to bail them out which to me is actully a huge PLUS!
Yes it hurts and the pain is real for many but guess what that's life and when you don't do your own research and trust others it can often slap you in the face.
What many are realizing now though is that legitimate projects are starting to surface and get light on them. While they are not as sexy as some of these other NFT and such projects they have proven to have a solid groundwork that continues to build and add value.
This is why investing in these now if you haven't already could be a solid play for your long term gains.
You see for myself I've always played the long game and for crypto it's actully pretty short. Back in 2011 I invested in bitcoin and I've held it. I've even held it through the 60k rally as I firmly believe the next run will push us into 100k or more. I also invested in Ethereum back when it was about $13 each and held most of it through the last rally to 4k. Grated I did sell some because yeah that's some serious profit lol but for the most part I have only stack and not sold. I continue to stack on platforms like this LEOFinance and Hive because I've seen their growth potential and I also feel they are rather solid investments (for myself do your own research)
*This article is for entertainment purposes only and not financial advice. Do your own research before investing.
Posted Using LeoFinance Beta
---
---