This Week In Hive Nov 27th CUB, SPLEX and Goals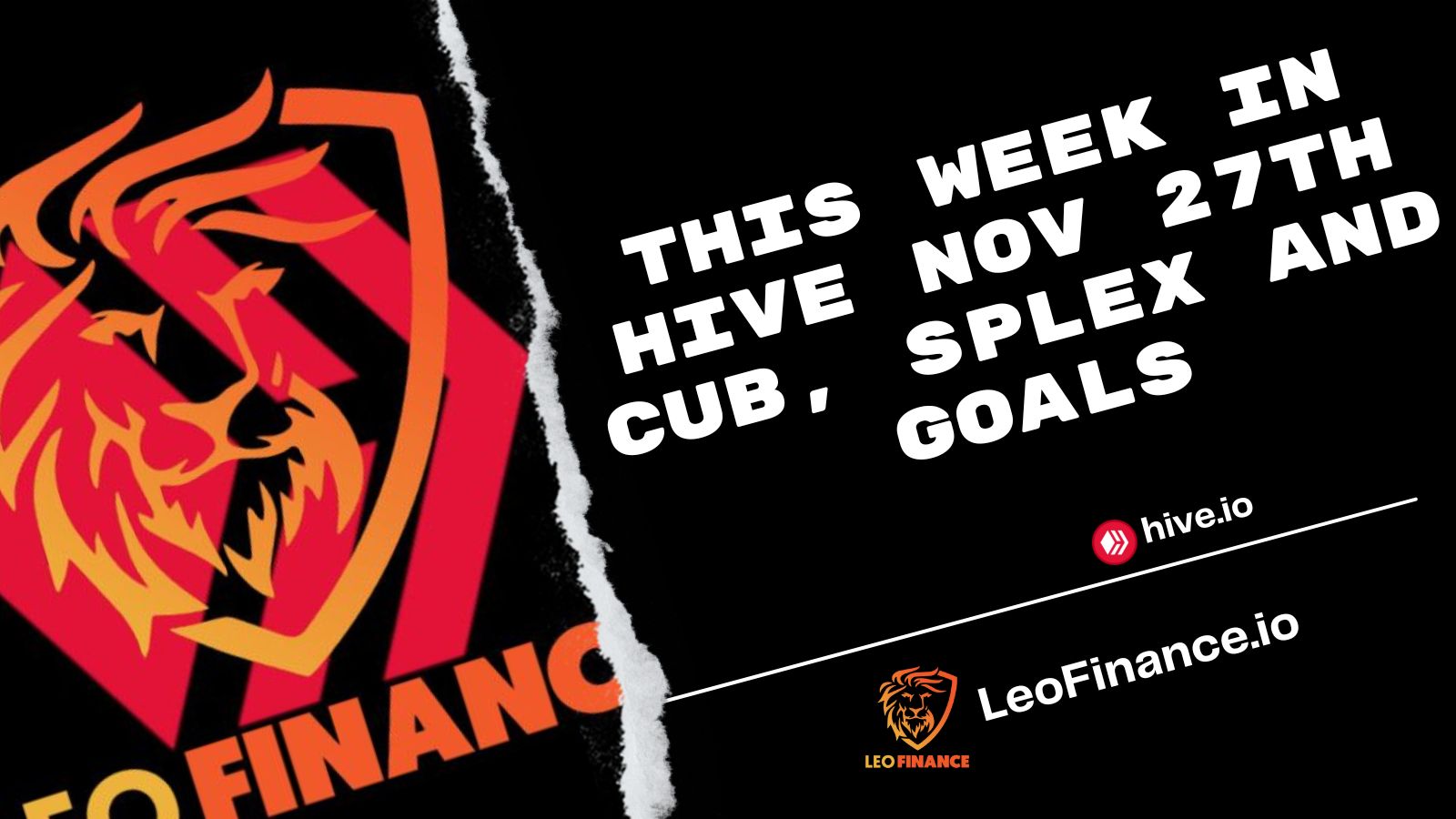 This Week In Hive Nov 27th
This week might not seem busy but I've run into a few cool things which I recently started to use and test out that I'd like to go over. Besides that most of the changes on hive have been very small but let's go over some of those highlights.
CUBDeFi got a update to the CUB kingdoms which now looks more like Pancake swaps locked pool. Now you can take your CUB tokens and either keep them in flexible APR which means they are liquid and can be pulled out at any time or lock them in for up to 52 weeks. The longer the lock the higher the APR. The reason for this is it shows those who believe in the long term of the platform to be more rewarded by locking their CUB for a longer period of time.
Splex.gg While this isn't new it's something I just recently started to use myself. Splex offers the ability to automate your rentals on Splinterlands It's main goal is to optimize your rentals so you're always getting close to the best price for your cards at any given time. I've tried to do this manually in the past but the huge time sink and trying to list and relist rentals is far too much. Splex simplifies this on a epic scale. I put this on a second account which has cards I want to rent and I'll update you all next week on how that's looking. Right now I'm expected around 25,000 DEC per day if not better through estimates and I'm curious how close it is to that estimate. That should put me at around $750 in passive income and yes there is a fee involved for using their platform which I'm also curious to see what happens with that and will keep you all updated.
Goals
Days Left In The Year: 34
Hive
| Goal: 100,000 | Current: 83,548.516 | Needed: 401.25/daily |
| --- | --- | --- |
My hive per day fell as I didn't buy as much Hive this week. This week it was a total of 65.71 Hive per day of which a good portion of that was from buying hive and then powering it up. Hives price has climbed a bit this week now holding around $0.35 - $0.37 which is decent for the bear market we are in at the moment.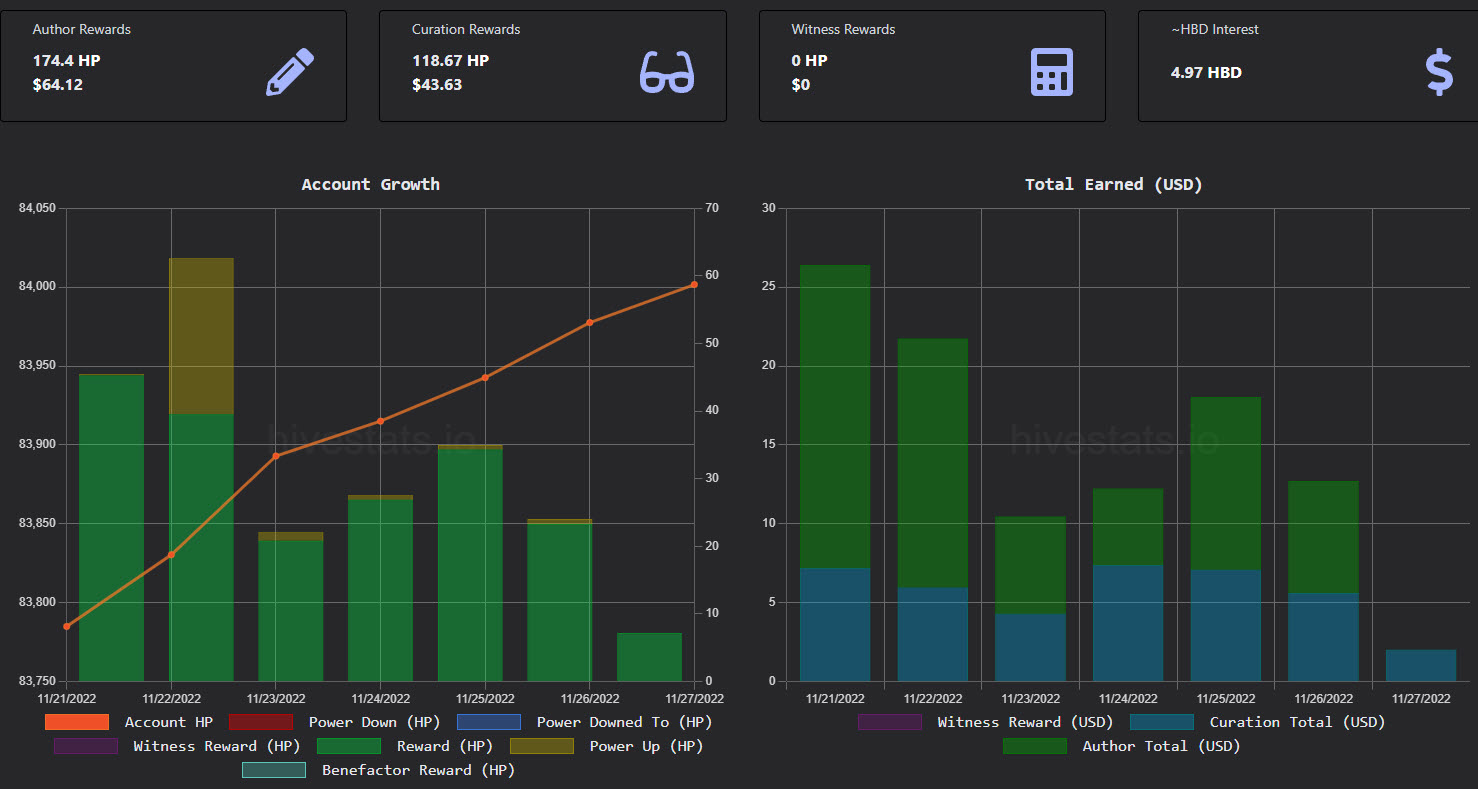 Dollar wise hive has been slow in terms of earnings. With an average of about $12 a day from curation, posting, comments, portion and interaction. I can see this discouraging a lot of people and perhaps we see a down tick in activity. However that might be a good thing as many of those mindset people would have been looking only to cash out of hive instead of powering up and supporting the ecosystem. It could also be why we have been seeing a uptick in the price of Hive as a majority of the people still using it are those who are powering it up. HBD wise however is hard to come by. On most days I earn $5 or less in HBD which is extremely hard to get my hands on for being able to either place it in savings or CUBs Farms.
LEO
| Goal: 75,000 | Current: 87,613 | Needed: 0/daily |
| --- | --- | --- |
Overall the LEO stack has grown by a large amount including a massive 20k delegation now for both working for LEOFinance and also taking part in the Slay the Dragon event in which I powered up over 5k LEO on the last LPUD (LEO Power Up Day) That's pushed me well beyond my goal but my goal is still about 3k shy of what I want in terms of my own stake that is not reliant on a delegation.
LEO for me is one of the projects I'm heavily investing in at the moment and that's because I'm curious on two major events which should be taking place soon. The UI update that should hopefully allow us to have much more activity on the platform including onboarding more people. The Second is the smart contract going into effect that uses ad revenue earned to buy LEO and give it to those who have LEO powered up. To me these two things paint a rather bullish LEO in the short term at least.
The overall feeling on Splinterlands has been a new negative group that seems to just be taking cheap shots at the devs and games. Or perhaps it was always there and I'm just noticing it now. It legit makes no sense to me as the recent moves and downsizing they did are actully GOOD for the game and not bad plus everything is still in line in terms of being released. In fact this week we should finally see the non card market and that could make some serious profits for the company.
My hopes are the non card market has a small fee and that small fee gets split between the company and some of that fee goes back into the game through value of SPS. If that's not the case It's going to be something I'll be pushing for in a proposal.
Overall I am still very bullish for the game and it's value. We have land coming up soon which is going to create a huge amount of new transactions and bring some new use cases to the game.
Posted Using LeoFinance Beta
---
---