Elderflower Fritters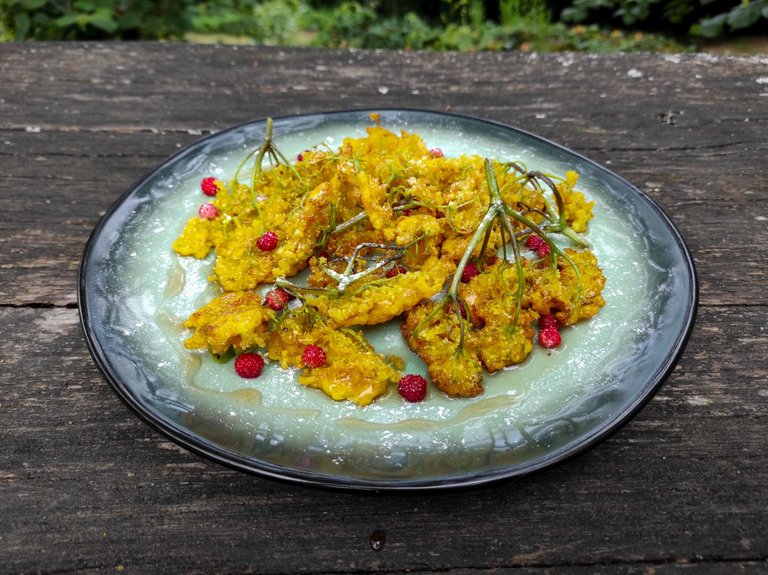 A very simple spring recipe that everyone will enjoy. I picked up elderflowers that are growing next to the garden.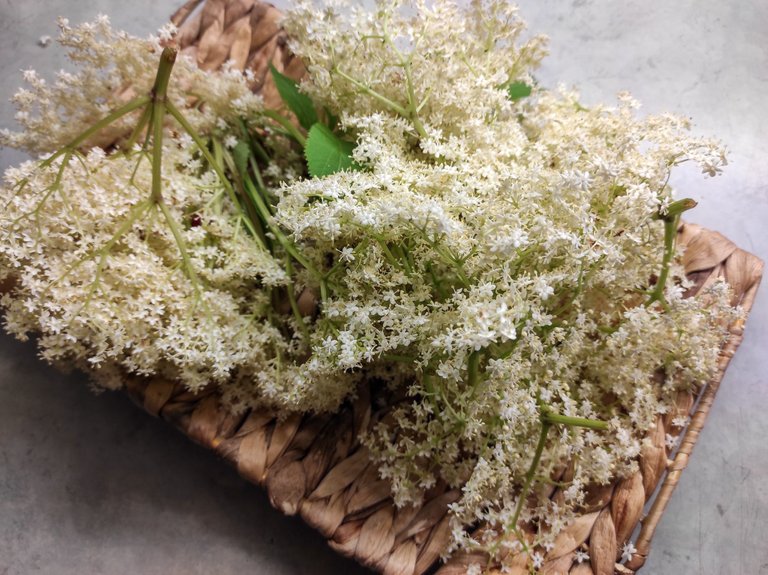 I coated them in pancake vegan dough, I added some turmeric powder for the color and vanilla extract and lemon zest for more flavor.
I used homemade herbal syrup with strawberry flavor that I made a few days ago.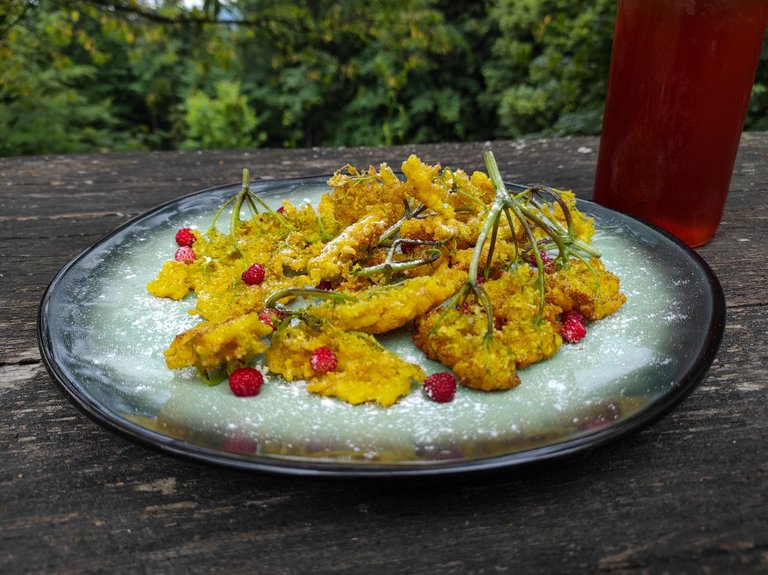 Ingredients:
100 g of flour
¼ teaspoon of salt
1 teaspoon of dry lemon zest
½ teaspoon of turmeric powder
200 ml of rice milk
100 ml of sparkling mineral water
1 teaspoon of apple cider vinegar
1 teaspoon of vanilla extract
1 tablespoon of agave syrup
8-10 elderflowers
400 ml of canola oil
1 teaspoon of powdered sugar
a few tablespoons of herbal syrup with strawberry flavors
a handful of forest strawberries
Preparation:
Sift the flour through the sieve into the bowl. Add salt, dried lemon zest and turmeric powder.

Mix it all together.

In a bowl, add rice milk, apple cider vinegar, vanilla extract, and agave syrup. Whisk it together.

Slowly add half of the flour and slowly whisk it.

Add the rest of the flour and sparkling mineral water. Whisk a bit until you get pancake dough. Don't overmix.

Pour canola oil into a pan and heat it up to 120°C.
Dip the elderflowers into the pancake dough.

Let the excess dough drip off before dropping them in hot oil.

Fry the elderflower fritters for few minutes, until they get golden-brown.

Place them on a wire rack and let the excess oil drip off.

Shake it with powdered sugar and drizzle it with herbal syrup with strawberry flavor and decorate with forest strawberries.

---
---