Garden Pizza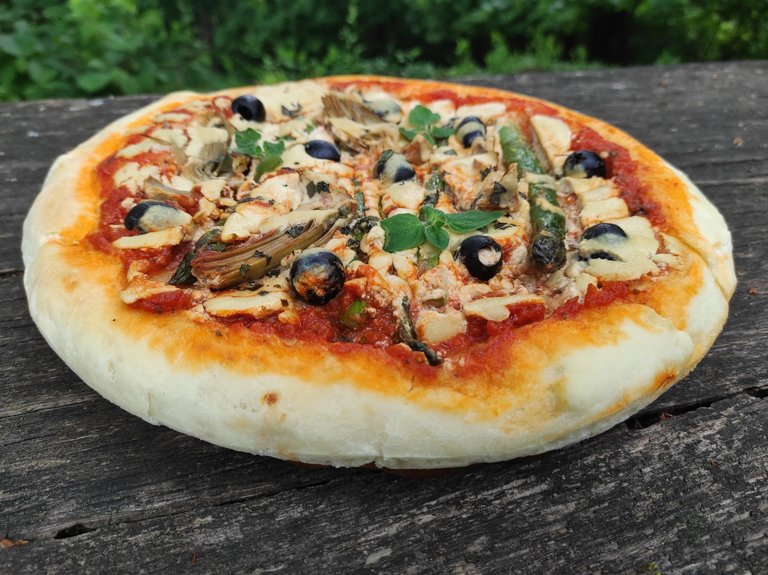 The best pizza dough is prepared a day ahead and it forms overnight in the fridge. For the best results, use a quality flour and a fair amount of salt and olive oil.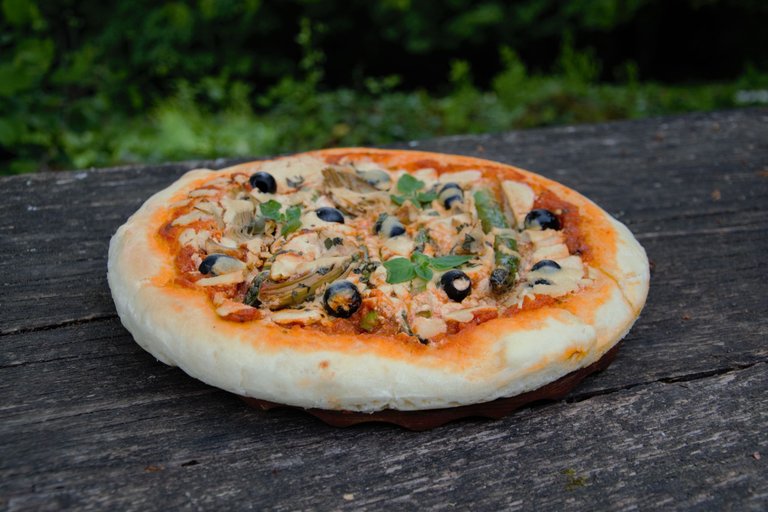 Ingredients for the dough:
600 g of all-purpose flour
16 g of salt
400 ml of warm water
4 g of dry yeast
1 tablespoon of olive oil
6 tablespoons of olive oil (for covering the dough)
Ingredients for marinated artichokes and asparagus:
2 artichokes
half a lemon
a small bowl of water
few asparagus
1 teaspoon of rice vinegar
4 teaspoons of soya sauce
2 tablespoons of olive oil
Ingredients for pizza toppings:
200 ml of homemade canned whole tomatoes
200 ml of vegan yogurt
5 tablespoons of nutritional yeast
5 garlic cloves
a teaspoon of lemon juice
a splash of water
salt
black pepper
origami
a few black olives
marinated artichokes and brussel sprouts
Preparation:
Mix yeast with 1 dl of warm water and a tablespoon of olive oil and let it activate in a warm place for 10 minutes.
Sift flour through the sieve into a big bowl and add salt, warm water and activated yeast.

Start mixing it with a wooden spoon and combine it into a ball. Start kneading with your hands on a lightly floured surface. Knead until it's soft and elastic.
Place it back in a bowl and coat it well with about 6 tablespoons of olive oil. Cover the bowl so the air would not get in. Place it in a fridge overnight.

Cut the lower leaves of the artichokes and trim the tops of the leaves.

Cut away the steams. Halve the artichokes lengthwise and clean the midlle with a spoon.

Rub the parts where we cut them with a lemon, not to change the color. Wash them well in a small bowl of water mixed with lemon juice.
Place it in a steam pot and steam for 20 minutes.

Prepare the marinade, mixing up rice vinegar, soya sauce and olive oil. Pour the marinade over the artichokes and asparagus and toss.

Leave it marinating overnight in the fridge (for at least 6 hours).
Take the artichokes and asparagus out of the marinade and boil the marinade just for a minute or two. It should quickly turn into a thicker syrup like liquid. Pour it over the artichokes and asparagus.
Shape the dough with your hands and place it on an oiled baking tray.

Prepare the tomato sauce, blending 200 ml of homemade canned whole tomatoes.
Add salt, origami and pepper to taste and blend again.

Cover pizza dough with the tomato sauce.

Place 5 garlic cloves drizzled with a teaspoon of olive oil.

Rooast it in the oven for about 20-30 minutes at 200°C.
Prepare an easy vegan cheese, mixing vegan yogurt, nutritional yeast and minced roasted garlic.

Add salt to taste, lemon juice and a splash of water. Mix well and drizzle the pizza with it.

Place marinated artichokes, asparagus and some black olives on top of pizza and sprinkle with origami.

Place it in a preheated oven at 240°C for about 15 minutes.

---
---