Minty green puree with oyster mushrooms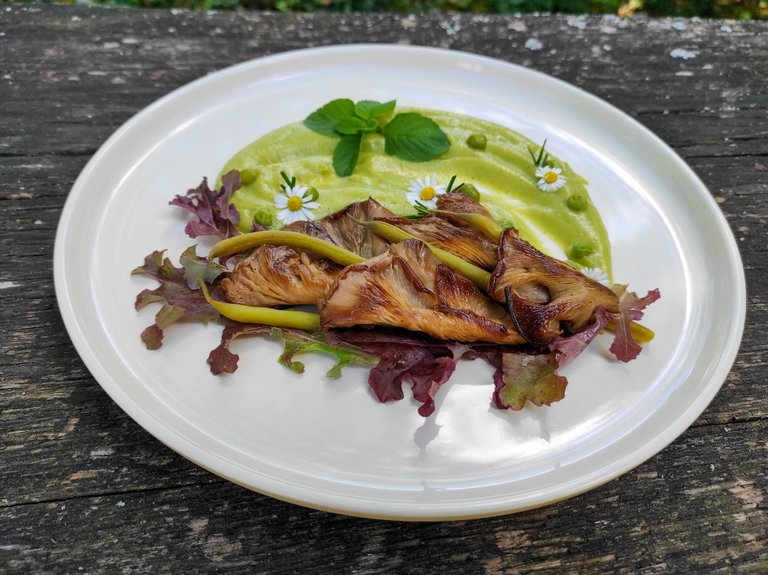 Minty green puree made of string beans, peas and potatoes, aromatized with mint is a perfect summer side dish.
Pink oyster mushrooms that I grow in the bushes near the gardens are matching perfectly with the green puree.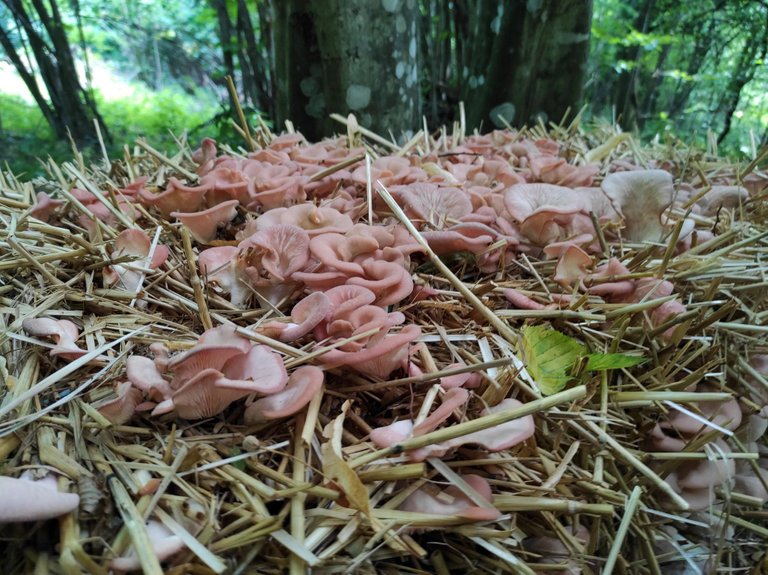 Ingredients for marinated oyster mushrooms:
250 g of pink oyster mushrooms
2 tablespoons of olive oil
2 teaspoons of soya sauce
1 teaspoon of rice vinegar
¼ teaspoon of black pepper
a pinch of sea salt
a twig of rosemary
Ingredients for minty bean puree:
100 g of peas
200 g of string beans
200 g of potatoes
2-3 mint leaves
½ teaspoon of sea salt
a splash of lemon juice
a few leaves of purple salad
daisies
chives
Preparation:
Mix olive oil, soya sauce, rice vinegar, black pepper and sea salt in a small bowl.

Clean and wash the mushrooms.

Place them in a plastic bag and pour the marinade over. Place it in a fridge for at least two hours or preferably overnight.

Place peas, peeled and cubed potatoes and string beans in a pot. Cover with water and add salt.

Boil it for 30 minutes, or until the vegetables are tender.
Drain the vegetables and place it in the food processor. Add mint leaves, a splash of lemon juice and salt to taste.

Blend it until getting a smooth puree.

Heat up the nonstick pan and roast the marinated mushrooms with a twig of rosemary, for a few minutes on both sides.

Plate the puree and mushrooms on top of the purple salad and decorate it with chives and daisies.
---
---