Building confidence on a slackline

Greetings fellow Hivers 👋
Hello everyone 🤗! This is my first time posting on this community, and I think I couldn't share a better weekend experience than the one I just had yesterday 😁. It was a wonderful sunny Sunday when my partner and I decided to spend our afternoon doing something we've discussed a while ago...
Can you guess it, dear reader? (note to self - ofc they can, you suck at suspense 🤦‍♀) That's right - a slackline! A piece of rope that you strap around two trees and try to cross without falling. Sounds fun right? 🤣
Source
Well... NO!

Building confidence 💪
The thing is, dear reader, this whole idea to buy a slackline was not intended for the primary goal of having fun 🙃 (note to self - well, for my partner it was, but that's a whole other story) ... A few weeks ago, my bf suddenly remembers that we should buy a slackline and try it as a way to help me build up some confidence. He talked to me about how confidence, conviction and a quiet mind were needed to perform such prowess.
I had no doubt in my mind that I would struggle (note to self - you see the confidence problem here?) , even if the slackline was just at 20 lousy centimetres from the ground 😅. So yesterday we woke up, saw a blue sky out of the window and we knew that we should take the opportunity to enjoy some fresh air at a park in Oeiras called Parque dos Poetas.
Dear reader, how could I resist this view, right?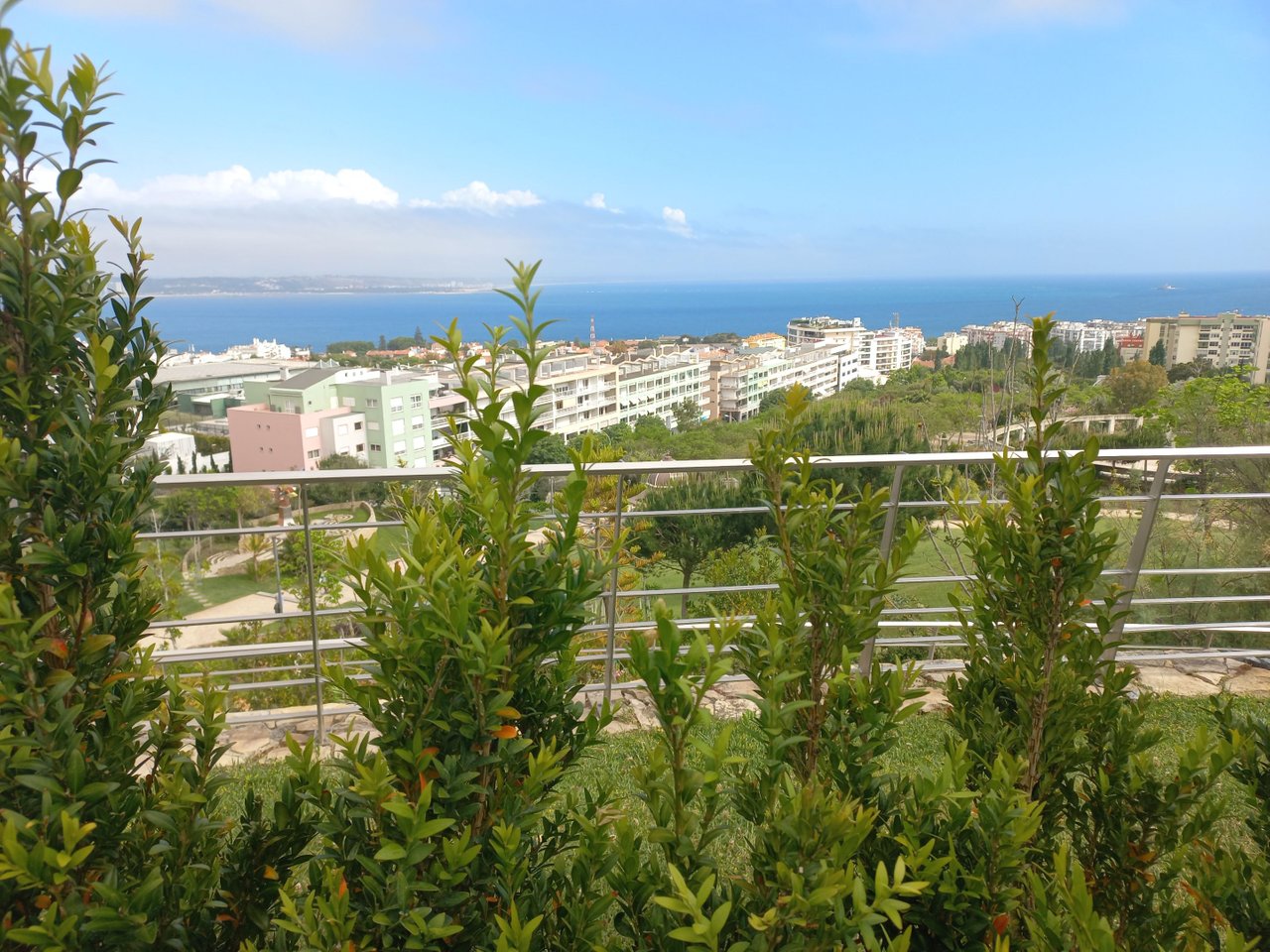 After lunch, we went to a sports shop and bought a 15-meter slackline and some protection from the trees (note to self - I insisted 😆) . So far so good... My partner couldn't contain his excitement as the more radical the experience is the more joy he radiates. It's like an exponential function (note to self - yes, like the one in math 😂) . It was until the whole thing was put in place that I started having second thoughts...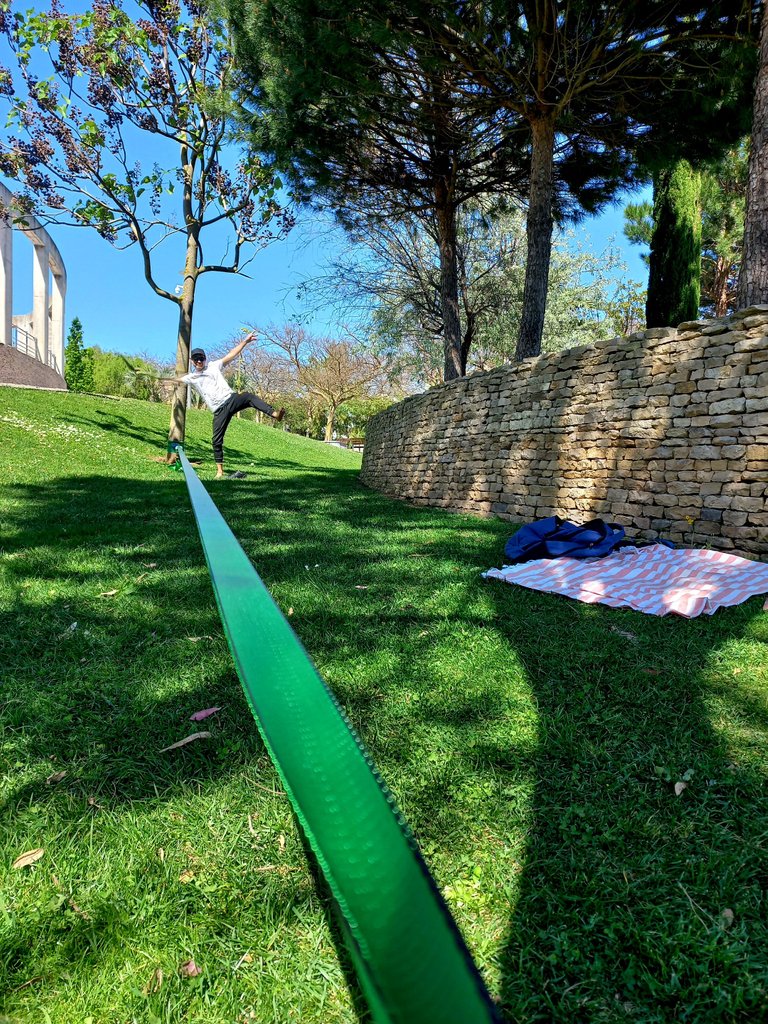 My partner goes first to show me how it's done and I'm sitting down watching him and thinking that if I climb up there, the rope will start to shake uncontrollably until I snap my foot into a fully exposed fracture! I feel my body getting stiffer as he falls for the first time and asks me to try it.
I think it took me about 5 minutes to just be able to climb at the start of the slackline, where the rope resistance is greater and therefore much easier to stand. The moment I see myself off the floor my legs get rigid and the rope starts to shake a bit. I get scared and climb back down. From there, we took turns with my bf pushing me far beyond my comfort zone! The first 2-3 times I went until the middle of the rope with him holding my hand and going beside me.
The sensation when you get there is fucking scary!! The further you go, the looser and shakier the rope gets. He then refuses to hold my hand any further and for the next 20 attempts or so I only tried to push myself forward from that end of the rope and try to stay balanced on one foot.
As time passed, I got a bit more comfortable with the sensation of standing on the slackline and at one point I even managed to give 2-3 steps forward. Maybe until the point I was actually having some fun with it 😁 (note to self - shhhh, don't tell my partner 🙊) . We then decided that we had enough for one day as it was a 30ºC sunny day and we were getting thirsty... I felt like celebrating!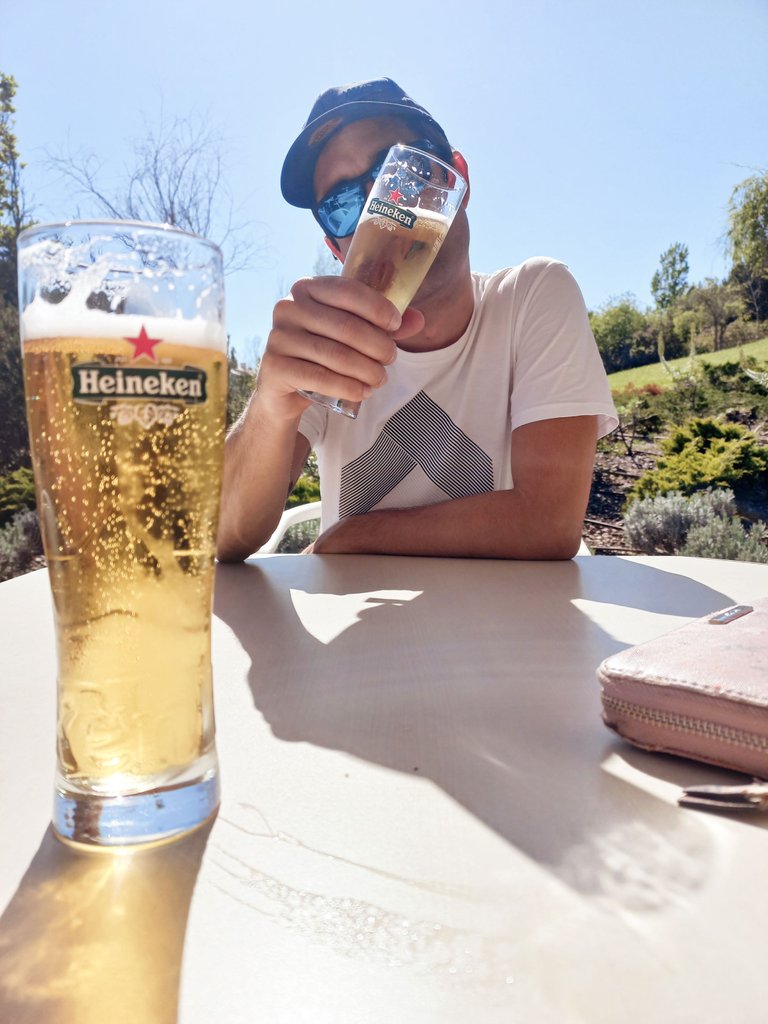 Final notes 💭
That was it, dear reader, my new and exciting weekend experience 😆. I hope you enjoyed reading it and maybe had a laugh or two with my silliness of being afraid to fall 20 centimetres from the ground 😂🤣.
Tomorrow I'll be leaving early from work and my partner already convinced me to try again in the afternoon (note to self - help!) . I wonder... Will I be having a little confidence gained from this experience or will I start from scratch at level terrified?
What about you, dear reader? Have you ever tried Slackline before? How was your experience? Feel free to share it with me in the comments 😊
Thank you for your time! 🙏
---
Text dividers made by @cryptosharon and free to use
Images are my own unless stated otherwise
---
---