MED-HIVE Diabetes Awareness #2 | Gestational Diabetes Mellitus | Complications and Prevention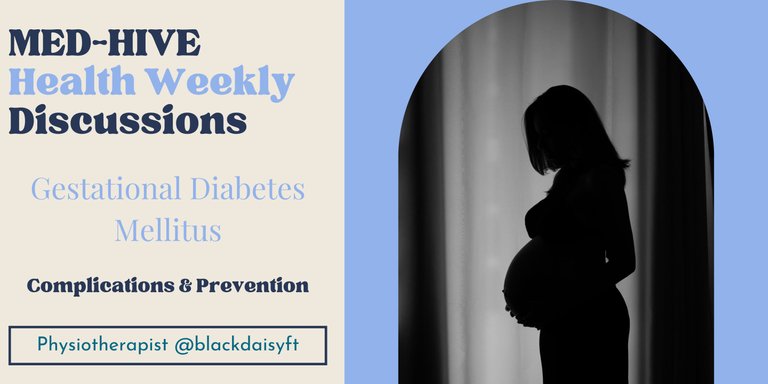 Canva and its free resources were used for the design. You can see it here

Greetings fellow colleagues 🤗
Greeting esteemed colleagues and members of the MED-HIVE community! It's been a while since I had the opportunity to contribute to the month's topic... So today, I thought about talking a little about Gestational Diabetes Mellitus (GDM). A disease that can have multiple consequences, not only for the mother but can also impact the offspring way to adulthood.
In this post, as usual, I'll first present some scientific facts about the disease, not only related to its complications but also one way we can prevent it - physical activity. Afterwards, I'll give my opinion on some recommendations I would give any of my patients related to the subject.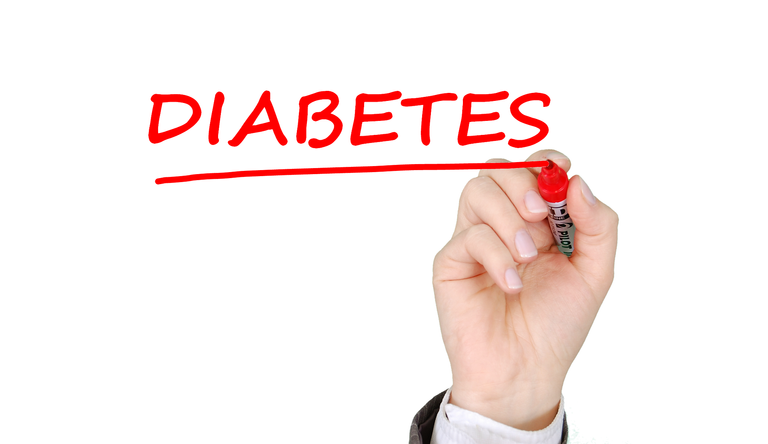 Image by Tumisu on Pixabay

Critical review and reflection 🤔
What is Gestational Diabetes Mellitus?
I believe this concept is not hard to understand and everyone knows that this big word applies to women who develop diabetes anytime during pregnancy. GDM is actually the most common complication during pregnancy and the official definition is as follows:
GDM has been defined as any degree of glucose intolerance with onset or first recognition during pregnancy [3].
Gestational Diabetes Mellitus Prevalence
It's been established by the literature that GDM is the most common complication during pregnancy. However, it can lead to other worse complications and its prevention has never been so important... Globally, we see an alarming increase in sedentary behaviours and obesity which increases the likelihood of developing type 2 DM. The same can be said about GDM,
It is estimated that GDM affects around 7–10% of all pregnancies worldwide [6] .

Every year, 2% to 10% of pregnancies in the United States are affected by gestational diabetes [4].
20 million or 16% of live births had some form of hyperglycaemia in pregnancy. An estimated 84% were due to gestational diabetes [5].
Gestational Diabetes Mellitus Risk Factors
Relating to risk factors for GDM, some of them are very similar to the risk for developing DM type 2 which accordingly to CDC are:
Being overweight.
Are an African American, Hispanic or Latino, American Indian, Alaska Native, Native Hawaiian, or Pacific Islander person.
Have a family history of type 2 diabetes.
[4]
But since pregnancy is such a special event in a person's body, there are a few more risk factors for GMD, which are:
Had gestational diabetes during a previous pregnancy.
Have given birth to a baby who weighed over 9 pounds (>4kg)
Are more than 25 years old.
Have a hormone disorder called polycystic ovary syndrome (PCOS).
[4]
Gestational Diabetes Mellitus Consequences
The health-related problems from GMD are well documented and they are to be taken seriously since it affects both the mother and the babies in different ways. For the mother,
GDM is associated with adverse pregnancy outcomes, including premature delivery, primary cesarean delivery and preeclampsia [3].
Women who had GDM during pregnancy may develop metabolic perturbations after delivery, which include type 2 diabetes mellitus and cardiovascular disease (CVD) [3].

About 50% of women with gestational diabetes go on to develop type 2 diabetes [4] .
As for the offspring, the consequences of having diabetes during pregnancy can have an impact right until adulthood:
As for the more immediate consequences for the moment they are still fetuses and newborns,
Prenatal exposure to maternal hyperglycemia leads to hyperinsulinemia in the fetus, which in turn increases the risk of macrosomia, neonatal hypoglycemia, hyperbilirubinemia, etc [3].
Higher risk of being born early, which can cause breathing and other problems that prematurity brings to newborns [4].
Gestational Diabetes Mellitus Prevention
Despite all of these scary statistics, not all is lost. There is a way, with solid evidence, to prevent DM during pregnancy and that is.... physical activity (PA)! In this regard the impact that PA can have in the prevention of GDM is astonishing,
Eight of 13 meta-analyses from the 2018 PAGAC Scientific Report described higher levels of physical activity to be associated with statistically significant reductions in the risk of GDM. Notably, this risk reduction in the incidence of GDM (...) is similar to the 25-30% reduction in the risk of type 2 diabetes among the general population that is associated with 150 to 300 min/week of moderate-intensity physical activity (refer to 2018 PAGAC Scientific Report, Part F, Chapter 5 for more details) [1].
Some reviews even went beyond to see how physical activity can impact the incidence of GDM, comparing women who did PA before pregnancy to those that didn't:
Those women who reported performing highest levels of total physical activity before pregnancy experienced a significantly lower risk of GDM compared with women reporting lowest levels of total activity [1].
Women who performed such physical activity both before and during pregnancy lowered their risk by 59% compared with those reporting no physical activity during both time periods [1].

My advise and experience 🙌
From this review, I believe it's quite evident the level of importance that physical activity has in the prevention of gestational diabetes mellitus. In summary:
- Pregnant women who perform 150 to 300 min/week of moderate-intensity physical activity, such as walking, cycling, swimming and aerobic dance, had their risk reduced by 25-30%.
- Women who were physically active both before and during pregnancy had their risk of GDM lowered by 59%.
From my clinical experience, sometimes, the women who weren't that physically active before pregnancy, once they realise the importance of it, it's natural they want to start right away the maximum as possible. However, the most important thing to start is to visit your doctor before you engage in any physical activity to discuss your situation and evaluate together what is safe.
If you have the green light from your doctor and you have sedentary behaviours, it's very important to start slow. One cannot forget that the body is now performing the amazing task of creating a human being, therefore it's even more important to build up capacity from zero. You can start by just taking 10 min walks and increase the amount of time from week to week, as long as you feel comfortable. Always listen to what your body is saying to you.
On the other hand, if you already were an active person before pregnancy, my recommendation is that you just keep what you are doing with some adjustments. In case you do heavy weight lifting or high-impact exercises it's very important to check with your doctor first and adjust the intensity as you feel needed. If you do radical activities that can involve falling or exercise at high altitudes it is recommended to stop and switch to another activity of your liking.
You can consult this website for more information on activities to avoid during pregnancy.

Final notes 💭
My final recommendation is that you just move your body the way it feels good to you! Dance if you wanna dance, wiggle if you wanna wiggle. Your baby will love it in so many different ways and, in the process, you'll help your body to adjust easier to the different physical changes pregnancy brings.
Thank you so much for reading this far! I hope this post can be of service and help to both women and health professionals out there in the Hive blockchain 🙏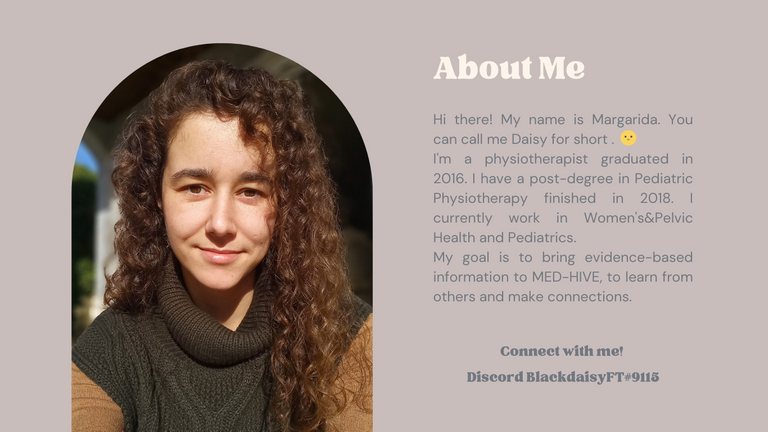 Canva was used for the design and the image is my own. You can see it here
Text dividers made by @cryptosharon and free to use
---
---