Three Tune Tuesday #112 | Celebrating new beginnings | Embracing the unknown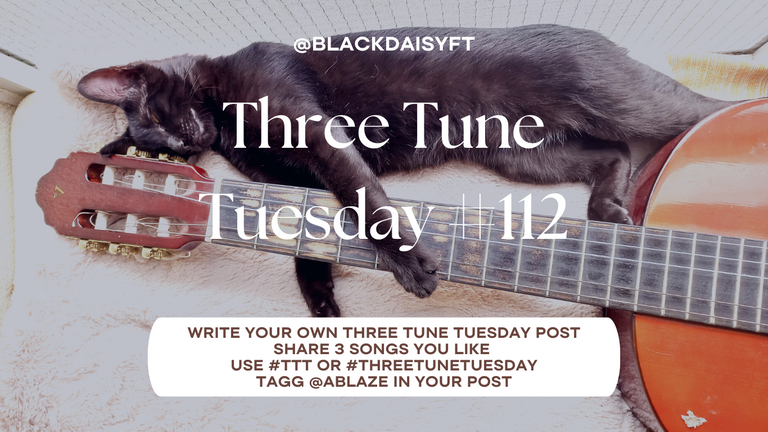 Canva was used for the design and the image is my own. You can see it here
Greetings fellow musical Hivers 🤘
Hey there dear readers!! Daisy is back for Three Tune Tuesday 😁🙌😎! I kinda feel I've been saying a lot of that this year, particularly in the last couple of posts. Life always seems to get in the way but this time, my break on Hive was for the best possible reasons.
A while ago I talked about (note to self - well, I complained about) my journey of house hunting with my partner in this post. Well, the thing is.... Sometimes, life knows what it is doing and in the end, it all makes sense (note to self - even though I was yelling at the walls of my old house just a few weeks ago 🤣) .
You got that detail, dear reader? Old house?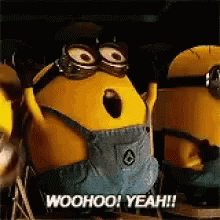 Source
YEEESSSS!!! WE FINALLY FOUND OUR DREAM HOUSE!!! 😍
Therefore, for today's post, we have much joy and celebration as would be expected even though it might be a bit confusing once you get to my song recommendations of this week... Hence the "embracing the unknown" title part of this post 😇...
Did I spike your curiosity, dear reader? Follow me! (note to self - Ahhhh, I'm so so happy to share this!!!)

Three Tune Tuesday 🎸
For those of you who don't know, Three Tune Tuesday was created by @ablaze and as he explains 👇
The jist is as follows

Every Tuesday I'm going to share 3 songs which I like to listen to and I invite your feedback in the comments below. Better still, why not have a blast of your own Three Tune Tuesday and mention me in the post and I'll come and find the post and upvote it. It'll be a sweet way for us all to discover new music. You'll also be in with a chance of winning a prize.
It was a beautiful sunny Sunday, the 25th of June when we finally spend the first night in our new home. Brand new (note to self - GIGANTIC) bed, brand new pillows, brand new white cotton sheets and I'm in absolute heaven!
Side note, who knew that a new bed would be such a turn-on? (note to self - talking about ascending to heaven, uh? 😉😆) . I mean, this one doesn't even squeak!! If there are female readers out there we all know, fewer distractions equal 😇😇😇😇😇😇😇😇😇😇😇😇😇😇😇😇...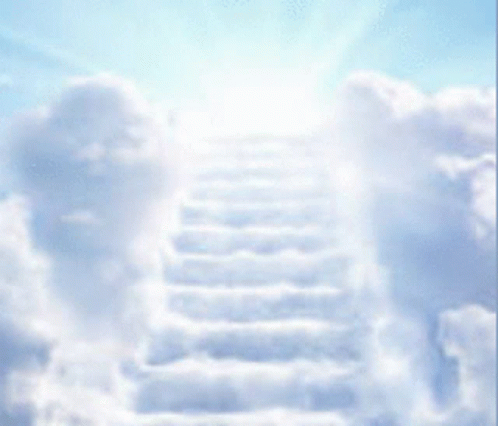 Source
Well... This post took quite an unexpected turn of events 😂 (note to self - I did not plan to talk about this! 😳) . Let me get back on track... Where was I? Oh yes, moving process!
I will spare you all the details of things gone wrong during the moving process (note to self - Puuufff, lots of them!!) and all the things we've discovered in the meanwhile that we need to fix in the house (note to self - I need the oven fixed asap!!) because today is all about celebration and enjoying happiness. So, despite all the unboxed boxes I still have clustered together in one room, our house is getting assembled piece by piece and I'm loving the process!
Have I told you that I love assembling furniture?! It's like a puzzle to solve which I quite enjoy! Last week our desks arrived and it was finally time to set up my computer and get all my websites connected again, including Hive (note to self - it took me a freaking hour to find my password notebook!) .
As I slowly get my things and space assembled, my daily routine is also starting to become more complete each day which increases greatly my creativity and willingness to let words flow (note to self - therefore this post 😆) . This weekend, I was doing some more unboxing when I got a great idea for this and probably the next Three Tune Tuesday post!
Watch closely! Can you guess what it is, dear reader?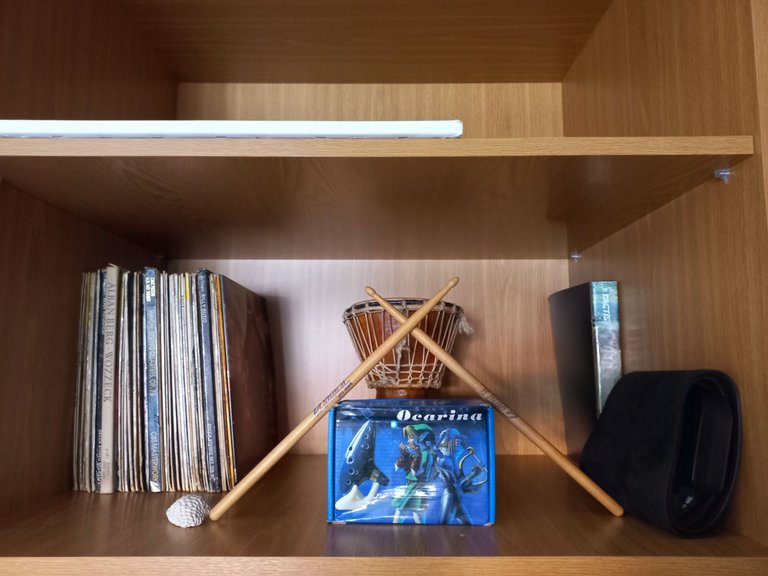 That's right, here are some awesome Vinyl discs from my partner that I never took the opportunity to explore because we didn't have a vinyl reader (note to self - or so I thought) ! Luckily, with the moving process, I found a vinyl player he got from his sister on his birthday and totally forgot about it. How can I put it? He's the kind of person that we portuguese would categorize as a head on the moon 😂.
Therefore, I've decided for the next #ttt posts I'll choose a random vinyl disc, listen to all its songs and then share my top 3 with you! This way we'll have some fun discovering great new songs and artists and I'll get some dust off these relics 😁 . Plus, I think this will keep my #ttt ideas covered for like a year or so!
What do you think, dear reader?? Sounds good? Great! So let's get the party started this week with... As @ablaze would say, drum roles, please 🥁🥁🥁🥁!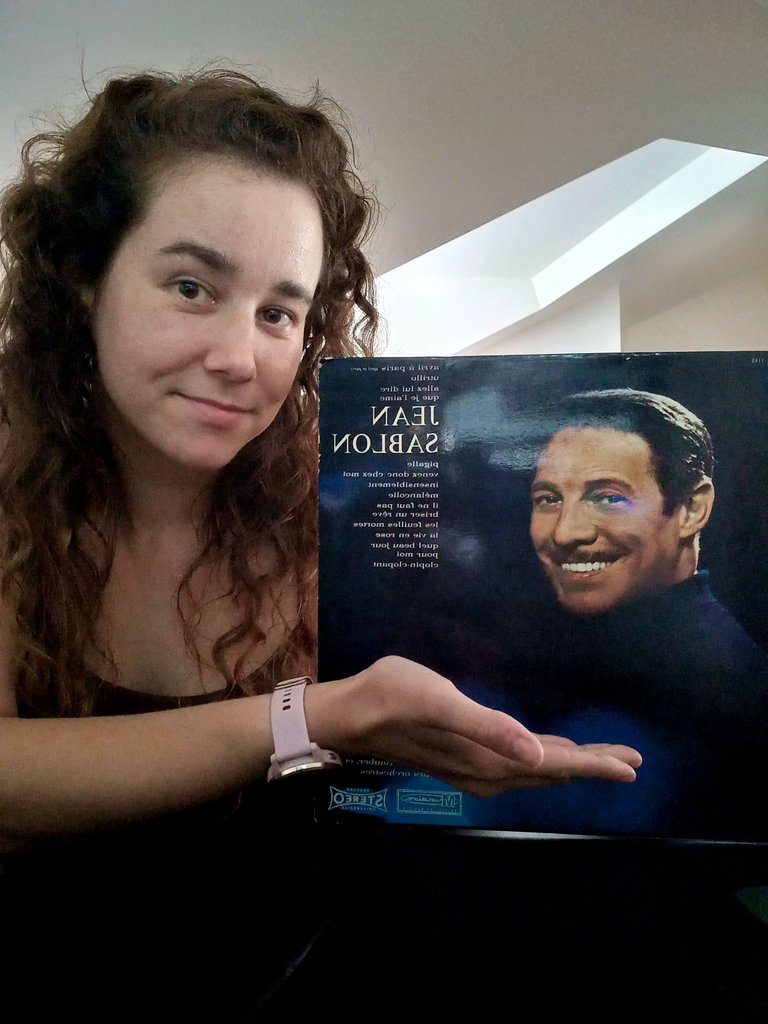 JEAN SABLON is the random pick of the week! (note to self - Upsss, I did not think about this picture through 😂. Mirror effect! )

My 3 song recommendation from Jean Sablon 😎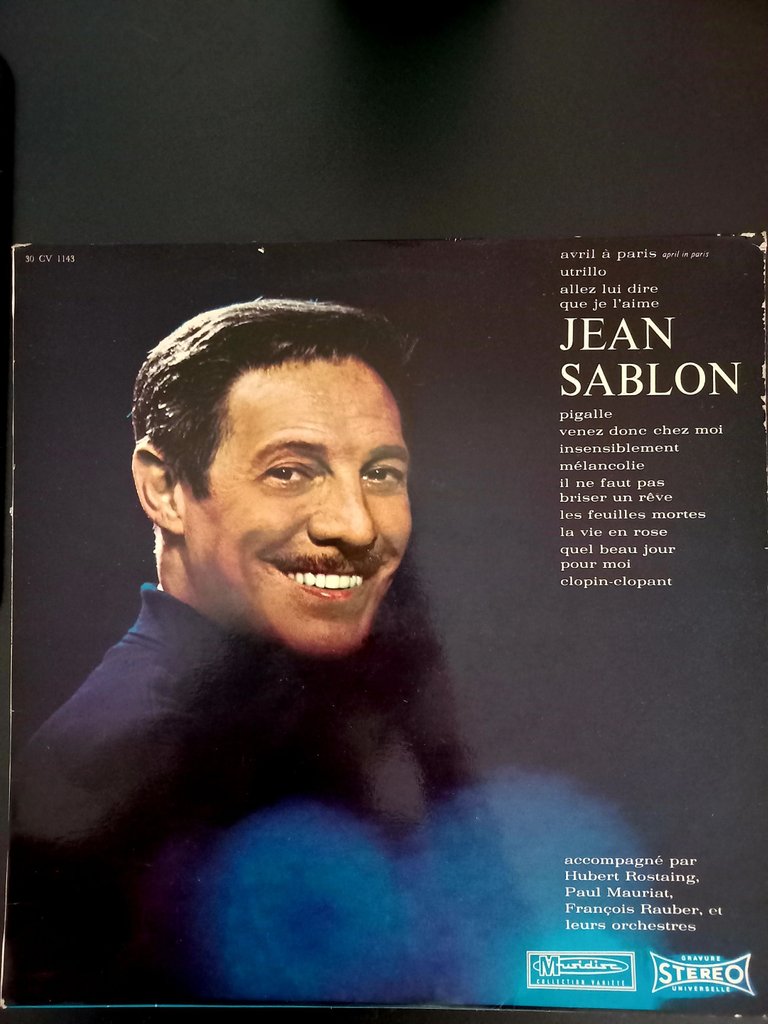 I most definitely did not see that coming! I wouldn't have guessed that Jean Sablon sang La vie en rose which turned out it was the only song I knew from the entire lot! After a quick Wikipedia search I got confused as to either the song La vie en rose is his original or not...
But I didn't choose that one so let's start things off with a melodic one that I quite liked the piano. Might be a bit mellow and down for the content of this post but my choices this time were limited. I think Jean has quite a sad tone to its songs.
1 - Utrillo
This next one is quite jazzy. Maybe a bit melancholic but I like the piano once again and the violin at the beginning.
2 - Il ne faut pas briser un rêve
I saved my favourite for last! The only one I found that was more cheerful and quite funny in my opinion! I love the flutes after he says "Pigalle" 😆. It kinda makes me wanna dance on tip toes 😂.
3 - Pigalle

Final considerations 🙌
That's it from me today, dear reader! What do you think about this week's selection? Did you like any of them? Which one was your favourite?
I'm certain there will be a vinyl down the road that I will probably dislike, especially because my likes and dislikes are greatly influenced by my mood at the time. So, to be honest, it is totally unpredictable whether I'll like it or not. One thing I know for sure, I'm curious to see what I'll get for my next #ttt post!
Nevertheless, I hope you liked my randomness and content in the selection this week and thank you so much for your time celebrating with me 😊.
See ya! 🙌👋
---
Disclaimer - I do not own the copyright to any of these songs and the main purpose of this post is educational. The goal is to share talents and tunes with Hive community and Music community, thus expanding our musical horizons.
Please consider supporting the artists you like in any way you can.
---
---