Three Tune Tuesday #55 | Slowing down the pace with Alt-J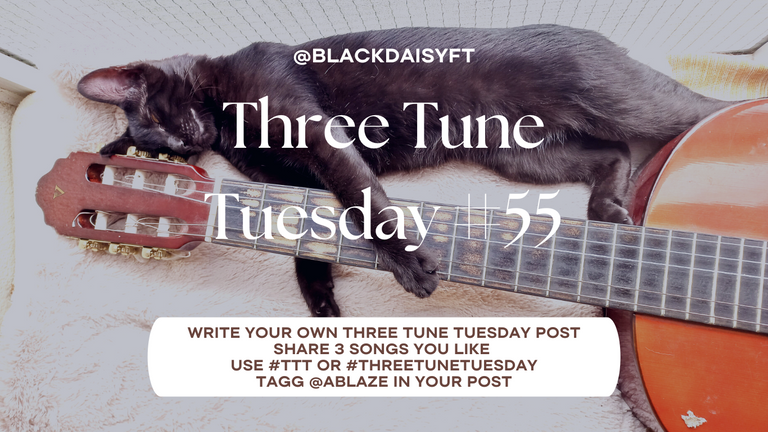 Canva was used for the design and the image is my own. You can see it here
Greetings fellow musical Hivers 🤘
---
Hey hey hey fellow hivers 😁. It's been a while since the last time I posted and what a better day to return than Tuesday? 🤘 That's right, it's #ttt time and I didn't want to miss another week of sharing, writing and interacting with you, dear reader 🤗. I truly missed coming here and just letting words flow. However, my absence these last few weeks were for very good reasons, I would say 😊. As I shared with a few friends, I will now share with you.
I have a new part-time job at a private hospital. Career wise, this is a huge opportunity for me as I have the opportunity to work on an interdisciplinary team (cooperating with other health professionals) 😁😁😁. On top of that I'm working exclusively in Pediatrics which is a special passion of mine alongside Women's Health 😍😍😍. It was actually my first passion, and the main reason I graduated in physiotherapy was because I wanted to help children, while life eventually led me to Women's Health.
However, I already have a full-time job working independently as a liberal professional with my usual patients. So, this means that at least 3x/week I'm doing physio sessions or pilates classes from 9am to 8pm 😅. Paperwork, finances, writing clinical records, organising my schedule, follow-up messages and studying to stay up to date is all left for my free time which just got a lot shorter 😅.
So, there are some consequences to think about and the truth is that something has to give in a secondary plan, so I'm probably going to be less active on Hive and posting less. Since maintaining the quality of my posts is still a primary goal here, I prefer to be here less but at least in a meaningful way.
See my attempt to maintain my essence, dear reader? Already diverged from #ttt to my personal life for a while 😆. (note to self - we aim to please so get to the point already! 😂)
---
Three Tune Tuesday 🎸
For those of you who don't know, Three Tune Tuesday was created by @ablaze and as he explains 👇
The jist is as follows

Every Tuesday I'm going to share 3 songs which I like to listen to and I invite your feedback in the comments below. Better still, why not have a blast of your own Three Tune Tuesday and mention me in the post and I'll come and find the post and upvote it. It'll be a sweet way for us all to discover new music. You'll also be in with a chance of winning a prize.
With that being said, the songs I'm about to share today are from a band I already saw live in Portugal back in 2018 (I think). Alt-J is a band with 4 amazing guys who harmonise perfectly in my opinion. They are coming back to a famous festival called NOS Alive and I wouldn't mind at all seeing them again if I had tickets.
Today I felt the need to listen to something that made me slow down from these intense life rhythm and Alt-J was the first one that pooped up in my head 😊. I would say their sound is a bit different than the Alternative Rock I usually hear so it's kinda an Extra Alternative Rock. The point is, I just love their melodies and tunes. For me, they have a very relaxing effect. On the other hand, their lyrics can be really confusing and it's kinda hard to understand what could be crossing their minds when they were writing the songs 😆😆. I confess I still don't understand some of it 😂 but then again, I really love the whole music, for me the instrumentals and voices are put together so so well, therefore I listen to them regardless.
I shall let you take your own conclusions! So, let's go to the tunes, dear reader? 😊 With lyrics on screen for the full experience.
---
My 3 song recommendation 😎
1 - Tessellate - Alt-J
2 - Breezeblocks - Alt-J
3 - Taro - Alt-J
---
Final considerations 🙌
That's it from me today dear reader 😊. Please feel free to drop a comment with your thoughts about the lyrics and what do you think they meant to transmit with each particular song 😍. If you liked the melodies or maybe it's not really your style? I would really love to read them!
Take care! 👋
---
Disclaimer - I do not own the copyright to any of these songs and the main purpose of this post is educational. The goal is to share talents and tunes with Hive community and Music community, thus expanding our musical horizons.
Please consider supporting the artists you like in any way you can.
---
---