Consigue una Delegación Económica con Blocktrades - Get an Economic Delegation with Blocktrades

Buenos días amigos, En está ocasión traeré una opción para conseguir una delegación muy económica gracias a los amigos de @blocktrades como todos sabe de HIVE a diferencias de otras redes no cobrar ninguna tarifa pero todas las interacciones dentro de la red HIVE tiene un costo en créditos de recursos y la cantidad de estos depende de los Hive Power(HP) que tengamos en la cuenta.
Good morning friends, This time I will bring an option to get a very economical delegation thanks to the friends of @blocktrades as everyone knows HIVE unlike other networks do not charge any fee but all interactions within the HIVE network has a cost in resource credits and the amount of these depends on the Hive Power(HP) we have in the account.
cuando somos nuevos no tendremos HP y la cantidad de créditos de recursos disponible es muy escasa, afortunadamente existe diferentes comunidades que proporciona a los usuarios mas nuevos delegaciones por varios días para que ellos tenga la oportunidad de obtener HP ellos mismo o el increíble servicios de GiftGiver.site que nos dan una delegación de aproximadamente 11 HP por 7 días algo muy apreciando.
when we are new we will not have HP and the amount of resource credits available is very scarce, fortunately there are different communities that provide the newest users with delegations for several days so that they have the opportunity to get HP themselves or the amazing services of GiftGiver.site that give us a delegation of approximately 11 HP for 7 days something very much appreciated.
pero hay caso donde ya no somos usuarios nuevos y no podemos solicitar una delegación pero tampoco somos una ballena que nos sobra los HP además el servicios de GiftGiver.site al ser un servicio gratuito cuanta con algunas limitaciones donde en ocasiones no estará disponible las delegaciones.
but there are cases where we are no longer new users and we can not request a delegation but we are not a whale that we have too many HP and also the GiftGiver.site service being a free service has some limitations where sometimes delegations will not be available.
entonces ahí es donde entra @blocktrades pero QUE ES BlockTrades? básicamente Exchanges pero que nos ofrecen un servicio descentralizado Desde su web podemos comprar y vender criptomonedas entre ellas HIVE sin tener que pasar por las demás Exchanges.
so that's where @blocktrades comes in but WHAT IS BlockTrades? basically Exchanges but they offer us a decentralized service From their web we can buy and sell cryptocurrencies among them HIVE without having to go through the other Exchanges.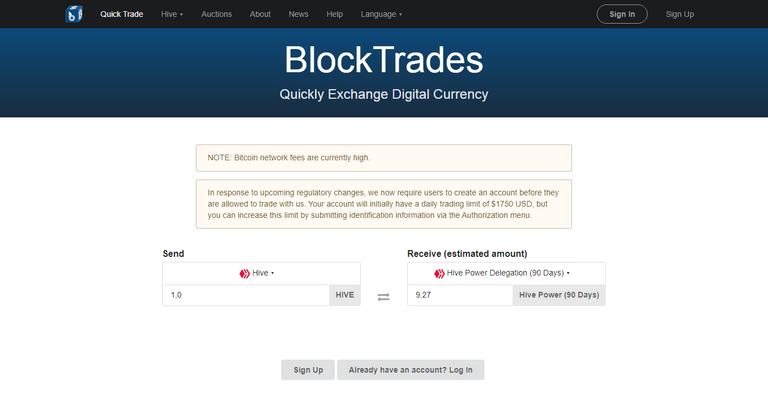 pero hoy no nos interesa la compra y venta de criptomonedas sino una delegación donde por 1 HIVE obtendremos aproximadamente 9 HP por 90 días esto es especialmente útil para las personas que realiza publicaciones diarias, sorteo, concurso, iniciativa o simplemente realiza muchas interacciones durante el día dentro HIVE.
but today we are not interested in buying and selling cryptocurrencies but in a delegation where for 1 HIVE we will get approximately 9 HP for 90 days. This is especially useful for people who make daily publications, sweepstakes, contests, initiatives or simply make many interactions during the day within HIVE.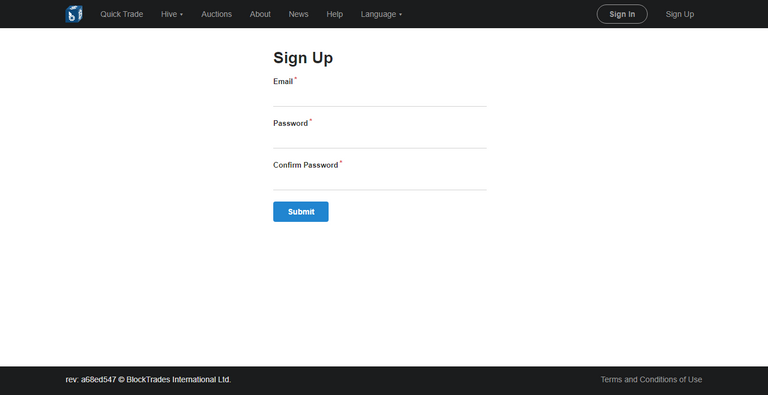 para hacer uso de su servicio debemos registrarnos y proporcionar simplemente un correo y una contraseña.
to make use of their service we must register and simply provide an email address and password.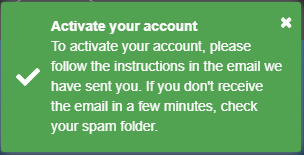 inmediatamente nos enviara un correo con una confirmación para que la cuenta este activada y podemos hacer uso de su servicio.
immediately send us an email with a confirmation that the account is activated and we can make use of your service.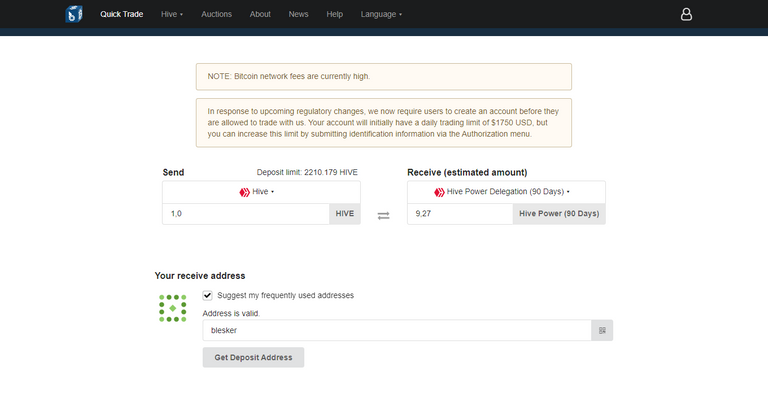 ya con la cuenta activada solo debemos seleccionar e ingresar la cantidad de HIVE que enviaremos y seleccionar HIVE Power Delegation (90 DAYS) además debemos colocar el usuarios de HIVE y realizar el deposito.
Once the account is activated, we only have to select and enter the amount of HIVE we will send and select HIVE Power Delegation (90 DAYS), then we have to enter the HIVE user and make the deposit.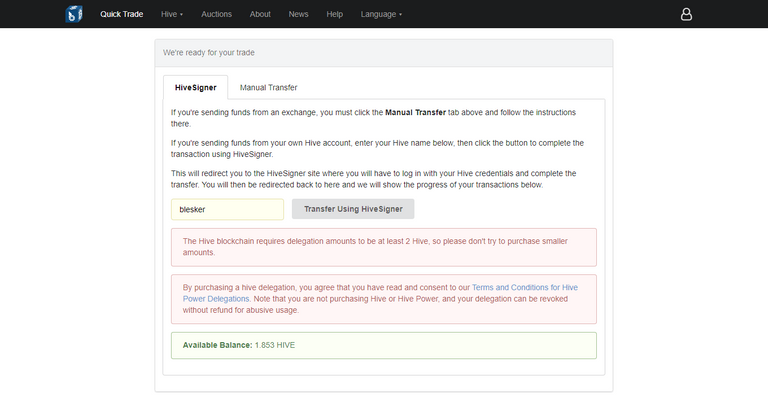 luego de eso nos aparecerá dos opciones de deposito HIVESigner o transferencia manual ya eligiendo la opción preferida procedemos ha realizar el deposito y en un par de minutos nos delegara la cantidad de HP elegida.
After that we will see two deposit options HIVESigner or manual transfer and choosing the preferred option we proceed to make the deposit and in a couple of minutes we will be delegated the amount of HP chosen.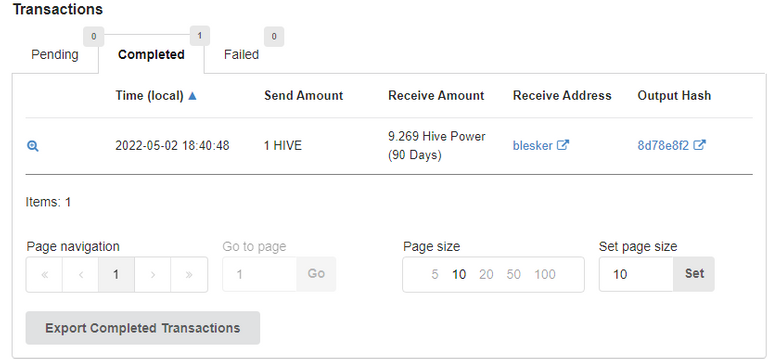 como podemos ver es fácil y rápido obtendremos una delegación y es relativamente económica ya que en mi caso 1 HIVE me esta dando una delegación de 9 HP por 3 meses lo mas probable es que en ese tiempo gracias a la delegación obtenga mas de 1 HIVE, lo único malo que veo es que no tiene integrado Hive Keychain y debemos realizar una transferencia manual en caso de no tener HIVESigner que será lo mas común, aunque si ya hemos enviado Hive anteriormente por ejemplo a Binance será muy parecido, si has llegando hasta aquí te doy las gracias por leerme.
As we can see it is easy and fast we will get a delegation and it is relatively cheap because in my case 1 HIVE is giving me a delegation of 9 HP for 3 months, most likely in that time thanks to the delegation I will get more than 1 HIVE, the only bad thing I see is that it does not have integrated Hive Keychain and we must make a manual transfer if we do not have HIVESigner which will be the most common, although if we have already sent Hive previously for example to Binance it will be very similar, if you have come this far I thank you for reading me.
NOTE
Translated with www.DeepL.com/Translator(free version)
WEB: Blocktrades
IMAGES OWNED BY @blocktrades


---
---