[Eng. - Esp.] My collection of Desert Roses. - Mi cilección de Rosas del Desierto.
Greetings friends,
Saludos amigos,


Yesterday was a rainy day, according to a tropical wave passing by the Venezuelan coast and has caused rain with strong winds in these parts. Today the day dawned shining, a sun more intense and beautiful than ever, that sun that gives energy to everyone to be able to live?
Ayer fue un día lluvioso, según hay una onda tropical pasando por las costas Venezolana y ha provocado lluvia con vientos fuertes por estos lados. Hoy el día amaneció reluciente, un sol más intenso y hermoso que nunca, ese sol que da energía a todos para poder vivir...


Did you know how important the sun is for life? I knew it was important, but with all that the covid pandemic generated, I learned how important it is for human beings. The days of confinement due to the pandemic caused a lot of damage because of the lack of sun on people. I used to stay out of the sun, I didn't like to be in contact for a long time but now I try to walk right where the sun is.
Sabían la importancia que tiene el sol para la vida? yo sabía que era importante, pero con todo lo que generó la pandemia por el covid, fue que me enteré qué tan importante es para los seres humanos. Los días de encierro por la pandemia provocaron mucho daños debido a la falta de sol en las personas. Antes solía alejarme del sol, no me gustaba estar mucho tiempo en contacto pero ahora procuro caminar justo donde hay sol.


Today's topic is not about the sun but it has a lot to do with this beautiful source of energy... and I want to talk to you about my desert roses... Remember I once told you how much I loved these plants and I made a post introducing you to the first one I bought. Well, I guess I was a bit impulsive the following months and bought 5 other plants.
El tema de hoy no es del sol pero tiene que ver mucho con esta hermosa fuente de energía... y es que quiero hablarles de mis rosas del desierto... Recuerdan que una vez les dije cuanto me gustaban estas plantas y les hice una publicación presentándoles la primera que me compré. Bueno, creo que fui un poco impulsiva los meses siguientes y compré otras 5 plantas.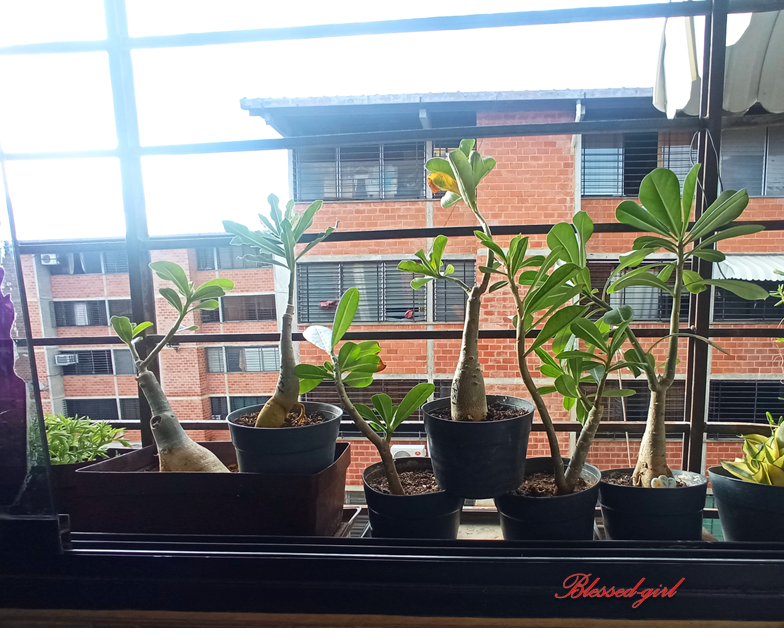 My first plant.
Mi primer planta.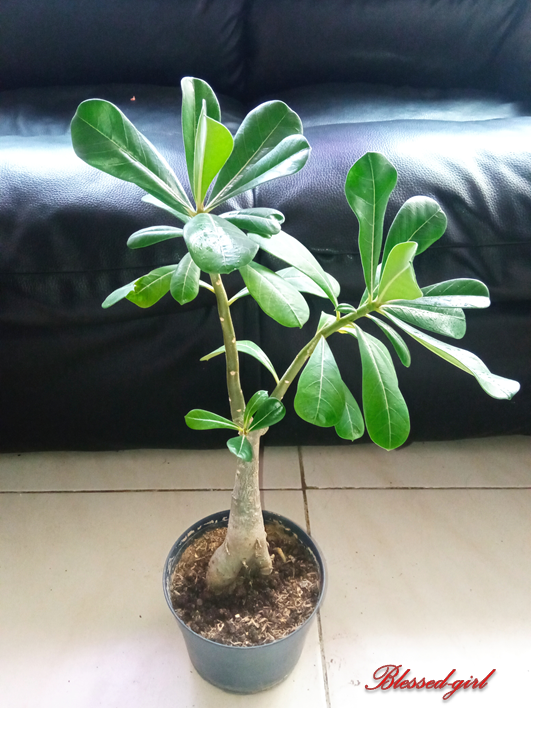 It has kept very well, It has grown more leaves and has grown in size, however It has not yet given me the first flower, so I bought 2 more plants that I saw in mercadolibre, since in the photo one of them had flowers, I thought that by having flowers it would be faster to give flowers to me.
Ella se ha mantenido muy bien, le han crecido más hojas y ha crecido de tamaño, sin embargo aún no me ha dado la primera flor, por eso compré 2 plantas más que vi por mercado libre, ya que en la foto una de ellas tenía flores, pensé que al tener flores ya sería más rápido que me diera flores a mi.


My second purchase.
Mi Segunda Compra.


I saw these plants on mercadolibre, now from Zulia, the first one was from Calabozo (Venezuela), One is double flowered and nuanced (white with red) and the other is red, it was my second experience buying plants online, and both the seller and I forgot the distance, so I made the mistake of buying the plants on a Wednesday and I say mistake because early Thursday the seller sent it, the trip would be about 2 days, and we forgot about the weekend. ... the delivery company works from Monday to Friday, so the plants arrived on Monday afternoon. Thank God the seller took precautions and even the soil of the plants was still wet, however they arrived a bit damaged unlike my first plant which arrived beautiful.
Estas plantas las vi por mercadolibre, ahora del Zulia, la primera fue de Calabozo (Venezuela), Una es de flores dobles y matizada (blanco con rojo) y otra roja secilla, era mi segundo experiencia comprando planta online, y tanto para el vendedor como para mí se nos olvidó la distancia, así que cometí el error de comprar las plantas un día miércoles y digo error porque el jueves temprano el vendedor la envió, el viaje sería aproximadamente 2 días, y nos olvidamos del fin de semana... la empresa de encomienda trabaja de lunes a viernes, por lo tanto las plantas llegaron el lunes por la tarde. Gracias a Dios el vendedor tomó previsiones y aún la tierra de las plantas estaba húmeda, sin embargo llegaron un poco estropeada a diferencia de mi primer planta que llegó hermosa.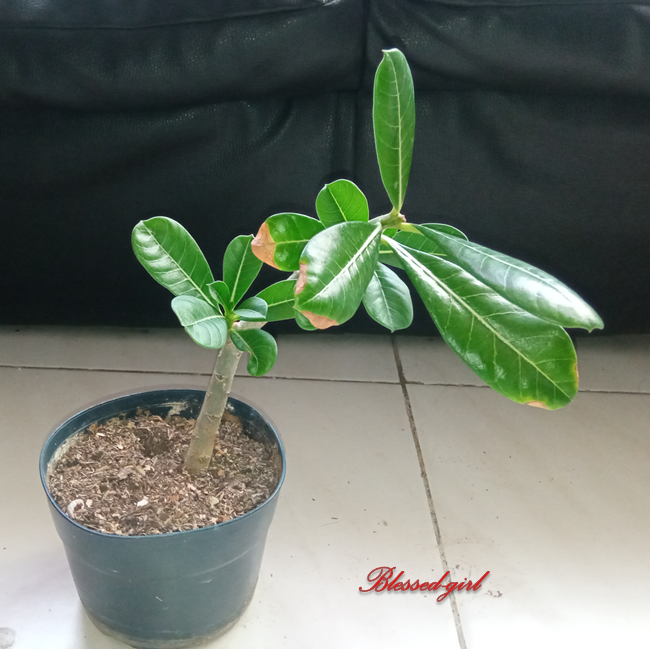 The flower that had the nuanced plant, had wilted, I planted them immediately hoping they would recover and maybe in a few weeks they would have flowers again, but so far they have not given any more flowers. The sun was then on the side of my kitchen window, however it only shone for 2 hours. One of the things I have seen in videos and have been recommended to me is that these plants should get a lot of sun.
La flor que tenía la planta matizada, se había marchitado, las sembré inmediatamente esperando que se recuperaran y tal vez en unas semanas volvería a tener flores, pero hasta ahora no ha dado más flores. El sol estaba entonces por el lado de la ventana de mi cocina, sin embargo solo daba durante 2 horas. Una de las cosas que he visto en videos y que me han recomendado es que estas plantas deben recibir mucho sol.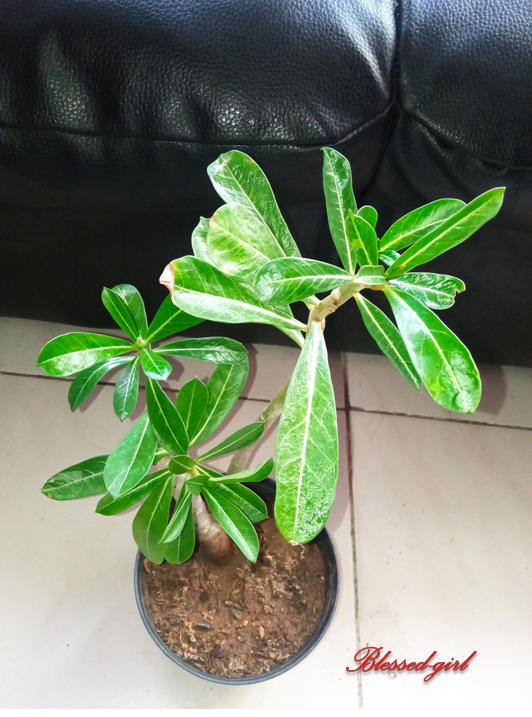 Since neither my first plant (bought in May) nor my next plants (bought in July) had given me flowers, I started to look at plants on the internet again and I found a seller who has an unimaginable variety of desert roses, he makes beautiful grafts, has them single, double petals, triple, cabbage types, in all shapes and forms, really a show every flower this man has. This is his instagram.
En vista de que ni mi primer planta (comprada en mayo) ni mis siguientes plantas (compradas en julio) me habían dado flores, empecé a ver plantas por internet nuevamente y conseguí un vendedor que tiene una variedad inimaginable de rosas del desierto, hace injertos hermoso, las tiene sencillas, doble pétalos, triples, repolladas, de todas las formas habidas y por haber. de verdad un espectáculo cada flor que tiene este señor. Este es su instagram.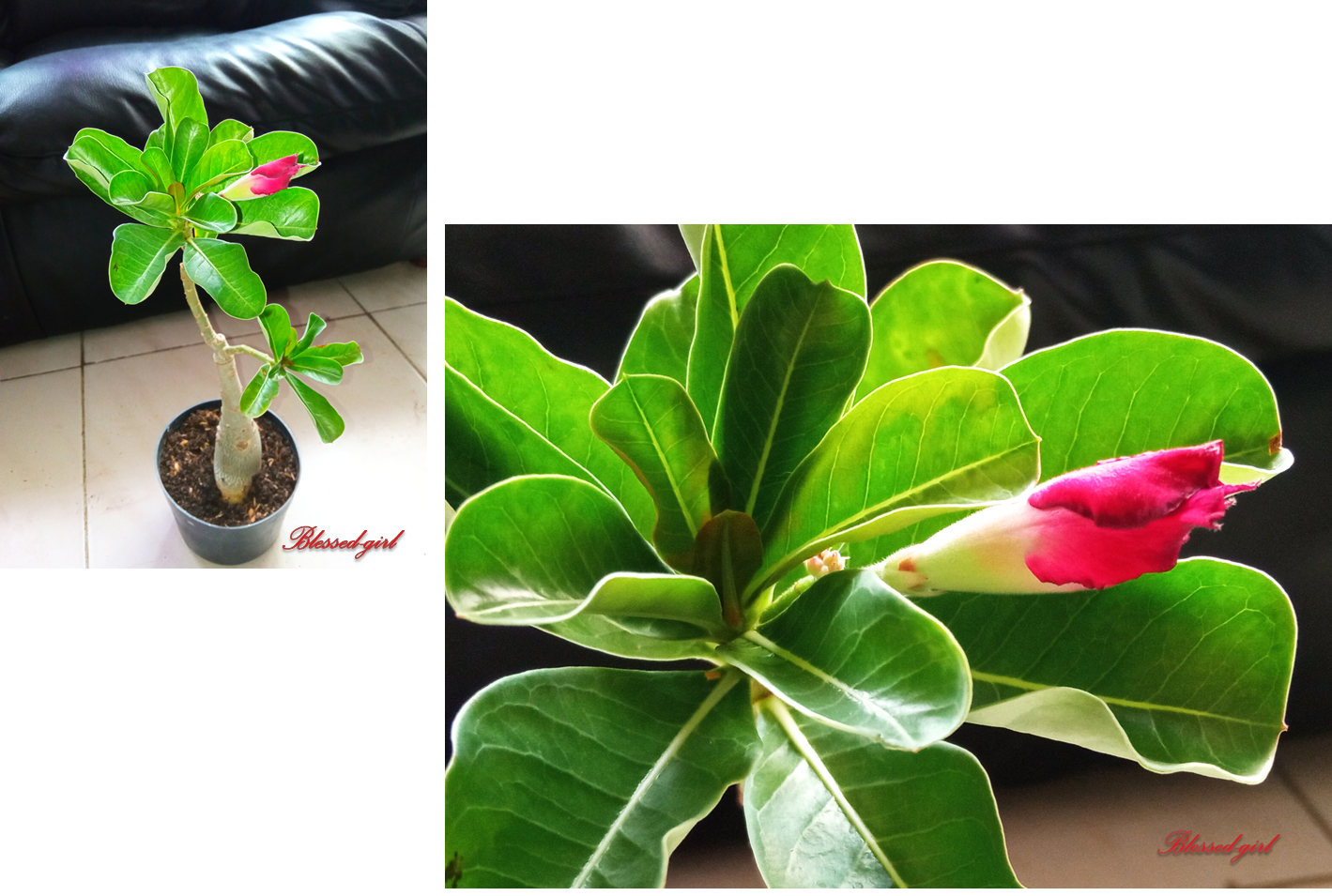 I was a week with the desire to buy one but I did not know the person or had no reference, it is not the same to see an ad on instagram where anyone opens an account and places whatever, to buy by mercadolibre where they have a statistic of sellers and buyers and tell you whether or not they have a good reputation. But when I saw so many beautiful flowers, I could not stand it and I took a risk, at first I said I would buy only one to see how it went, but there was the shipping factor, I had to pay shipping for only one plant, so if everything went well I was going to buy more and it would be more expense, so I decided to buy 3 at once to take advantage of the same shipping. I bought these plants at the end of August, I took the foresight to buy them on a Tuesday since they were also in Zulia, and on Thursday they were already here in my apartment.
Estuve una semana con el deseo de comprarme una pero no conocía a la persona ni tenía referencia, no es lo mismo ver un anuncio por instagram donde cualquiera abre una cuenta y coloca lo que sea, a comprar por mercadolibre donde tiene una estadística de los vendedores y compradores y te dicen si tienen o no buena reputación. Pero al ver tanta belleza de flores, no aguanté y me arriesgué, al principio deje que compraría solo una para ver que tal me iba, pero estaba el factor envío, debía pagar el envío por solo una planta, entonces si todo salía bien yo iba a comprar más y sería más gasto, entonces decidí comprar 3 de una vez para aprovechar el mismo envío. Estas plantas las compré a finales de agosto, tomé la previsión de comprarlas un día martes ya que también se encontraban en el Zulia, y el jueves ya estaba aquí en mi apartamento.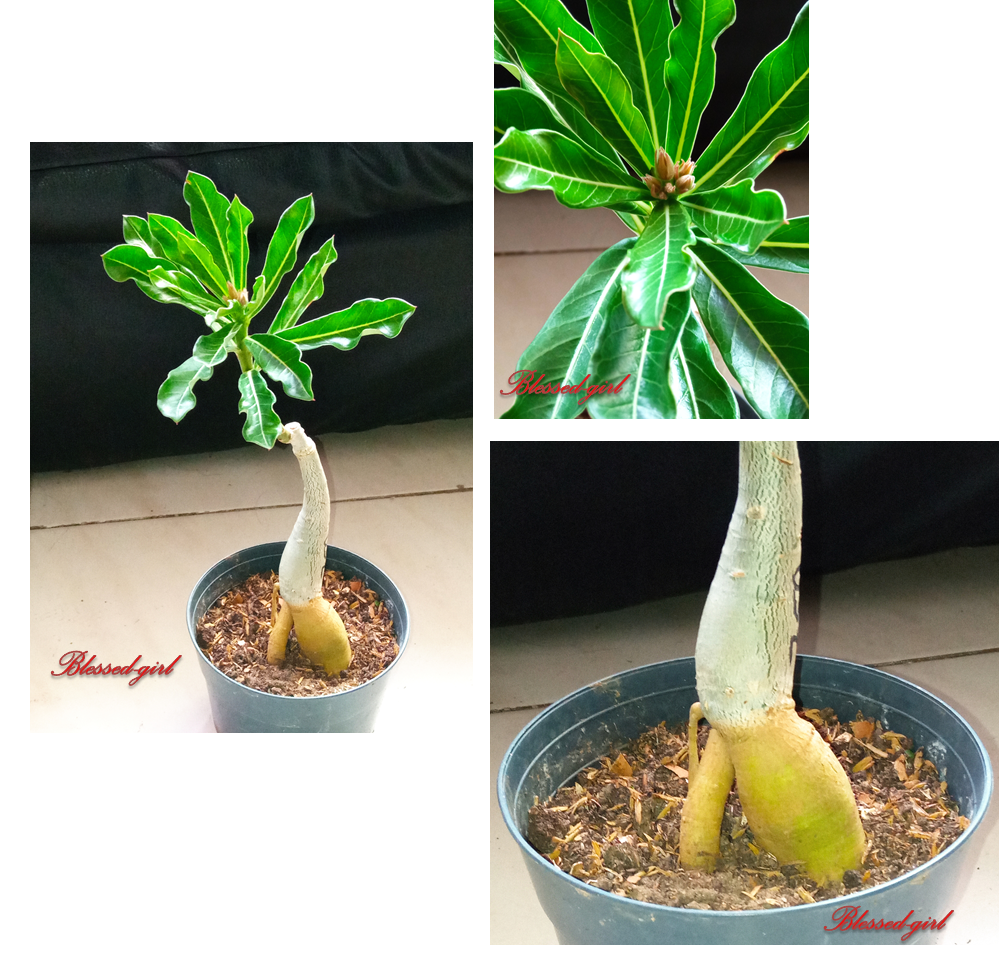 They arrived very well and adapted quickly to their new pot. I fell in love with these new plants because they have a beautiful bonsai-like caudex, just like I wanted. This seller has a lot of plants and you don't choose which one you want him to send you, he sends you a catalog of the flowers and you tell him which one you want, then he has each model coded and he sends you according to the code you choose, unlike the others I bought that they showed me the pictures of the plants and I chose because they had some plants.
Llegaron muy bien y se adaptaron rápido a su nueva maceta. Me enamoré de más de estas nuevas plantas porque tienen un caudex hermosísimo, tipo bonsai como yo quería. Este vendedor tiene muchísimas plantas y no escoges cuál quieres que te envíe, él te envía un catalogo de las flores y le dices cuál vas a querer, entonces él tiene cada modelo codificado y te envía de acuerdo al código qué elijas, a diferencia de las otras que compré que ellos me mostraron las fotos de las plantas y yo escogí porque tenían pocas plantas.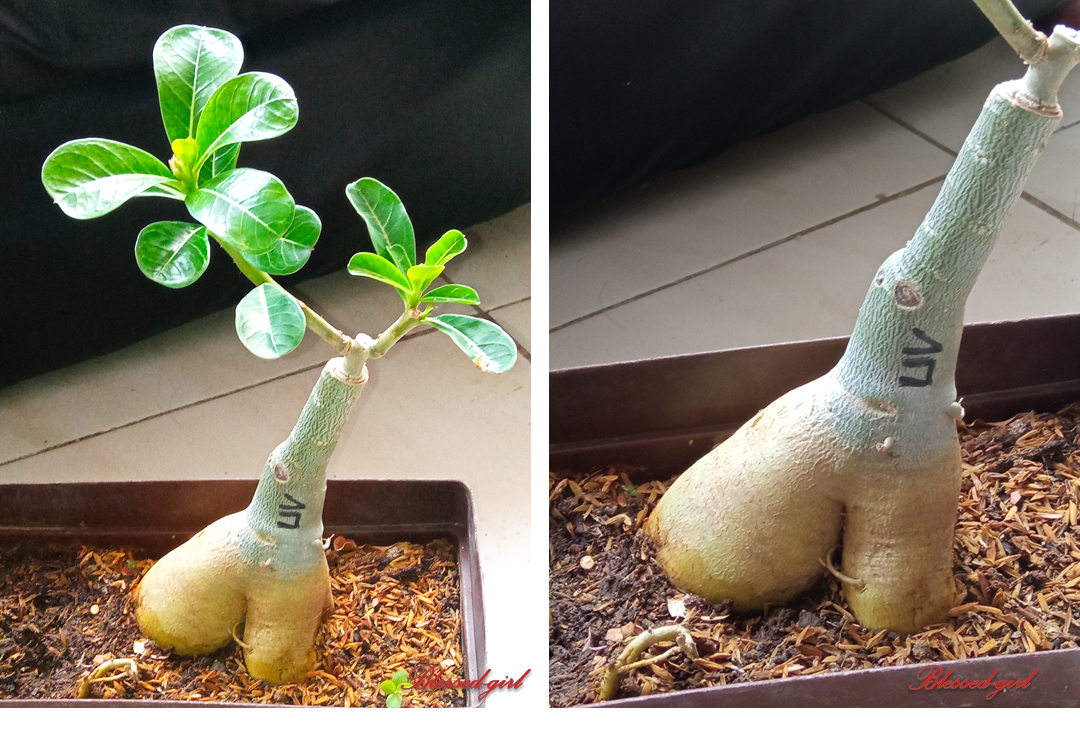 So it was a total surprise what I received, I really didn't think I would receive such beautiful caudex plants, for a caudex to thicken it must take a long time so I am happy for what Mr. Laso sent me.
Así que fue una total sorpresa lo que recibí, la verdad no pensé recibir unas plantas con caudex tan hermosos, para que un caudex engrose debe pasar mucho tiempo así que estoy feliz por lo que el sr Laso me envió.


But that's not all...
Pero eso no es todo...


The best thing is that after 3 weeks one of them started to give me a button, I was in doubt because these plants seem to give you a button and in the end they turn out to be leaves, but this time it is a button. waoooo how good!!!!
Lo mejor aún es que a las 3 semanas una de ella me empezó a dar un botón, tenía la duda porque estas plantas parecen que te dan un botón y al final resultan ser hojas, pero esta vez sí es un botón. waoooo que bien!!!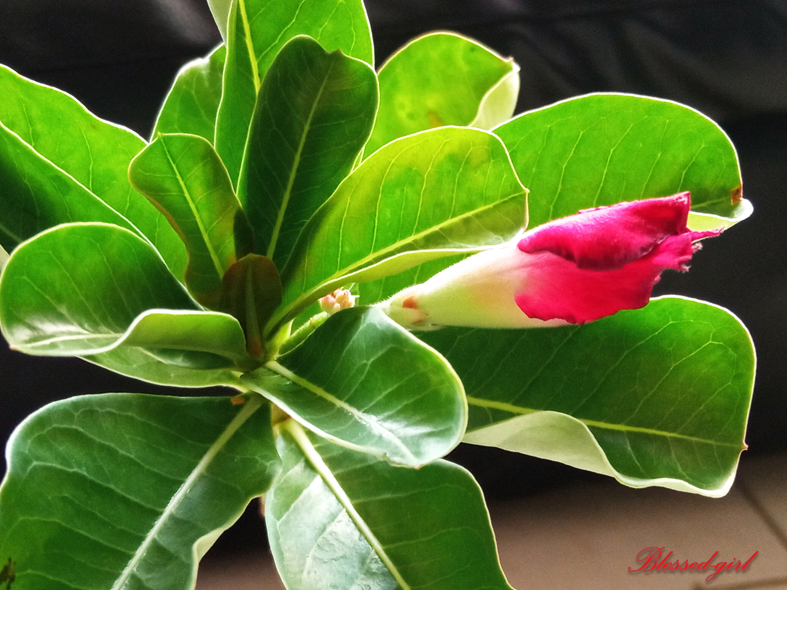 This is the one that gave me the first button. - Esta es la que me dió el primer botón.
One of the things that has influenced, is that now the sun is through the living room window, and the best thing is that there the sun gives them from 7 am to 11 am, 4 hours of intense sun, and the truth is that they like it very much because since they are there, the ones I bought first have had more leaf buds and have brighter leaves compared to when they were in the kitchen window.
Una de las cosas que ha influido, es que ahora el sol está por la ventana de la sala, y lo mejor aún es que allí les da el sol desde las 7 am hasta las 11 am, son 4 horas de sol intenso, y la verdad es que les gusta mucho porque desde que están allí,las que compré primero han tenido más brotes de hojas y las tienen más brillantes en comparación a cuando estaban en la ventana de la cocina.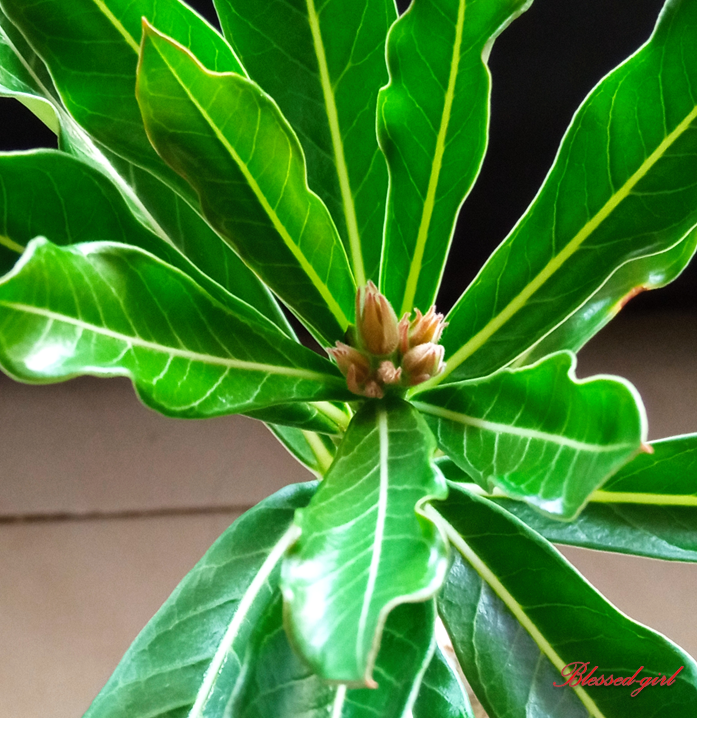 This one seems to have buttons but I'm still not sure, sometimes it's just leaves. - Esta parece tener botones pero no estoy segura porque a veces son solo hojas.
The truth is that every day I learn more about these beautiful plants. I hope that soon I will open the flower to share with you its beauty and I also hope that the others, which are now more lively with the sun, will also give me their beautiful flowers.
La verdad es que cada día aprendo más acerca de estas hermosas plantas. Espero que pronto abra la flor para compartir con ustedes su belleza y también espero que las otra que se ven ahora más animadas con el sol, me den también sus hermosas flores.


I dedicate this post to @sacra97, who has been one of the culprits that made me fall in love with desert roses hahaha.
Esta publicación se la dedico a @sacra97, quien ha sido una de las culpables de que me enamore de las rosas del desierto jajaja.
---
---
| Camera used | Handphone Xiaomi Redmi 9 |
| --- | --- |
| Location | Venezuela. |
| Photographer | @blessed-girl. |
---
---
Gracias por visitar mi publicación.
Thanks for visiting my publication.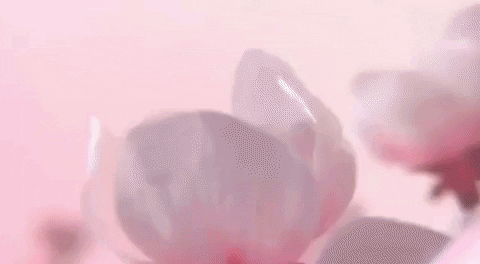 ---
---