Pizza in The Raven's Court 🍕🧙🏻‍♀️🐦 Join Raven in her weekly Music Show - The 50s/60s 🎙️🎼🎵🎶 Odd results for Music Trivia today 🤯 and Rising Star R.O.I discussion 💰💰💰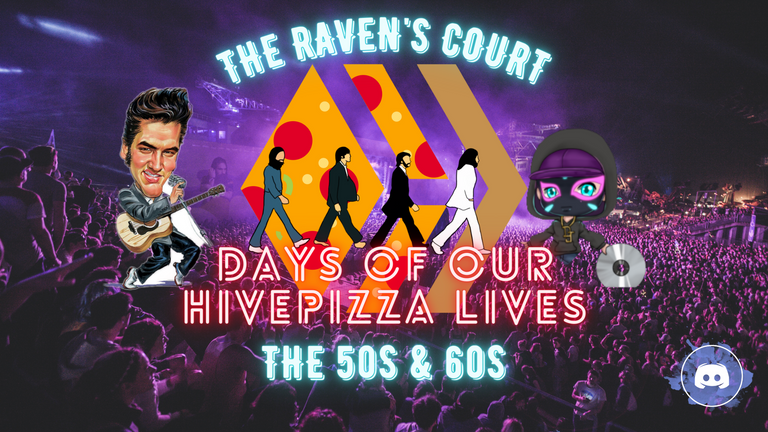 Queen of the Sleepless, The Raven Queen, Legendary Rising Star OG Card, Musician Extraordinaire - RAVEN!!! aka @ravenmus1c is back again with her weekly radio show this week! 🐦👑🎤
After her hiatus last week, during which Huzzah helped to conduct music quizzes and games instead, Pizza's most famous Rising Star alumni is back in action 😜.
This week's theme is from a far bygone age... the 50s & 60s!
Ok I jest. 🤣😜 It's probably from our parent's time!
The 50s saw the rise and domination of Rock and Roll, none more famous than The King himself, Elvis Presley. Of course, there were lots of big names too, Chuck Berry, Jerry Lee Lewis among them. Moving on to the 60s, we had the British invasion of course, lead by The Beatles! 🎼🎵🎶
The music in these eras have had such a profound impact on popular culture that even if we had never listened to these musicians, we'd probably have heard those songs somewhere in adverts, TV shows, movies, or even covers by other artistes. 🎞️🎤🎼🎵🎶
---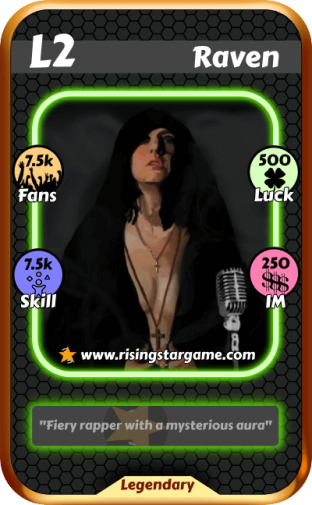 ---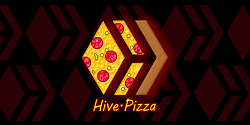 CLICK THIS LINK TO JOIN PIZZA DISCORD!!!
Never fear! Catch up on what you've missed with my brief (and hopefully entertaining) updates on the ins and outs of the PIZZA DISCORD🎉🥳🎊
As a BIG FAN of 🍕PIZZA🍕, I always suggest joining PIZZA DISCORD if you need a quick pickmeup. 👍 It's a friendly and helpful community with regular EVENTS, AIRDROPS of various crypto tokens, discussions of several GAMES on HIVE (Splinterlands, Rising Star, HashKings, Exode...), MUSIC, ART, and even bits of FINANCE ... well I think you get the idea 😄


🐦🎼🎵🎶Raven Court is in Session🐦🎼🎵🎶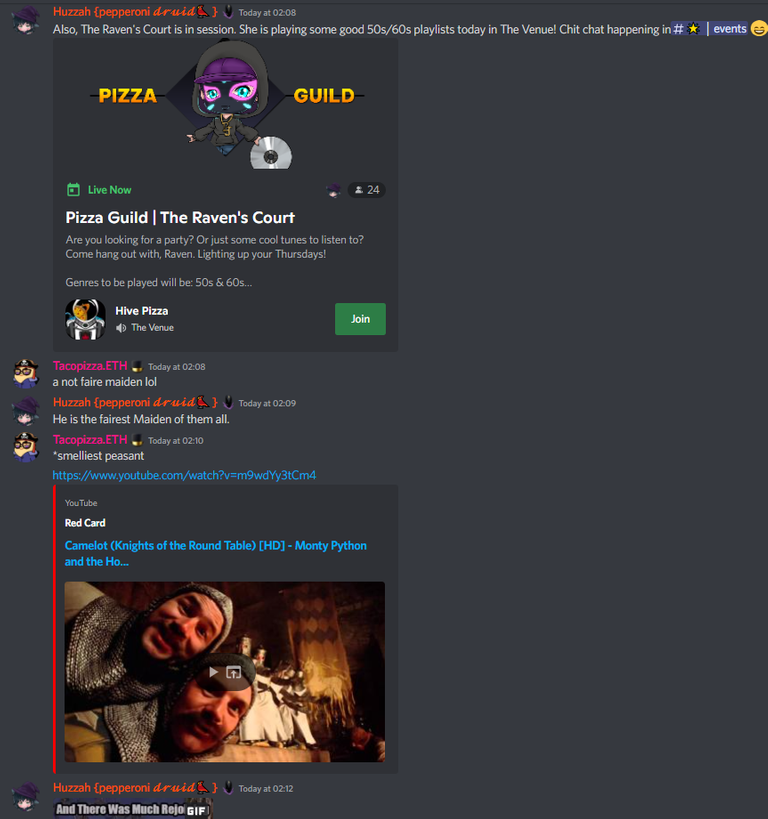 Our PIZZA Herald @huzzah (who else? 😉) sounds the bell! 🗣️📯🔊
I've got no idea how the conversation veered towards knights and maidens courtesy of Taco @a1-shroom-spores and Claude @definethedollar 🤔🤷🏻‍♂️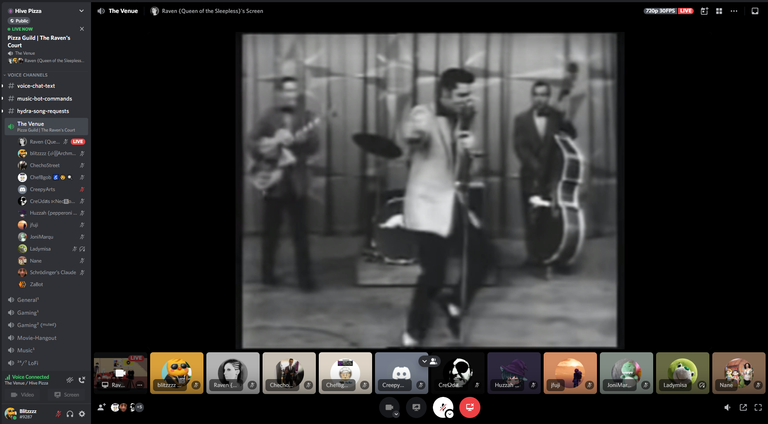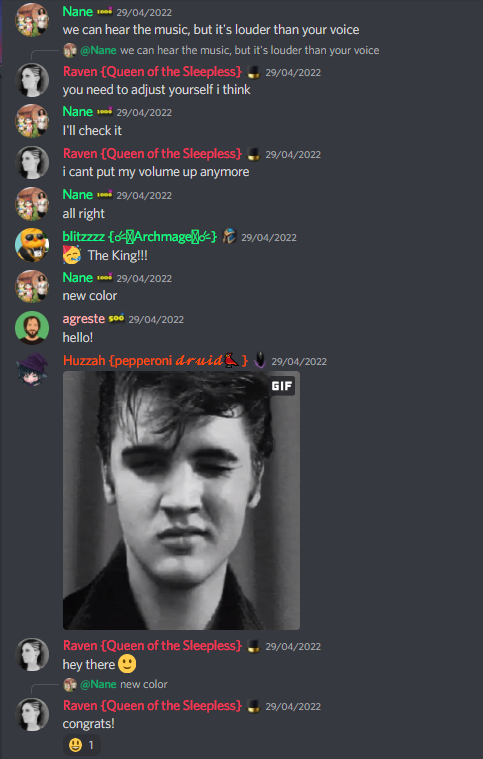 No surprise here that Elvis kicks off the playlist! The King of Rock and Roll is definitely the face of music for the entire decade!
Some slight volume issues at the start though, as @nane-qts pointed out, Raven's voice was getting drowned out by the music. Rock and Roll is LOUD!!! 🤣
---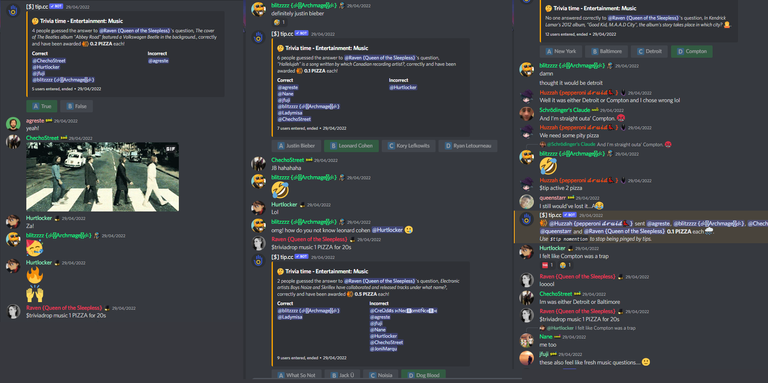 This would turn out to be a REALLY WEIRD day for Music Trivia. Occurrences of solo wins or losses or even 100% correct/incorrect answers are usually pretty rare. But you'll soon see today's results are an aberration! 🤯😱
First 2 questions of the night already gifted us with 2 solo incorrect answers 🤣 @agreste @hurtlocker and soon after, we had a question where NOBODY got it right at all! 🤯😱
---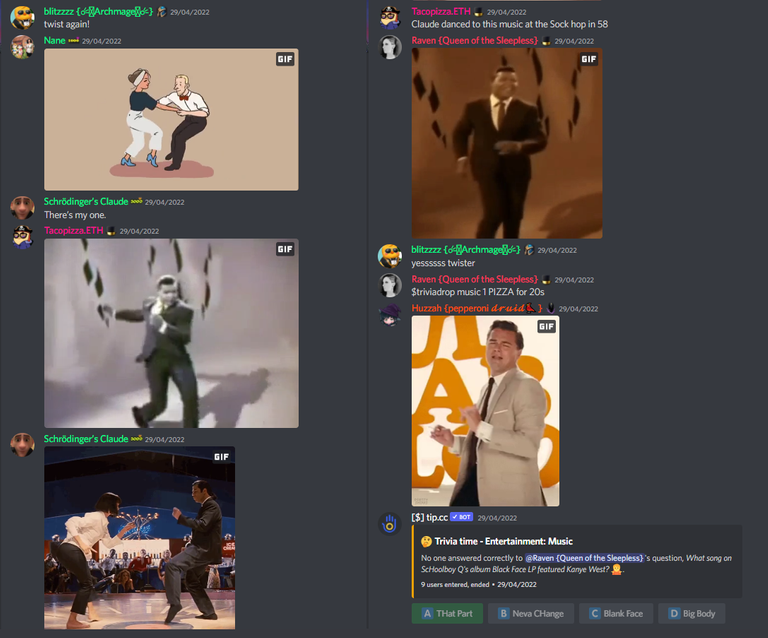 The TWIST came on and amid the GIFs and jibes between Taco and Claude, another Trivia question with ZERO correct answers came by to KO us! ❌❌❌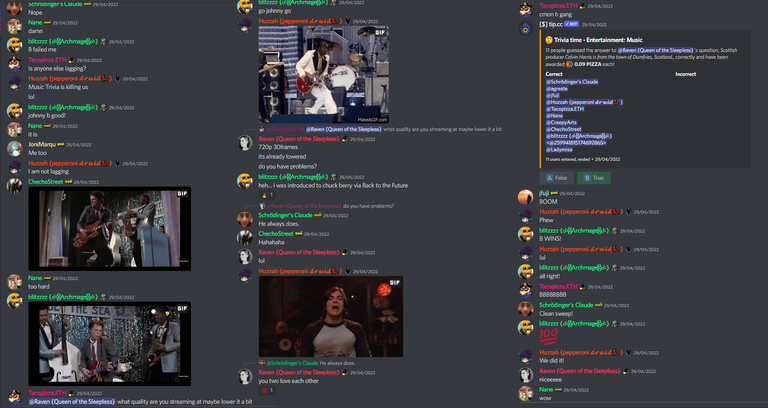 We probably got to thank Chuck Berry for inspiring us all to get the next question 100% correct immediately following that disaster 😁💯.
---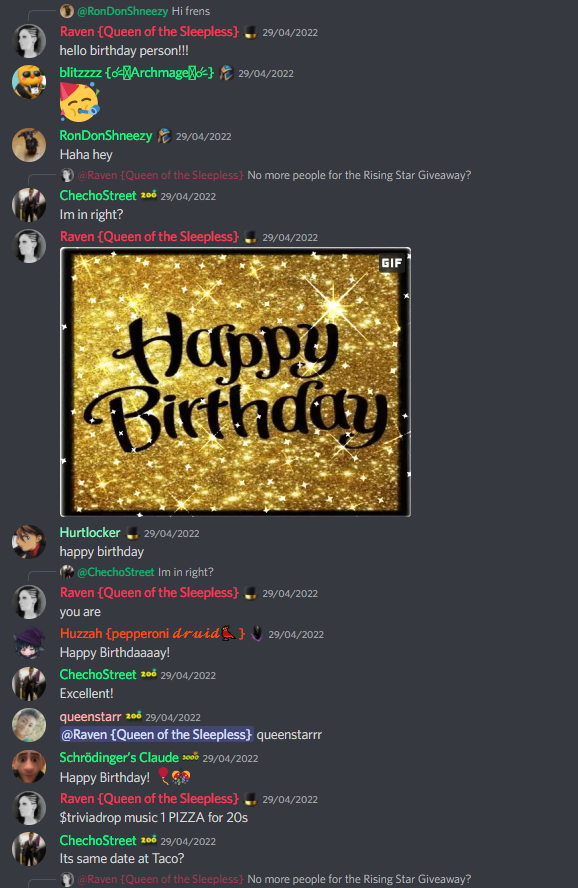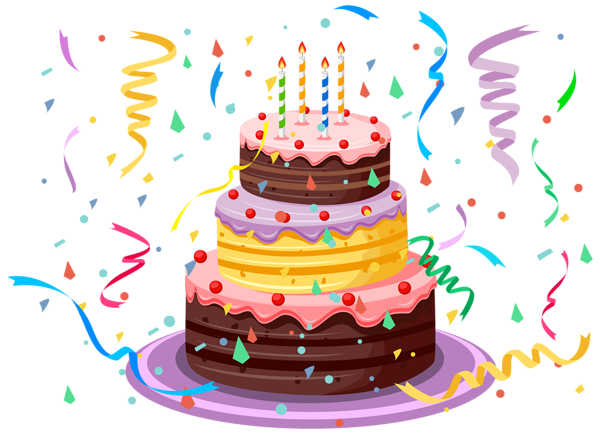 @rondonshneezy joined in midway and received a shower of Birthday Greetings for the Birthday Boy! 🥳🎂🎉
HAPPY BIRTHDAY!!! (admittedly, it's a belated one by the time this post goes live 🤣) 🥳🎂🎉
---
Talk about Birthdays and Raven's Rising Star giveaways for her Radio Show event soon went on to the discussion of the game Rising Star itself.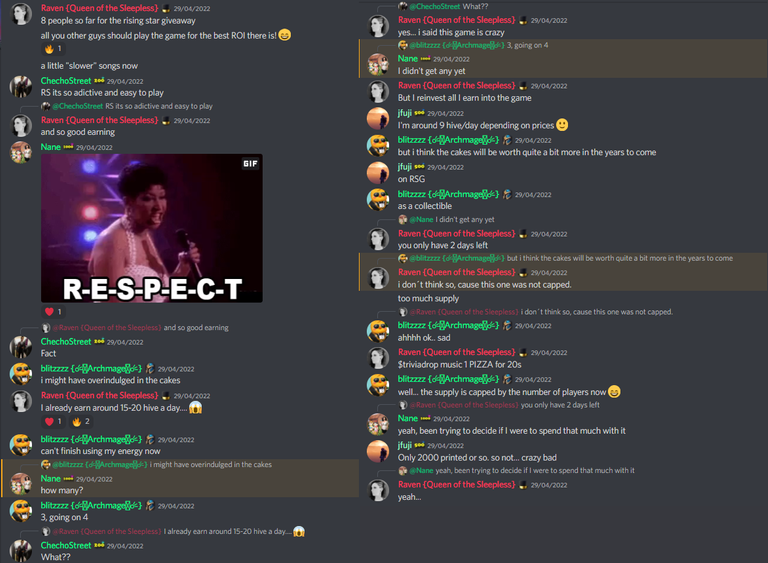 What we learnt is that Rising Star has an amazingly good ROI. So all you people on HIVE that are playing Splinterlands and haven't checked out @risingstargame should do so! 😜
Also, about 2000 of this year's anniversary cakes have been minted in total, of which I've basically spent all my Starbits generated this month into them. At the current game's growth trajectory and the history of it's previous anniversary items, I think I can expect a pretty good returns on them in the future! 🤑🤑🤑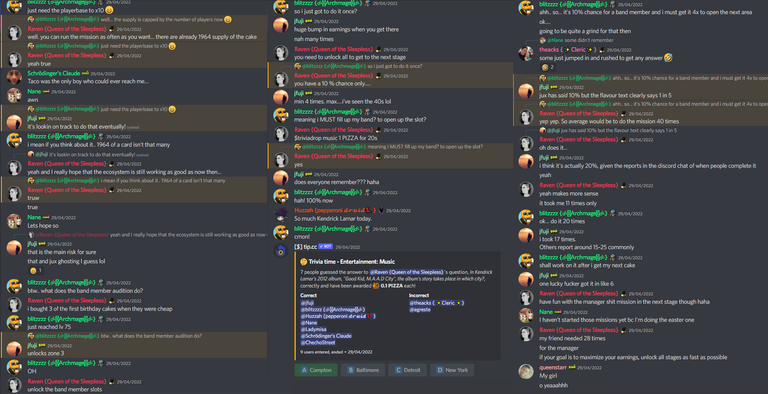 I also learnt that it's going to be quite a grind depending on how lucky I get to unlock the next stage in Rising Star 😱🤞🏻🍀.
Just a 20% chance to unlock a band member (of which I require 4) which will take 4 hours (and 100 energy) each time, means it could be quite a while before I can open up the new areas.
---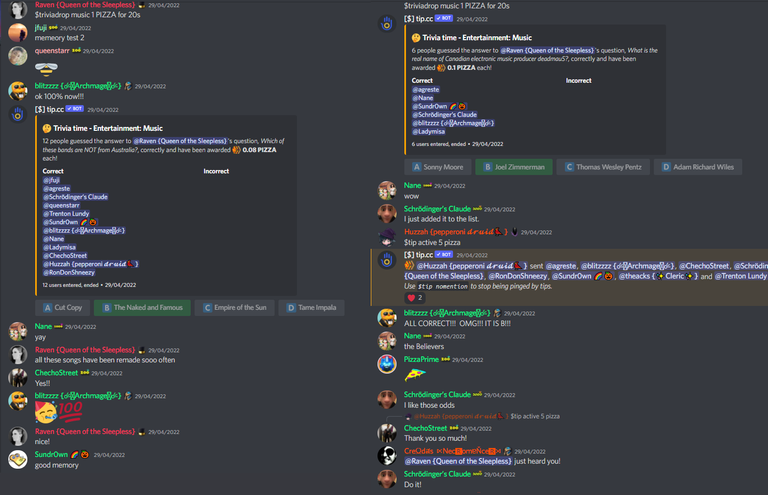 Back to more Trivia result oddities! We ended up with 2 more perfect score results 💯💯 ...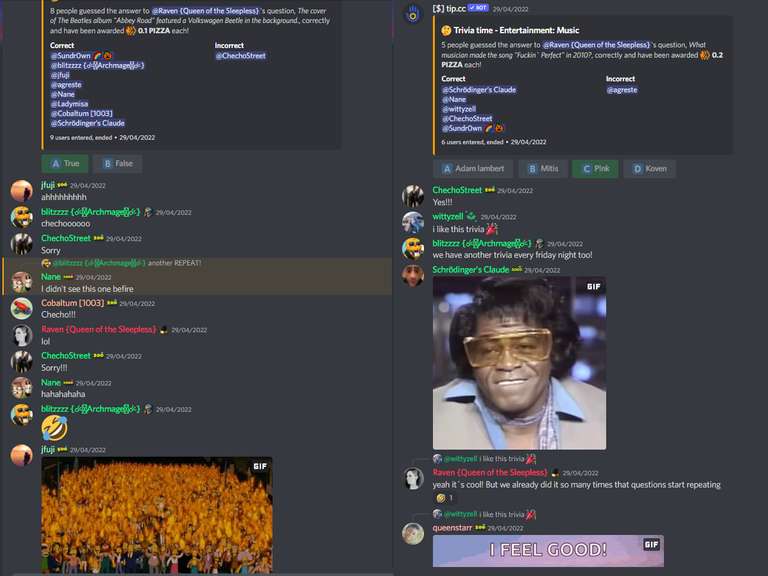 And another 2 more with a SOLO incorrect answer 😜🤣 @chechostreet @agreste getting the unwanted dubious honours.

🎤🎵💭🎁Prizes Galore!🎤🎵💭🎁

What's a radio show without some prizes though 😜.
Presenting Raven's Spin the Wheel draw for 3 lucky winners of a Rising Star card.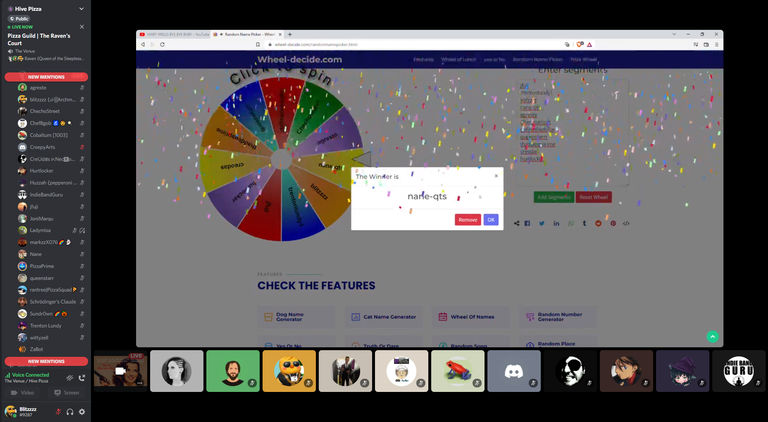 Congratulations to the 3 winners @nane-qts @agreste and @thaddeusprime 🥳🥳🥳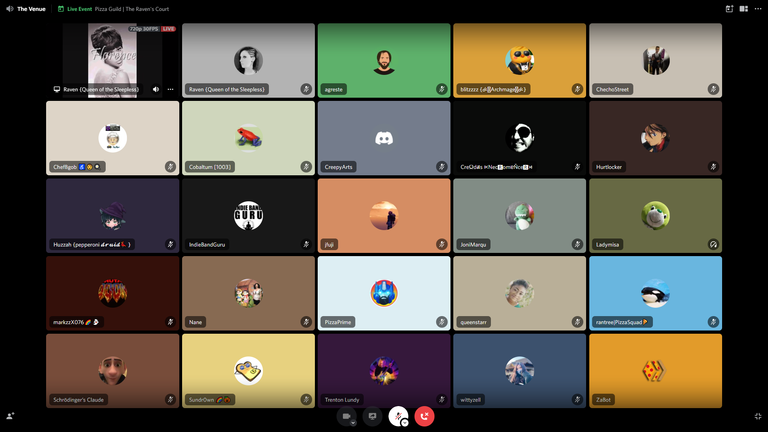 Once again, the number of names on the wheel definitely does NOT tally with the number of people participating in the event.
More 20+ people in the voice channel and only 11 submitted their names for the giveaway wheel spin 😅. Do you guys not want to win a Rising Star card? Especially after our conversation earlier promoting the game with such good ROI? 💰🤑🤯

🎭All Good Things Must Come to an End🎭

Well, the show once again went on past the allotted timing (as usual by now 😜), but since everyone is having fun, no one ever realises how much time has actually passed. In fact, it seems like some members of our audience don't ever want the show to end! 😉
Many Thanks to Raven once again for putting up a successful show for us to enjoy!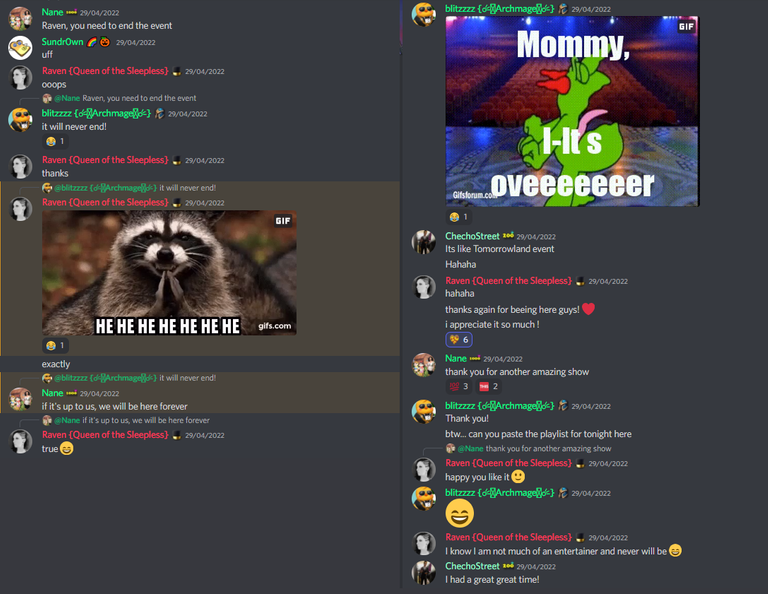 That's it for this episode of my PIZZA news. These are momentous times in PIZZA with a lot of plans forthcoming this year. In fact, I'd say that work on PIZZA is going at a breakneck pace! So don't miss out and come join PIZZA early to reap the benefits. I truly believe this is a multi-bagger project with amazing potential! 🍕🍕🍕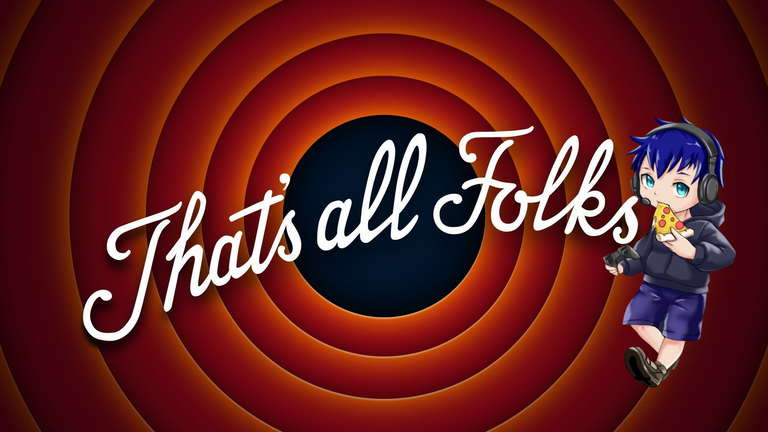 ✨✨✨This Week's Events✨✨✨


Over at PIZZA DISCORD, there are always loads of planned Events lined up (and even impromptu ones). The events listed here are localized to my Time Zone GMT +8. For the absolute latest updates, please check in the Pizza Discord.

---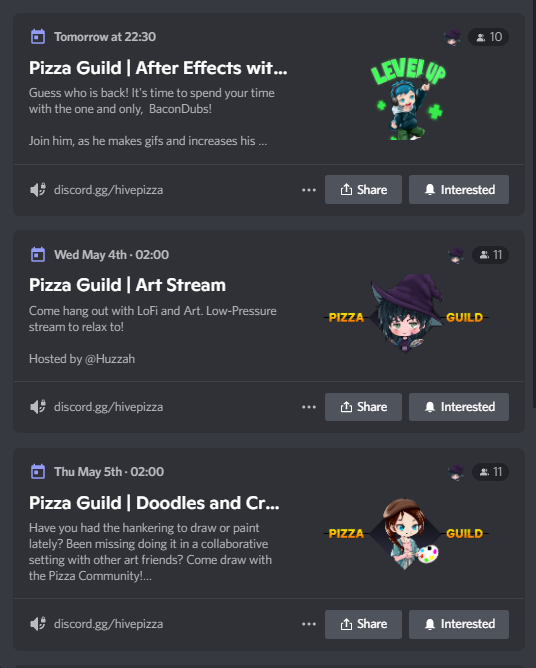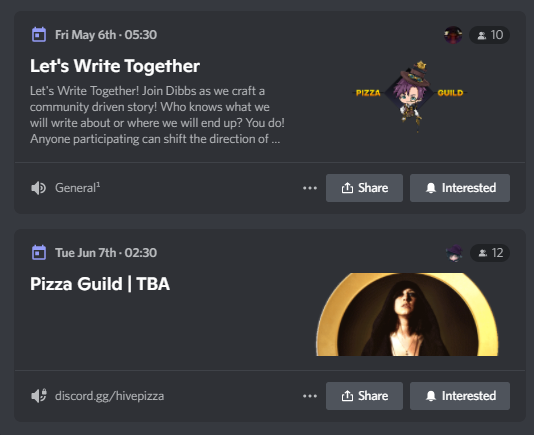 ---

🎁🎁🎁This Week's Contests & Giveaways🎁🎁🎁


A lot of FREE prizes up for grabs at the moment too! Don't miss out! 🎁🎁🎁💰💰💰 What are you waiting for? It's all here in the PIZZA DISCORD.
🤑💰🍕Added Bonus of PIZZA Token🤑💰🍕
-I will use my staked 🍕PIZZA🍕 to share a slice of 🍕PIZZA🍕 with anyone in the comments who also FOLLOWS & REBLOGS my post in the interests of spreading the Word of Pizza 🤣🤣🤣
-Just let me know if you've done that so I can double check and ensure I set aside some Resource Credits to reply back on your comments 👍
-Any fellow 🍕PIZZA🍕 connoisseurs who !PIZZA me will also receive 🍕PIZZA🍕 back from me. 😊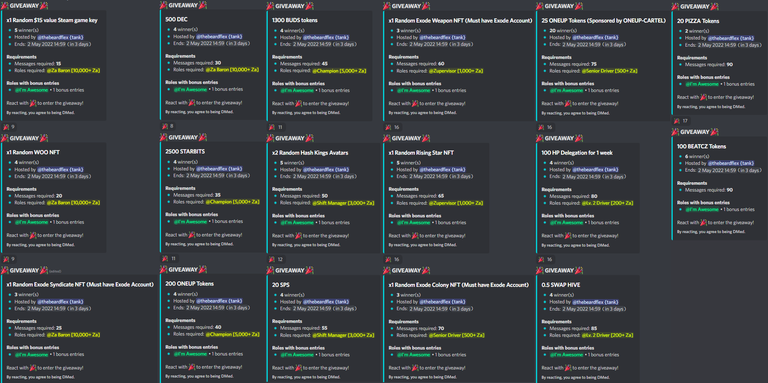 PIZZA is an active gaming and creative arts crypto community on the HIVE blockchain. Popular games on HIVE like SPLINTERLANDS, RISING STAR, EXODE, HASHKINGS, WOO, BANG!DEFENSE have their own PIZZA communities here.



Don't miss out more events that are always being organised. Join the PIZZA DISCORD. Even if you aren't interested in the 💰🍕🎁GIVEAWAYS & AIRDROPS💰🍕🎁, there is a vibrant and friendly community there awaiting you.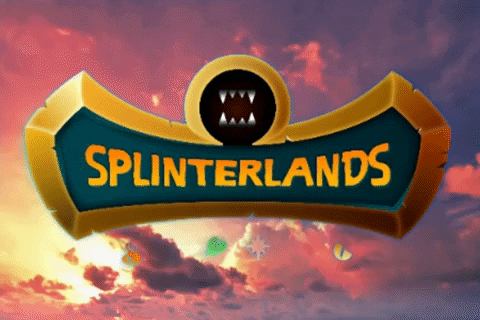 Here's to wishing everyone all the best for the upcoming week 🎉🍀.
To any new players who wish to explore the world of Splinterlands, do feel free to sign up with my REFERRAL LINK 😊.


---
---