Pizza in The Raven's Court 🍕🧙🏻‍♀️🐦 Ravenmus1c & PIZZA presents RAVEN'S HALLOWEEN PARTY! 👻🎃🍕🎧🎶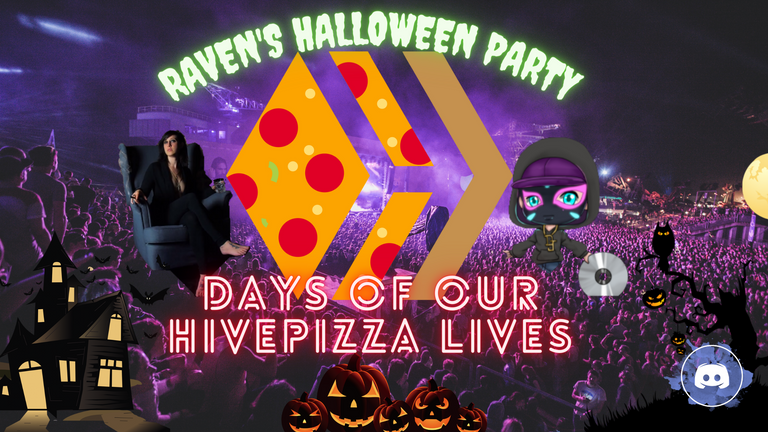 Introducing PIZZA's Queen of the Sleepless, The Raven Queen, Legendary Rising Star OG Card, Musician Extraordinaire - RAVEN!!! aka @ravenmus1c 🐦👑🎤
This is a recap of a special event that took place on Halloween itself. There wasn't the usual Raven Radio Show, nor Trivia/Gartic Community Night as they had to make way for this mega event!
RAVEN'S HALLOWEEN PARTY! 👻🎃🎧🎶
Well, let's get going with a quick recap and highlights of the event.
(I'll skip all mention of our usual Trivia and Rumbler Royale escapades 🤣. Those did take place as usual, but I think they can take a backseat today since we've got better things to cover 😝).
---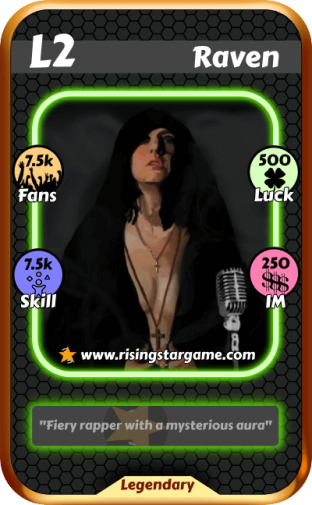 ---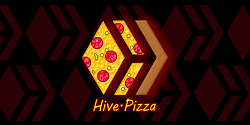 CLICK THIS LINK TO JOIN PIZZA DISCORD!!!
Never fear! Catch up on what you've missed with my brief (and hopefully entertaining) updates on the ins and outs of the PIZZA DISCORD🎉🥳🎊
As a BIG FAN of 🍕PIZZA🍕, I always suggest joining PIZZA DISCORD if you need a quick pickmeup. 👍 It's a friendly and helpful community with regular EVENTS, AIRDROPS of various crypto tokens, discussions of several GAMES on HIVE (Splinterlands, Rising Star, HashKings, Exode...), MUSIC, ART, and even bits of FINANCE ... well I think you get the idea 😄

---

🐦🎼🎵🎶Raven Court is in Session🐦🎼🎵🎶

---
Raven sounds the bell 🗣️📯🔊 to start the event!
And boy did the crowd still filling up the events channel as soon as it opened. This was only the preshow and we were already seeing larger than usual crowds. 😱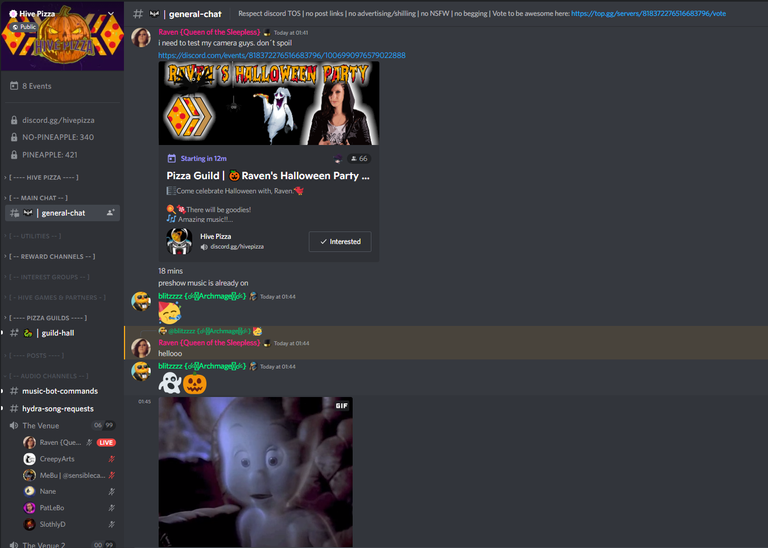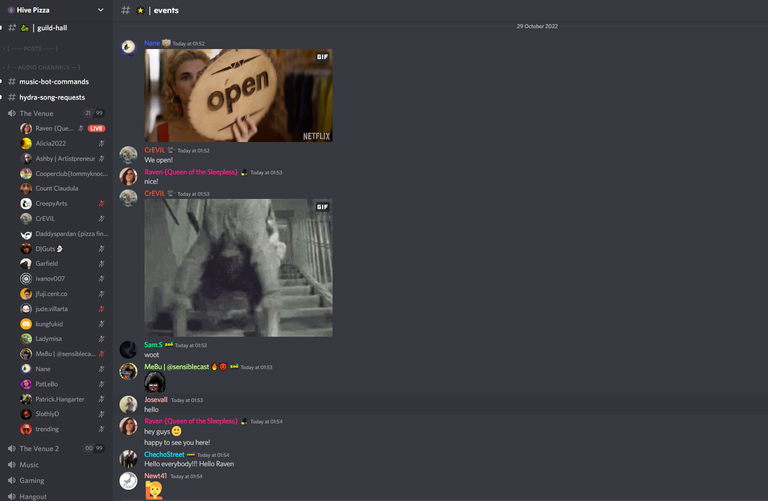 ---
By the time the event actually started, it was already a full house! Basically, I couldn't even manage to squeeze a screen capture of every single person in the voice channel 🤣. And that would be the case for just about the entire night.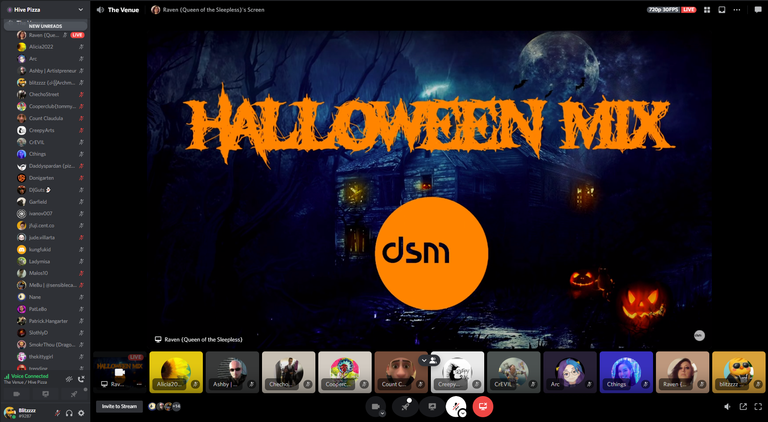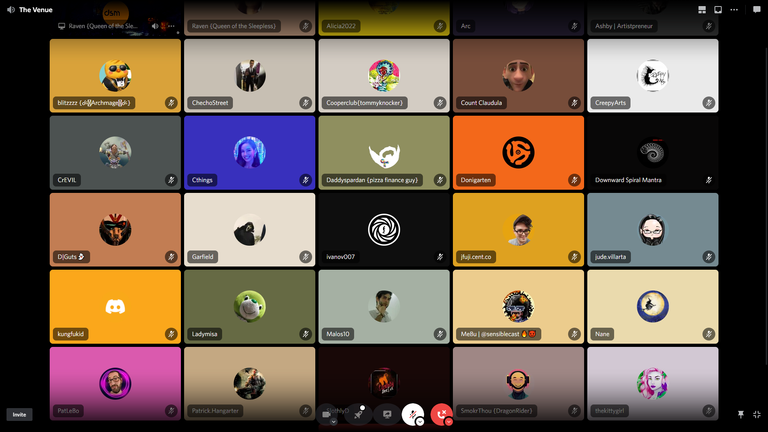 ---
And here we have it. Raven's painstakingly assembled album collaboration with various musicians on PIZZA and HIVE! I present to you PIZZA's HALLOWEEN ALBUM! 🍕👻🎃💿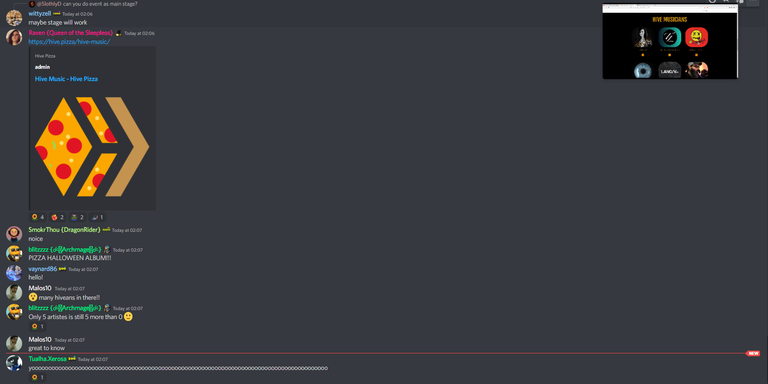 Here's a link to the entire album https://hive.pizza/hive-music/
Be sure to check it out. It also contains PIZZA's Christmas album from last Christmas 😜. That's also something worth checking out, especially since the festive season is approaching. We've got a lot of musically talented people over here. (Alas, I'm not one of them 😭)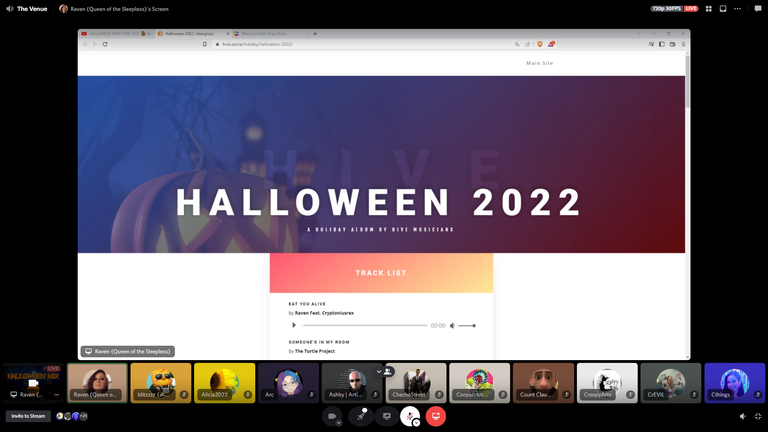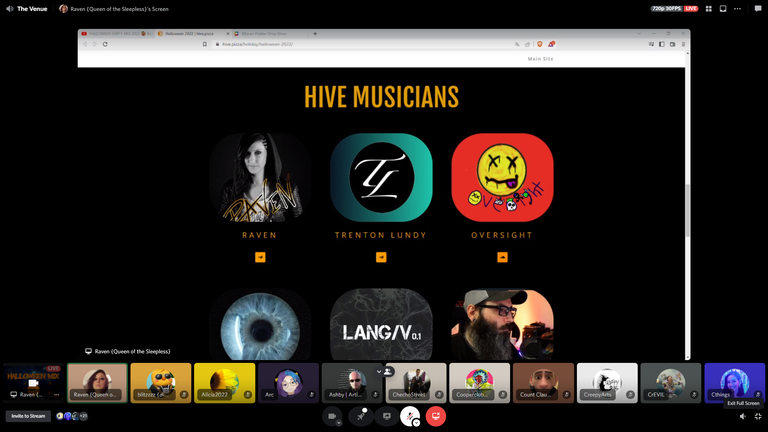 If you wish to show our musicians some appreciation for their really hard work and effort put into this creative endeavour, you can scroll down to the bottom of the said album list where there's an option to donate to them. Do consider doing so as an acknowledgement of their creative speak. It's really tough work being a musician, as we all have heard the phrase before, the term struggling artiste is very real. 😊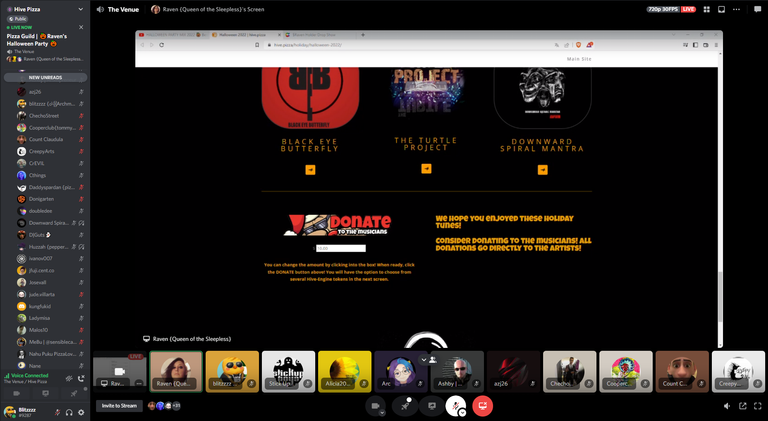 ---
I did mention the large crowd who joined us for this special event, and I believe at one point, it peaked at around 47-49? (perhaps slightly more) people! 😱
Anyway, Raven's initial plan was to do a LIVE VIDEO STREAM, but nobody really realised that Discord had a restriction against live streams if there was too big of a crowd. 🤣 That wasn't going to deter our Raven though, as she took regular screen grabs to show us her VERY HALLOWEEN THEMED decorated room. She was even all dressed up for the event! 😎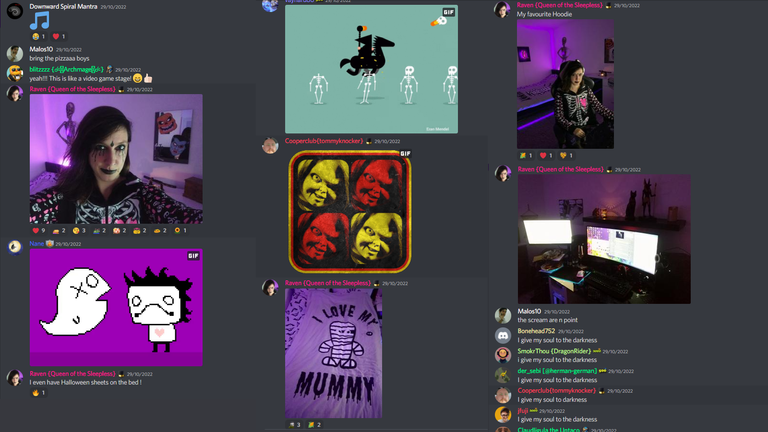 ---
Of course, Raven always like to spring special surprises on us for her really special commemorative events (if you've joined us in the past before, you might have been the recipient of said special drops 😜).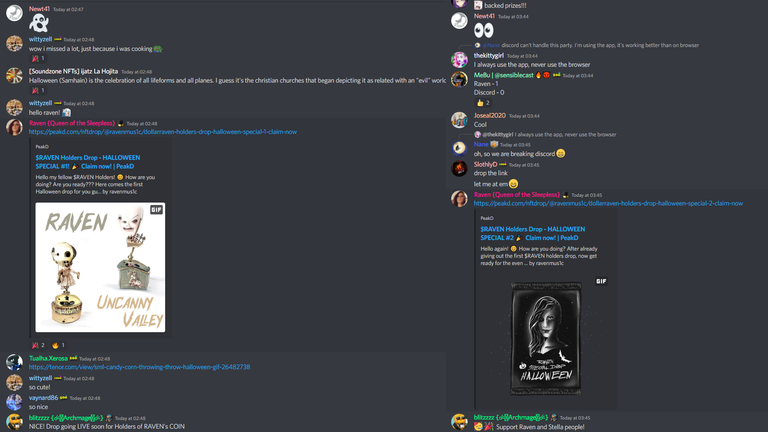 Introducing a special NFT Song created by Raven, airdropped to ALL her RAVEN TOKEN holders 😍.
(BTW, if you don't yet have a RAVEN TOKEN, do head over to https://tribaldex.com/trade/RAVEN if you're interested in purchasing one.)
Do check out the link below for more details 😉.
https://peakd.com/hive-193816/@ravenmus1c/zkbkafoq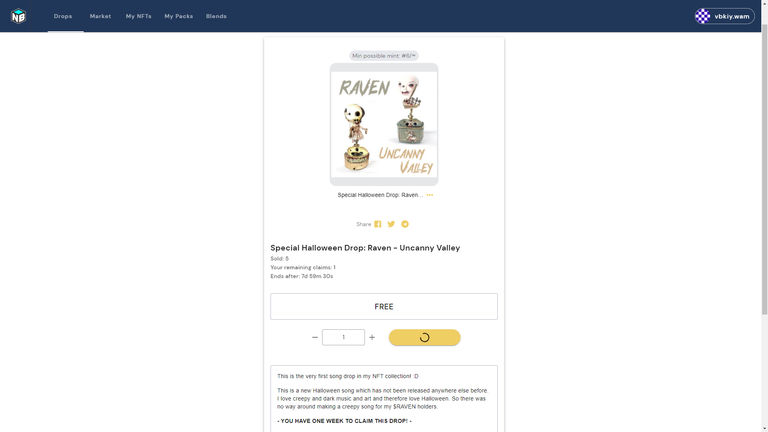 The 2nd NFT is slightly more complicated. It was created by Raven in collaboration with an artiste Stella Petrakopoulou, (check out her INSTAGRAM).
Basically, this is for sale only to holders of Raven's token, and higher tiers get a discount. Long story short, other than getting a really unique and special Raven themed Halloween NFT, certain combinations will also qualify you for a prize from Raven herself! 😜
Do check out this link for a more detailed explanation.
https://peakd.com/nftdrop/@ravenmus1c/dollarraven-holders-drop-halloween-special-2-claim-now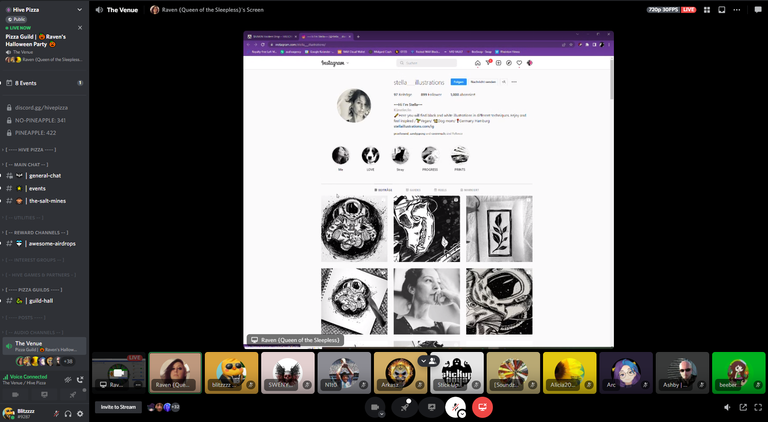 ---

🎤🎵💭🎁Prizes Galore!🎤🎵💭🎁

---
What's a radio show without some prizes too! 😜
Presenting Raven's Spin the Wheel draw for a few lucky winners of Rising Star cards, Raven NFTs, WOO NFTs aka @wrestorgonline, $WOO, Starbits and PIZZA.
(Anyone who isn't playing Rising Star should try it out though. It is a pretty nice idle management game with more complexities as you delve deeper into it.
Raven's also taken a special liking to Wrestling Organization Online, especially since her namesake Raven is a special edition card too!)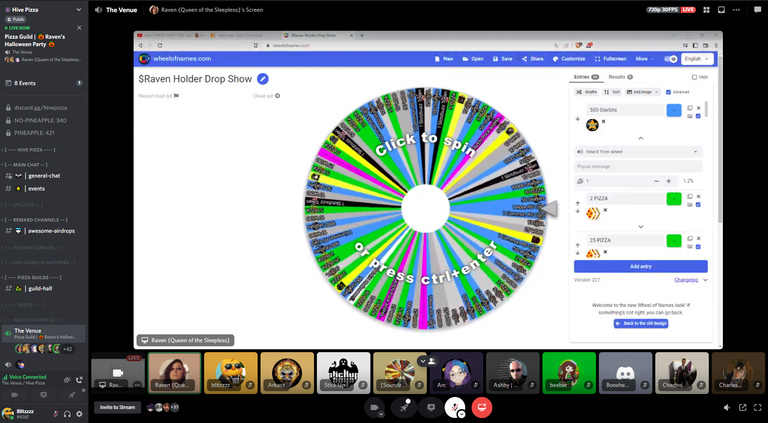 As I mentioned earlier on, random winners are now selected by "playing" Rumble Royale, with the Wheel Spin determining what prizes said winners would receive.
I no longer list down the winners though, since Raven generously gives out so many prizes that it's almost certain that everyone gets a bit of something 🥳🎁.
---

🎙️🎼🎹🎵🥁🎶🎸Raven Music🎙️🎼🎹🎵🥁🎶🎸

---
For those who just want to listen to Raven's "HALLOWEEN PARTY" playlist curation again, here's the LINK to the Playlist. 🎼🎵🎶
---
Do check out these links below to sample some of Raven's work. I'm not too sure if this is her entire collection, but interested parties can reach out to @ravenmus1c directly too.
BINAURAL CONCEPT - Meditation and Relaxation Music
---

🎭All Good Things Must Come to an End🎭

---
Many Thanks to Raven once again for putting up yet another successful show for us to enjoy!
The next Radio Show is scheduled for 2 weeks later. (You can always come to our discord to get your localized date/time for upcoming events)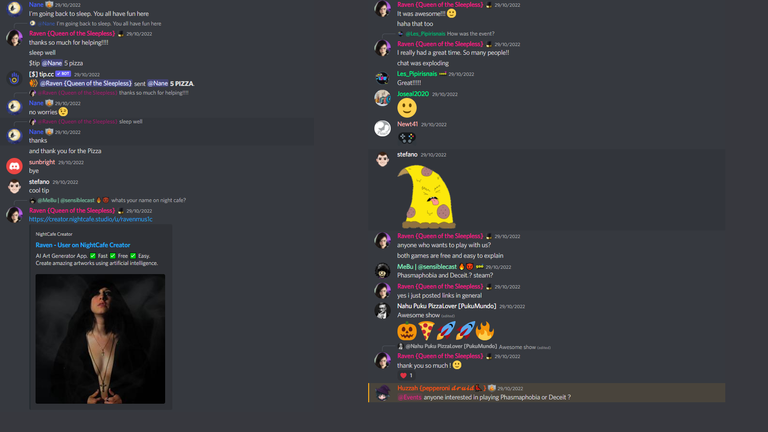 ---
That's it for this episode of my PIZZA news. These are momentous times in PIZZA with a lot of plans forthcoming this year. In fact, I'd say that work on PIZZA is going at a breakneck pace! So don't miss out and come join PIZZA early to reap the benefits. I truly believe this is a multi-bagger project with amazing potential! 🍕🍕🍕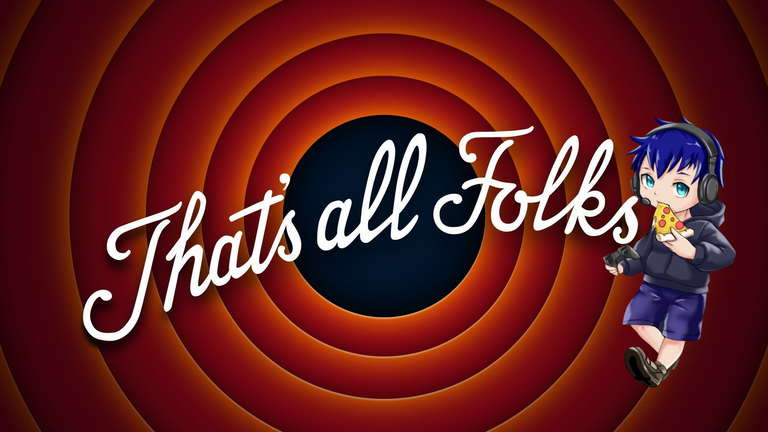 ---

✨✨✨This Week's Events✨✨✨


Over at PIZZA DISCORD, there are always loads of planned Events lined up (and even impromptu ones). The events listed here are localized to my Time Zone GMT +8. For the absolute latest updates, please check in the Pizza Discord.

---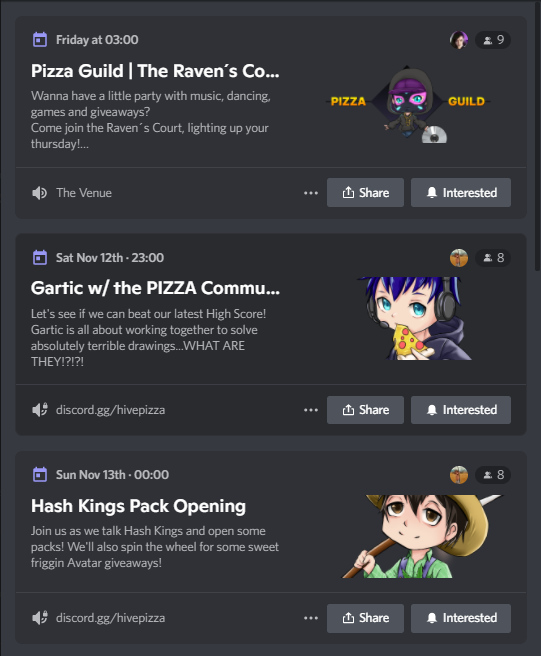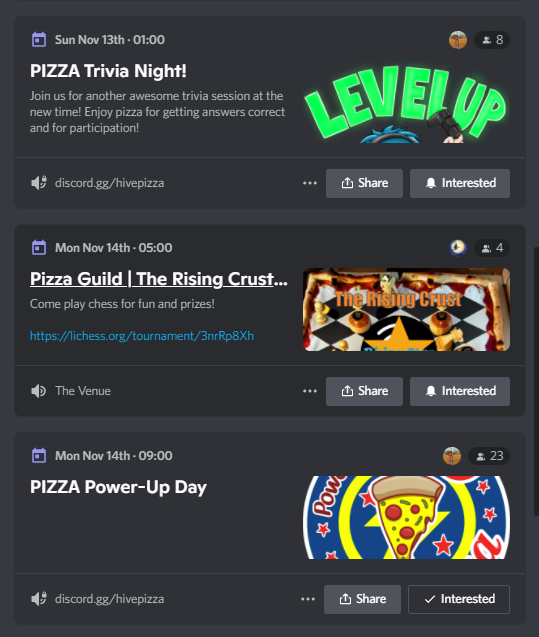 ---

🎁🎁🎁Contests & Giveaways🎁🎁🎁


A lot of FREE prizes up for grabs at the moment too! Don't miss out! 🎁🎁🎁💰💰💰 What are you waiting for? It's all here in the PIZZA DISCORD.
🤑💰🍕Added Bonus of PIZZA Token🤑💰🍕
-I will use my staked 🍕PIZZA🍕 to share a slice of 🍕PIZZA🍕 with anyone in the comments who also FOLLOWS & REBLOGS my post in the interests of spreading the Word of Pizza.
-Just let me know if you've done that so I can easily keep track. 👍
-Any fellow 🍕PIZZA🍕 connoisseurs who !PIZZA me will also receive 🍕PIZZA🍕 back from me. 😊
🍕🎁💰 PIZZA has weekly giveaways of NFTs from Rising Star, Exode, Hash Kings, WOO, not to mention several different types tokens, including PIZZA itself of course, and Oneup, DEC, Starbits, Buds, Utopis, AND several Steam game keys with values of up to $60!!! There's seriously so many prizes up for grabs EVERY WEEK that I can't keep listing it all down 😜 so go check out our Discord channel under #pizza-giveaways 🍕🎁💰

---

PIZZA is an active gaming and creative arts crypto community on the HIVE blockchain. Popular games on HIVE like SPLINTERLANDS, RISING STAR, EXODE, HASHKINGS, WOO, BANG!DEFENSE have their own PIZZA communities here.
---

Don't miss out more events that are always being organised. Join the PIZZA DISCORD. Even if you aren't interested in the 💰🍕🎁GIVEAWAYS & AIRDROPS💰🍕🎁, there is a vibrant and friendly community there awaiting you.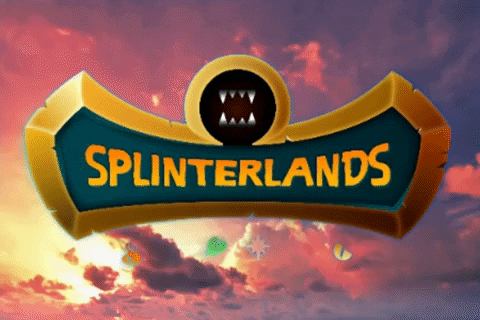 Here's to wishing everyone all the best for the upcoming week 🎉🍀.
To any new players who wish to explore the world of Splinterlands, do feel free to sign up with my REFERRAL LINK😊.

---
---