Splinterlands SHARE YOUR BATTLE Weekly Challenge - 🧙🏻‍♂️🌪️✨PORTAL SPINNER🧙🏻‍♂️🌪️✨"You spin me right 'round, baby, right 'round"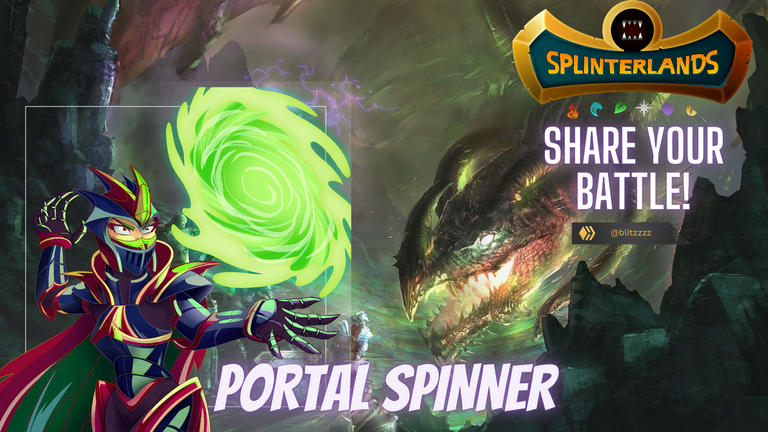 You spin me right 'round, baby, right 'round
Like a record, baby, right 'round, 'round, 'round 🧙🏻‍♂️🌪️✨
Well, I wouldn't say Portal Spinners actually dance and spin around like the the lyrics of this classic song implies. However, where the spinning comes from is probably the rift portals they open, showing a spinning effect.
The theme of this week's Share Your Battle Challenge - I give you the PORTAL SPINNER! 🧙🏻‍♂️🌪️✨
---
Portal Spinners siphon life magic from their surroundings to open mini-rifts in the fabric of reality. Some thought to use these portals to travel between realms. However, after attempting to do so, many a Portal Spinner was consumed by whatever foul beasts dwelled on the other side of the portal. Others emerged... rearranged... and either dead or wishing they were dead.
🧙🏻‍♂️🌪️✨From Splinterlands Lore on PORTAL SPINNER🧙🏻‍♂️🌪️✨
---
The Portal Spinner is a Rare card released during the Chaos Legion expansion. It has definitely found it's place in many Life decks given its availability and usefulness. At LEVEL 1, it has 2 ⚔️ATTACK⚔️ and 2 🏃🏻SPEED🏃🏻, with 1 🛡️ARMOR🛡️ and 3 ❤️HEALTH❤️. It has the SCATTERSHOT ability. It's summoning cost is also on the mid range at just 5 🧪MANA🧪.
These stats does make the Portal Spinner seem like it is a rather weak ranged unit. It doesn't have any tanking ability, nor does it have great speed. It's attack fares a little better but that is nothing to crow about either.
The Portal Spinner's true strength lies in it's ability SCATTERSHOT. This is a new ability that was introduced in the Chaos Legion expansion. It allows the unit to make a totally random attack on any unit on the battlefield. It even bypasses the TAUNT ability! This means NOBODY is safe at all, and with some luck, even the opponent's most protected unit can be taken down. This could make all the difference if the battle comes down to the wire where the slightest advantage is the fine line between victory or defeat! 👍🏻👍🏻👍🏻
---

---
The release of Chaos Legion has given the Life splinter a really unique card in the Portal Spinner. As SCATTERSHOT is such a new ability, only a handful of units (as can be seen illustrated above) have it. In the Life splinter, the Portal Spinner is the ONLY card of it's kind. This ensures that the Portal Spinner will definitely have it's own place here in all Life decks. This is definitely what I'd consider game changing! 😱😱😱
---
📊Card Stats by Level📊
---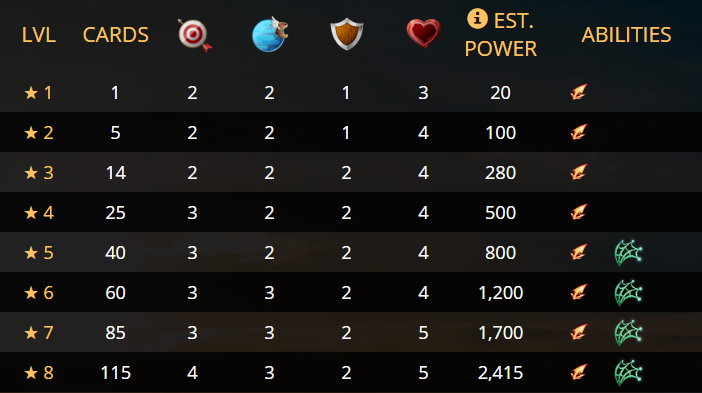 As we can see here, the main purpose of the Portal Spinner is simply to do damage randomly. It's stats improves slightly across the board as it levels up. At lv 5, it also attains the SNARE ability, allowing it to remove FLYING from any unit it hits. This isn't anything game changing, but it can potentially cause some serious damage in Earthquake rulesets against an unsuspecting opponent.
---
📝Important Rulesets Rundown📝
---
Here, I detail the list of combat rulesets that may affect the Portal Spinner.
---
🤔💭✅❌🤔💭❓❓❓
👍🏻 It's attack will never miss
👍🏻 Gives itself more protection. Always good, especially for such a fragile unit.
👎🏻 Loses all it's abilities.
👎🏻 Ranged units can't be used.
👍🏻 Ranged units can attack from the front.
👎🏻 will be able to last slightly longer armor though.
👍🏻 Will likely benefit as it has low HP.
👍🏻 Able to lend it's attack from any slot.
👎🏻 Even summoning cost
👍🏻 It's randomness in attacking with Scattershot makes Blast extremely powerful.
N.A
N.A
Situational. Could add more damage if the opponent's front unit is stunned
👍🏻 Improve it's own survivability
👍🏻 Melee units are affected.
👎🏻 Only units which cost 4 or less mana can be used.
👍🏻 No Legendary units can be used.
👍🏻 Magic units cannot be used
👎🏻 Gives melee the positional attack advantage enjoyed by ranged/magic
👎🏻 Will die to poison.
👍🏻 Only odd summoning cost units can be used.
👍🏻 It's slow speed makes it fast
👍🏻 Only common/rare cards can be used.
👍🏻 Doesn't really depend on Summoner abilities
👍🏻 Enrage works out well for units who can take a few hits
N.A
👍🏻 All units abilities stay intact
👎🏻 Allows melee to attack even if it's not in the first slot.
👍🏻 It is NOT a Neutral unit.
N.A. All ranged/magic units have the Snipe ability.
👎🏻 Loses all it's armor.
👎🏻 Only Melee units can be used
N.A.
---
⚔️🛡My Battle Showcase🛡⚔️
---
Let me present a battle I fought recently in which I used the Portal Spinner. My opponent used the FIRE splinter while I went for the LIFE splinter. 🔥 VS 👼🏻
At first glance, this would seem like a really even match. Our levels were just about evenly matched overall.
The opponent was MELEE focused while I was RANGED focused! 🤯😱😵

We had similar tanks with the SHIELD ability.

The opponent had plenty of units which were able to attack from any position, and with the high melee damage they dealt, could potentially prove fatal to my team.
Clearly, in terms of card rarity and card strength, this would be a VERY CLOSE FIGHT 😜🤣. Would I be able to turn the tide of battle against such an opponent then? Victory or defeat would lie in the small details.
I would say that the Portal Spinner was DEFINITELY the MVP of this match, having played it's role in turning the tide of battle. It showcased it extreme randomness by taking out the opoonent's highly damaging Serpentine Spy with it's very first shot! With that single move, the biggest threat in the opponent's team was completely nullified 🤣.
This ensured that the other units could eventually wear down the opponent until victory was achieved! 🏆🏆🏆
---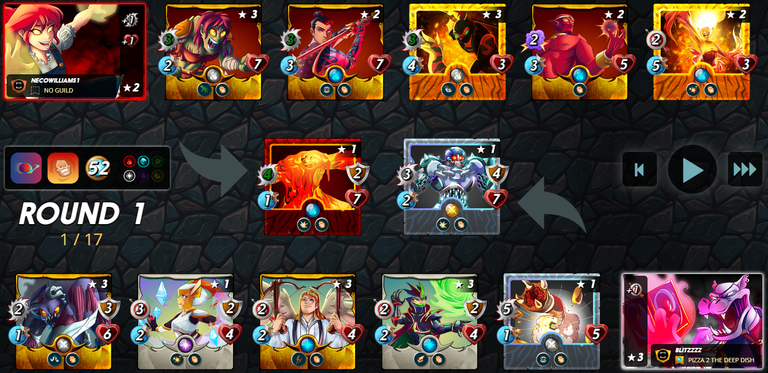 LINK TO FIGHT WITH MY PORTAL SPINNER
---
👯‍♀️👯👯‍♂️LINEUP CHOICES👯‍♀️👯👯‍♂️
---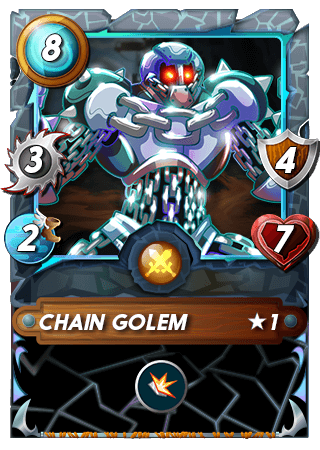 1st CARD SLOT
The Chain Golem takes the role of the Main Tank in the first slot here. It will be the most important role since the backline will fall if the Main Tank goes.
---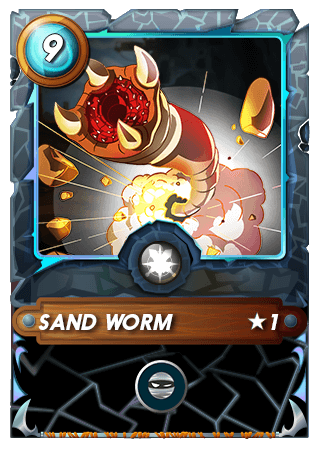 2nd CARD SLOT
The Sand Worm fills this slot. It's role is to deal damage from this position with it's SNEAK ability. Should the main tank fall, it will pick up the task of tanking.
---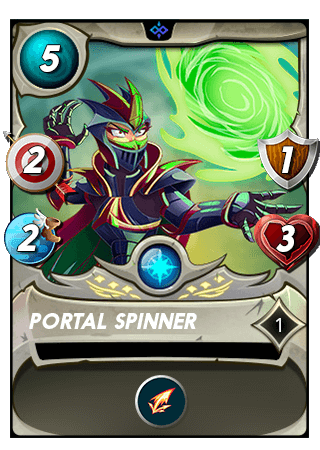 3rd CARD SLOT
The Portal Spinner takes this slot. Protected in the middle, it will deal it's damage from here.
---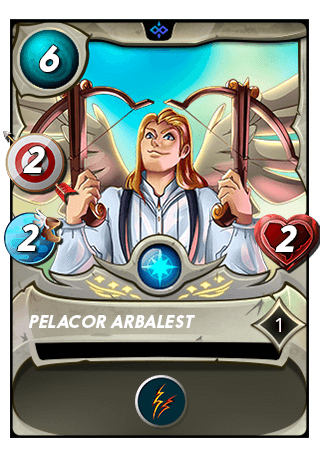 4th CARD SLOT
The Pelacro Arbalest occupies the 4th slot. It's job is to be the DPS. Putting it in the middle here also keeps it safe.
---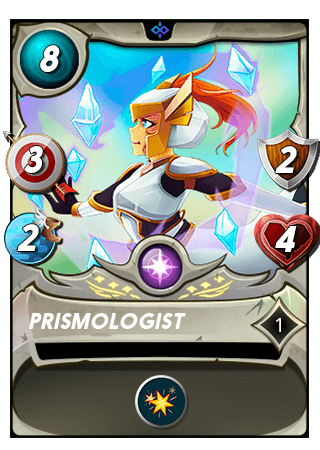 5th CARD SLOT
The Prismologist occupies this slot. It's role is also to DPS from the safety of the backline.
---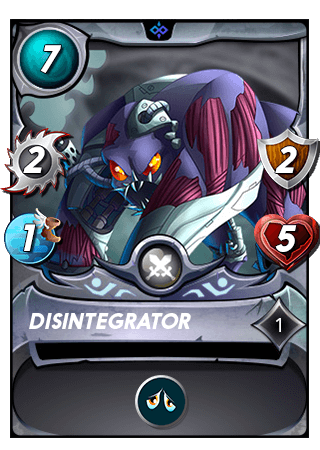 6th CARD SLOT
The Disintegrator occupies the last slot. It's role is to debuff the melee units whilst protecting the backline from any SNEAK attacks.
---
⚔️🛡Battle Action Report🛡⚔️
---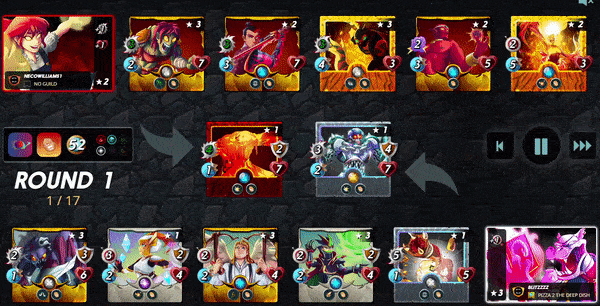 As you can see, both of us fielded decks with very different strategies in mind. His was a melee based team, whilst mine was a ranged based team.
🔥 FIRE 🔥 VS 👼🏻 LIFE 👼🏻
My opponent used the Living Lava as his main tank in the 1st slot which is an AMAZING choice, given how suitable he is as a tank especially with it's SHIELD ability. His Radiated Brute was placed in the 2nd slot, where it could deal damage with it's REACH and also serve as a backup tank. The 3rd and 4th slots were occupied by his Tenyii Striker and Serpentine Spy, both of which were hard hitting units who would take aim at the backline. A Djinn Apprentice and Fire Elemental rounded off the rest of his DPS.
My choice of the Main Tank was the Chain Golem which would make a great Tank with it's stats and SHIELD. It was followed by the Sandworm in the 2nd slot who would be my backup tank whilst also being a major source of DPS with it's SNEAK. The 3rd, 4th and 5th slots were all occupied by my ranged DPSes, who were to be protected in the middle. The last slot was rounded off by the Disintegrator, with it's anti-melee debuff who would act as a defense against SNEAK attacks.
The battle started out with all our units just duking it out pound for pound. It was a very high mana ruleset with just 52 mana as the limit. Both me and my opponent didn't manage to fully fill out the mana allocation, but we came close.
The first wave surprisingly ended up with none of my units dying! I would have expected with all the opponent's REACH, SNEAK, OPPORTUNITY and BLAST attacks from different units that he would have done some serious damage. 😅

Instead, my Sandworm killed off his Fire Elemental with a SNEAK attack, AND my Portal Spinner took out his most dangerous unit, the Serpentine Spy, with it's completely random ranged attack! 😱🍀 Talk about being lucky!

It was all downhill from here on as the opponent had lost a significant portion of his DPS.

The remaining rounds saw my team press it's significant advantage by taking out unit after unit in the opponent's team.

It was all over as my team survived completely unscathed.
Talk about doing WAY MORE than it was supposed to!!! 😱🤯🥳 All I expected was for the Portal Spinner to play it's part in chipping in with a bit of damage here and there. Yet it did more than that and completely came up with a Clutch Victory by taking out the opponent's safely protected main DPS with it's totally random attack. 💪🏻
The battle ended up being a perfect battle with NONE of my units suffering any casualties! Surely that made it the Man of the Match for this battle, punching way above it's weight! 💯
Well as you can see here in this GIF of my battle, the results were pretty good! 👍🏻👍🏻👍🏻
This was truly an eye opener! 😁🏆
Slowly, but surely, I wore down the opponent's team and the match was won handily with ALL of my units still left standing. It was a PERFECT VICTORY! My team selection proved to be the edge I needed to eventually overpower my opponent. 💪🏻
---
🔮🔮🔮Hindsight is 20/20🔮🔮🔮
---
Would I have done anything differently? 🤔 This might have seemed like a match that would prove to be a challenge at the start because of the similarity between our decks and lineups. However, with my PERFECT VICTORY with ZERO casualties, IF I had to use the same cards again, there would be no better lineup than what I had already used for the match. Any other combination MIGHT have resulted in a loss for me. I'm really satisfied with the results against such a worthy opponent. 🏆🥇
---
💭🧐💭Ending Thoughts💭🧐💭
---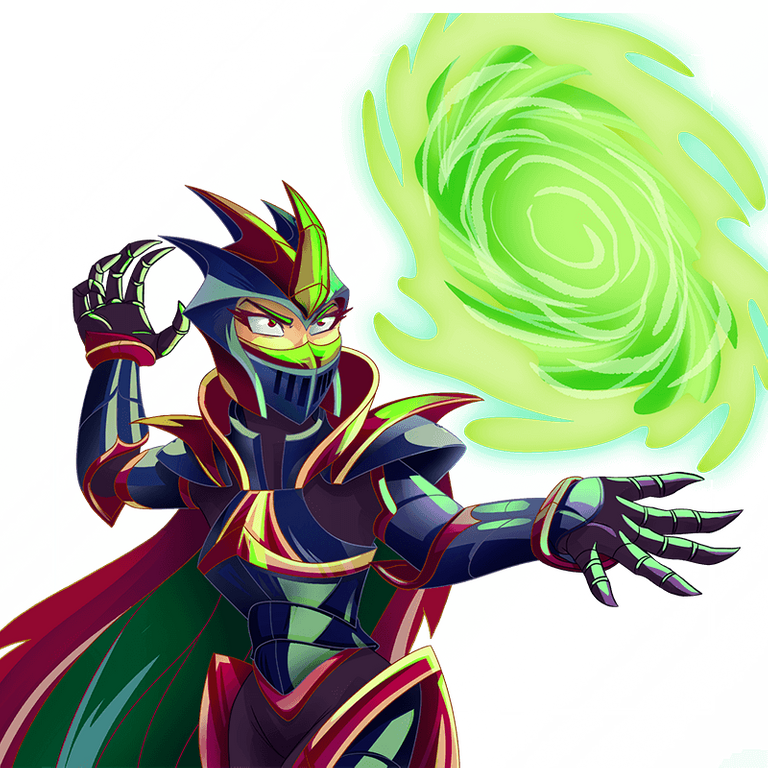 ---
I definitely can appreciate the Portal Spinner and it's strengths. This is one of those cards which are very strong if surrounded with the proper team. The role it brings to the battlefield will give a player the edge in squeezing out every tiny advantage to get the win. 👍🏻
For any players looking to try out the Portal Spinner, I hope this article has given you some insight into its potential. 😉
---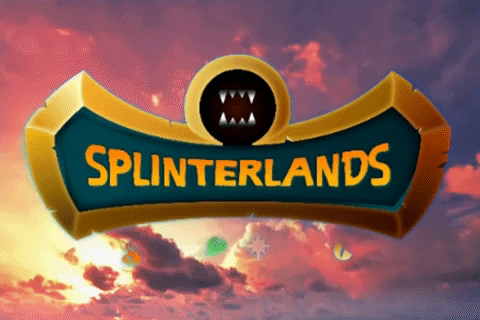 To any new players who wish to explore the world of Splinterlands, do feel free to sign up with my REFERRAL LINK 😊.
---

I am also a member of the SPLINTERLANDS PIZZA guild and the PIZZA community.
PIZZA is an active gaming and creative arts crypto community on the HIVE blockchain. Popular games on HIVE like SPLINTERLANDS, RISING STAR, EXODE, HASHKINGS, WOO, BANG!DEFENSE have their own PIZZA communities here.
Don't miss out more events that are always being organised. Join the PIZZA DISCORD. Even if you aren't interested in the 💰🍕🎁GIVEAWAYS & AIRDROPS💰🍕🎁, there is a vibrant and friendly community there awaiting you.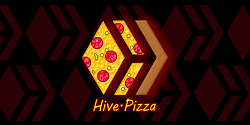 CLICK THIS LINK TO JOIN PIZZA DISCORD!!!
---
---