[ESP-ENG]-Ladies of Hive, contest #87 ¿Qué criatura mítica te gustaría que existiera de verdad? // What mythical creature would you like to really exist?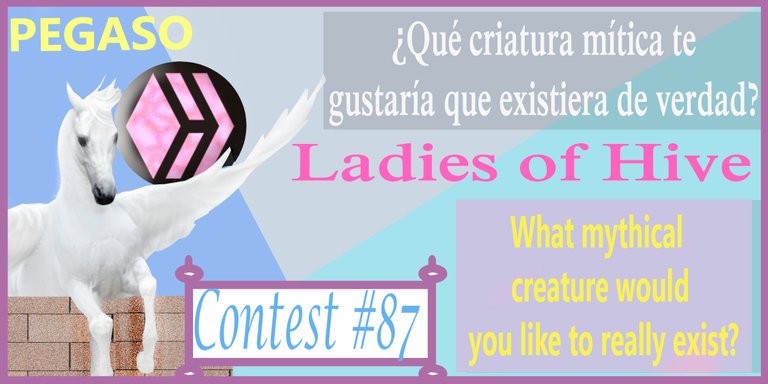 Hola queridos lectores, gracias por la oportunidad de seguir participando en estos tan nutritivos concursos. Respecto a la pregunta, quisiera comentarles que el animal mítico que más me llama la atención es el animal Pegaso, se trata de un caballo blanco con unas enormes alas. Realmente me gustaría ver uno de esos animales en la vida real. Si ya de por si los caballos son hermosas criaturas donde su cola larga, su pelaje, su fuerza que los caracteriza los hace animales muy bellos y útiles para la sociedad que ayudaron a nuestros antepasados a transportarse y actualmente también se ve en las fincas o lugares con áreas verdes. Ahora como animal mítico le salen unas hermosas alas que les permite volar alto y alcanzar cualquier lugar.
No quiero perder la oportunidad de agradecer a nuestra compañera @saffisara por haber creado tan ingenioso concurso; saludos.

Me imaginaría aprender a conocer este animal, ser su amiga, montarme en su lomo e ir a recorrer muchas partes. No me preocuparían las distancias. Confiaría en mi amigo mítico 100% pues tendría una conexión pura y sincera con él.

Elegí este animal mítico , ya que actualmente la distancia que existe entre mi familia y yo es de país a país. Y la verdad los extraño mucho. Se me dificulta mucho retornar a mi país porque no cuento con los recursos necesarios para ir a visitarlos. Mi mente a veces me imagino allá sentada con mis padres o mis hermanos hablando de cualquier tema y disfrutando de su compañía. Pero luego despierto a la realidad. Y con la ayuda de mi animal mítico favorito si existiera pudiera ir y venir las veces que fuesen necesarias. Fuera una aventura sin comparación, llevará a mi familia a conocer cada rincón del planeta.
Espero que les haya gustado y espero poder. compartir en otra oportunidad. Saludos.



Hello dear readers, thank you for the opportunity to continue participating in these very nutritious contests. Regarding the question, I would like to tell you that the mythical animal that most attracts my attention is the Pegasus animal, it is a white horse with enormous wings. I would really like to see one of those animals in real life. If horses are already beautiful creatures where their long tail, their fur, their strength that characterizes them makes them very beautiful and useful animals for society that helped our ancestors to transport themselves and is currently also seen on farms or places with green areas. Now, as a mythical animal, they grow beautiful wings that allow them to fly high and reach any place.
I don't want to miss the opportunity to thank our colleague @saffisara for having created such an ingenious contest; Greetings.

I would imagine learning to know this animal, being its friend, riding on its back and going to many places. I wouldn't worry about the distances. I would trust my mythical friend 100% because I would have a pure and sincere connection with him.

I chose this mythical animal, since currently the distance between me and my family is from country to country. And I really miss them a lot. It is very difficult for me to return to my country because I do not have the necessary resources to visit them. My mind sometimes imagines myself sitting there with my parents or my siblings talking about any topic and enjoying their company. But then I wake up to reality. And with the help of my favorite mythical animal, if it existed, I could come and go as many times as necessary. It was an adventure without comparison, it will take my family to see every corner of the planet.

I hope you liked it and I hope I can. See you next time.


Fotos/Photos: De mi autoría tomadas celular Motorola e7 play.Programa Photoshop Cs6.Traductor de google.
---
---