Crazy Times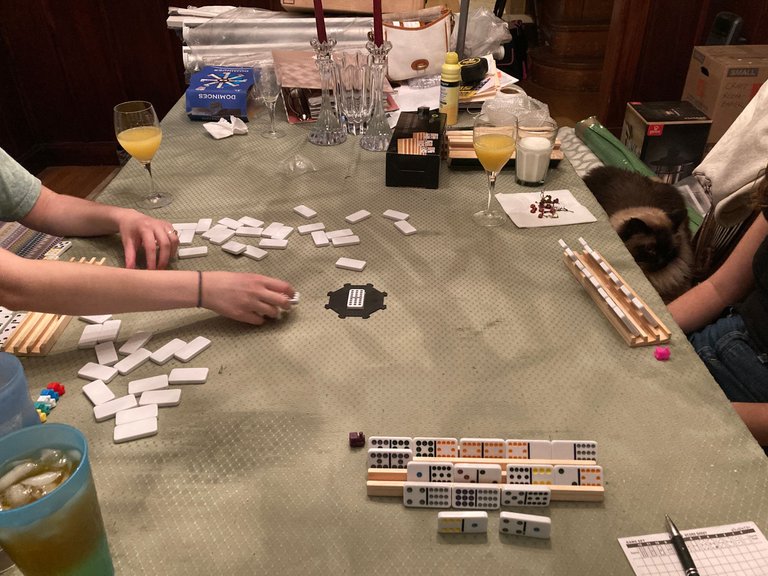 We've been dealing with days now, of rain. First, it was 100 degree (38C) weather for days and days...then, it was days and days of rains.
I snuck outside and managed an hour or so in the cool drizzle, to do some pruning. I had to toss a dozen? more? tomato, that are bursting with Blossom End Rot, due to overwatering!
Make it STOP!
I swear, it's not me overwatering, it really isn't.
The good news is, we've found a new fun past time at night! The girls and I are hunkering down and enjoying some Mexican Train Dominos a game that miss @Dreemsteem and her family introduced to me, on a recent California trip.


The basic premise is, a version of Dominos played where 3 or more players take turns beating me, round after round until they get tired and and we call it a night, to be continued the next night.


As pictured above, at no time did Tucker (cat) win a round. In fact, my youngest daughter (above right), won most rounds, with my oldest daughter(above left) winning one or two.


Grovid Gardening Updates
will return as soon as the skies cooperate!



Bluefin Studios is a photographer, specializing in wildlife, nature, landscapes, waterfalls and Lighthouses!

Always, I strive to give back

To the animals and birds around me

to put more plants in than I take out

And be a good steward for the world around me!

All Photos by Bluefin Studios unless specified.







---
---