DISTANT - DreemPort WORD of THE WEEK Challenge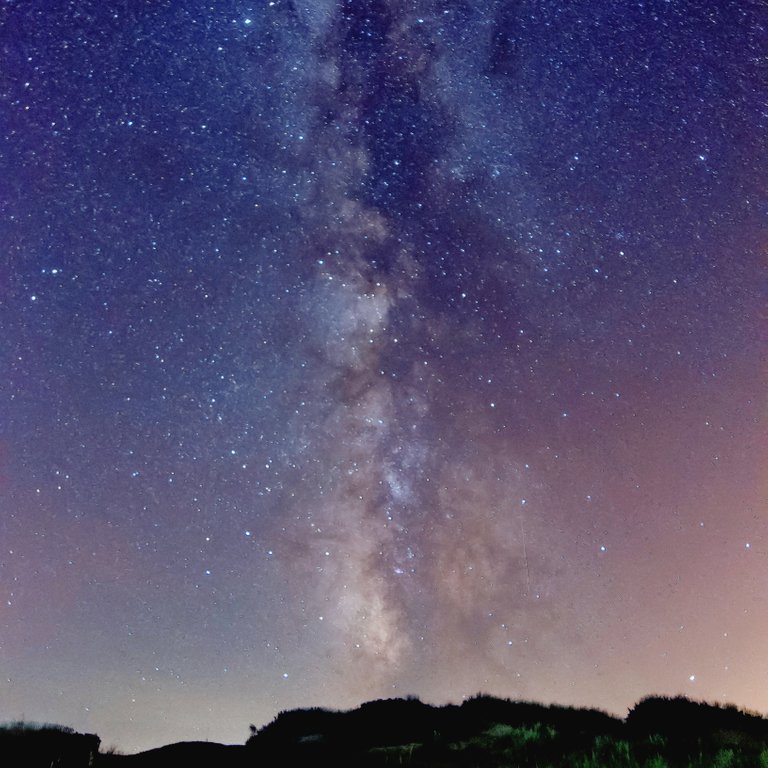 For The DreemPort Word Of The Week: Distant
This is my entry for this Month's Dreemport Word Of the Week.
DreemPort WORD OF THE WEEK Contest


Above: The Milky WAY Galaxy, as seen from a shore near me. It was a midnight late, for me, to view these distant stars.


Distant
It's 5:41 am for me... barely light on the horizon.... I can see a tiny bit of light, through the trees. There's a background of birds, sort of background music to my morning. All I can think about are the many mornings, when this happened way back on that very first summer. Why now? and why so strong? I do not know, but those memories, both vivid and real, deep and overwhelming, are hitting me this morning, extremely hard.
I am thinking back to the summer… so many days away, this Distant memory comes to me, unbidden. I was lying on my back, staring at the midnight sky.
I was lost in thought, one level, thinking about those stars… some light years away. The Milky Way as I looked at the night sky, I was staring back into the center of the galaxy. We live out on an arm, rotating around the hot, clusters of gravity and mass, and super black holes, at the center of the Galaxy.
Thinking of who, or what else was lying on their back, staring back at me. In the deep dark center.
I was staring at the night sky, because I was trying to resolve a huge problem with my own marriage. About 3 months ago, now, I noticed, odd behavior. The stars in our local galaxy were not the only thing far away. My wife of more than a decade, was too.
Oh, we started out like most, that intense Honeymoon. We couldn't get enough of each other. Walking into the house, passionate kisses, or deep body contact hugs. Our nights making love were intense. Some nights, it wasn't making love, but pure animal passion.
Even simple acts, like washing dishes… we'd bump, we'd touch, we couldn't get enough of each other.
Over the years, one thing about me that most people learn is that, I hate confrontation. I simply acquiesce, in order to avoid it. Perhaps that gave a false sense of what I felt, or what was important.
Like most couples, our passion cooled, but the love didn't. Not then, anyway.
About a year ago, My wife went back to work. The kids were now in school. Our oldest, in Second Grade, was 8. She was 8 going on 20, from her attitude. She owned her daddy. Our youngest, just started and was 6, in Kindergarten.
When we enrolled our youngest daughter, that's when my wife informed me, she was going crazy, and was thinking of going back to work. I told her anything she wanted, was fine by me, so long as her work, like mine, did not affect family.
I made it a point to stop travel, when our kids were born. I was home by 6 most nights, and sometimes even earlier. She and I talked and she seemed to understand the importance of our kids and our duty to each be a strong part of raising them. I assumed that travel and long would be friction points in our parenting, so, I simply avoided them.
So, what does looking at the stars, some 25,800 light years away, at the center of the Milky Way help me with? I guess, that distance, 25,800 Lightyears, brought to focus, my problem.
It took the light from those stars 25,800 years, going mighty fast, to get here. That's some big distance, right?
Remember me telling you, about how we could barely stand to be apart? We'd be watching tv, pressed against each other, At a restaurant, eating dinner, we didn't sit across form each other but next to each other to hold hands, or put an arm around, or simply lean into one another. Not a stitch of paper could fit between us, most days...
Not now.
At first, work was amazing. Each day was new, and exciting, and shed rush home, to tell me about it. One day, I heard of this new team coming in, working with the office, and how exciting it all was. Her life continued on for a few weeks, and suddenly, she was quieter.
It happened gradually at first… less talk of work, and more about the kids, or dinner, or other issues. Eventually, I clued in.
Suddenly, it was rare when we didn't get into a little argument. Suddenly, we sat in different rooms at night. Suddenly, I was "wrong" more than right. How I parked my car, how I dried dishes, or what I bought at the grocery. The meals I cooked. How I wasn't making enough money to buy her the things she wanted.
Imagine my shock, when she came in from one of her now frequent late "Girls night out" Friday nights, wearing a little black cocktail dress. I am no fashion magnate, but, I do know that Alexander McQueen is not a cheap dress.
I asked, and she said, "Oh? This? My friend bought it for me." Her friend… from work. The new VP of Legal. It seems he enjoyed giving my wife expensive gifts. This dress alone had cost him $9000. And yes, I did look it up.
After a week or so, of piecing together the little hints, I waited for her one Wednesday night. She walked in, and was supposed to see my waiting for her, at 4:30 in the afternoon.
Nervously, she asked, "oh, uh… hi. Where are the kids?"
My only answer was to hold a chair out for her, and ask her to be seated.
"Are you ok? What's wrong?" Her nerves were showing and her face a mask of fear? Panic? Not sure. "You're scaring me…." In a whisper.
"I am going to show you some pictures, and I am going to ask some questions. How we move forward, whether we survive as a couple, and what we do next depends on you. ONLY 100% truth will allow us to find a way forward, understand?"
She nodded, staring at the kitchen table… eyes not moving from their focus.
I slid a large pile of photos to her, the top, showing her at lunch with her new friend. The next few showed her and him, holding hands, some laughing. Each a different place. Each a different meal, lunches, dinners, all intimate. None passing the husband test, many, not passing the grandmother test. And her grandmother would not be pleased at some.
"I've known about you and him for a few months now. I've seen you two together…"
"How…" I cut how off.
"That's so not the correct question, nor the right answer from you. How. Does. NOT. Matter. Do you understand?" Again, she nodded, eyes down.
"You've been a bad girl. Somehow, you got it into your head, that you could do anything you wanted, that you could behave any way you felt. That anything you wanted was your right. Is that true?"
She looked up at me, and was at a loss for words. We both knew that was in her nature, to assume she would get what she wanted.
"Do you still want to be married to ME?" I said a bit more forcefully than intended. She rocked back into her seat. Her eyes flew wide open, pupils dialated, and watered up. A single tear leaked from one eye. Her lip quivered.
"Oh, please… I am so…" it took more than 20 minutes for the years to stop. Towards the end of the crying, I all could hear was "i'msosorry…" in tiny whispers.
She was so small, Her face, white. Her whole body wracked why crying, yet no more tears nor noise were left inside her.
"I don't know what I was thinking… I wanted everything. I wanted the clothes and bracelets he was giving me. He kept telling me I was beautiful..."
She looked at my face, "I know you do to, every day, and that you love me… but, you're my husband, you have to…"
"Actually I don't have to. I love you. I tell you that becuase I do. Because you are my world. Because, I lvoe you with my entire being. I tell you you're beautiful, because, you ARE. Not only beautiful, but an amazing mother, sister, daughter and wife… well… until recently."
She gasped at that. "No! I haven't done…"
"Hush. I know what's been going on. All of it. I know. I know that you haven't cross THAT line yet. Perhaps sooner than you think… your little friend has experience at this. He's in your office, because corporate has had to transfer him three times now. This is his last chance."
She stood, her face a mask of pain, sadness, and shame. She walked to the phone, and called…
"Hello, this is Susan George. I am calling to officially resign. Effective immediately."
She hung up the phone and marched straight to my arms and began crying again. This time, for even longer.
Later, when the tears had settled, she asked if we would be ok. I told her, that I loved her, and always would be. She begged me to let her show me that she was sorry, and to let her make it up to me.
"We have one last thing to get to before you begin to make it up to me. We need to discuss punishment."
"Please, I am sorry, please do not go out and find some other woman…"
"Stop. I don't want some other woman. No one but you. We're parents. We both know, that when the kids screw up, they get punished. Sometimes, it's no dessert, sometimes, it's no TV, or Movie, or, no iPad, or whatever. And what happens, when it gets really bad?"
Her eyes have never been wider. There was fear. She looked pale as ghost. I let the silence linger another moment or two, and then, "Go. Get. The. Chair."
"You cannot be serious?" She laughed.
"I won't ask again. When the kids complain, they know what happens to their punishment, don't they?" I looked straight into her eyes, "Do you?"
"Yes." Such a small voice, now. She knew.
I watched her go to the closet and get the folding chair, and put it in the middle of the door to the hall. That's where any of this took place.
I walked slowly over to the chair, and sat. She looked at me. Eyes to eyes. Her face tearing up again. A pair of tears, this time, rolling slowly from the corners of her eyes. Her shoulders slumped and she said, "I... I am so sorry I hurt you. Us. I really messed up, didn't I?" I nodded.
She walked, slowly and lay down across me knees. "I am sorry, I will never forget again. I will remember this, always. I will do whater it takes..."
With each swat of my hand, across her behind, I hear a little yelp. At first she would cringe, with each swat. Mid way, she turned slightly, and I could see her expression… that distant expression, present for the past few months, no more. She hasn't been this present in quite some time.
As I finished the last of her spanking, she was squirming now. Finally, she looked at me. Her face, was red. Her throat was flushed. Her hips were not squirming so much as mashing onto my legs.
"Please. I am yours, show me I am Yours again now."
Distant, no more.
---
My thannks to the amazing Scholar And Scribe Writing #scholarandscribe and of course, @dreemport #dreemport for hosting this fun contest. #dreem-wotw or #dwotw

It's time to take control of your own food supply,
your own health and your own lives.

The GroVid22 Challenge:
Grow Your OWN is not just a simple short challenge,
it's about taking control of your future!
Happy New Planting and Cheers,
BluefinStudios

All Photos by Bluefin Studios unless specified.








---
---