Secret Gardens and THE 100 YEAR OLD MINT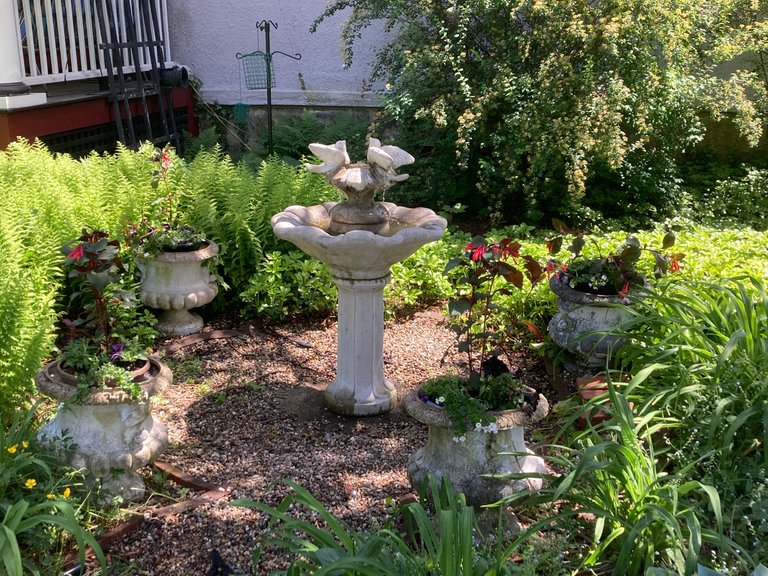 It's NOT All Vegetables and Fruits
...I also plant other greenery.
Often, I post about my herb garden or more, about my vegetables and fruit growing gardens. Tucked away, in a hidden corner of my yard, is a little oasis. We can sit on the porch, hidden by 15 foot tall Rhododendron, lush and green, and peak out at this little respite. A flowing water fountain, and some planters, set around a tiny gravel pathway.
Yesterday, I spent some time in the morning, at a Garden Center, and picked up a few more flowers, for these 4 planters, surrounding the fountain. Each planter has a tall Fuscia, with two different Petunia, one Dark BLACK (below, right), and one, a deep Violet (below, left in the planter). In front, is a flowing hanging Bacopa, in white.


---
Above: Layers and layers, Tall Fucia in back, 2 types of Petunia, and Bacopa, hanging over the front.
Below: Many Varieties of Hosta, shade loving, and also, make great cover for all the rabbits.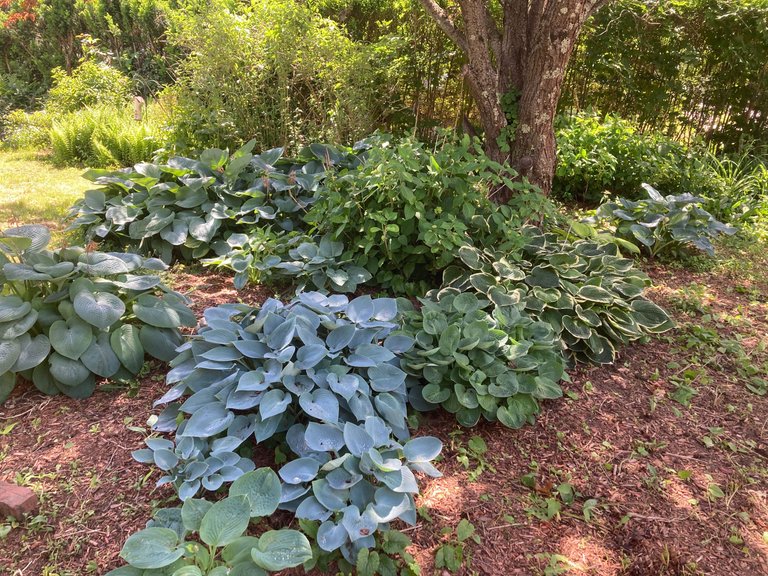 The Hosta middle, left of the image, has a small warren underneath, that momma bunny had her little baby bunnies in!
---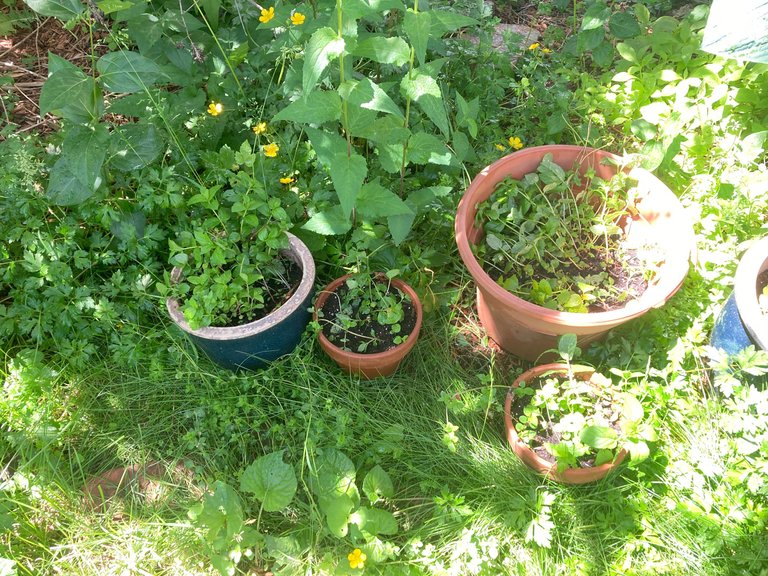 Above: Mint Update!
The original Mint Planter, left, in Blue, was divided, half left in it, and half moved to the large Terra Cotta planter. The two smaller Terra Cotta planters are cuttings I started mid February, for Mint. Check out
THIS MINT POST!
for the story of HOW THIS 110 year old MINT CAME TO AMERICA!
GARDENING THIS PAST WEEK:
planted flowers
weeded onions and hosta beds
harvested lettuce for my brother and his household
divided some hosta
Gardening To DO:
begin harvesting lettuce, and herbs
plant more Marigolds, Nasturtium
plant lettuce, arugula, spinach at Cape Cod garden
LOTS More to come, from my GroVid22 Gardens!
---
Show me your garden!
Leave me a comment, below... and a link to your garden!

It's time to take control of your own food supply,
your own health and your own lives.

The GroVid22 Challenge:
Grow Your OWN is not just a simple short challenge,
it's about taking control of your future!
Happy New Planting and Cheers,
BluefinStudios

All Photos by Bluefin Studios unless specified.








---
---