SpeekPeece, and Let It Be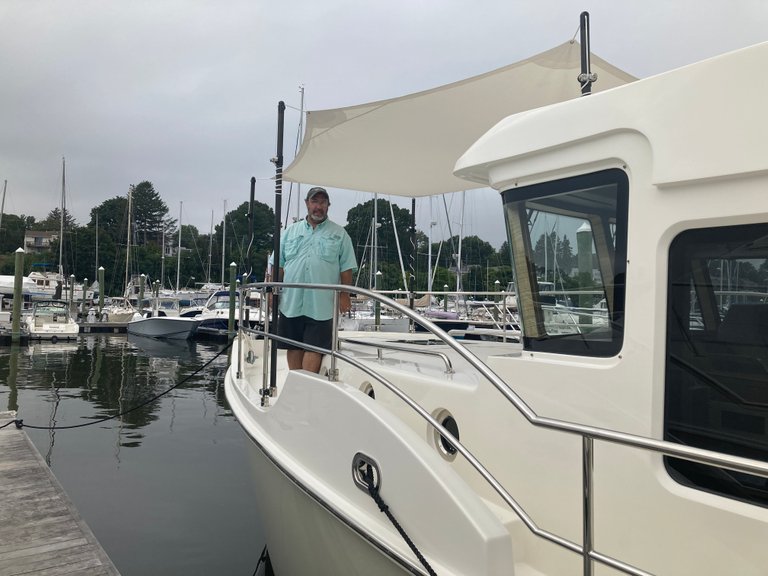 Speekpeece, From The Waterfront
There's a lot going on right now, in the world.. and we're
all
dealing with. there's war, there's food shortages, no jobs, stress is high, money's tight, no peace, no calm... it's not right.
Above: Out on a boat, looking at the choices. My phone, my pic.


I was chatting with someone, and they recommended that I give myself permission to NOT stress about certain things. For instance, I typically write a post three or 4 times a week... but, I have been very unsettled lately, and have NOT posted in a week plus. Nothing at all... and her advice? "It's OK. Don't stress yourself, take the time before you are already to post again." So, when you find yourself in times of trouble, #Speekpeece!
---
When I am in the zone, and posting regularly, the posts flow. I don't need to think... I don't need to search for a pic... they are all there.
In fact, often, the image prompts the post itself.. and lately nothing is flowing. It's almost like, my brain, when mid post frenzy is at a certain level, and then, once I shut down posting,
my brain turns off.
It simply shuts down.
As for the boating pic and me, above, the process takes time, and is involved. These are custom built boats, and they do not simply build them, unless there is a buyer... so, the process: Once someone decides they want this Nordhavn boat, the buyer signs a Letter Of Intent. that comes with Down payment from me the buyer. At that point, you are telling the builder, put me on the calendar. As of today, that gets me a spot in their build calendar about 18 months to 20 months away. From there, once they start building, it's 50% payment. After that, when it is fully molded, you pay another 30% or so... and then it goes to final finishing. You, the buyer decide colours inside, appliances, etc. Once that's done, and you pick delivery, East Coast US, West Coast, UK, the Med, or Asia, you make your final 10% payment on delivery.


Basically, it's almost 3 years, o the model I am interested in: Nordhavn 475. The above with me on it, is the 41 foot boat, and the 475 is the 47 footer. I would be closer to retirement The Pandemic set me back 2 plus years, maybe closer to 3 for retirement plans. Not working for almost 3 years is not easy on the wallet. That Nordhavn? I would be living and traveling aboard for about half my year... so, for me, its the retirement living I am planning. Similar to someone planning on living half the year in the Bahamas, or South Pacific.


I am beginning to get back behind the camera, after few weeks time off. I haven't written any fiction in some time, and certainly posts have been scarce as well... but, it feels like I can see the light, at the end of the tunnel. I've even had a few moments back in my garden, here and there.
---
Meanwhile, Breathe. Live. Love. Laugh. All that. Be at peace wiht your self. Allow yourself to feel good, or bad, to be sad, or happy. Give yourself permission to just BE!

...and #speekpeece!
---
Show me your garden!
Leave me a comment, below... and a link to your garden!

It's time to take control of your own food supply,
your own health and your own lives.

The GroVid22 Challenge:
Grow Your OWN is not just a simple short challenge,
it's about taking control of your future!
Happy New Planting and Cheers,
BluefinStudios

All Photos by Bluefin Studios unless specified.








---
---