The GroVid22 Camper Garden Is Abuzz!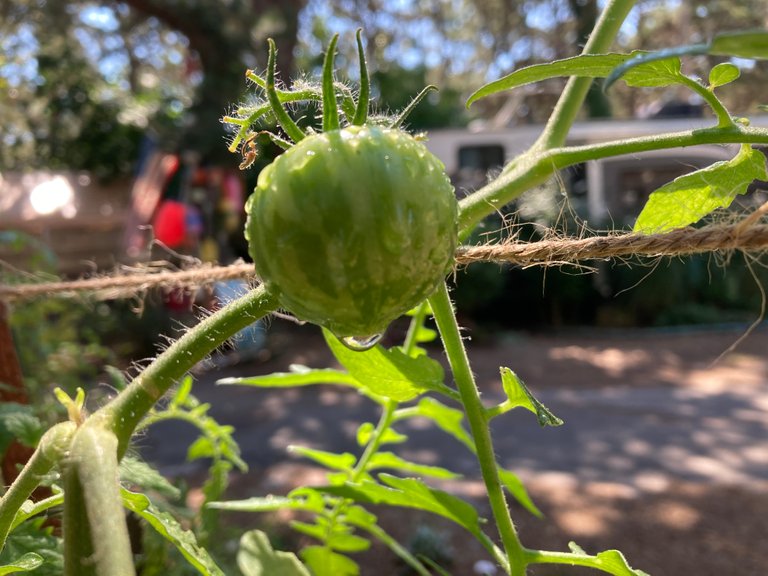 "... and we reach for the stars!" - Pres. Bartlett
Back in the real world, my garden has a large center trellis. In years past, it would normally be covered by now, as the tomato and cucumber grow over the top of the tunnel. But, no, not this drought year.
Here at the camp site, however, my tomatos are growing and reaching for the stars! They've easily outgrown their 6 foot stakes and are reaching ever skyward. For the cucumber, I am training them sideways, now.


Above: One of the Tigerella Tomato, growing ever higher! The Jute twine is at the top of the 6 foot (two meter) stakes. A couple of the tomato are now about a foot(a third of a meter) taller.
Below: I see Hummingbirds at these flowers, enar my tomato plants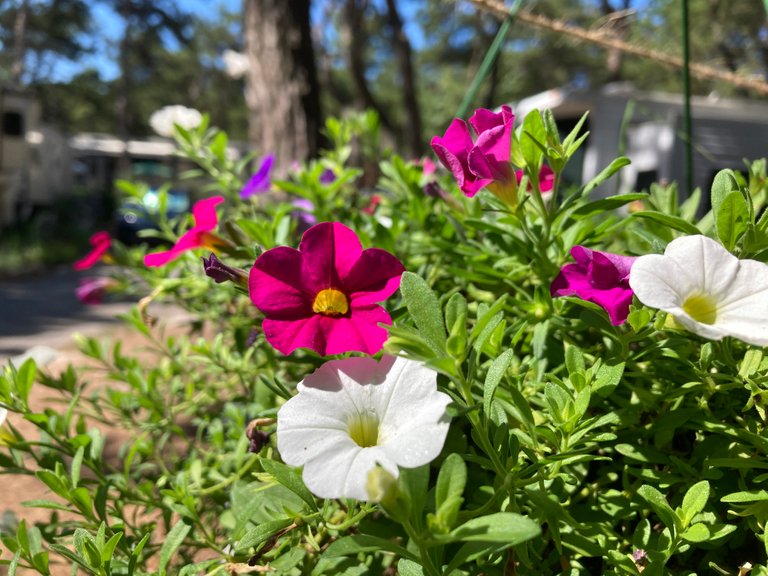 ---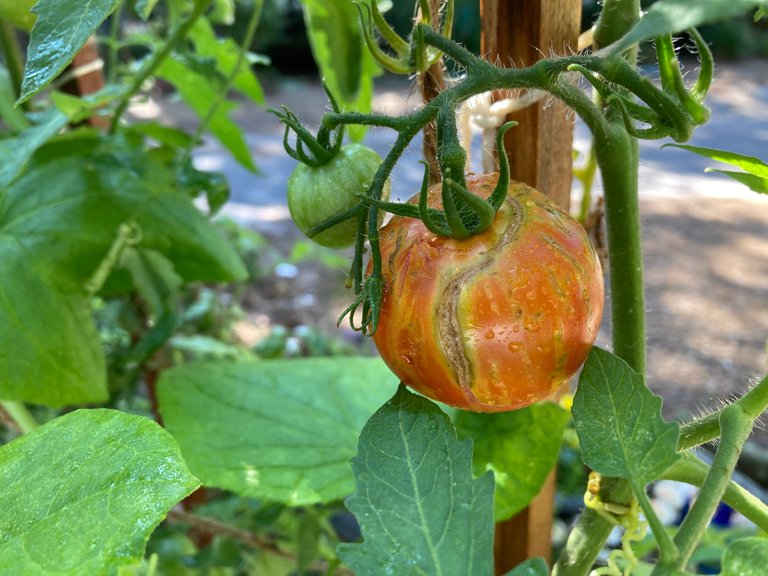 Above: Tigerella Tomato, picked just moments after this image
Below: Ukrainian Plum Tomato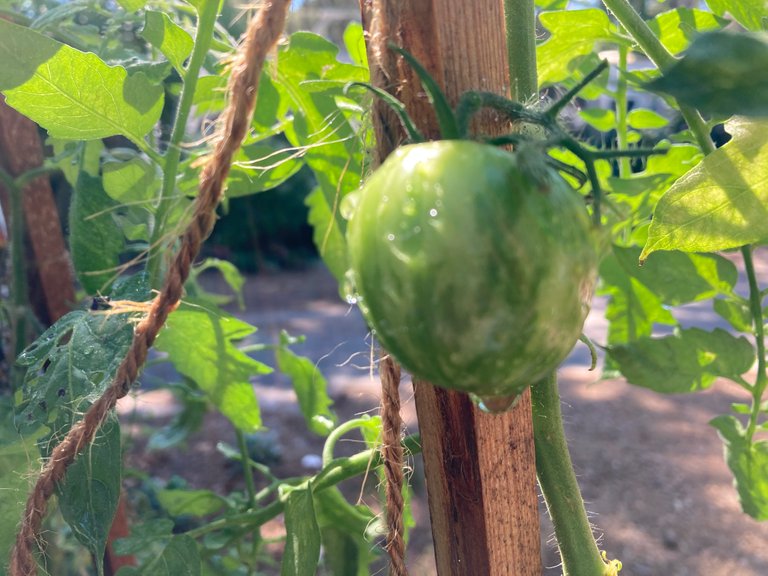 Spent a few moments pruning away, some of the dead leaves from Tomato and Cucumber plants
Below: a view of the 6 tomato, 2 cucumber, and some flowers and herbs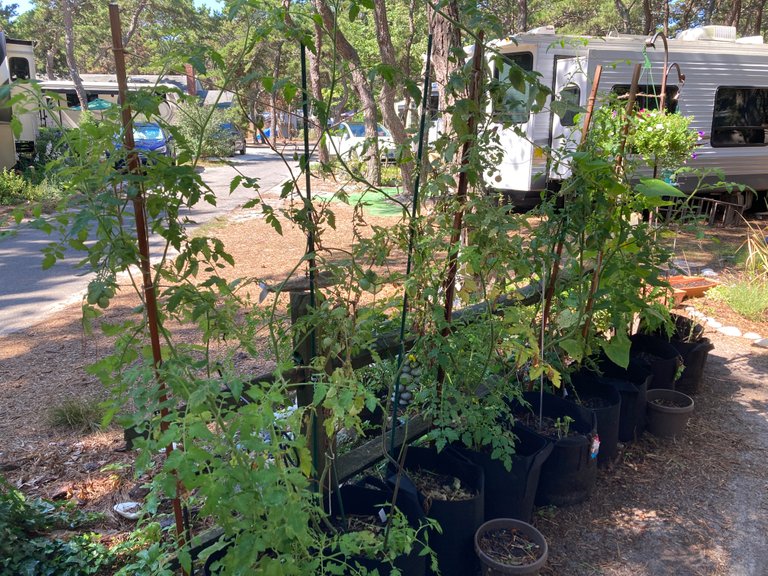 ---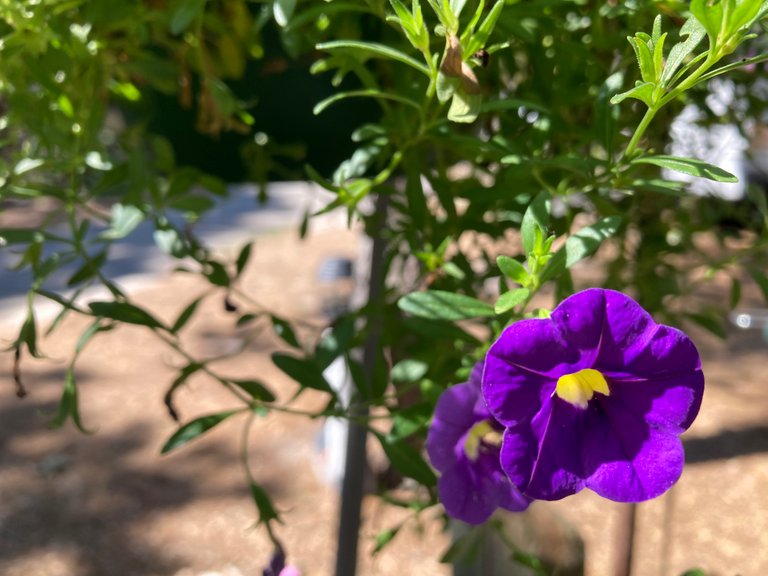 Above: Another shot of the hanging baskets of flowers, usually abuzz with bees, or even Hummingbirds!


---
It's been a Growing Season unlike one in recent memory, for me at least. Actually, for many, as I speak in some gardening communities, and am hearing similar discussion of water issues, small harvests and more.


---
Gardening To DO:
WATER, water, water...
I just planted some Fall Snow Peas and Golden Peas, as well as some Zucchini, and Muncher Cucumber.
For Kicks, i planted 6 Beefsteak tomato seeds. They say 55-60 days until harvest, I have 75 or so until first expected frost, so let us see.
LOTS More to come, from my GroVid22 Gardens!
---
Show me your garden!
Leave me a comment, below... and a link to your garden!

It's time to take control of your own food supply,
your own health and your own lives.

The GroVid22 Challenge:
Grow Your OWN is not just a simple short challenge,
it's about taking control of your future!
Happy New Planting and Cheers,
BluefinStudios

All Photos by Bluefin Studios unless specified.








---
---