I jumped like a Lion but I fell like a Cow!
An old friend used to say this way, whenever he started a thing or action with a lot of enthusiasm but in the end he failed to achieve the desired goal: "I jumped like a Lion but I fell like a Cow!"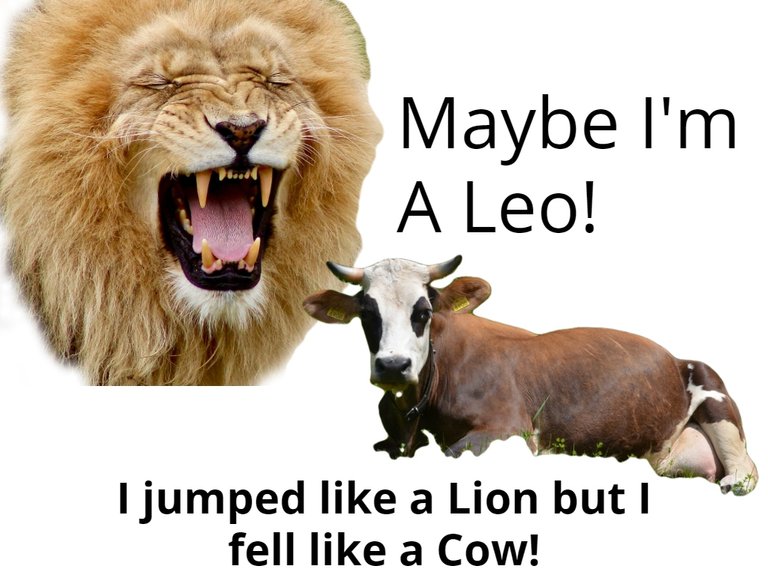 The same can be said about me and my initiative expressed through this last post: Maybe I'm a Leo - All Hive members should know this
To summarize in a few words, because I don't think anyone will have the time and interest to read the post, here's what it was about.
In many words, I proposed a relaxation in the topic allowed for the blogs published in Leo Finance. That is, in addition to the posts about finance and cryptocurrencies, more general posts should be accepted, with fewer references to finance.
From the moment I wrote I already knew that I was wrong and that such a change is neither desired nor possible. I continued writing because I wanted this post to be partly an example of a new form of expression, in which to mix several themes and even put a song.
I waited with emotion for the feedback, I addressed some who have a hard word to say in this community and I was afraid of a reaction, let's say, severe.
Well, I didn't receive the answer from them, a sign that they were probably amused by my proposal, but instead I received generous votes, a sign that they understood my desire to contribute with something to the growth of Leo Finance.
If we have an idea or a proposal, which we believe can bring improvements, it is good to express ourselves and those who matter can decide whether it is good or not.
The comments received once again demonstrated the interest for the community, for its unity and for the preservation of the identity. All those who commented said that the rules should not be relaxed and that the content of the posts should be about finance and cryptocurrencies, as the name suggests, Leo Finance.
Of course they are right, but I found that they did not understand or were not really interested in the message of my post. Maybe I could not be so clear in exposing the real proposal I made and the purpose for which I wrote this blog.
My colleague from Hive/Leo Finance and citizenship, @erikah, commented like this...
There was a debate about this already a month ago. You can read about it here and here. I truly hope rules won't be relaxed.
Very concise and with a very easy to understand ending, namely that she would not like a change.
So do @divinebeingness, @st8z, @cryptoandcoffee, @bitcoinflood, @bagofincome, @evegrace, @hykss, @fabian98 whom I thank very much for expressing their opinion so bluntly in favor of the rules of this community.
And yet, what I think was not understood! For example, @erikah, giving the example of @khaleelkazi's two posts in which she says that this debate was a month ago.
Of course, it was, but was referring to what kind of content @khaleelkazi wanted to see, Leo Finance content or non-Leo Finance content. It's just that non-Leo Finance content means strictly financial specialty content where Leo Finance is not referred to (so technical and informational content).
When I referred to non-Leo Finance content in my post, I was referring to a heterogeneous content, similar to the one existing in Hive but with a financial component, but this should be minor, not the main theme.
Of course, this proposal of mine was exaggerated, I understood from the comments of my colleagues but it was made in the idea that as many Hive members as possible be attracted to access Leo Finance and not be discouraged by the need for knowledge of finance, economics and crypto.
I wrote this post to make a marketing proposal for Leo Finance, namely, to try a promotion primarily to Hive members, by us, Leo Finance members who are also Hive members.
We, because each of our posts is published simultaneously in Hive, to introduce an invitation (direct or veiled) to our followers and readers in Hive.
That's why the title of my post was "Maybe I'm a Leo - All Hive members should know this
The rest of the post, about earnings, about the accumulation of earnings and about what should be posted, with my proposal to relax the rules was made to inform potential colleagues in Hive and stimulate their curiosity. Of course, after just one post, this initiative will probably not resonate, but if there were dozens of posts about it, I think there will be enough colleagues from Hive who will come with us.

Yes, I jumped like a lion, but I fell like a cow ... it was a supposed fall, I knew it would fall, but I hope that my proposal to promote Leo Finance to Hive members can be viable and accepted by as many as possible of our colleagues!

Posted Using LeoFinance Beta
---
---