Calming myself by writing with a pen and paper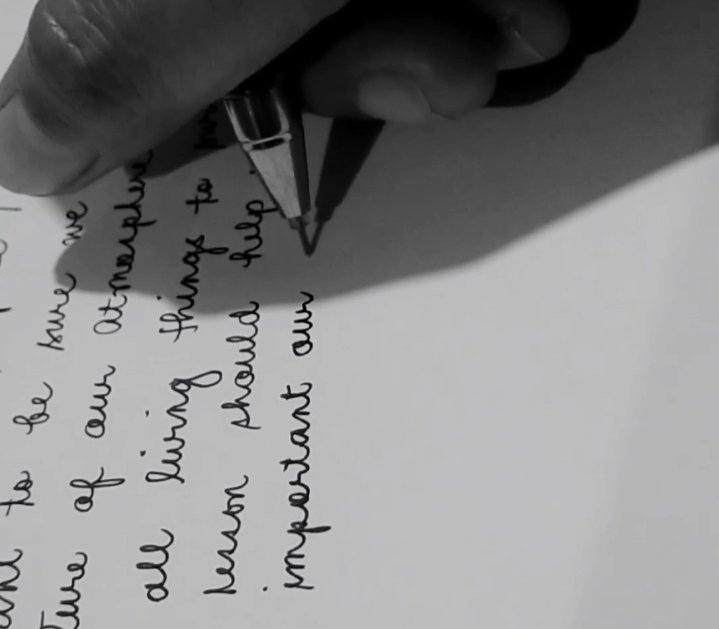 There is something I discovered for myself as I went through a bad day. Something that will help my emotional and mental well being in a way.
There are days when things just won't go as planned. When bad things starts to happen, it's like a domino with each piece continues to fall until the last piece. The streak of bad things happen. And like dominoes as the last piece fall, I find my peace shaken. I could lost my temper or fall into an emotional stress.
When I feel like I am deprived every inch of luck in a day and my day just get worse, I discovered how to shake off the stress away or at least calm myself down and that is through writing. When writing, I mean the traditional way by using a ballpen and paper in a cursive manner. Nothing beats the relief of writing with the the best pen I own and a blank sheet of white paper. I know for a fact that writing is therapeutic but my notion was limited to writing my emotions out through diary, letters, blog or social media post. It has to be a long post. What I didn't realize then is that, to write is to just write literally anything. It doesn't have to be pages of poured out emotions. It can be any word, phrases, sentence or a unspeakable thoughts that I want to let out. It could also be a song or quote I write into a sheet of paper or even scribbles.
How did I come up with such conclusion for myself?
The other night I wanted to work on something. The day before that I was looking for a laptop charger to replace my old worn out charger. I scoured the nearby town but I could not find one with the same brand of my charger. (Trigger no. 1: Was not able to purchase a charger when I badly needed one) Thankfully I was able to borrow a charger from my sister so I felt better.
I was confident that I will be able to work that night since I was able to borrow a charger. So when everything seems to be working right, I turned on my laptop. Still everything felt fine until I tried to open a document and realized that the touch pad on my laptop wouldn't work. No matter how I tried to make it work, it just wouldn't. I was so frustrated! I didn't have a mouse as back up so that night I was not able to work with my laptop. I felt like my blood was boiling inside of me knowing I could do nothing with the situation. (Trigger No. 2- a frustrating situation like this especially when I am so motivated to do something but turn out I lack some luck).
These triggers got me into a really bad mood. Such frustrating situations. While sitting in front of table feeling grumpy, I grabbed a paper and pen and begin writing by copying the paragraph from one of the documents on my table. As I write the words, the stroke of my pen and the the smell of ink marks on the clean, white paper gave me a feeling of relief. It's as if the burden of frustration was lifted from me. I felt my clouded mind gradually cleared. I also felt a sudden rush of happy hormones that change my mood from being grumpy to happy. It was magic! 😄 Now I found another way to relieve stress,writing with a pen and paper.
---
---