Good Morning Wednesday!
Hello everyone!
What's more refreshing than an early morning walk at the beach? I am a beach person so that thought of walking on the beach always excites my wandering feet.
We woke to a beautiful morning after a rainy night. The sky was clear and the air was cold.
For today's #WednesdayWalk initiated by @tattoodjay, let me take you to an early morning walk by the beach.
It was 6 am and we were heading to the beach which is just a few meters away. I was with my kids and my husband. The sun was still hiding behind the mountain while the moon was still visible, hanging on the morning sky kinda saying hi to everyone.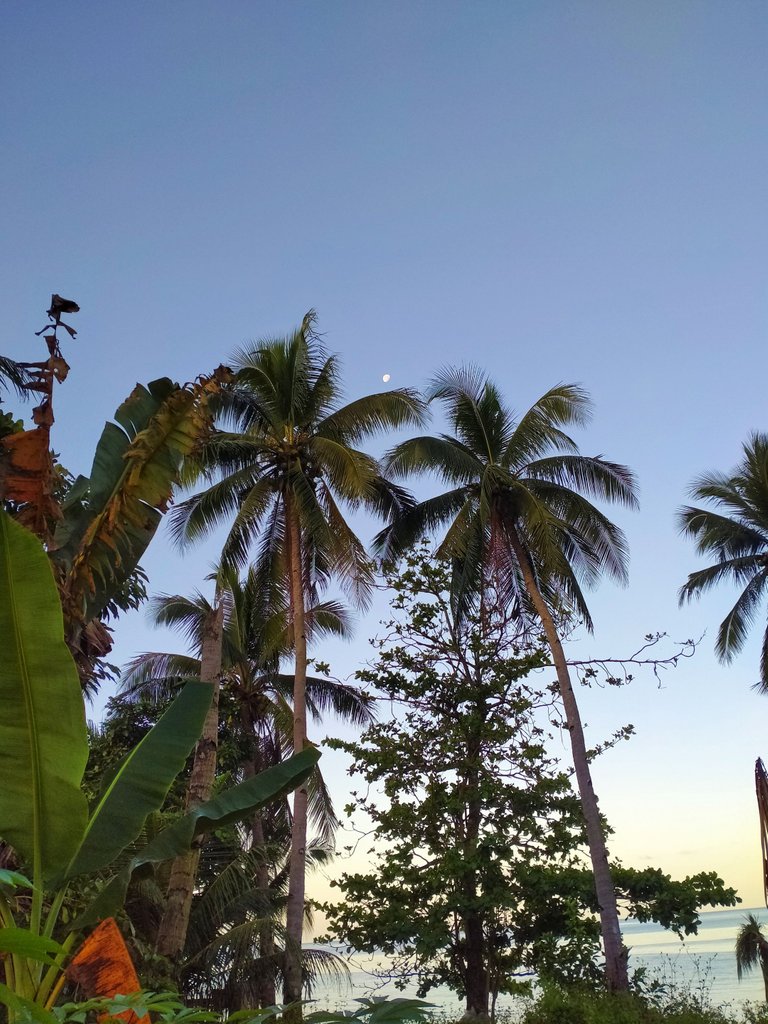 Can you spot the moon? Like a wolf, I love looking up to the moon. No howling though. 😅
We arrived to a suprising view of the reef. We did not expect the low tide since we did not check the calendar. It was the first time for my kids to witness the reef during low tide.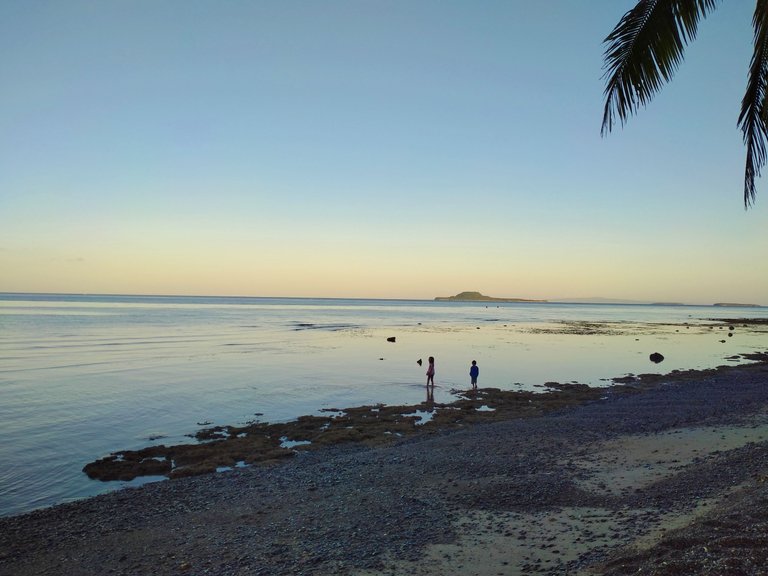 They were thrilled upon seeing it, to have a walk on it and discover whatever there is to see. It was like they stepped into a whole new world- the sea world it is!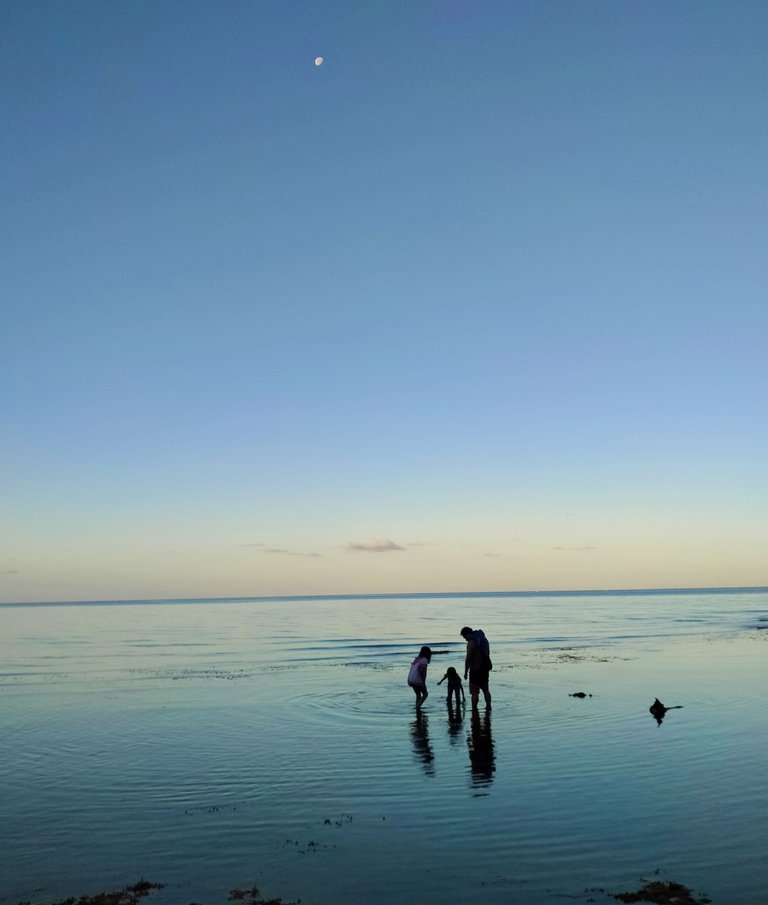 While they were on the reef with their papa, I remained walking on the pebbled beach, feeling the cool breeze seeping in to my skin. There weren't many people on the beach. I only saw couple of pet owners walking their dogs.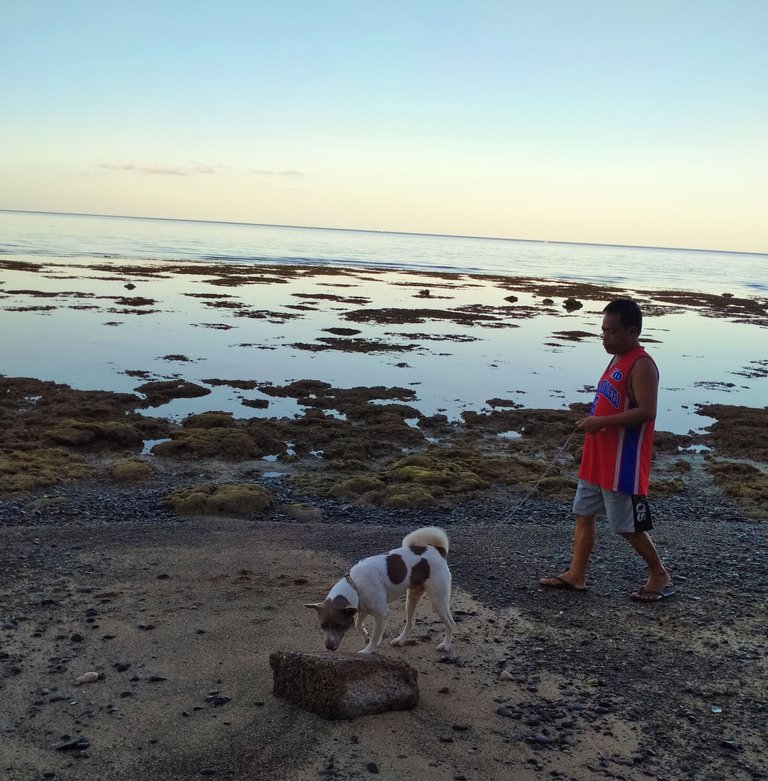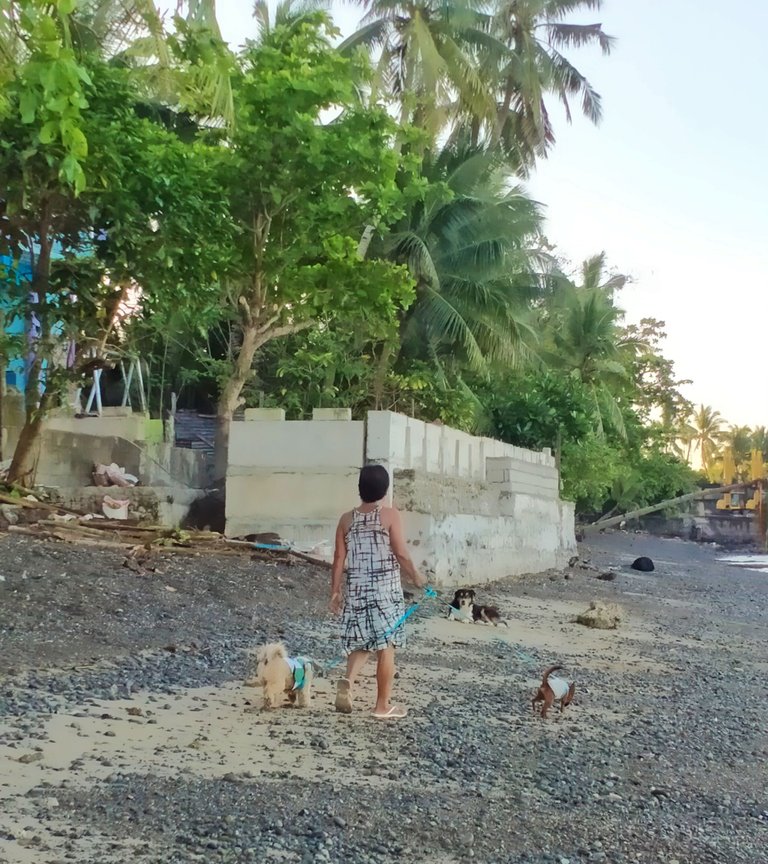 Some dogs chill by themselves like this dog just watching the people and other dogs pass by him. He looks so relaxed and just enjoying the serene atmosphere.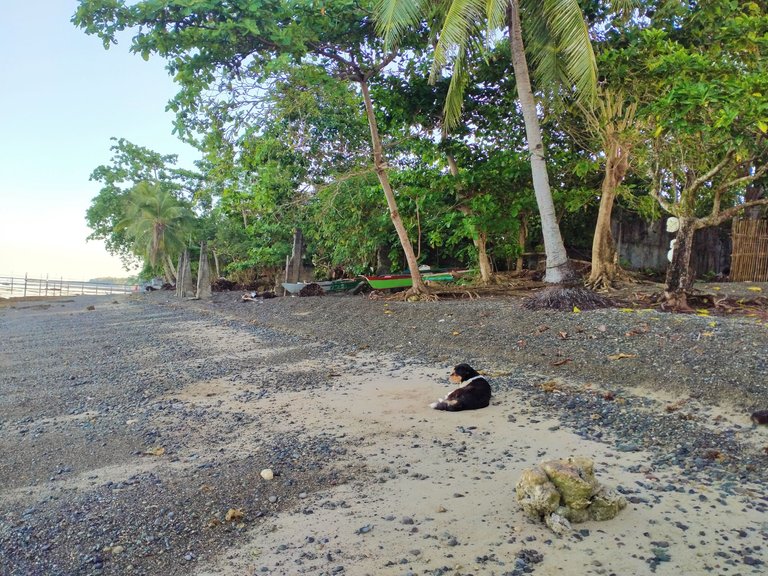 While some were doing the forbidden. Haha! How to unsee? 😅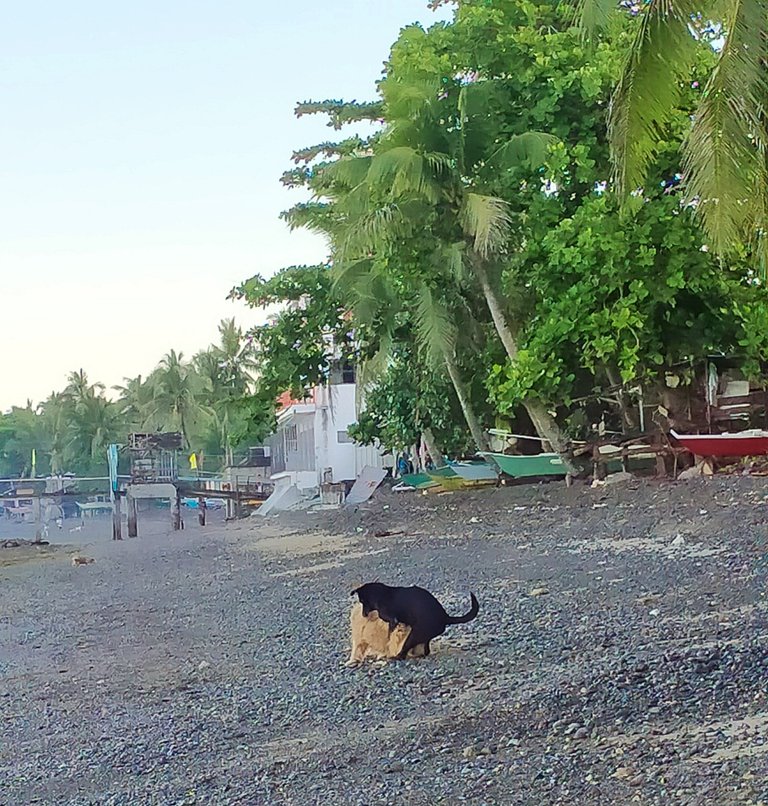 I saw a a plant that brings back childhood memories. It has beautiful lavender colored flowers. I remembered when there weren't many people living in the beach area, these plants dominated the place.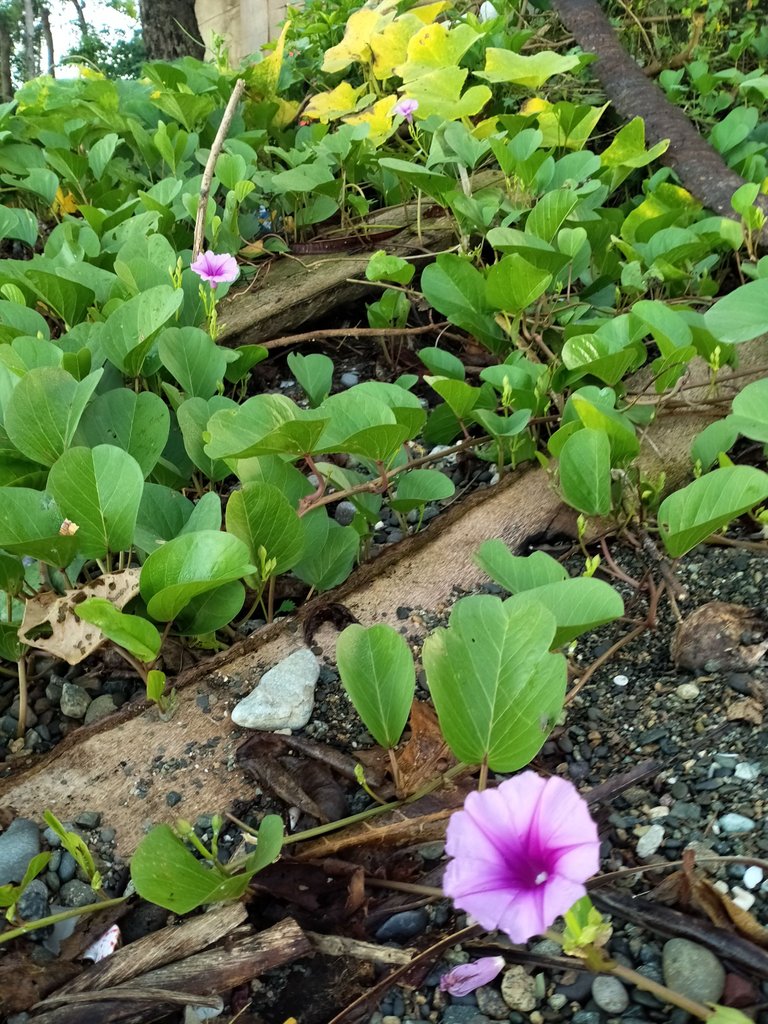 And how could I miss the coconut trees lined up along the coast. These are the standard when it comes to tropical beach vibe.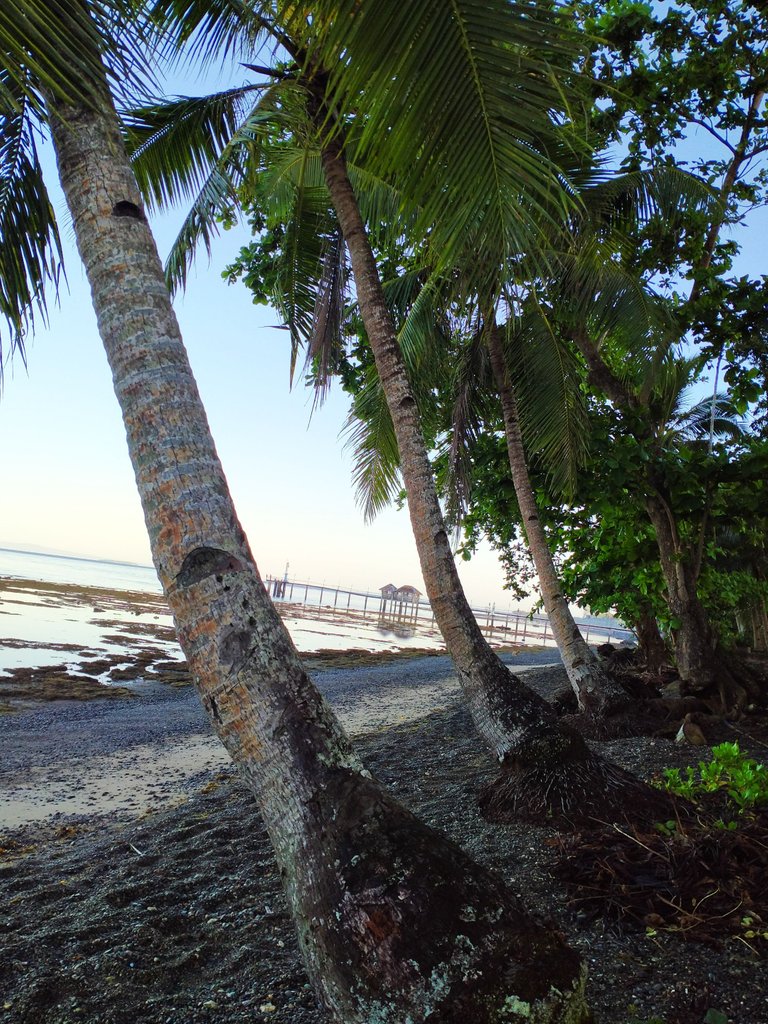 After a while I decided to check what my kids were up to. I could hear their giggles and excited voices as they discovered new sea creatures and seeing for the first time in real life those they only get to see on youtube videos and seen on pictures. I walked towards them. As I looked back to the beach, I was mesmerized by the ethereal beauty of the sunrise coming out from behind the mountain with its light rays penetrating through the leaves of a tree. I just wanted to freeze time. Glad I can forever keep it through photos.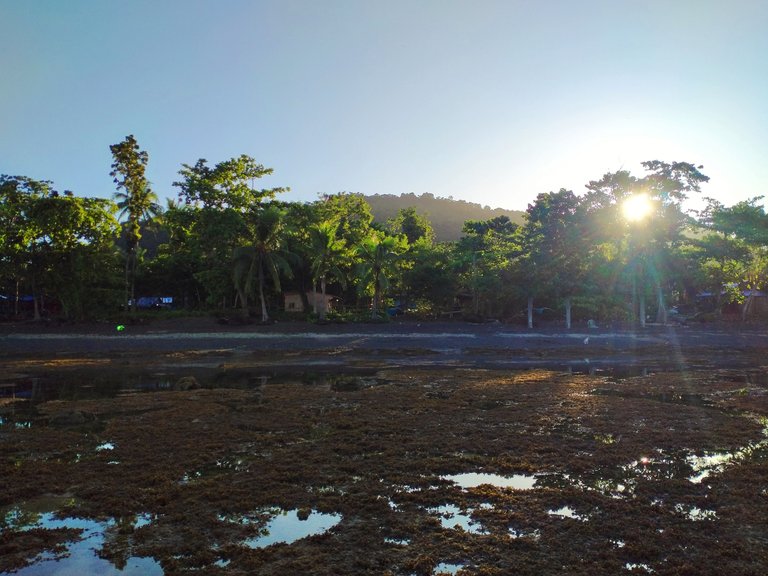 My kids were having fun gathering starfishes. They said they have to keep them together because they are family. 😅 (I'd like to apologize to these starfish who were disturbed because of these curios kiddos.)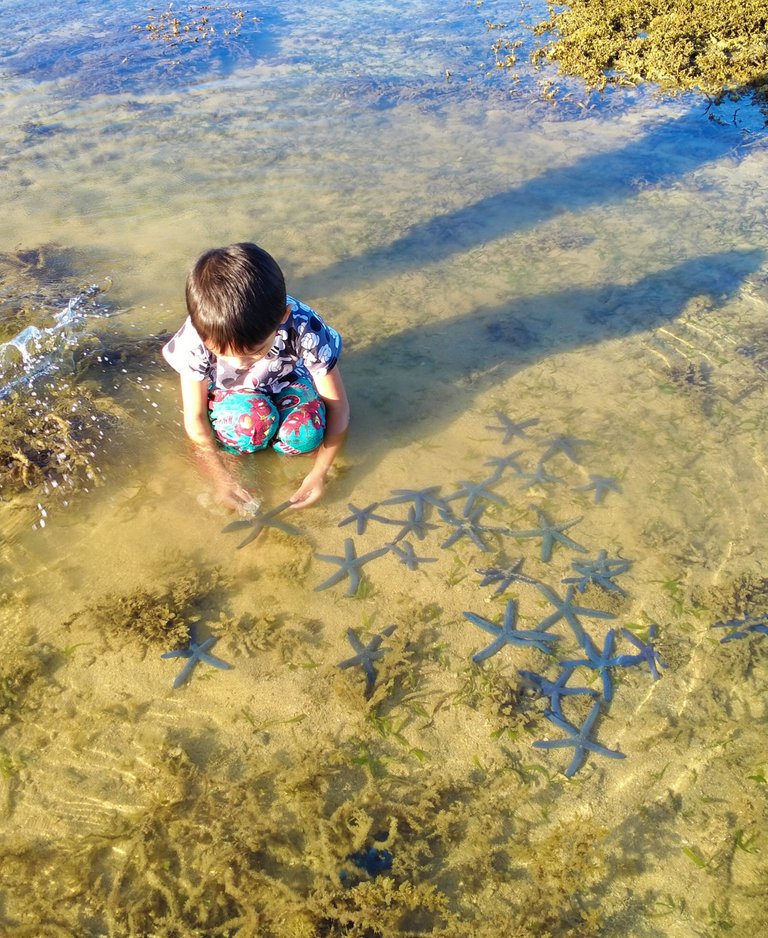 They also showed me other sea creatures they found.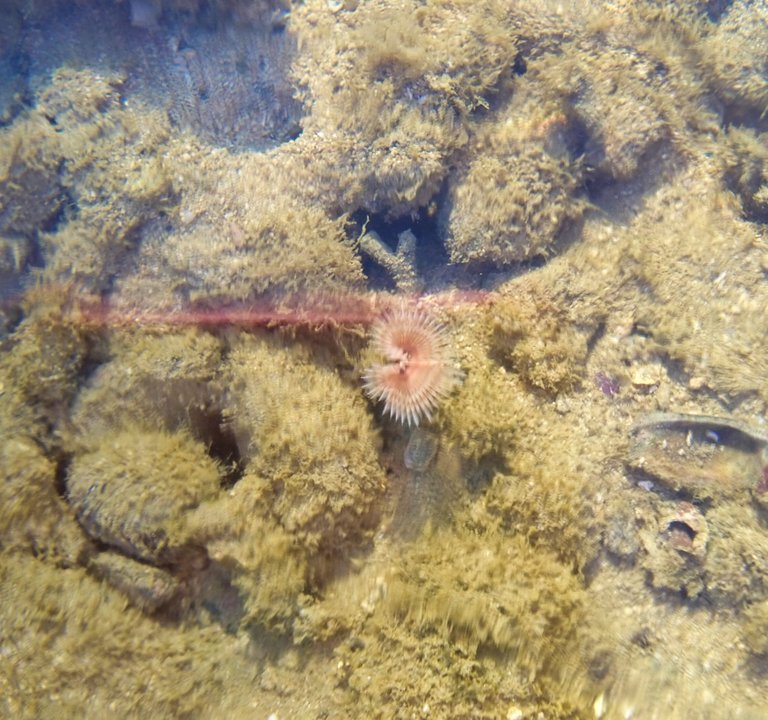 A flower looking creature that hides when there's a disturbance in the water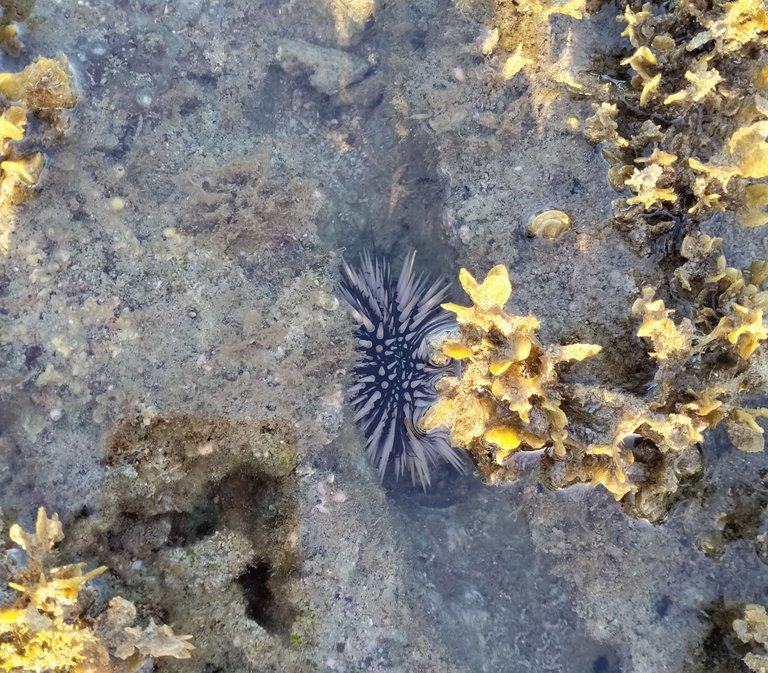 A sea urchin.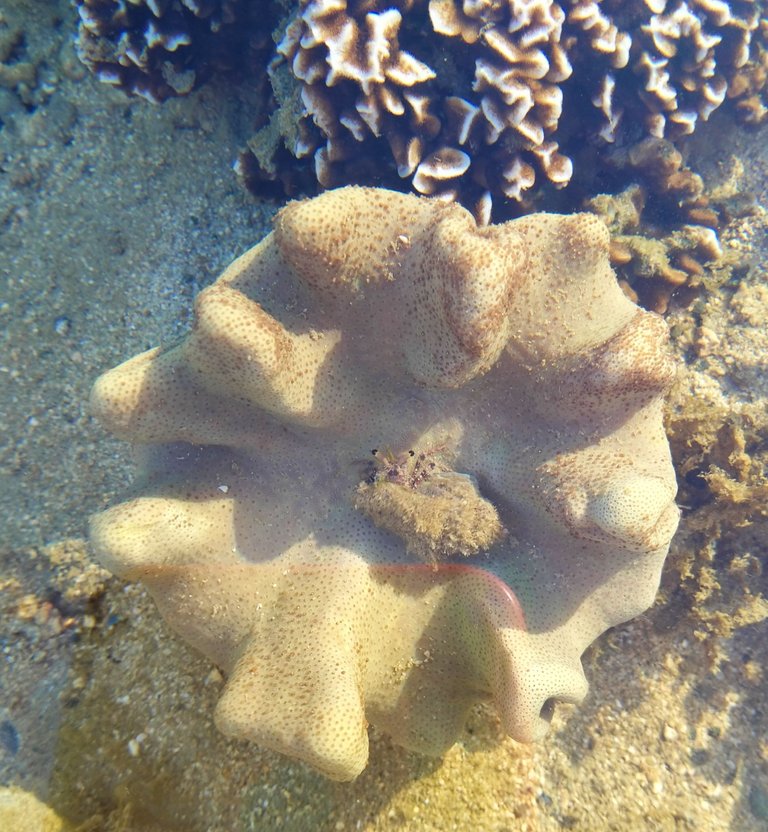 I don't know what this creature is but it looks soft and spongy.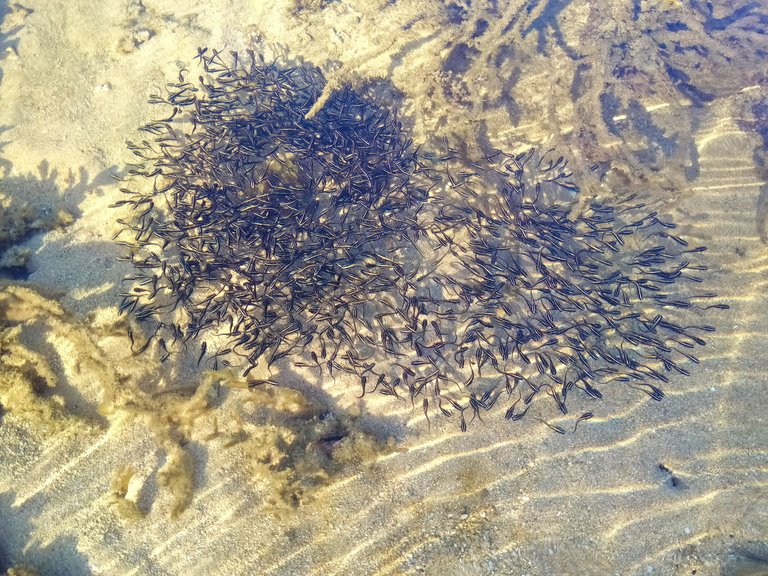 A school of black small fish.
I asked them that we walk further towards the diving board. It is popular swimming site in town. Seeing this structure brings back so much precious memories. Back then during my high school years, there was just the diving board built by the locals of the barangay without the narrow bridge. This is where we used to hangout with my friends. We can only climb up to the diving board when it's low tide since we can walk through the reef. Or sometimes we had to swim the deep sea during high tide to get to the diving board. As I told in my previous post that I amost drowned in that place when I went swimming with my friends.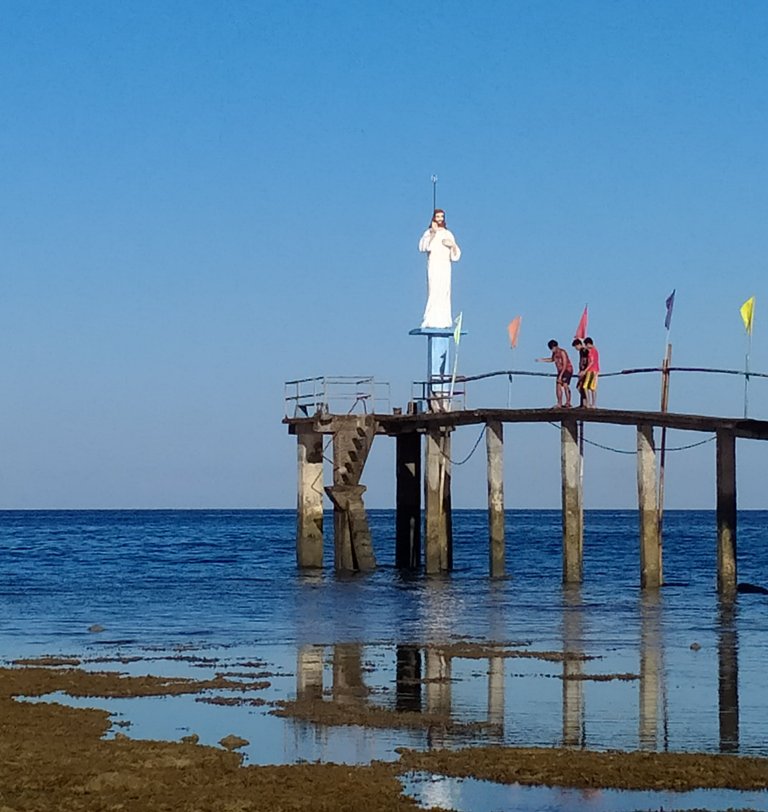 Now, a narrow bridge had been built and a couple of cottage in the middle. Today, this place isn't free anymore for public use because they have imposed to users an entrance fee unlike before. But I am happy of how this place has improved and that it is still standing until this day.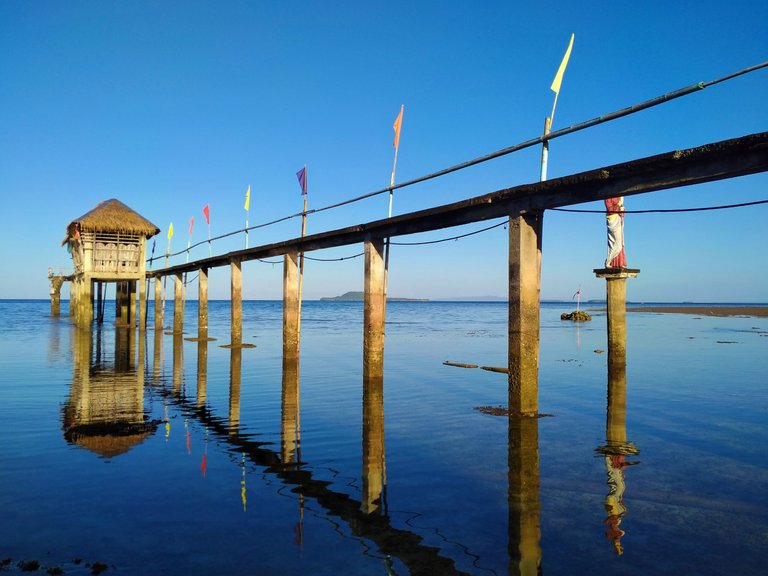 Another prominent structures in this area are the statues of St. Peter and St. John. This was çarved by a local sculpture.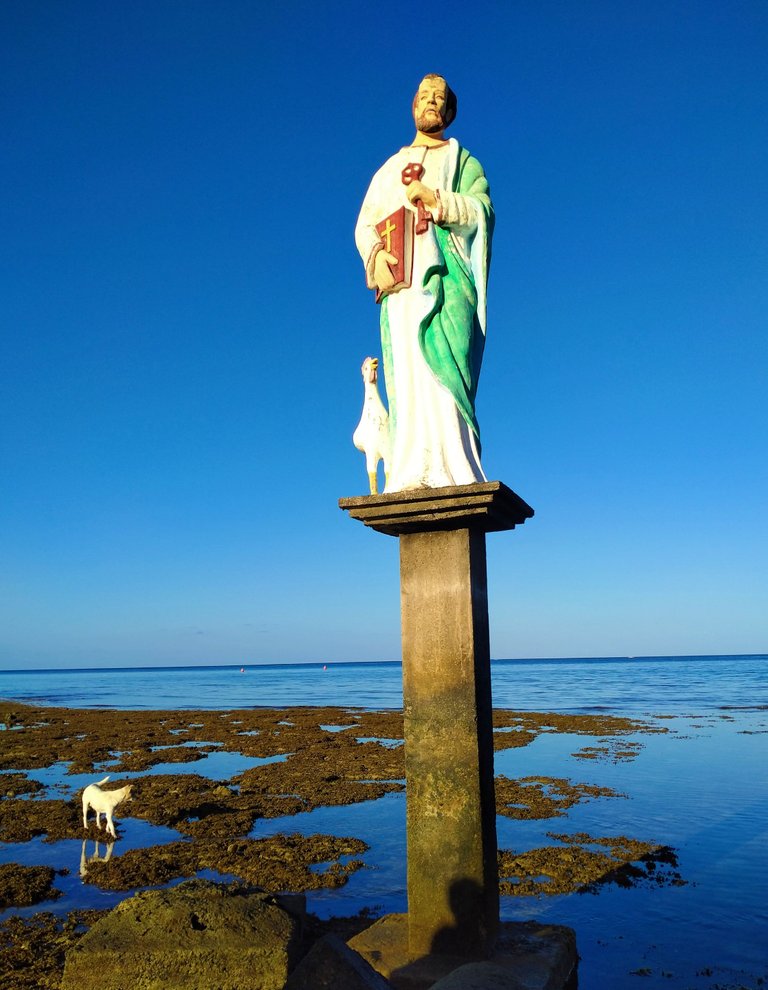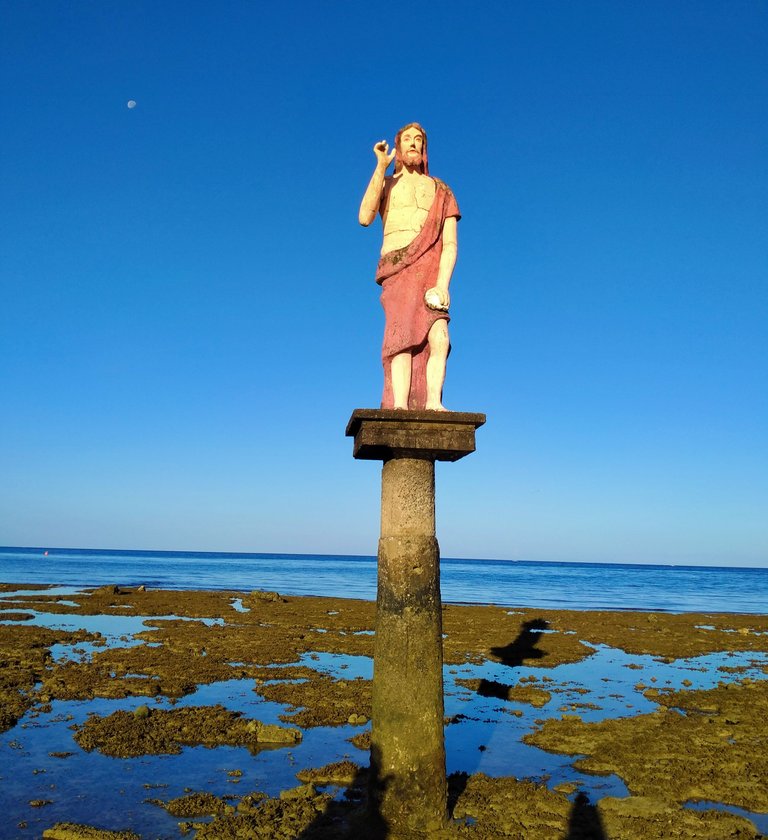 As we walked back home my kids couldn't get enough of the fun experience and asked for more time to have fun in the beach. Though it was time to go home since we need to prepare for breakfast, we kept extending our time there. Many things caught their attention. So I had to give them few more time to play with sand and swing on the coconut tree. I just couldn't deprive them of that happy experience they will forever remember and cherish spending it with us.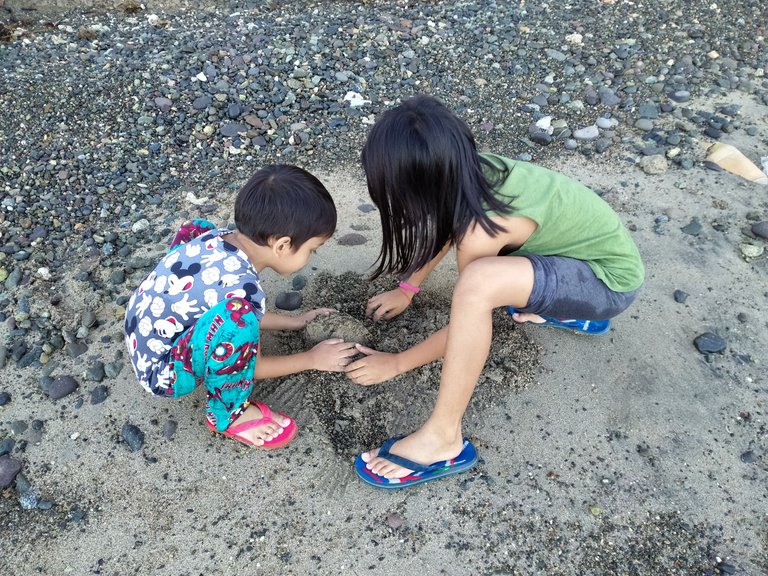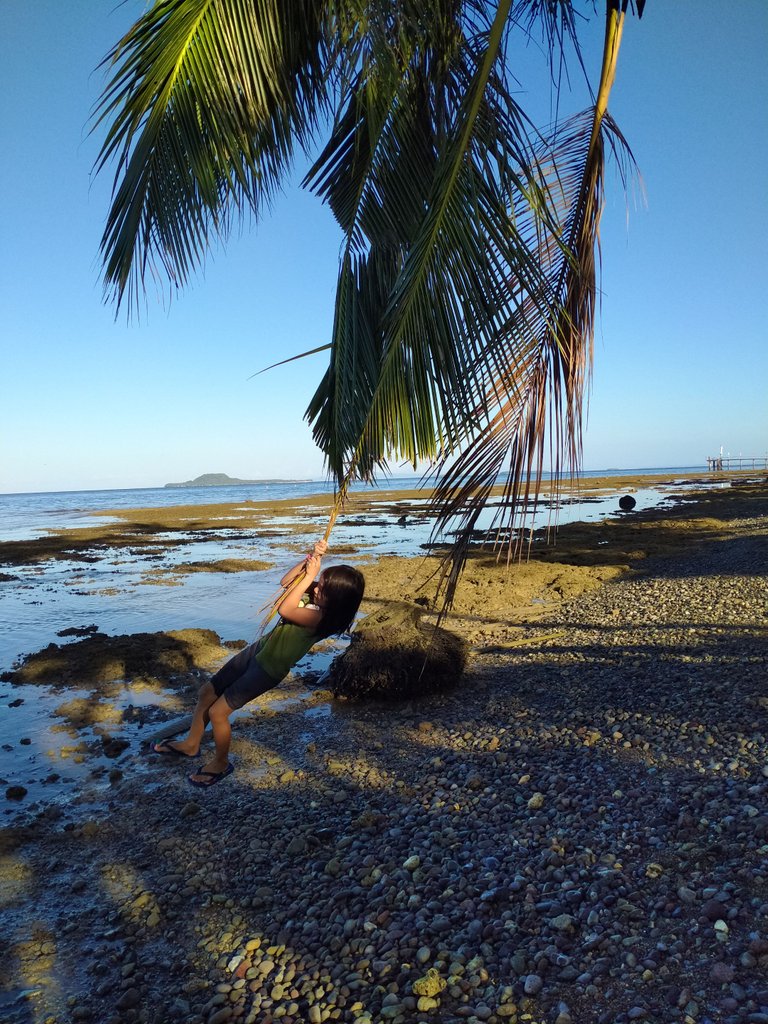 It was such a fun amd memorable walk with the family in a place we call home.
---
---