My Psyber-X Experience
I wanted to share some of my story with Psyber-X. Let's rewind time a bit to give some color...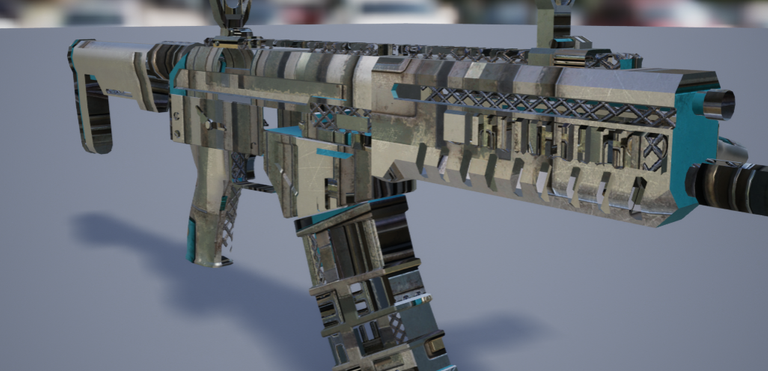 Background
In 2017, I learned about SteemIt. I joined and enjoyed earning my pennies. I had important things to do, crypto crashed in 2018, and I just left all my crypto holdings where they were until Feb 2021. Just prior to Feb 2021 (around Thanksgiving 2020), I ran into an employee at Coinbase, who happens to be my friend's bro-in-law. I asked if he knew about SteemIt. He said, "Oh yeah...it's a cluster over there." He told me all the stuff going down and I put it in the back of my mind to join. That's what I did in Feb 2021. There I was minding my own business, getting all my posts in again until December 2021 when I spotted a random post about Psyber-X.
What Happened!?
I was very intrigued about the game. I went to discord, where I'd never been before...because my crypto world was just SteemIt and Hive. There, I talked with the owner of the company Royal Reptile Studios. I asked him a bunch of questions. He answered them honestly, quickly, and forthrightly. I saw the trailer, read the posts, and figured, "What the hay...what do I have to lose?" I've seen some tokens take off before and didn't feel like being left in the dust. I had even tried playing dCity and a couple of the other Hive games, but they all seemed very basic and very complicated at the same time, and they fell very short of something I'd consider to be entertaining. So I latched on...I started using the earnings I had from my posts to buy up LVL. My goal was to buy 1 million, because that would be 0.2% of the total supply. I knew the game wouldn't come out until much later in the year and figured I had time to get in while the prices were good. Meanwhile, someone pointed me to something on discord I hadn't heard of before....
Liquidity Pools
Before Discord (BD), I had not heard of Liquidity Pools. It was a foreign concept, but once explained to me, I was hooked. Instead of buying $2K USD of LVL, I bought $2K USD of various pool tokens and started raking in the earnings. At one point, I was bringing in about 500 Hive/month equivalent in LP rewards. Once I hit 1 million LVL in February, I thought, "I better buy some more that I can sell" as my intention was to always just hold onto the first 1M and ride the wave from 0.0005 Hive/LVL to potentially 1 Hive/LVL. As I saw the price of LVL shoot up to 0.007Hive/LVL, I paused for a bit. Some people got disgruntled (I guess they didn't do their homework) as they complained the game wasn't out yet, etc. Well...I got a great opportunity...
Troy is one of the most fearless marketers I know. He read a few of my posts and saw I'm a creative writer and that I was challenging others in the general chat within Discord to see who could buy more LVL. Between the writing ability and my desire to stack LVL, he was smitten. He pounced and enticed me to earn my way to a founder NFT. In exchange for writing content for Psyber-X, I would gain the payouts (a large share anyway), which would allow me to save up enough to buy a founders NFT. I took him up on the opportunity. He had to start feeding me information so I could write intelligibly about Psyber-X. Then, the inner-circle invite...
The Inner-Circle
Around February, I was invited to a private chat between Psyber-X's Jboss, @dynamicrypto, @laritheghost, and a couple others. Lari did all the video editing and website design. He is truly gifted! I did the writing. However, in order to write for Psyber-X, I needed to know the ins-and-outs of it all. I still to this day attack Jboss with a ton of questions in our private chat so that I know what the plan is moving forward.
The benefits
I have been able to head our Lore writing group where we write stories with folks like @killerwot, @demon402, @scholaris, and come up with weapons ideas with @papacrusher. I've now used my video editing skills to edit the most recent videos as @laritheghost has taken a break from the circle...probably getting some well needed rest. And, one of the greatest benefits? I get to interact with all the fans that are learning about it for the first time while being fed the most current information. I've seen videos of gameplay weeks before anyone else gets to see them. That's pretty cool! Also, I've been able to purchase up to 4 million LVL now, most all of it from Liquidity Pool proceeds and post rewards.
The Work Continues
While my time helping and consulting Psyber-X is far from over, I'm excited for what's to come. We're looking for the end of the year for Psyber-X to come out, but there are so many other things being worked on behind the scenes that I'm super stoked for what will all be revealed in the next 4 months. My goal at this point is to get up to 5 million LVL before the price skyrockets (my opinion-do your own research). I think the team I'm working with is mighty! We're a bunch of fun dudes who like to call each other stupid stuff like a jocular contest in a men's locker room.
Keep Enjoying the Hive Experience!
I've now learned about other blockchains, tokens, and coding in general. Hive is still my favorite place. I may not post on my own account very much any more, but I do very much enjoy coming to a place where we are all in the same pursuit-providing for a better life while snubbing our noses at the Twitter's, Facebook's, YouTube's, Instagram's, Tik Tok's, etc of the world. "Get Paid!" they said! Boy have I...I went from $2K in Hive investments to over $7K and I can't wait until it hits $100K or even $1M in Hive investments. Here's to everyone! !BEER (I don't drink, but raise a glass anyway! !LOLZ)
---
Want to learn more about @psyberx? Take a look HERE
---
---