O QUE TENHO FEITO PARA PROMOVER A HIVEBR

---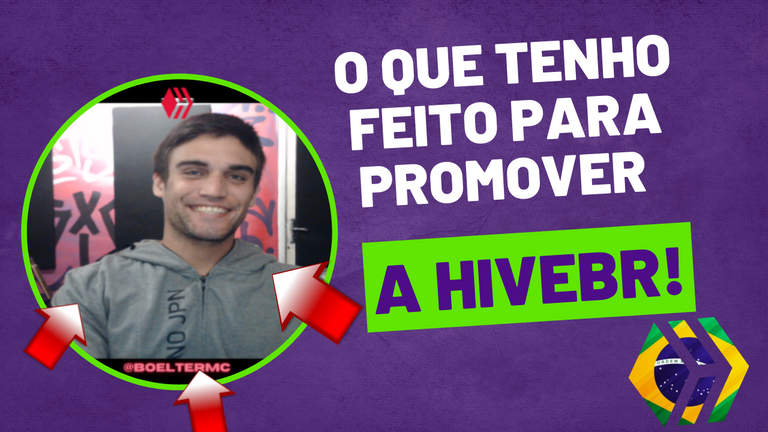 [PT] Olá HiveBR, pessoas lindas do meu coração. Vocês estão todos bem? Espero que sim. Esse post é minha entrada para o concurso do @wiseagent onde ele pede para descrever as ações que temos feito para promover nossa linda comunidade. Bom, vou ser direto ao ponto e mostrar em exemplos tudo que venho fazendo para novas pessoas nos conhecerem.
CONCURSO HIVEBR - @wiseagent posh link.
MINHAS AÇÕES DE PROMOÇÃO DA COMUNIDADE:
HiveBR no perfil de todas redes sociais
Envio de convite para a comunidade aos novatos em Hive
Falar sobre HiveBR em TwitterSpaces e encontros de comunidades Latam/Web3.0
Criação de conteúdo que ensine alguma coisa
---
[EN ] Hello HiveBR, beautiful people from my heart. Are you all right? I hope so. This post is my entry to the competition of the @wiseagent where he asks to describe the actions we have done to promote our beautiful community. Well I'll be right to the point and show with examples everything I've been doing for new people to get to know us.
HIVEBR CONTEST - @wiseagent posh link.
MY COMMUNITY PROMOTION ACTIONS:
HiveBR in the profile of all social networks
Sending an invitation to the community to new people in Hive
Talk about HiveBR on TwitterSpaces and Latam/Web3.0 community meetings
Creating content that teaches you something
---
O QUE EU FARIA COM A PREMIAÇÃO?
A resposta é muito simples. Continuar construindo. Como é em HIVE e Delegação. Eu vou dar powerup e usar os HP de delegação para ir além na criação de conteúdo relevante para nossa comunidade. Acredito que posso alcançar minha liberdade financeira em Hive. Meu objetivo é grande. Vamos nessa!
WHAT WOULD I DO WITH THE AWARD?
The answer is very simple. Keep building. As it is in HIVE and Delegation. I'll powerup and use the delegation HP to go further in creating content relevant to our community. I believe I can achieve my financial freedom in Hive. My goal is big. Let's do it!
---
HiveBR está no perfil de todas minhas redes sociais.
Check 📲 https://linktr.ee/boeltermc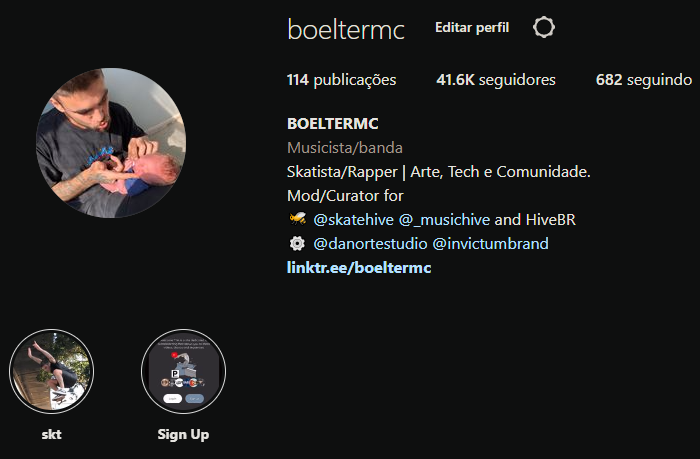 ---
HELP ME GET TO 1000 SUBSCRIBERS AT ODYSEE

---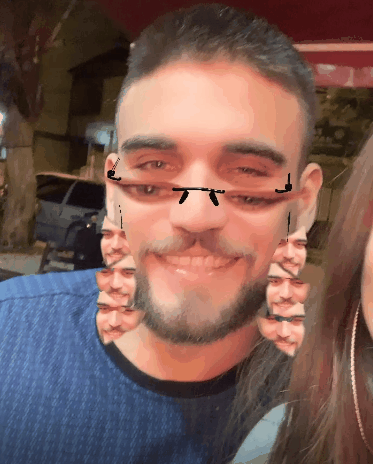 Boelter Mc
Welcome to the BoelterMc universe. I am a rapper, skateboarder, born and raised in Rio de Janeiro, Brazil. Currently dedicated to starting my music career and working on projects on Web 3.0. I am curator and moderator in the communities Skate Hive, Music Hive and HiveBR. I am committed to bringing together musicians from all over the world in a music community with many events and benefits. I host the Radio Foundation on my computer. We are currently in Odysee and the Metaverse of Urnowhere. I'm available in discord to work on projects, call me!
If you like the content leave your upvote, share your ideas in the comments, if you find it interesting you can reblog! Spread love and follow my blog to be connected! BoelterMc Hugs and Kisses!
---
Have you voted for Stoken's proposal? No? Vote now! Stoken is coming true! I am happy! 🐝❤️
---
Join the Stoken/Skatehive Discord

---
What STOKEN plans to bring to Hive 🍯

Unique name, and meme-ified branding that will stand out above the hard to find Hive brand.

Real world events tied to web3 content creation.

Attracting non crypto content creators, into web 3.0

Exciting content to bring in non crypto audience.

Focus on onboarding large, existing communities i.e: Reddit skateboarding: 385k members, and Redbull: 10 million YouTube subscribers.

NFTs. Plans include real world utility, fund raising, and future gamification.
DTF ( Decentralized Token Fund )

Stoken DAO: Decentralized voting system to allow the community to sponsor athletes, content creators, influencers, and real world events.

A new token for you to earn for doing Hive stuff!

Possibility of future airdrop of governance tokens. 

---
---
Stoken Tribe Is Coming On Hive
---
----------------------☝️ Stoken Logo ☝️------------------------

STOKEN will be an extreme sports tribe in which people can get rewarded for doing what gets them, and others stoked using the power of web 3.0 and communities.
Feeling STOKED? Check 👉
---
▶️ 3Speak
---
---