Beautiful Makeup in Water Green and Purple Tones // Hermoso Maquillaje en Tonos Verde Agua y Morado.🌸🍀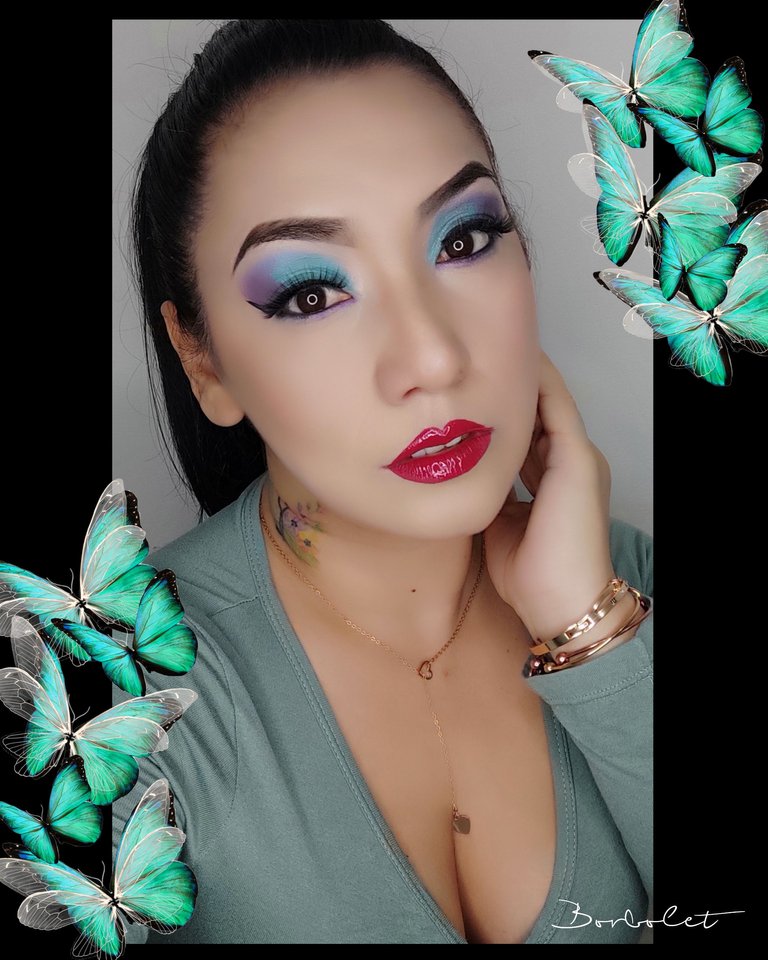 ---
🌸🍀🌸🍀🌸🍀🌸🍀🌸🍀🌸🍀🌸🍀🌸🍀🌸🍀🌸🍀
---
¡¡¡Hola a todos!!! 🤗 Hoy quise consentirme, hacerme un hermoso maquillaje algo que realzara la mirada, veo en internet muchos tipos de maquillaje de ojos tomando en cuenta la condición de mi rostro tengo los párpados caídos por lo que tengo que buscar un maquillaje de ojos que los haga ver diferentes y hermosos para salir a compartir y celebrar este día de las madres, Quiero aprovechar para felicitar a todas las madres de esta colmena en especial a las que hacen vida en esta comunidad @makeuppower les deseo que las llenen de amor y cariño para que se vean cada día más hermosas, para mi maquillaje he elegido el tono verde agua y morado con un delineado negro. Así que espero que les guste este pequeño tutorial.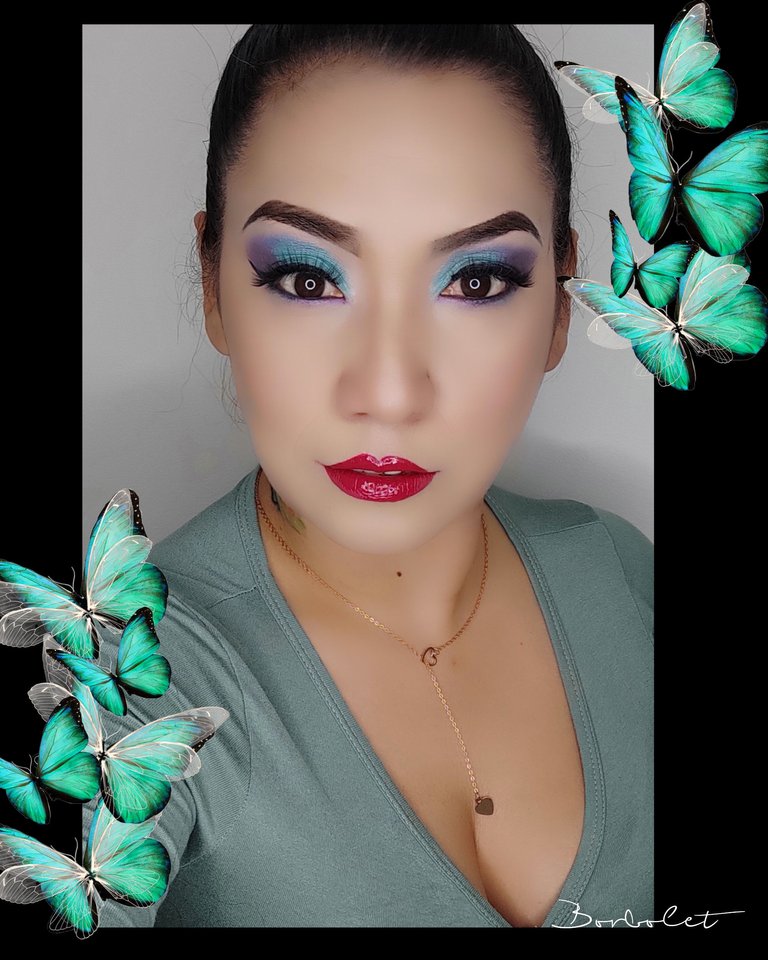 ---
🌸🍀🌸🍀🌸🍀🌸🍀🌸🍀🌸🍀🌸🍀🌸🍀🌸🍀🌸🍀
---
Hello everyone! 🤗 Today I wanted to pamper myself, make me a beautiful makeup something that would enhance the look, I see on the internet many types of eye makeup taking into account the condition of my face I have drooping eyelids so I have to look for an eye makeup that makes them look different and beautiful to go out to share and celebrate this mothers day, I want to take this opportunity to congratulate all the mothers of this hive especially those who make life in this community @makeuppower I wish you to fill them with love and affection to make them look more beautiful every day, for my makeup I have chosen the water green and purple tone with a black eyeliner. So I hope you like this little tutorial.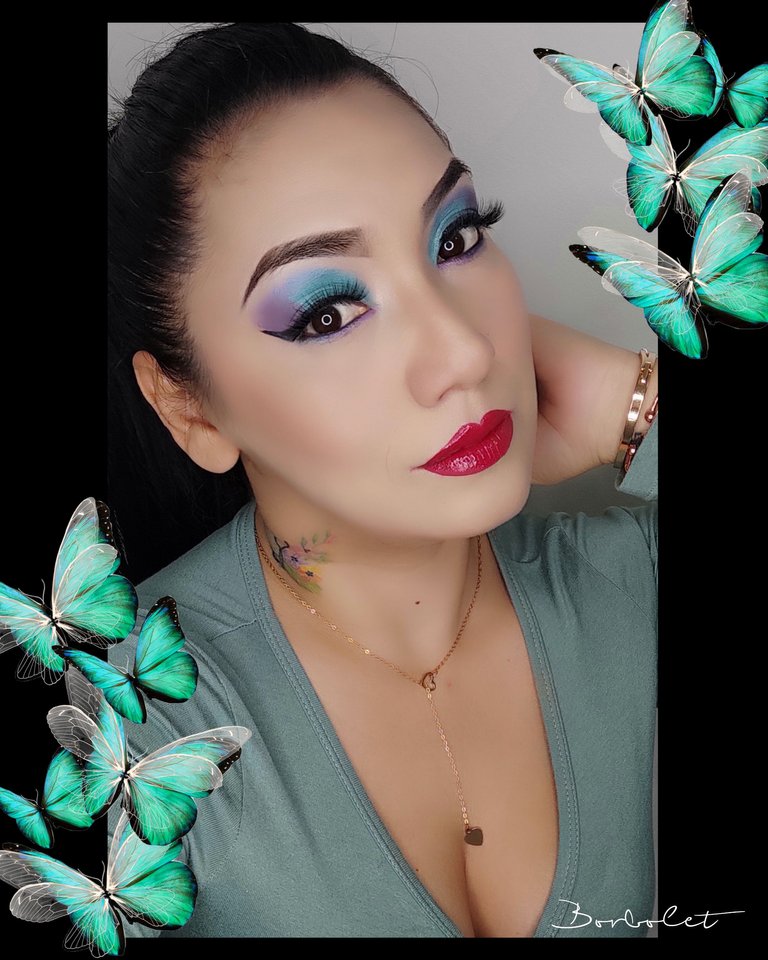 ---
🌸🍀🌸🍀🌸🍀🌸🍀🌸🍀🌸🍀🌸🍀🌸🍀🌸🍀🌸🍀
---
---
Pasos del Maquillaje🌸🍀
---
-Primero limpié e hidraté mi rostro y luego apliqué una imprimación para suavizar la piel.
-Luego apliqué el corrector con un pincel en los párpados.
-Luego apliqué las sombras comenzando con la sombra verde agua al principio del ojo hasta la mitad, luego apliqué la sombra púrpura desde la mitad hasta el exterior del ojo difuminando.
-Luego hice un delineado negro en la parte superior de los ojos, luego apliqué sombras verde agua y púrpura en la parte inferior del ojo y apliqué un lápiz delineador negro en la marca de agua. Para terminar apliqué las pestañas postizas.
-Hice mis cejas con el lápiz de ojos negro haciendo la forma a lo largo del borde y difuminando.
-Cuando terminé con los ojos, apliqué la base de maquillaje líquida, el corrector en el contorno de la cara y la nariz, el colorete en barra en las mejillas y el corrector de ojeras, luego con una esponja lo difuminé todo.
-A continuación, sellé el maquillaje con polvos compactos.
-Aplique una barra de labios mate en un tono coral y aplique un brillo de labios.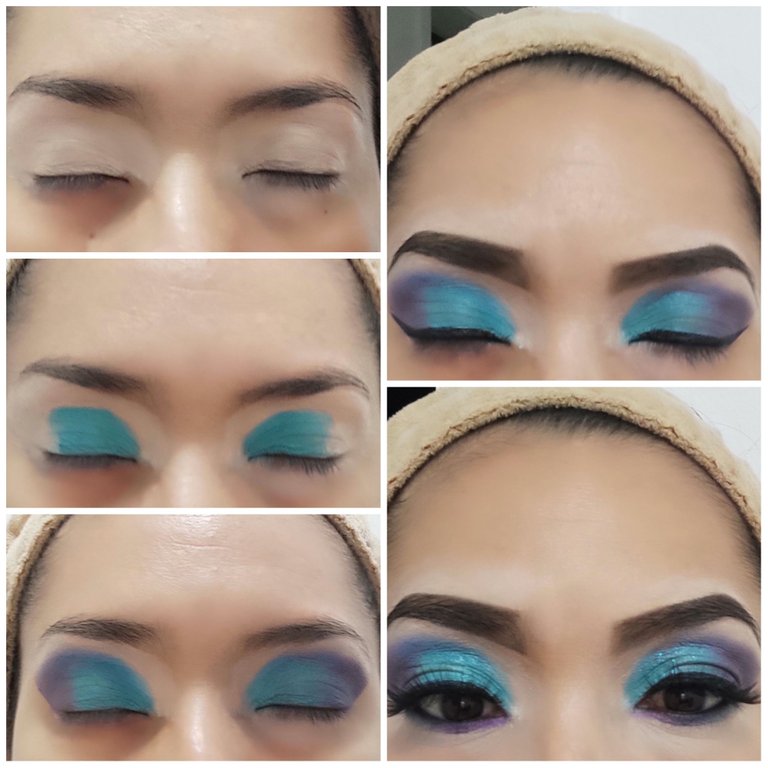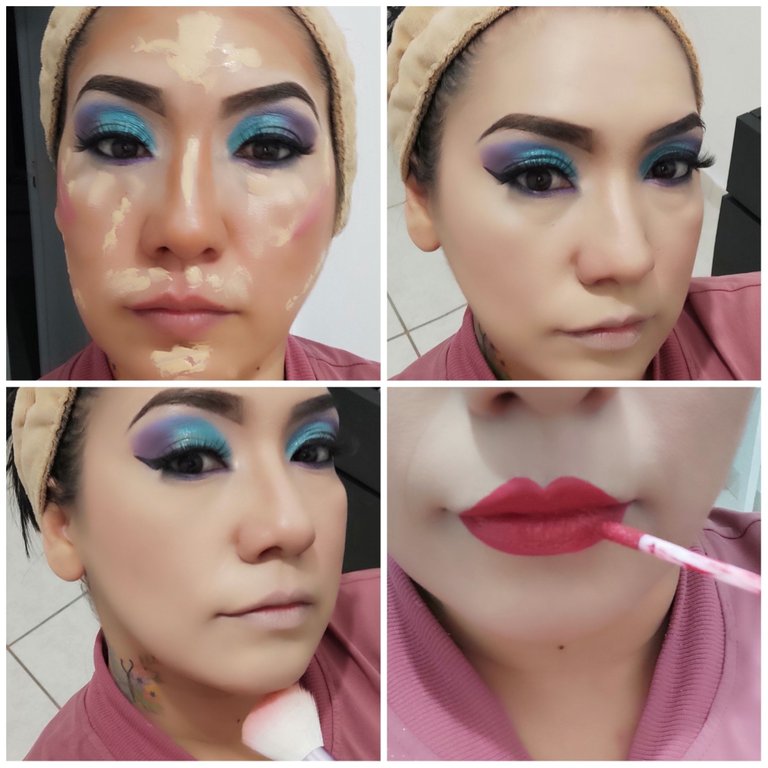 ---
Makeup steps🌸🍀
---
-First I cleansed and moisturized my face then applied primer to soften the skin.
-Then I applied concealer with a brush on my eyelids.
-Then I applied the shadows starting with the aqua green shade at the beginning of the eye to the middle, then I applied purple shadow from the middle to the outside of the eye blending.
-Then I did a black eyeliner on the upper part of my eyes, then I applied water green and purple shadows on the lower part of the eye and applied a black eyeliner pencil on the watermark. To finish I applied the false eyelashes.
-I made my eyebrows with the black eyeliner pencil making the shape along the edge and blending.
-When I finished with my eyes, I applied liquid foundation, concealer on the contour of my face and nose, blush stick on my cheeks and concealer for dark circles, then with a sponge I blended it all out.
-Then I sealed the makeup with pressed powder.
-Apply a matte lipstick in a coral tone and apply a lip gloss.
---
🌸🍀🌸🍀🌸🍀🌸🍀🌸🍀🌸🍀🌸🍀🌸🍀🌸🍀🌸🍀
---
---
Resultados/Results🌸🍀
---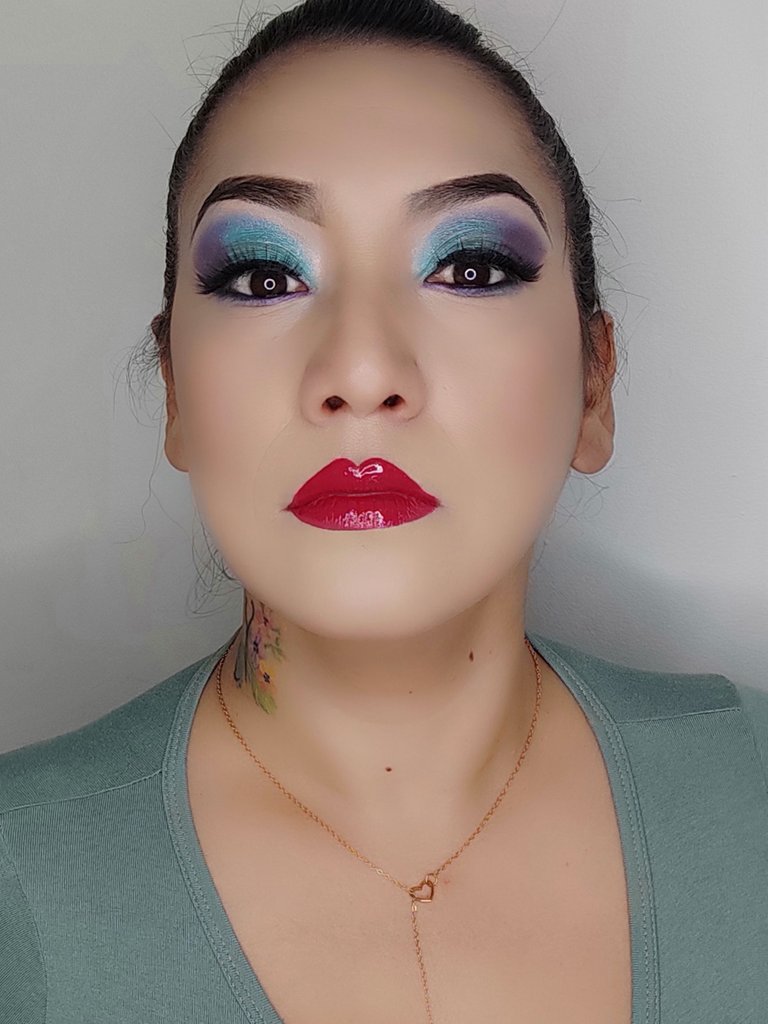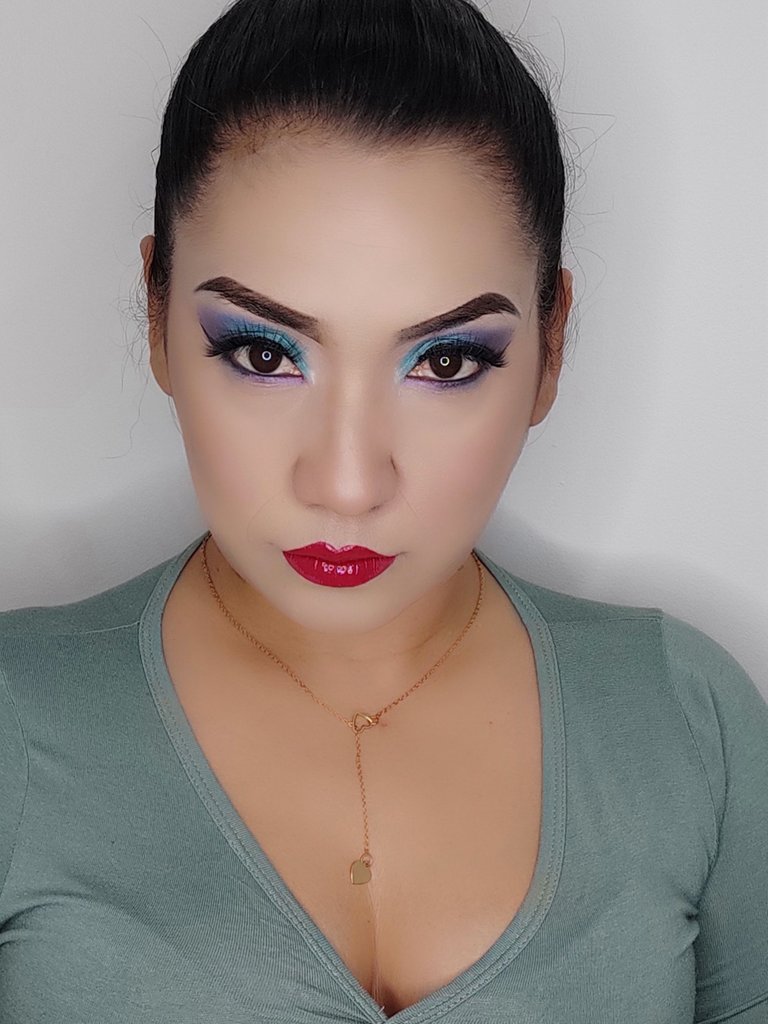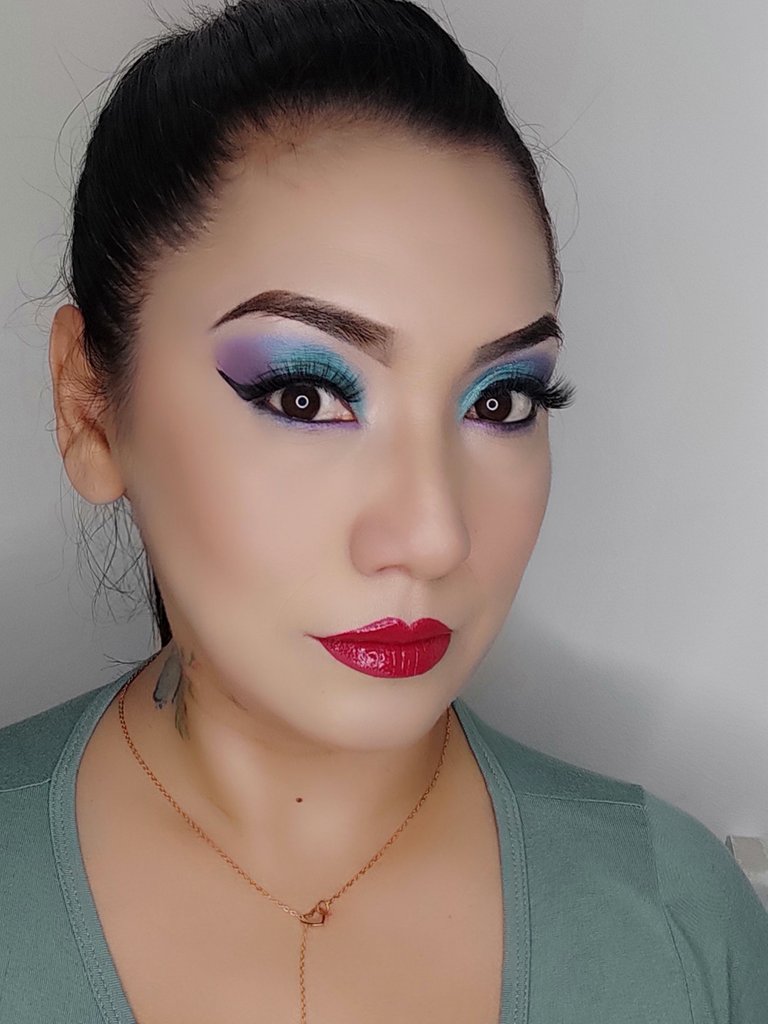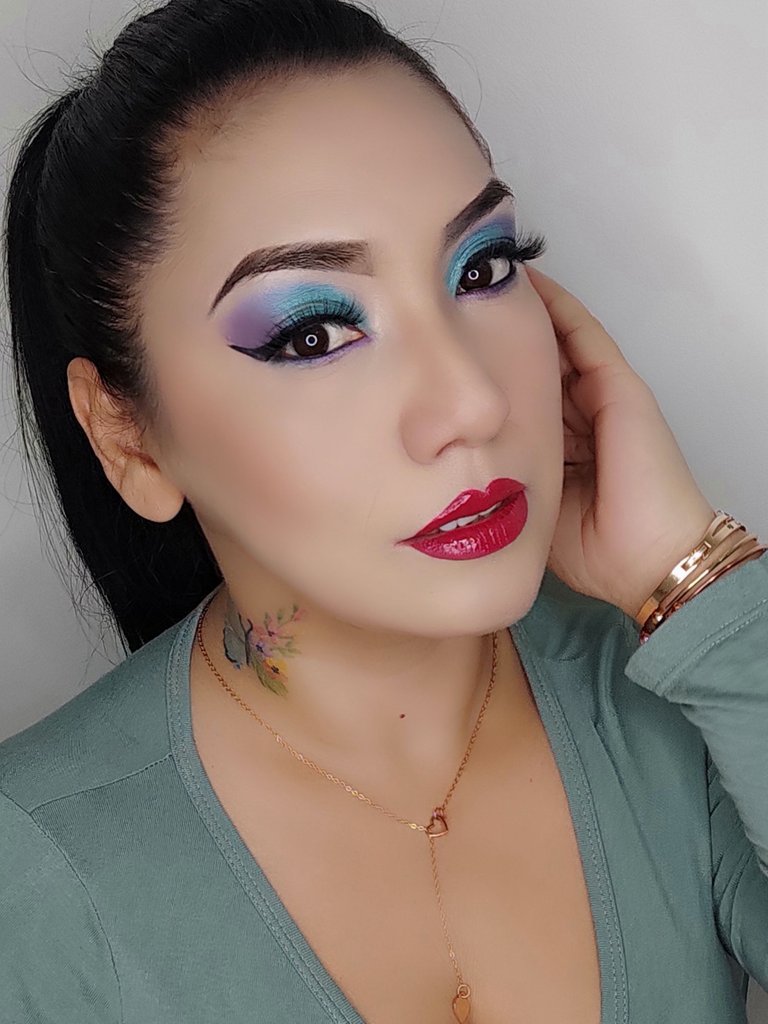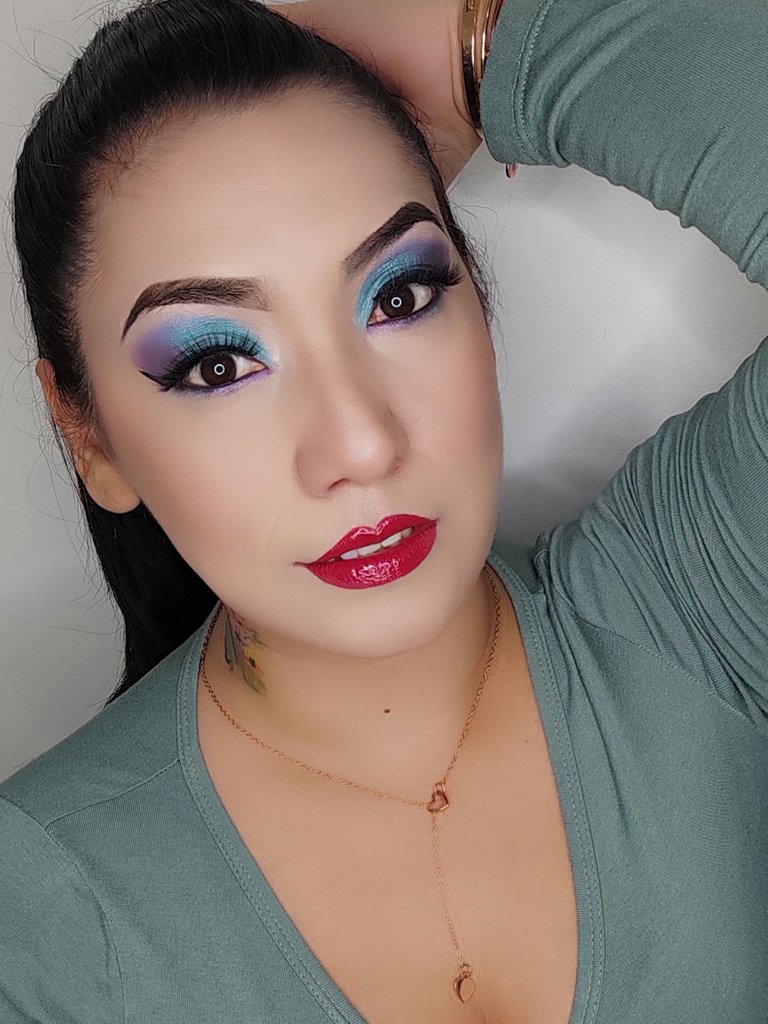 ---
🌸🍀🌸🍀🌸🍀🌸🍀🌸🍀🌸🍀🌸🍀🌸🍀🌸🍀🌸🍀
---
Así fue como terminé con este maquillaje, me gustó mucho el resultado, me sentí hermosa y muy bien.
Me despido hasta otra oportunidad y les deseo las mejores bendiciones.
This is how I ended up with this make-up, I really liked the result, I felt beautiful and very good.

I will say goodbye until another opportunity and wish you all the best of blessings.
---
🌸🍀🌸🍀🌸🍀🌸🍀🌸🍀🌸🍀🌸🍀🌸🍀🌸🍀🌸🍀
---

---
---