Makeup Inspired in "IT". The Killer Clown. // Maquillaje Inspirado en "IT". El Payaso Asesino.🎈🎈🎈🖤🖌️🎨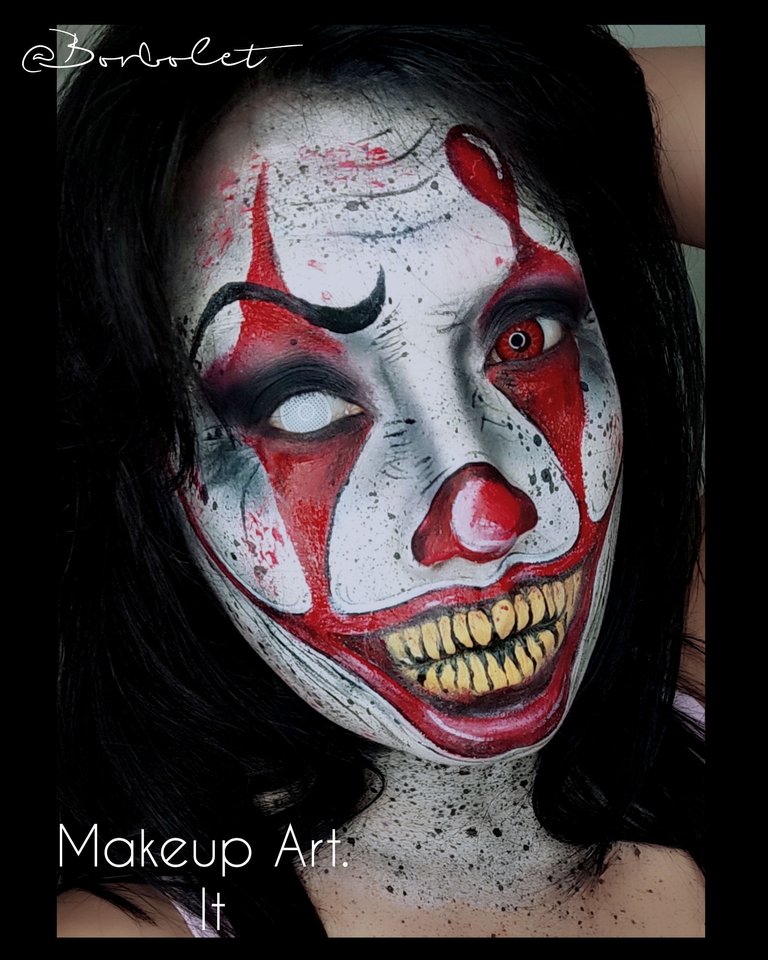 ---
🖤🎈🖤🎈🖤🎈🖤🎈🖤🎈🖤🎈
---
¡¡¡Hola a todos!!! Bienvenidos a mi blog queridos amigos les mando un saludo con mucho cariño espero que la esten pasando muy bien, es un placer compartir en esta comunidad de
@makeuppower
un maquillaje artístico inspirado en it, el payaso de terror en un look muy tenebroso, hoy he querido recrearlo a mi estilo sin más preámbulos les explicaré como hacer este gran maquillaje.
Hello everyone!!! Welcome to my blog dear friends I send you a greeting with much affection I hope you are having a great time, it is a pleasure to share in this community of @makeuppower an artistic makeup inspired by it, the clown of terror in a very scary look, today I wanted to recreate it in my style without further ado I will explain how to do this great makeup.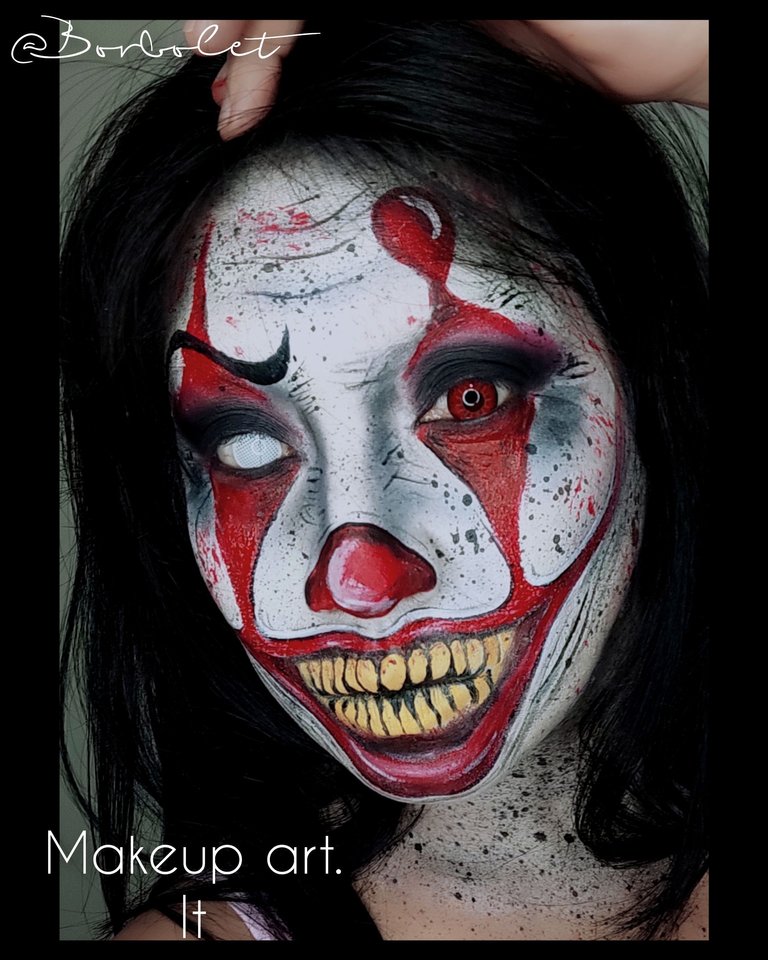 ---
🖤🎈🖤🎈🖤🎈🖤🎈🖤🎈🖤🎈
---
Los materiales que utilice fueron:
✴️Lapiz Delineador
✴️Primer
✴️Pintura corporal ( blanco y negro, rojo, amarillo)
✴️Base
✴️Polvo compacto translucido
✴️Pega en barra
✴️Sombra negra
✴️Lentes de contactos
The materials I used were:
✴️Liner Pencil
✴️Primer
✴️Body paint ( black and white, red, yellow).
✴️Base.
✴️Translucent compact powder.
✴️Stick adhesive
✴️Black shade
✴️Contact lenses.
---
🖤🎈🖤🎈🖤🎈🖤🎈🖤🎈🖤🎈
---
-Me lavé muy bien la cara, y me apliqué primer para suavisar, luego me puse pegamento en barra en las cejas para sellarlas, después me apliqué polvos para sellarlas y luego me apliqué corrector, luego me apliqué base de maquillaje y la expandí con una esponja.
-Luego apliqué pintura corporal blanca y la expandí en la cara con una esponja.
-I washed my face very well, and applied primer to smooth it out, then I put glue stick on my eyebrows to seal them, after that I applied powder to seal it and then applied concealer, then I applied foundation and expanded it with foundation and expanded it with a sponge.
-Then I applied white body paint and expanded it on the face with a sponge.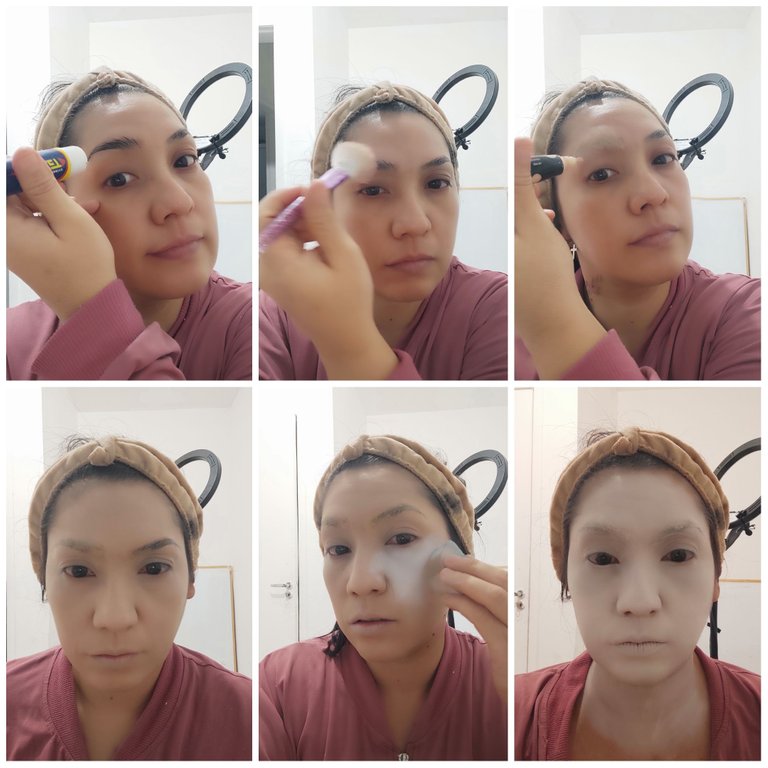 -Luego apliqué, sombra negra con un pincel, por el borde de la nariz y por los ojos y como contorno.
-A continuacion tome un pincel con pintura roja, dibujando loa bordes de los ojos haciendo unos disenos, en uno dibuje un globo, dibuje la nariz, la forma de la boca hasta los exteriores del rostro.
-Then I applied black shadow with a brush, along the edge of the nose and the eyes and as a contour.
-Then I took a brush with red paint, drawing the edges of the eyes making some designs, in one I drew a balloon, drew the nose, the shape of the mouth to the outside of the face.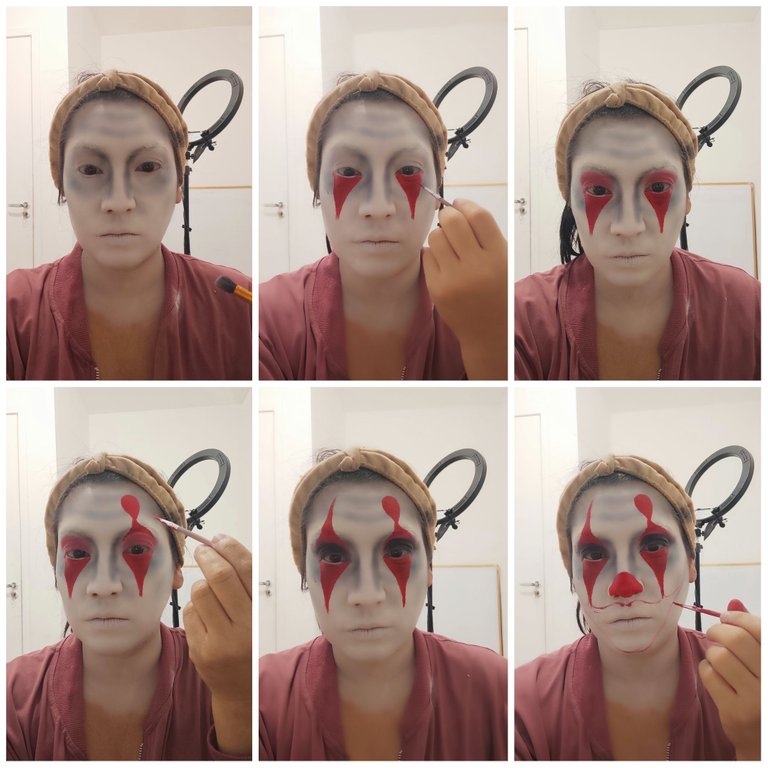 -Luego aplicar pintura amarilla en la boca para formar los dientes.
-A continuación, utilizar la pintura negra para hacer los contornos de los dientes, dar forma a la nariz haciendo líneas de expresión, dibujar una ceja, los bordes de la boca, y luego dibujar la encía de la boca con pintura roja y negra.
-Then apply yellow paint on the mouth to form the teeth.
-Then use the black paint to make the outlines of the teeth, shape the nose by making lines of expressions, drawing an eyebrow, the edges of the mouth, then draw the gum of the mouth with red and black paint.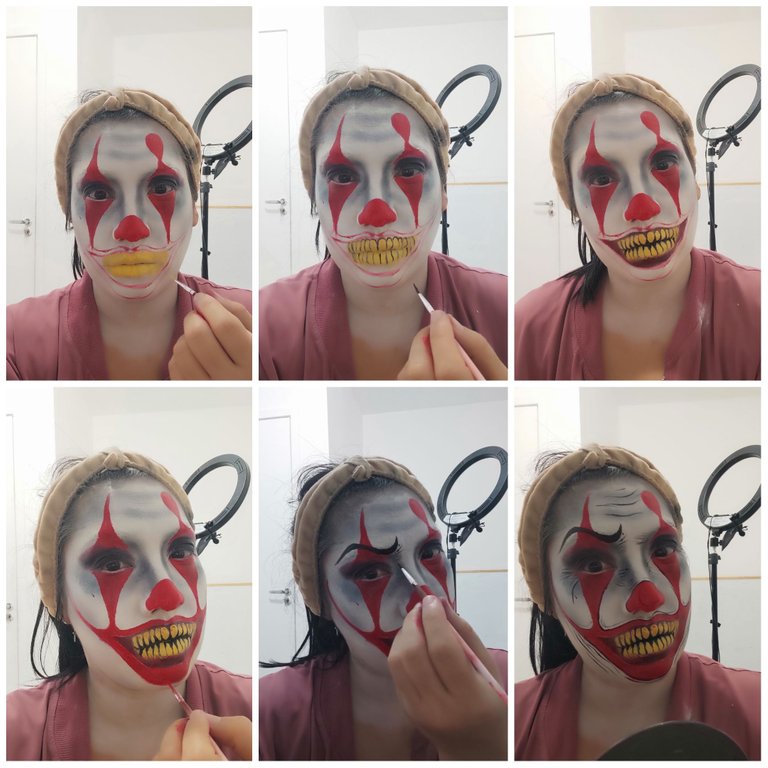 -Luego con pintura negra, la hice muy líquida y con ayuda de un cepillo de dientes empecé a salpicar pintura negra sobre el maquillaje, para terminar usé pintura blanca dándole la iluminación en algunas partes y me puse los lentes de contactos y ya estaba lista para las fotos.
-Then with black paint, I made it very liquid and with the help of a toothbrush I started to splash black paint over the makeup, to finish I used white paint giving it the illumination in some parts and I put on the contact lenses and I was ready for the pictures.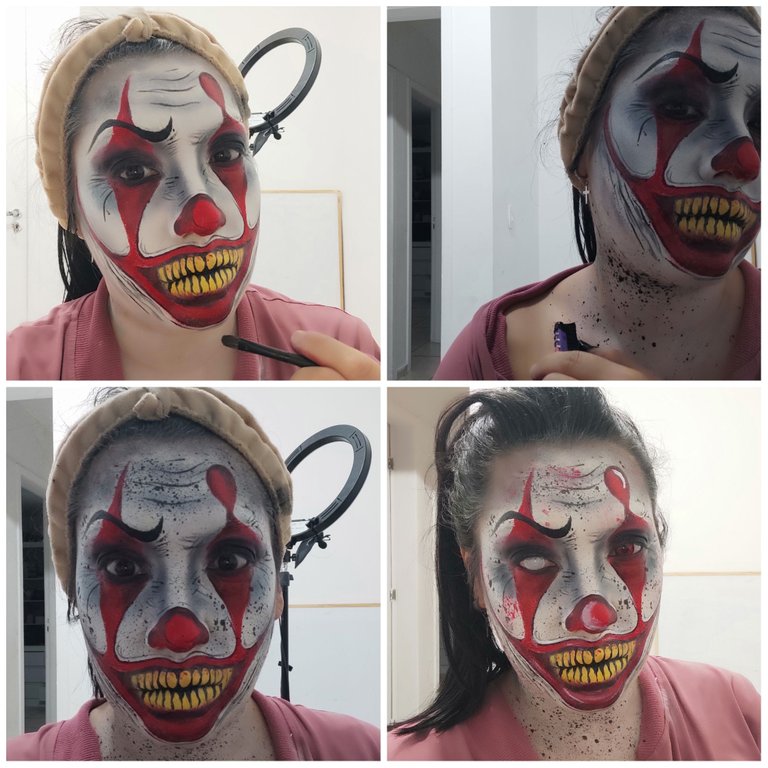 ---
🖤🎈🖤🎈🖤🎈🖤🎈🖤🎈🖤🎈
---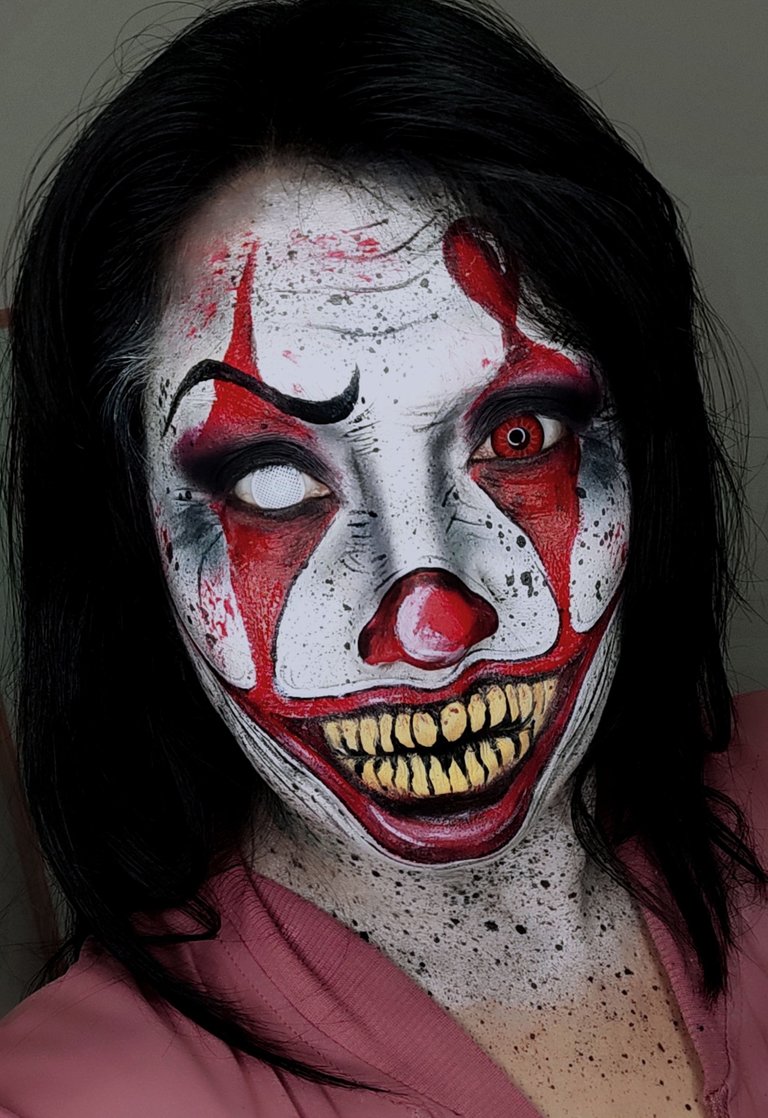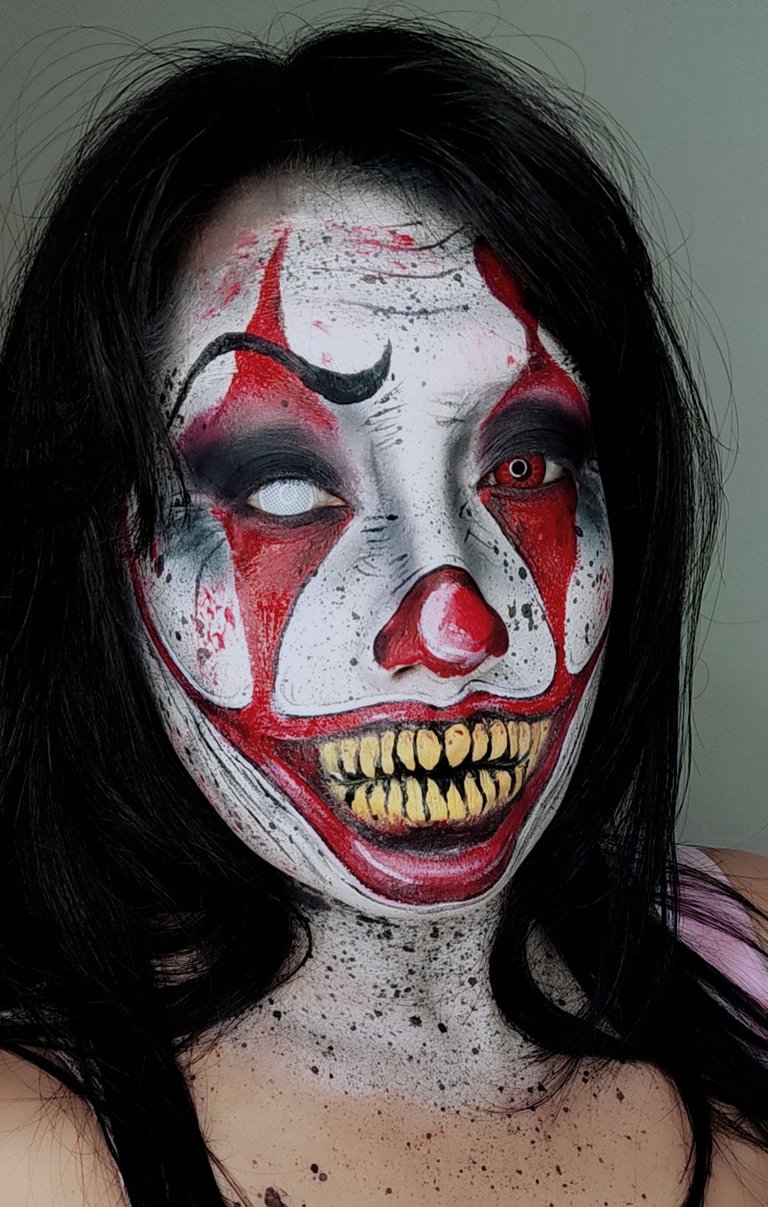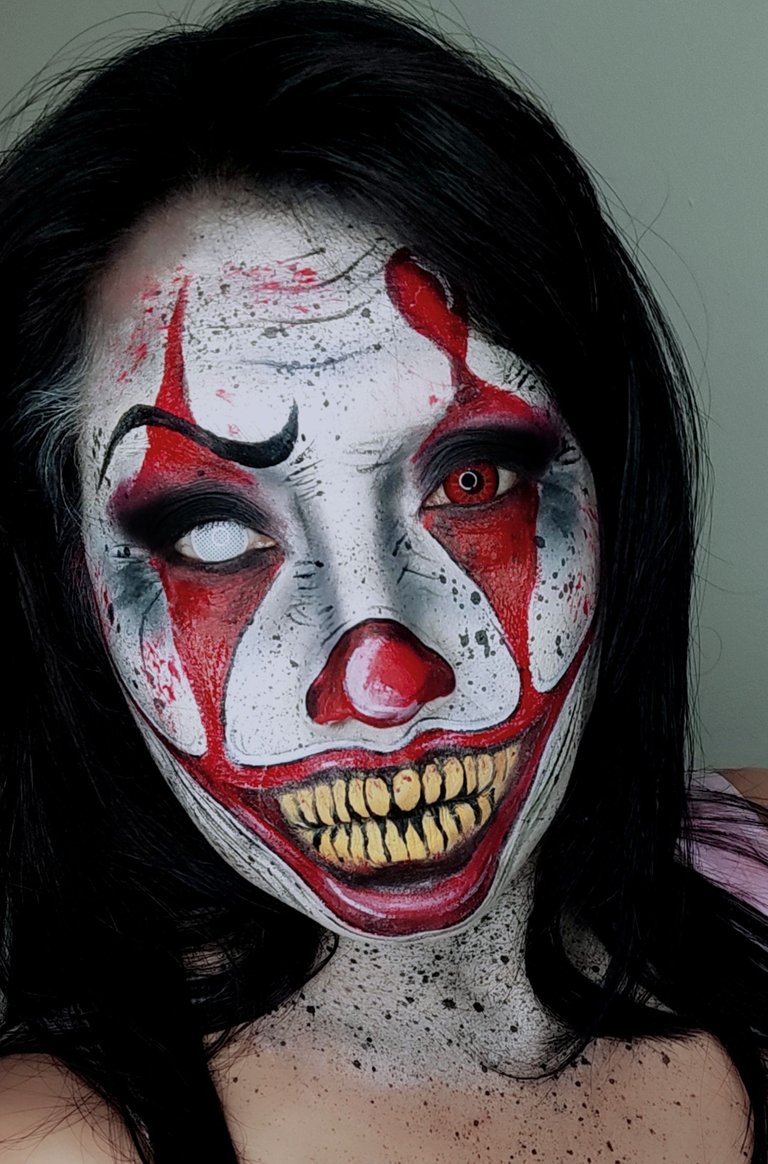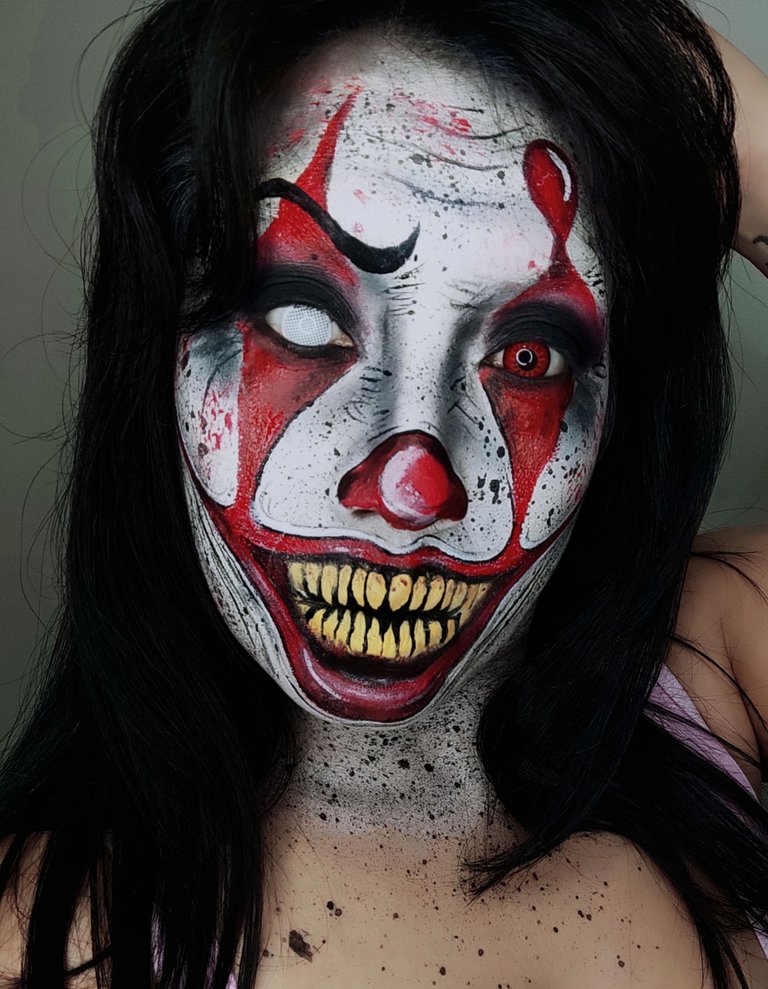 ---
🖤🎈🖤🎈🖤🎈🖤🎈🖤🎈🖤🎈
---
Hemos llegado al final, este ha sido el proceso de mi maquillaje artístico, el resultado fue muy aterrador pero me gustó mucho para mí fue muy satisfactorio hacerlo y espero que les haya gustado este trabajo.
Así que esto es todo por hoy me despido hasta otra ocasión deseándoles muchas bendiciones, ¡hasta la próxima!
We have come to the end, this has been the process of my artistic makeup, the result was very scary but I liked it very much for me it was very satisfying to do it and I hope you liked this work.
So this is all for today I say goodbye until another time wishing you all many blessings, see you next time!

---
---