LOH Contest #119: Stepping Out of My Comfort Zone (ENG-ESP)
When I first met my best friend Melissa, many things began to change--for the better! The person that I was meant to be started to come out of her shell. For the very first time in my life, I finally made a bold decision with my hair, and shaved half of my head.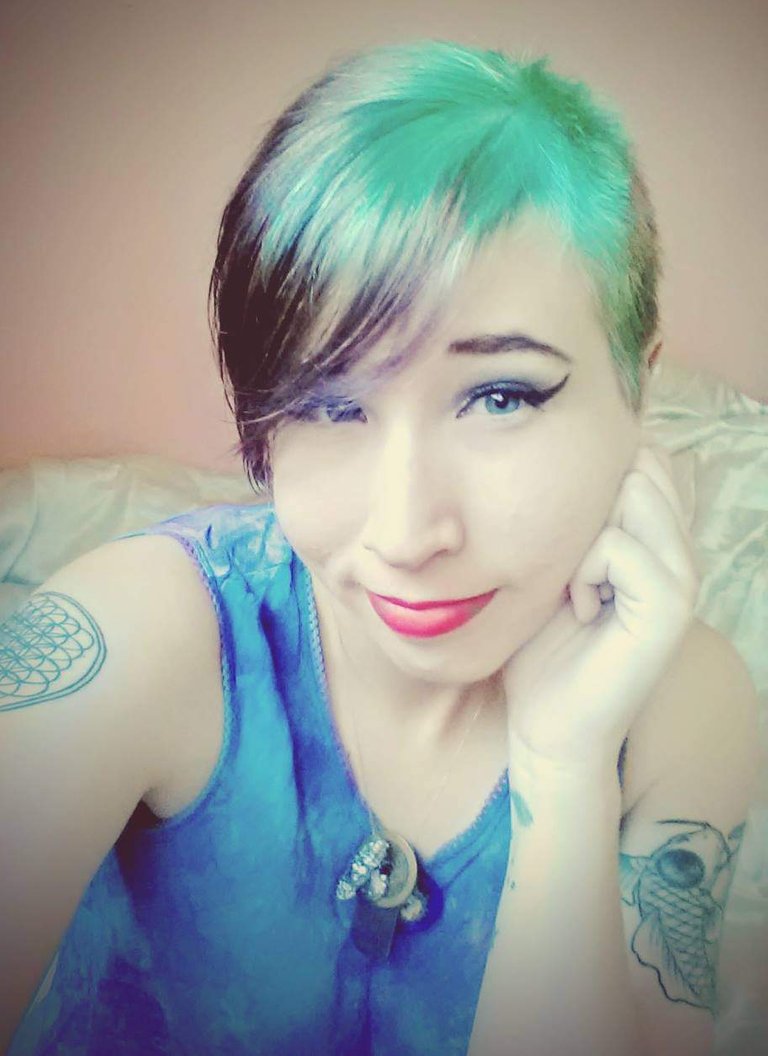 My sense of style changed dramatically!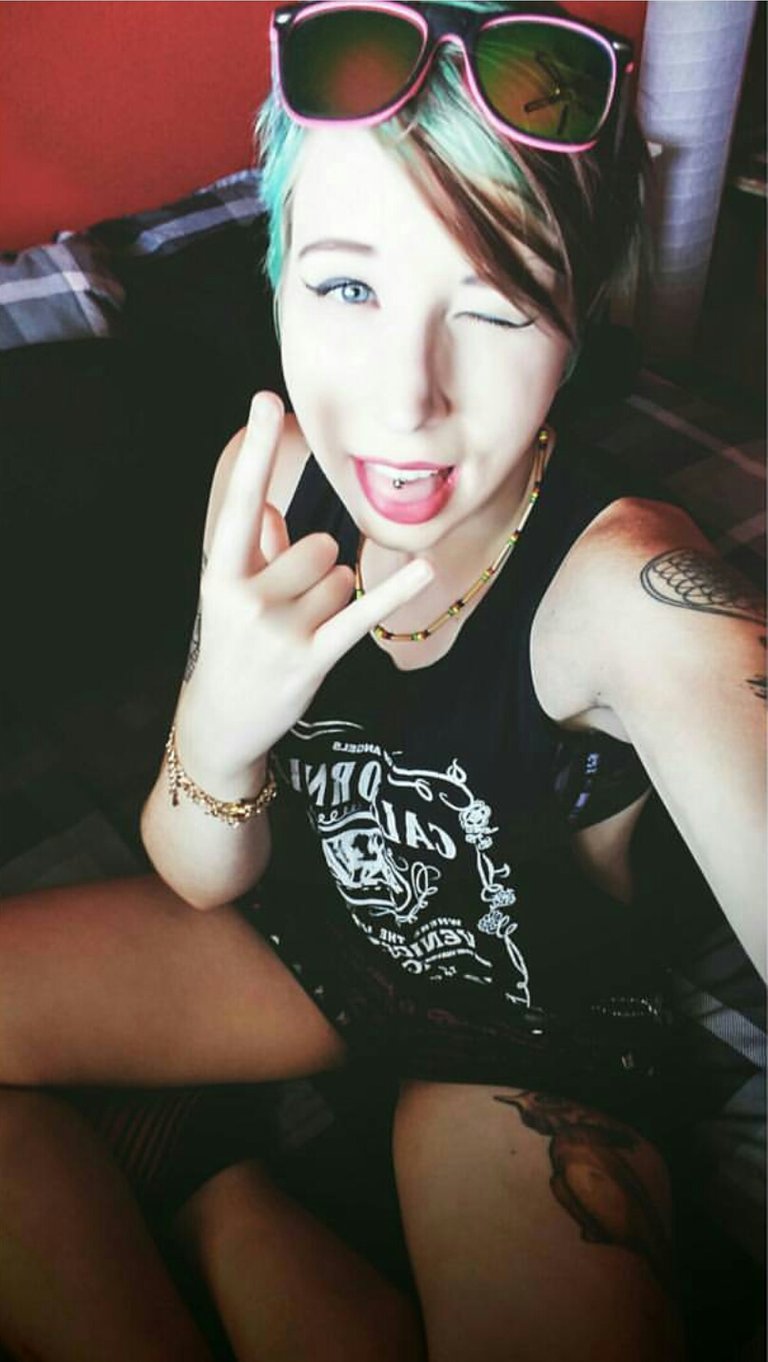 Most importantly, Melissa gave me the courage to do something that I had wanted to do my entire life but was always too afraid to do: perform in front of other people.
Cuando conocí a mi mejor amiga Melissa, muchas cosas comenzaron a cambiar, ¡para mejor! La persona que estaba destinado a ser comenzó a salir de su caparazón. Por primera vez en mi vida, finalmente tomé una decisión audaz con mi cabello y me afeité la mitad de la cabeza. ¡Mi sentido del estilo cambió drásticamente! Lo más importante, Melissa me dio el coraje para hacer algo que había querido hacer toda mi vida pero que siempre tuve demasiado miedo de hacer: actuar frente a otras personas.
---
We are both born in February, and at the time, we wanted to find a way to celebrate our 21st birthday together. Melissa and I shared many things in common, but our biggest passion was music. We often spent our time listening to songs, singing and playing together, loving every minute of it! 😄 So when we stopped at a local cafe one day and saw an application form for live performers, we knew it was fate! We immediately signed up, not a doubt in our minds, and began putting a small playlist together....
Ambos nacimos en febrero y, en ese momento, queríamos encontrar una manera de celebrar juntos nuestro 21 cumpleaños. Melissa y yo teníamos muchas cosas en común, pero nuestra mayor pasión era la música. A menudo pasamos nuestro tiempo escuchando canciones, cantando y tocando juntos, ¡amándonos cada minuto! 😄 Entonces, cuando nos detuvimos en un café local un día y vimos un formulario de solicitud para artistas en vivo, ¡sabíamos que era el destino! Inmediatamente nos registramos, sin ninguna duda en nuestras mentes, y comenzamos a armar una pequeña lista de reproducción...
---
On the night of the performance, we noticed that the cafe was packed, and the jitters began to set in... However, there was no turning back! ✊ There were three other acts before us, and while everybody was fairly decent, the crowd had yet to be truly entertained.
En la noche de la función, notamos que el café estaba repleto, y los nervios comenzaron a asentarse... ¡Sin embargo, no había vuelta atrás! ✊ Hubo otros tres actos antes que nosotros, y aunque todos eran bastante decentes, la multitud aún no había sido verdaderamente entretenida.
---
Enter Alissa and Melissa! 😀 I (Alissa) performed the main vocals, while Melissa played her ukelele and sang backup. We performed 3 songs in total. The first was Do I Wanna Know? by the Arctic Monkeys. Although only a few people recognized it, everybody really seemed to enjoy it!
The second was an original song that Melissa had written herself years prior--very fun and fast-paced! That one definitely got the crowd moving a bit more 😊
¡Entran Alissa y Melissa! 😀 Yo (Alissa) interpreté la voz principal, mientras que Melissa tocaba su ukelele y cantaba como respaldo. Interpretamos 3 canciones en total. El primero fue ¿Quiero saber? por Arctic Monkeys. Aunque solo unas pocas personas lo reconocieron, ¡todos parecían disfrutarlo! La segunda era una canción original que Melissa había escrito años antes, ¡muy divertida y de ritmo rápido! Ese definitivamente hizo que la multitud se moviera un poco más 😊
---
The last song (and hopefully some of you recognize it as well!) was Can't Help Falling In Love With You by Elvis Presley.
It is a moment that I will cherish for the rest of my life. While the two of us sang the first chorus, quite a few people were singing along with us--by the end of the song, the entire cafe was singing! It was such an incredible moment. Everyone singing so powerfully together that it echoed inside my chest, and knowing that we were the ones who had started such an amazing reaction!
La última canción (¡y espero que algunos de ustedes también la reconozcan!) fue Can't Help Falling In Love With You de Elvis Presley. Es un momento que atesoraré por el resto de mi vida. Mientras los dos cantábamos el primer estribillo, bastantes personas cantaban con nosotros; al final de la canción, ¡todo el café estaba cantando! Fue un momento increíble. ¡Todos cantando tan poderosamente juntos que resonaron dentro de mi pecho, y sabiendo que fuimos nosotros los que comenzamos una reacción tan increíble!
---
Our performance was over, and the crowd immediately erupted into cheers and applause! We had numerous people come up to congratulate us, including the manager, who eagerly invited us to perform again the next week! We never did perform again; in fact, Melissa and I, unfortunately, are no longer friends... However, that memory will live on forever, as it was a night where I had the courage to finally do what I wanted: to sing in front of others.
¡Nuestra actuación terminó y la multitud inmediatamente estalló en vítores y aplausos! Numerosas personas vinieron a felicitarnos, incluido el gerente, ¡quien nos invitó con entusiasmo a actuar nuevamente la próxima semana! Nunca volvimos a actuar; de hecho, Melissa y yo, lamentablemente, ya no somos amigas... Sin embargo, ese recuerdo vivirá para siempre, ya que fue una noche en la que tuve el coraje de finalmente hacer lo que quería: cantar frente a los demás.
---
---