A study showing Ivermectin could cut COVID deaths by about two thirds came out in the Summer of 2021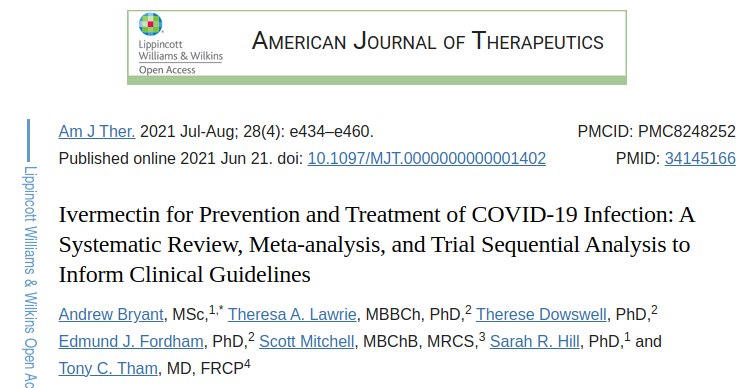 Image: Screenshot of Pubmed publication page
A study came out in the July-August issue of the American Journal of Therapeutics stating the following:
Meta-analysis of 15 trials, assessing 2438 participants, found that ivermectin reduced the risk of death by an average of 62% (95% CI 27%–81%) compared with no ivermectin treatment [average RR (aRR) 0.38, 95% CI 0.19 to 0.73; I2 = 49%]; risk of death 2.3% versus 7.8% among hospitalized patients in this analysis, respectively
(See the "All-cause Mortality" section of the study)
The study is a meta analysis of a number of other studies so as any such research it is oepn to criticism. But its findings - the Ivermectin's asserted ability to cut mortality bu about 60% - is consistent with plenty of other data, both statistical and ancdotal.
At about the same time (August-September 2021) vicious anti-Ivermectin propaganda hit the Internet. It was baseless which is consistent with the drug's overall excellent safety record. It was quite desperate, too - the propaganda artists went as far as fully fabricating stories of hospitals, notably in the US state of Oklahoma, being overwhelmed with patients suffering from Ivermectin poisoning to the point of gun shot victims bleeding out due to patient overload.
So what was behind it? I am not sure, but it looks as if some parties desperately did not want Ivermectin to become the standard of care for COVID-19. While some parties, possibly the same ones, were very eager to push mandatory vaccination with experimental COVID vaccines.
As always - do your own research, do your own thinking, draw your own conclusions.
References
Ivermectin for Prevention and Treatment of COVID-19 Infection: A Systematic Review, Meta-analysis, and Trial Sequential Analysis to Inform Clinical Guidelines
Andrew Bryant, MSc, Theresa A. Lawrie, MBBCh, PhD, et al, American Journal of Therapeutics, July-August 2021
Fact check: No evidence Oklahoma hospitals are backed up due to ivermectin overdoses
McKenzie Sadeghi, USA Today, 15 September 2021
---
---