Jeffrey Epstein and the societal scourge of pedophilia and sex trafficking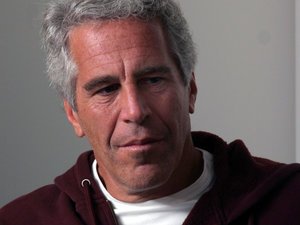 Jeffrey Epstein
Image: Rick Friedman/Corbis via Getty Images
On Saturday, 6 July 2019 Jeffrey Epstein was arrested by the US federal authorities on charges related to sex trafficking. That was yesterday. That is the news - not something the media powerhouses are reporting on wall to wall but something all major outlets seem to have reported on, for which they should get all due credit.
As CBS News reports:
Investment manager Jeffrey Epstein was arrested in New York Saturday on federal charges related to sex trafficking, CBS News has confirmed. The financier has long been accused of sexually abusing underage girls, and in 2007, he pleaded guilty to two prostitution counts in a Florida court as part of a controversial deal to avoid federal charges.

Epstein is expected to appear in a New York federal court on Monday, but the situation is fluid. The news of Epstein's arrest was first reported by The Daily Beast.

Epstein is a wealthy hedge fund manager who once counted as friends former President Bill Clinton, Great Britain's Prince Andrew, and President Donald Trump.
This is good, honest reporting on the matter. I would like to give the mainstream media credit here - especially in light of the fact that I in general don't hold a high opinion of the, and do not hesitate to uncover their lies and coverups when appropriate. However, due to the nature of this being just short reports, you would likely not get a full picture of this rather complex and twisted tale.
So who is Jeffrey Epstein? According to sources, he is a New Yorker who comes from rather humble beginnings but has made it big. His wealth is currently estimated to do between 1 and 2 billion USD. His rise was meteoric. In 1969 he graduated from high school aged 16, in 1971 aged 18 he dropped out of college to take a job in the financial trading world, in 1982 aged 29 he founded his own asset management company which was soon in a position to reject clients who only had hundreds of millions of dollars to invest as being too small to bother with. As this industry goes, it is a bit murky as far as details of his business are concerned; some analysts contend he got some highly favourable deals, potentially because he may have had some "dirt" on some rather high-positioned people. That, I would like to emphasize, is mere speculation - but this speculation is, in my opinion, not unfounded.
As a wealthy socialite, Epstein entertained many a powerful guest on his private island in the US Virgin Islands. Epstein's island was nicknamed "Part y Island". The island is large enough to host an air strip big enough for Epstein's Boeing-727. Said aircraft was nicknamed "Lolita Express". The reason for these designations was that Epstein was hosting lavish parties on his island estate and those parties involved numerous beautiful young ladies. Allegedly, sex with those ladies was part of the entertainment. Also rumour has it that Epstein had the place thoroughly wired and thus there are now some rather powerful people - potentially including current US President Donald Trump, former US President Bill Clinton, British Prince Andrew and others - who may have a strong interest in making sure this surveillance data never sees the light of day.
Eventually, many unsavory details surfaced as regards Epstein and the young women seen around his various homes. Some of those young women were way too young. Women were groomed - to both serve Epstein and his guests, and to recruit others into what appears to be a sex human trafficking ring. At least these are allegations.
In 2008, in Florida Epstein plead guilty to soliciting prostitution in connection with an acknowledged sexual relationship he had with a 14 year old girl. The victim was referred to as "underage prostitute" in the court documents - which, in terms of legal terminology, is nonsense as a 14 year old in Florida, by Florida law, can only be a rape victim, even if the intercourse did not involve direct violence or coercion, as she would be below the age of consent.
The deal Epstein got was ridiculously lenient. He got a 13 month long jail term, to be served in a separate wing of a county jail which he was free to leave for the day to go to work. So effectively, for a year he had to come to a safe, comfortable jail cell to sleep. Which I imagine is drastically different from how your average sex offender would have fared.
What is also highly intriguing is the fact that various investigation and court records were sealed in the course of the various processes involving Epstein. On Wednesday, 3 July 2019 that decision was reversed by the U.S. Court of Appeals for the Second Circuit. That reversal likely led to Epstein's Saturday arrest.
As is reported by Daily Caller:
The Miami Herald, blogger Mike Cernovich and Alan Dershowitz, a friend and lawyer of Epstein's, had sued for the lawsuit documents to be unsealed. Dershowitz, a prominent constitutional scholar, has sued Giuffre, alleging she falsely accused him of having sex with Epstein's underage victims.

The Herald has reported extensively on Epstein's alleged misdeeds, as well as a sweetheart deal he struck with federal prosecutors in Florida more than a decade ago. The case has for years made national headlines, largely because of Epstein's past relationships with powerful figures, such as Bill Clinton, Prince Andrew, and Donald Trump. Clinton reportedly flew more than two dozen times on Epstein's private jet, which has been dubbed the "Lolita Express."

An FBI investigation of Epstein that began in 2005 identified nearly three dozen teenage girls — mostly between 13 and 16 years old — who said they were recruited to perform sex acts for Epstein and his friends, according to The Herald.
Cernovich's efforts were largely crowd funded, so this is likely one more instance of technology and people's collective will being able to countenance the interests of concentrated financial and political power.
So what is in these documents that have been unsealed? May be too early to tell - but likely whatever is in them makes it too scandalous to justify failure to prosecute Epstein - and likely his accomplices. But that is the immediate context.
In a bigger, historical context, one would be well advised to know that sexual abuse of minors is nothing new. From Marquis de Sade to Ottoman harems one finds countless instances of organized, or at least tacitly sanctioned, abuse by the powerful. At various times in history such abuse was viewed as entirely normal and thus made it virtually impossible for the victims to find any protection and solace.
Consequences of such abuse, even if victims make up a relatively small percentage of the population, are devastating. Abuse breeds abuse, violence and resentment. All of that negatively affects the society as a whole and holds back progress.
It will be interesting to see what comes out of the Epstein affair. I am not a wide-eyed optimist, and I don't imagine that human trafficking or child abuse would stop any time soon. But are we perhaps reaching the tipping point where technology and horizontal communication and cooperation capabilities allow us the people to overpower the elites and stop their abuse? Is this the beginning of the end of their ultimate freedom from consequences? Time will tell.
Sources
Jeffrey Epstein Arrested On Sex Trafficking Allegations
James Doubek, NPR, 7 July 2019
Jeffrey Epstein arrested in New York on charges related to sex trafficking
CBS/AP, 7 July 2019
Jeff Epstein Arrested due to Mike Cernovich Court Win(video)
Mike Cernovich, 6 July 2019
Court Orders Release Of Records In Case Of Registered Sex Offender Jeffrey Epstein
Chuck Ross, Daily Caller, 3 July 2019
Financier Jeffrey Epstein arrested on sex charges
Michael R. Sisak and Jim Mustian, AP, 7 July 2019
Pedophile millionaire dodged harsh sentence by ratting out Bear Stearns execs
Bruce Golding, New York Post, 28 November 2018
How a future Trump Cabinet member gave a serial sex abuser the deal of a lifetime
Julie K. Brown, Miami Herald, 28 November 2018
All aboard the 'Lolita Express': Flight logs reveal the many trips Bill Clinton and Alan Dershowitz took on pedophile Jeffrey Epstein's private jet with anonymous women
Daily Mail, 22 January 2015
The one weird court case linking Trump, Clinton, and a billionaire pedophile
Josh Gerstein, Politico, 4 May 2017
Who Was the Marquis de Sade?
Tony Perrottet, Smithonian Magazine, February 2015
Donald Trump & Jeffrey Epstein Rape Lawsuit and Affidavits
Filed 20 June 2016
Jeffrey Epstein Net Worth
TheRichest
Jeffrey Epstein Finally Arrested (video)
Tarl Warwick, 7 July 2019
---
---