STARLINGS IN MY BACKYARD

I was sitting in front of the PC screen, busy preparing the photographs for future posts when I heard a fairly nice, but slightly chaotic song. It happened a couple of hours ago, and the music was coming from somewhere behind the house. Definitely very near, in the neighborhood.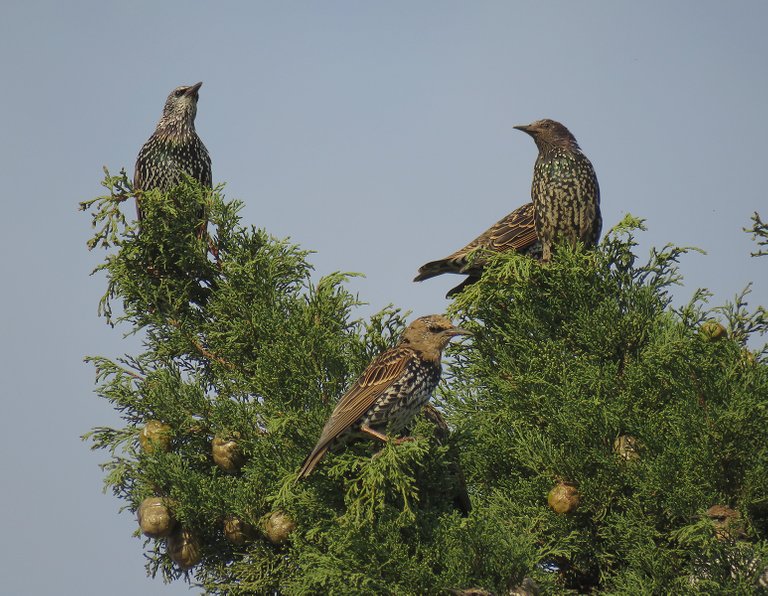 (Enlargeable)
When I stepped out, in the yard, I saw that the thing is being performed by a chorus of chattering birds.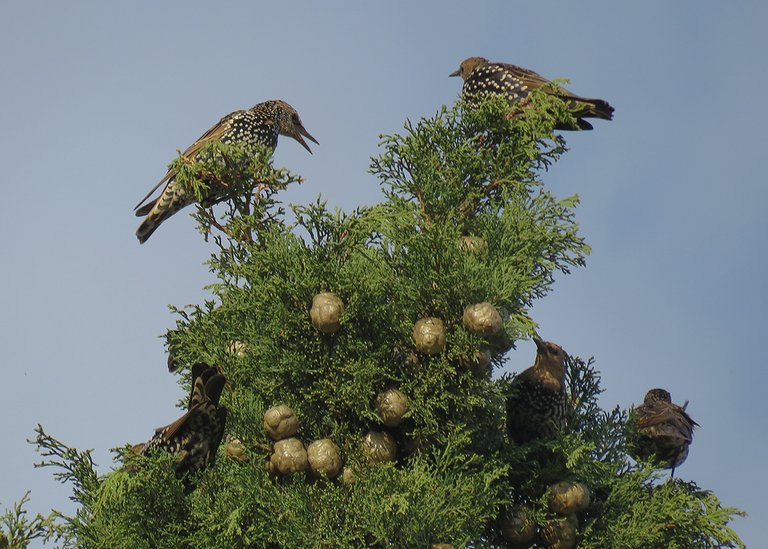 The starlings.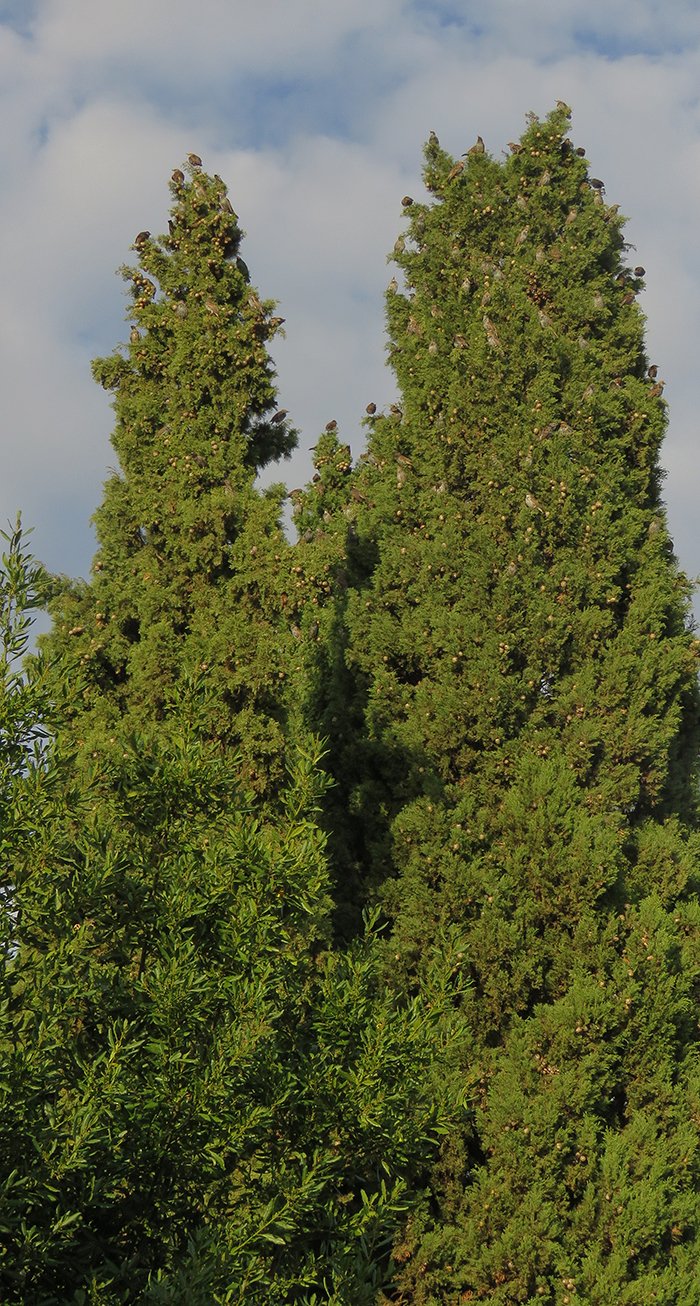 There is a line of tall trees in the yard of the neighboring house, just behind my wall that divides the two properties.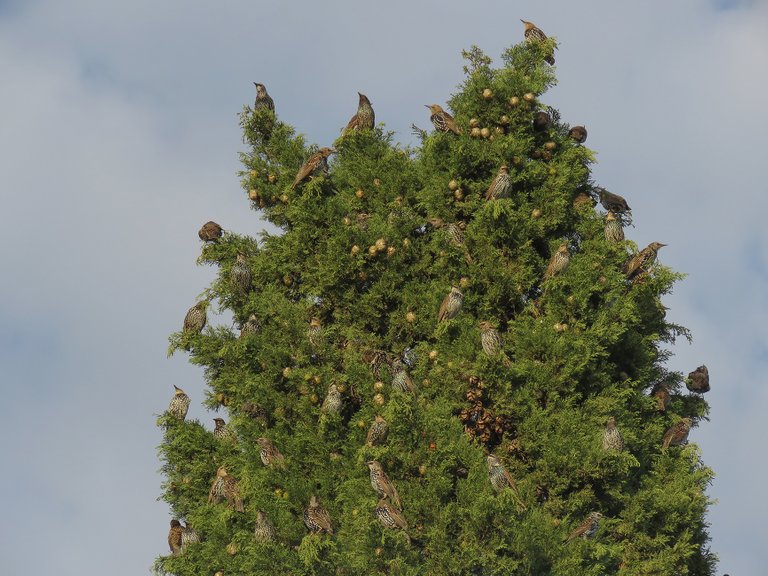 (Enlargeable)
One of those cypresses was decorated with birds like a Christmas tree.

(Enlargeable)
This epic scene didn't last long. Only five or ten minutes. I was able to take a handful of photographs and the following video, in which you can see the starlings in motion, and most important thing, you can hear how it all sounded. Have a good viewing. 🙂 And hearing.

---
A flock of starlings landed today on one of the cypress trees behind my house. In this short video, you can see and hear those starlings. As often in my posts, the video is just a segment of a longer post with more text and photographs that can be seen on HIVE. The thing looks better in that context.
---
▶️ 3Speak
The music in the video is some lovely free-to-use stuff that I found on Pixabay.
Music by Lexin_Music from Pixabay
Music by Lexin_Music from Pixabay
And that's it.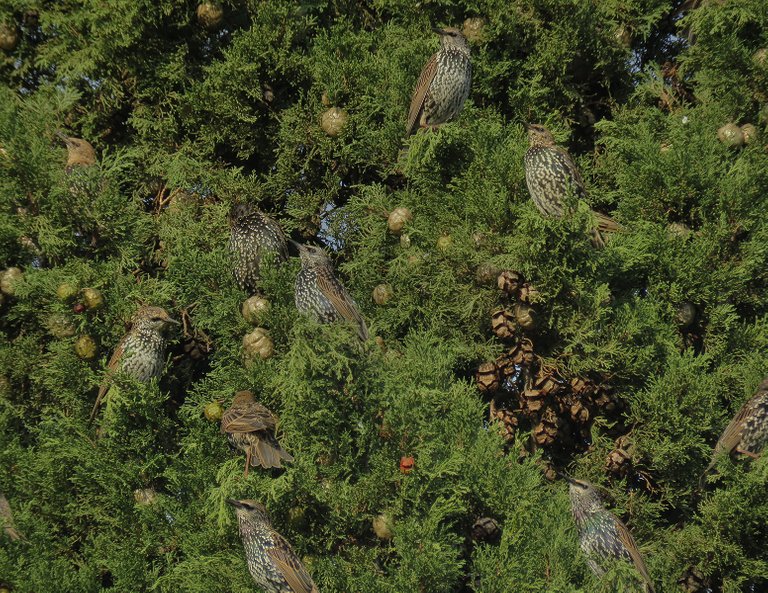 (Enlargeable)
The starlings shown in the post are the Sturnus vulgaris, commonly known as the common or the European starlings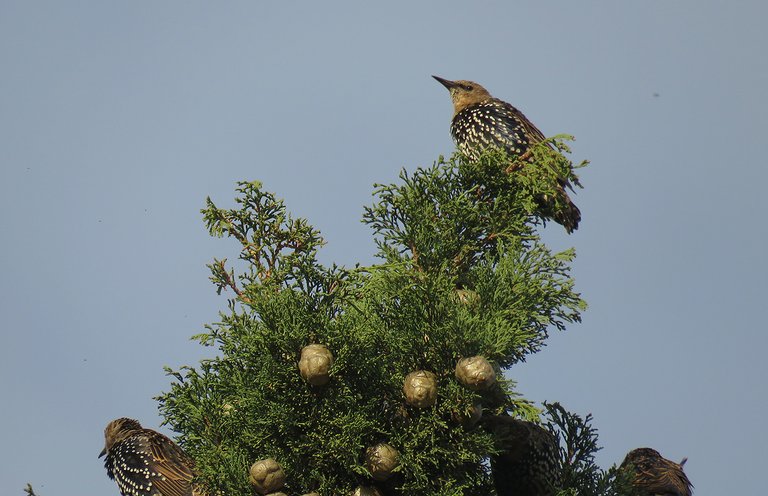 These birds often form large flocks, especially in autumn and winter. When it comes to my neighborhood, the starlings always appear at the end of the summer. Common starlings are mainly insectivorous and feed on a wide variety of small arthropods. All kinds of insects, their larvae, and spiders. Besides that, they also hunt earthworms, snails, small amphibians, and lizards.
Although the consumption of invertebrates is necessary for successful breeding and development, these starlings are omnivorous and can also eat grains, seeds, fruits, nectar, and food waste if the opportunity arises.
The following link will take you to the sites with more information about the protagonists of this post. I found some stuff about them there.
https://en.wikipedia.org/wiki/Common_starling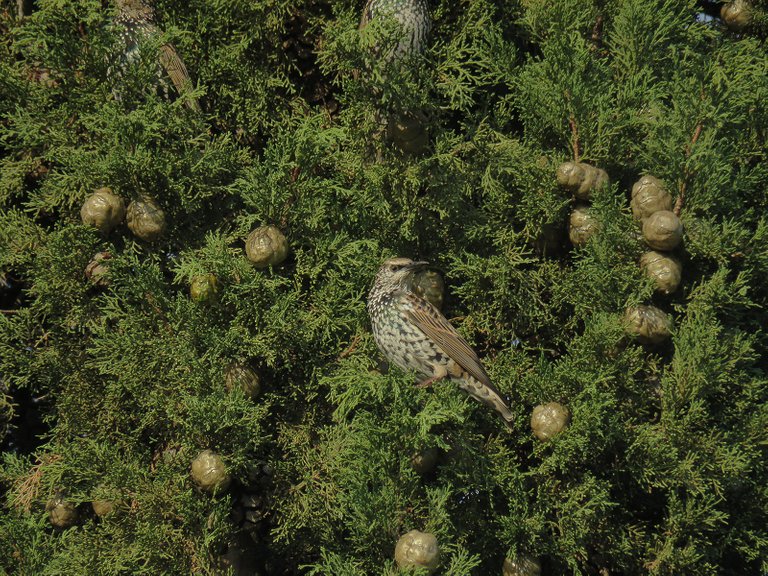 (Enlargeable)
AND NOW, THAT'S REALLY IT. THE POST ENDS HERE. AS ALWAYS HERE ON HIVE, THE PHOTOGRAPHS AND THE VIDEO ARE MY WORK.
---
---