Bozz Family Fantasy Football Recap Week 2: That's more like it!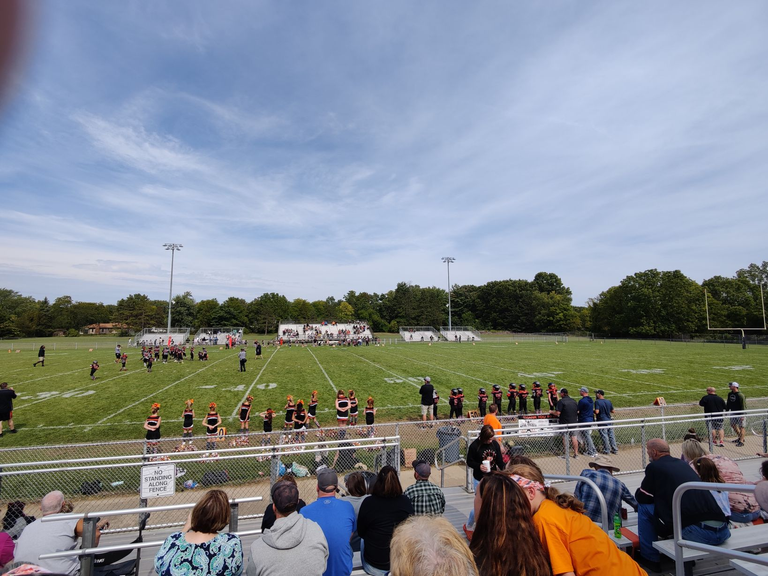 ---
These pictures I took from my nephews football games over the weekend have come in quite handy for most of my posts this week. To be fair, the older brother of the two nephews on this side of the family has been welcomed into the fantasy football fold now and he actually had the highest score of any team in the league last week.
That wasn't the case this week....

---
It was a good week for my team as we turned things around from last week and came away with the win. He only put up 8.60 points, but Kelce might have been the reason for that. If you remember, he was on the bench during last weeks game though I had other issues with my team as well.

---
I'm still in the process of learning what my team can and can't do, so these last two weeks give me a good idea of that. I probably need at least one more week before I start considering cutting players or moving things around on my roster. With a few exceptions of course. We can't always know what is going to happen with injuries and things like that.
It's been about a year since I have been regularly writing these posts, so let me give you a recap of my expectations for a good week of fantasy football.
QB - The quarter back should score 20 points at a minimum. Anything less is just unacceptable.
RB - I expect 15 points on average from each of my running backs.
WR - Same thing with Wide Receivers. Fifteen points is the minimum I expect from them to have a good week.
TE- Tight ends I put in the 10 to 15 point range. I'd much prefer a minimum of 15 points, but I know sometimes you have to be okay with 10.
K - The Kicker is good to give me 5 points if I am lucky. Anything beyond that is icing on the cake.
DEF - I expect a decent Defense to get me 10 points per game. I know that might be a stretch, but I think it is a reasonable number.
Now, if you add those numbers up for 1 QB, 2 RB, 3 WR, 1 TE, 1 Flex Spot, 1 K, and 1 DEF, the minimum should get you 135 points or something like that. Easily enough to win most weekends.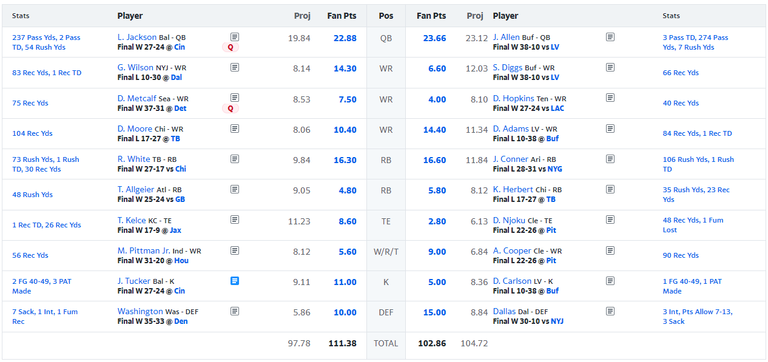 ---
As you can see, Jackson got me 22 points which is a good start according to my rubric listed above. Wilson was close to the mark with 14 points, Metcalf was off to a good start, but then he got injured and didn't play most of the first half of the game against the Lions.
It looks like Jackson is questionable going into next week, so I might need to put Goff in for him if things take a turn south. Which might not be a bad thing. Goff is probably pretty mad about the loss to Seattle, so he might come out slinging this weekend.
Moore did okay with 10 points, but I would like to see a little more production from him. White on the other hand did exactly what I needed putting up 16 points. Allgeier's 4.8 points is kind of a disappointment, but hopefully I will be able to put Kamara back in soon and it shouldn't really matter.
As I mentioned before, Kelce put up 8.60 points and I am okay with that for a couple of reasons. First, he was out last week, so they are likely just being a bit cautious with one of their franchise players. Second, rumor has it he is dating Taylor Swift now, so he probably has other things going on if you know what I mean.
Pittman was a bit disappointing as my flex player and he may need to be moved if I have someone on my bench that can step up for that position.
Finally, I'm not mad at all about the 11 points that my kicker put up and the 10 points that Washington put up for my defense. Very nice. As you can see that all totaled to a final score of 111.38. Very nice. It might have been a tough win on any other weekend, but given the fact that my brother in law only put up 102.86 points, I will take it.

---
As you can see, my bench wouldn't have made much difference in the outcome. Sure, Goff would have gotten me one more point, but it's okay. Almost makes you wonder what his score would have been if he hadn't gotten that pick 6 and the officials hadn't screwed up that face mask call and the Lions would have had the chance to touch the ball in overtime.
My brother in law on the other hand is probably wishing he would have played Collins at WR. It could have pushed him over the top for the win.
Next week I face off against my sister in law. Right now she is projected to win, but I still have some tweaking to do with my lineup.
I should also mention that so far @mrsbozz is 2 - 0 on the season, so yay for her! I hope things continue to go well for her this season. She almost got us the ring last year!
---
---

---
All pictures/screenshots taken by myself or @mrsbozz unless otherwise sourced
---
---