Bozz family fantasy football Week 3

---
It was another good week for me as far as fantasy football goes. Lucky, but good. For @mrsbozz, not so much. It was like every single one of her players decided they were going to stay home for all of the games this weekend. Her team only scored about 67 points and it wasn't even enough to top the sub 100 point score that her opponent had.
I think she is already over it and we are only a couple of weeks into the season. I kinda don't blame her. She seems to have pretty horrible luck when it comes to drafting a team. Even though she made it to the finals last year, it was still a rough road.
Stafford is her quarterback and he has been doing kind of horrible so far this year. Kind of what we are used to from his days in Detroit. Even then he put up some pretty amazing numbers, so I guess we need to chalk it up to the injury his is dealing with.

---
My contest against one of my nieces was a little more exciting. It was actually a bit of a nail-biter that came right down to the wire. I was sitting at 104.4 points after Sunday night just waiting to see what happened with the Monday night game. She had one player left to play; Saquon Barkley. He put up 18.60 points against the Cowboys, but it wasn't enough to push her past me.
She actually swapped her quarterback at the last minute because of some advice from her step-dad. If she hadn't have done that she would have beat me. My wife was talking to her brother the other day and I guess she was pretty hot about that. She said she was never going to listen to his advice again!
Ah, fantasy football, breaking up happy homes since 1980!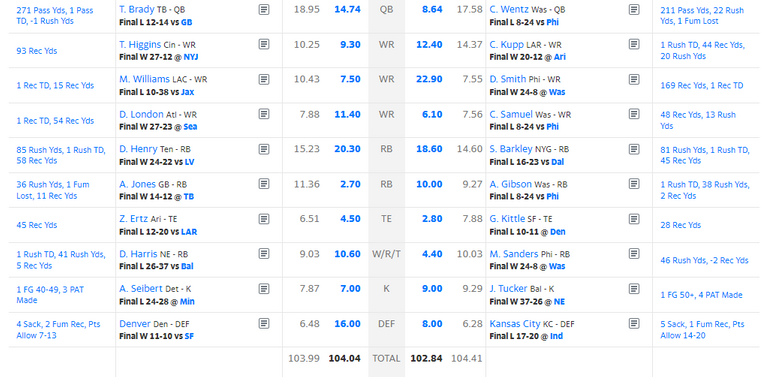 ---
While Tom Brady continues to be a sack of trash, I am not really mad about the performance by the rest of my time. With a few exceptions of course.
As I said a week or so ago. I want to see my QB averaging 20 points per game. Almost 15 is definitely better than last week, but honestly, that Tampa Bay/Green Bay game just sucked. The score was so low and it reflected in some of my numbers.
Take Jones for instance. He put up almost 30 points last week I think and now this week he didn't even get 3. I guess that tells you how good the Tampa Bay defense was playing, even if they didn't win.
I'm not giving up on Jones. I have to believe it was just an off week for him.
Ertz is going to give me fits at Tight End. I just don't know what to do about him. He had great numbers the first week when I left him on the bench and now that I have been playing him, he has been a great big bag of suck.
Seibert missed at least one field goal on Sunday that ended up costing me 3 points. I can't really complain about 7 points though. That is decent.
Probably the two standouts for me this week are Henry from the Titans and the Denver defense. They put up a lot of points for me and that really helped push me ahead for the win. I won't be making any changes there.

---
I'm still not sure Mariota is going to be a viable replacement quarter back for me. He only scored about two more points than Brady this week and was still a far cry from the 20 I expect. Honestly, much of my bench was nothing to write home about this week.
Which is fine since I came away with the win, but once bye's start happening, I am going to need to be counting on these guys to put up some points. Like said, a couple changes on my nieces side of things and she would have blown right past me.
Three weeks in there are two teams in the league who have a perfect record. One of my brothers in law and my oldest niece. She is so busy with being a college freshman I don't know how she has time to set her roster each week!
We still have a lot of football ahead of us, so we will see how things go as we move forward. Hopefully I can rack up some more wins!
---
---

---
All pictures/screenshots taken by myself or @mrsbozz unless otherwise sourced
---
---