NCAA College Basketball Recap: Spartans Will

---
It was a slow start to the week as far as college basketball goes. There was a little game on Monday called the College Football Championship game that kept all of the top 25 teams from playing. I was driving home from a late day at work and listening to that game. As I mentioned earlier in the week, it was pretty one sided right from the get go, but a well balanced game for the Georgia Bulldogs.
Tuesday on the other hand gave us 8 top 25 games. Among those games were my Michigan State Spartans taking on #18 Wisconsin. I didn't get to watch a lot of the game, but I was excited to wake up the next morning and see that State had won 69 to 65. Assuming they win their game tonight against Illinois, they might crack into the top 25 next Monday.
It was actually a pretty nuts week for the Big 10, not only did MSU win on Tuesday, but there were some other big upsets later in the week.
As a matter of fact, MSU was the loan spoiler on Tuesday night. Oklahoma made it close for #2 Kansas though just falling short 75 to 79.
Wednesday brought us 9 top 25 games. The biggest upset was probably #25 Marquette taking down #6 UConn. The only other upset was Texas A&M putting a whooping down on #20 Missouri 82 to 64.
It should also be noted that Creighton almost beat #12 Xavier before falling 87 to 90. Finally on Wednesday, #17 TCU took #10 Texas down to the wire but ended up losing 79 to 75.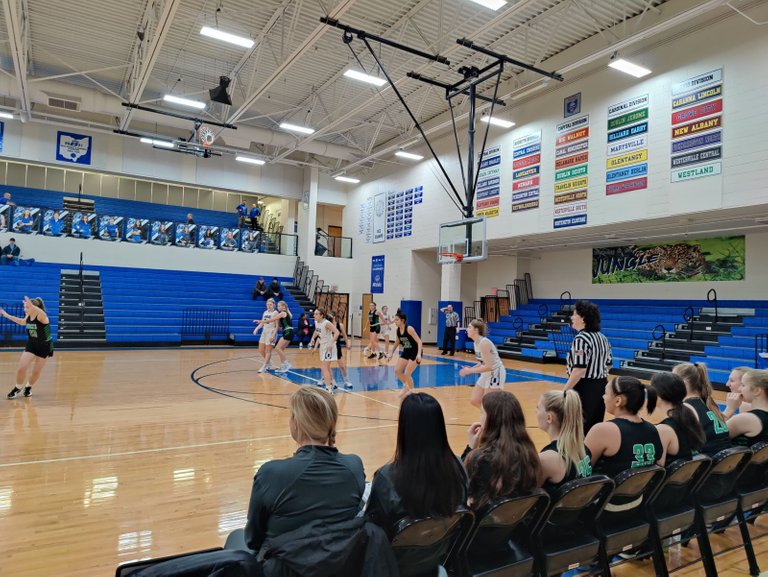 ---
Thursday night there were only three top 25 games. None of those games were upsets, but BYU did almost beat #8 Gonzaga. Gonzaga was only able to edge past BYU by one point.
I didn't watch any college basketball on Thursday night because I was busy cheering on my niece in her junior varsity and varsity games. We drove down to Ohio for the first part of the weekend to watch her play. It was awesome seeing her play in person again.
The smile she had on her face most of the time she was on the court was just priceless. The JV team routed their opponent and after a hard fought game, the varsity team came away with a victory as well.
She may not score a ton of points, but she has a lot of assists and she is a defensive beast on the court. I love it!
The two other surprise outcomes in the Big 10 on Thursday night were Minnesota beating Ohio State 70 to 67. This was the Golden Gophers first win of the season I think. Then Michigan fell to Iowa in overtime 93 to 84. Any time Michigan loses, it's a good day for me!
Check back on Monday when I cover all the hoops action that happened over the weekend.
---
---

---
All pictures/screenshots taken by myself or @mrsbozz unless otherwise sourced
---
---