Sports Betting with Bozz: A weekend full of losers!

---
As I mentioned in one of my posts last week, it's the time of year that I bust open my wallet (or smartphone), and I start doing some sports betting again. I had a pretty rough go of it last winter/spring, so I am hoping that this year I can make a little more progress.
I think it would be cool to say that I earned $1000 off my sports bets. There are countless forums on the Internet where people set similar goals. Usually theirs are quite a bit more lofty than mine. I'm a realist though and I know that more often that not the house usually wins.
With that in mind I decided to be a bit more practical. My Draft Kings account has something like $27 in it right now and when I get to the next section of this post I can tell you how much my Fan Duel account has. Combined, I'd like to see both of those hit the $1000 mark. It can be 700/300, 800/200, I don't care, I just want to see a grand total of $1000.
Wish me luck!
I'm going to need it!!!
Let's take a look at my Draft Kings betting for last weekend: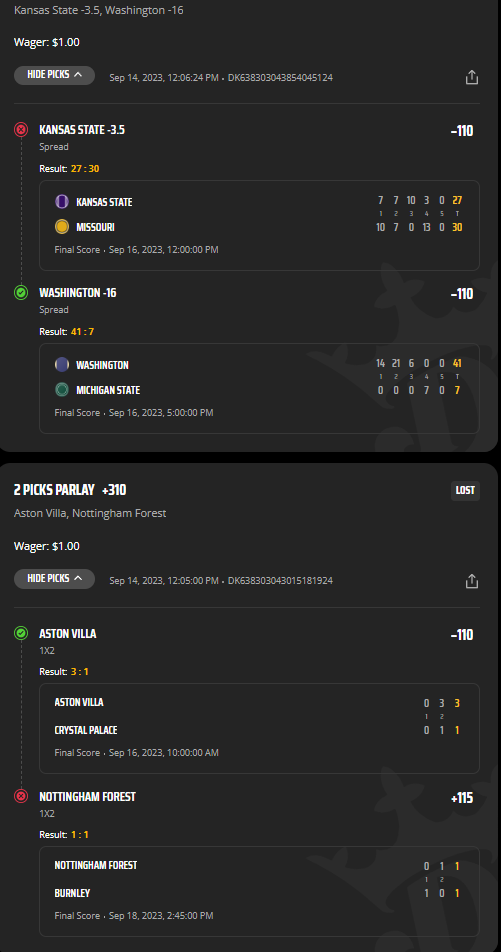 ---
As you can see, I stepped out of my comfort zone a bit and I put a bet down on some soccer. I usually rely on @fullcoverbetting for my soccer picks, but I decided to go out on my own this time. Ashton Villa helped me out with the win, but then Nottingham Forest went and tied their game so it screwed me out of the parlay win. Ugh!
I should have just places straight bets! I think one of the problems I have and I am sure it is one of the rules of betting is I don't feel it is worth it if I don't at least double my money. So for example, If I bet a dollar and I can't win at least $2 back (including the initial dollar), then I won't usually place the bet. Unless I can string some of those together into a parlay.
I should probably be willing to take the $.50 win no matter what, but it must be unit bias or something, it just drives me crazy. It feels like I am cheaping out. Funny thing is, string ten of those together and you just made $5. 100 of them and you made $50.
Oh yeah, I did some college football parlay betting as well and that turned out equally bad. Kansas State screwed me over with a three point loss to Missouri. I should have seen that one though, Missouri was the home team. The possibility was always there.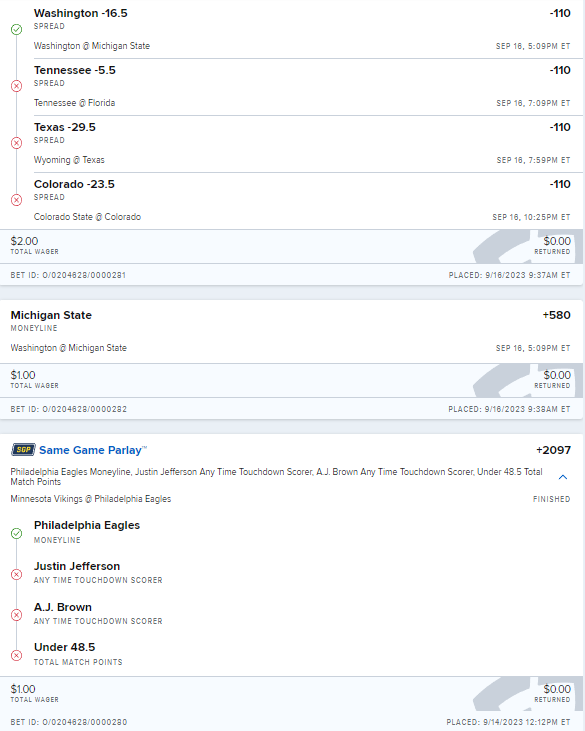 ---
I placed three main bets from my Fan Duel account this past weekend. By the way, that account has $135 in it, so as you can see, I am a long way away from that $1000 goal I have in mind. I think it is a reasonable goal though. Definitely attainable if I make the right moves. More likely I will probably blow it all though.
As you can see, I didn't do any better over on Fan Duel. I had a four line parlay on some college football over the weekend. Washington was the only team that hit for me. That spread betting seems to get me every time.
I threw that bet down on Michigan State more as a wishful thinking type thing than me actually believing that they were going to win. Sure, miracles can happen, but they have been in turmoil lately and they were playing the #8 team in the nation. Fat chance.
Then I put some money down on the Thursday night NFL game. Sadly the players didn't show up for me and despite the fact that The Eagles won, I still came away with the loss on the parlay.
I also placed a bet on a horse race this weekend, but I am not able to show that to you due to location restrictions. Needless to say I lost that bet as well. I might need to start following the bets that my brother in law makes. He seems to do quite well and he knows a lot more about sports than I do.
---
---

---
All pictures/screenshots taken by myself or @mrsbozz unless otherwise sourced
---
---