Sports Betting with Bozz: Merry Christmas to Me!

---
I only placed a handful of bets over the holiday weekend. We were just too busy with the holiday festivities for me to take the time to put more than four or so bets in. I'm still looking for a good soccer league that I can start betting on. I am still coming down from the high of my World Cup wins.
I did do some betting outside of my sports book this past weekend. I've written about it in the past, but my brother in laws friends discovered this awesome horse racing game. It involves a board with horses on it and then you use cards and dice to determine which horse wins.
It's honestly a bit too complex for me to explain here, but it is a ton of fun.
https://www.amazon.com/Across-Board-Horseracing-Gametop-Maple/dp/B00VOBIJFM
There is a link to it on the Amazon page if you want to check it out. At around $100 USD it isn't a cheap game, but it is a hell of a lot of fun when you have a big group playing.
I honestly think you could make your own game pretty easily if you had a piece of wood and a drill. 3D print the horses and boom, you are done.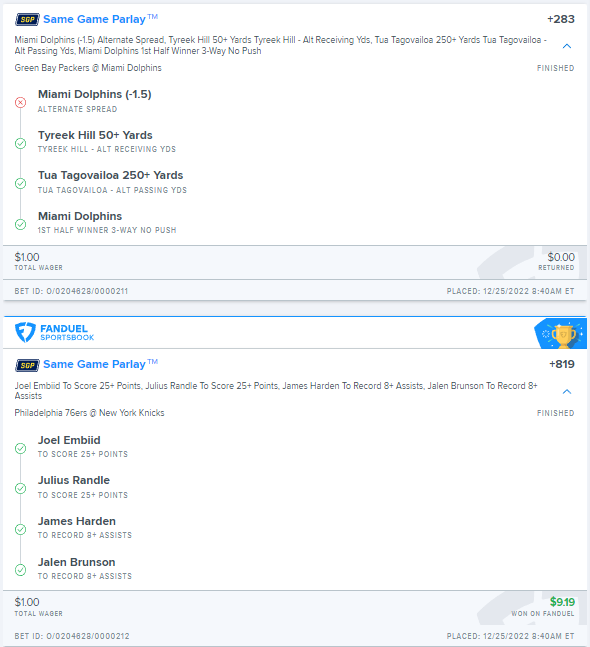 ---
I started the weekend off really great. I did a same game parlay on an NBA game and all four legs hit to net me $9.19 off a $1 bet. If I could do that every week, I would be in a really good place. Unfortunately, my next bet on the Dolphins/Packers game didn't fall the way I needed it to. If Miami could have just come away with the win, I would have gotten a decent payout I think.
I am on a subreddit that is for sports gambling. It's interesting to see just how active that space is. There are a lot of people who are doing what they call the 10K challenge or something like that. Basically, they are trying to earn 10K in winnings from sports betting.
Personally, I'd be happy with 1K, but that is just me :)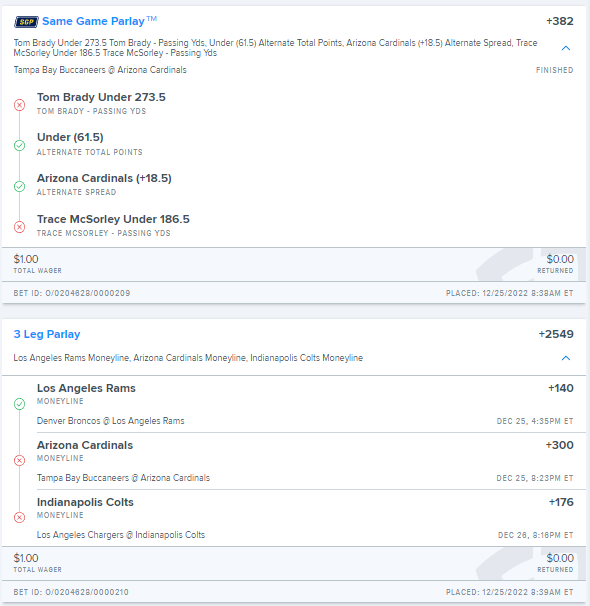 ---
It wasn't just my fantasy football team that Brady let me down on this past weekend. He also screwed me over on the parlay I placed. Just when I come to expect mediocre numbers from him, he bucks the trend and hands me the loss. Sure, McSorley didn't help me either, but I still lay all the blame at Brady's feet.
I also did a three leg parlay on my own hoping that a couple teams with a slight chance to win would pull through and give me a big payout. That would have been about $25 on a $1 bet, but unfortunately, The Rams were the only team that came through.
What I like to do is find a team with like +100 odds or something like that. Alone it wouldn't be much of a win, but when you bundle three teams like that together into a parlay, it could pay out decently for you.
That subreddit I am on is interesting. Someone posted the other day about what sport is the hardest and easiest to bet on. As you can imagine. It was like asking people what the best chocolate chip cookie recipe is. Some were saying baseball is the hardest, while others claimed baseball is the easiest.
It's like the old Coke and Pepsi debate. I don't think there will ever be a clear winner. Besides the house of course, the house always wins!
---
---

---
All pictures/screenshots taken by myself or @mrsbozz unless otherwise sourced
---
---