Sports Betting with Bozz: Trying my new system

---
This was my second or third weekend now using the Pickswise site to try and guide some of my bets. While the results weren't exactly what I was hoping for, I have to admit I have come closer to winning more now than I have in the past thanks to the site.
I've really gotta hand it to my brother in law for letting me know about this site. He gets all the credit, no doubt about that. I'm actually at the point where even if I don't win, betting is fun because it is less blind guessing and more a good possibility I won't lose all my money each week.
I'm looking forward to seeing what I can do moving into the later part of the NCAA basketball season. That is where I earned a good deal of my money last year.
If you want to check out Pickswise, you can follow this link.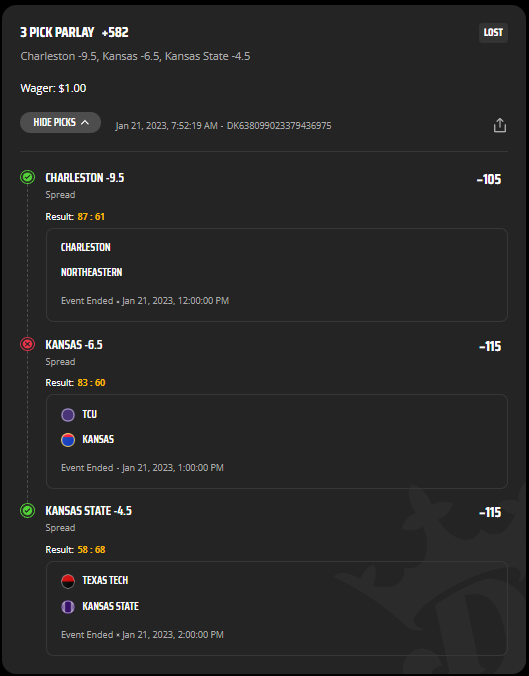 ---
I've been wanting to do something more with my Draft Kings account for a while now. I feel like I have been neglecting it and I'd like to build the bank back up there (without depositing my own money). That means I need to bet every now and then so I can hopefully win every now and then.
I placed my first bet of the year in Draft Kings this past weekend.
It was a three pick parlay on college basketball and honestly it was a good selection. I can't really complain about it. That smack down TCU gave Kansas came out of nowhere for a lot of people. You would have had to be from the future to know that was going to happen. Either that or just a dang lucky SOB. I don't know.
It would have only been about six bucks, but I would have taken the win. I plan on trying to do a couple more bets in that account this coming weekend. I'd like to have a floor of $50 in that account and I am currently only at $30.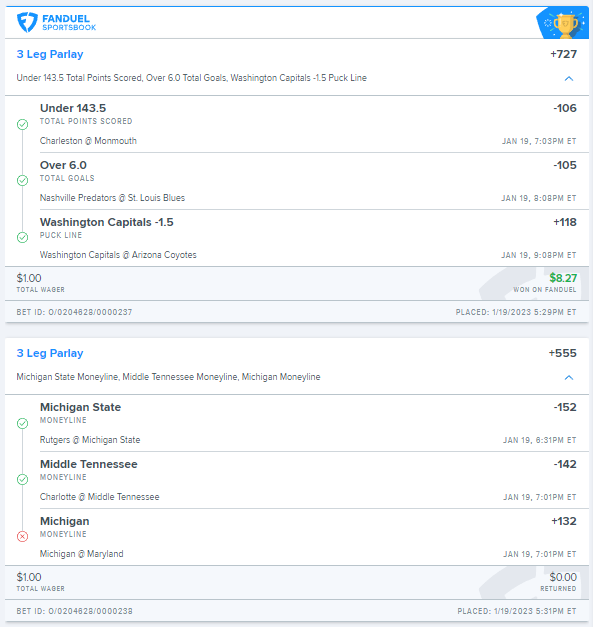 ---
I had some early luck at the end of last week on my Fan Duel account as you can see here. That first parlay on Thursday night kind of kicked my butt. I should have known that you can't count on U of M for pretty much anything . All they had to do was beat Maryland. I bet that was a tense game given the fact that the Michigan head coach and the Maryland one don't get along at all.
Michigan State did their part, but it became a moot point thanks to Michigan.
The other parlay bet I placed ended up doing a bit better for me. Checkout that $8 win on a $1 bet. This is an example where I used three of the top picks from Pickswise and bundled them into a single parlay.
I was pretty happy to see that payout hit my account!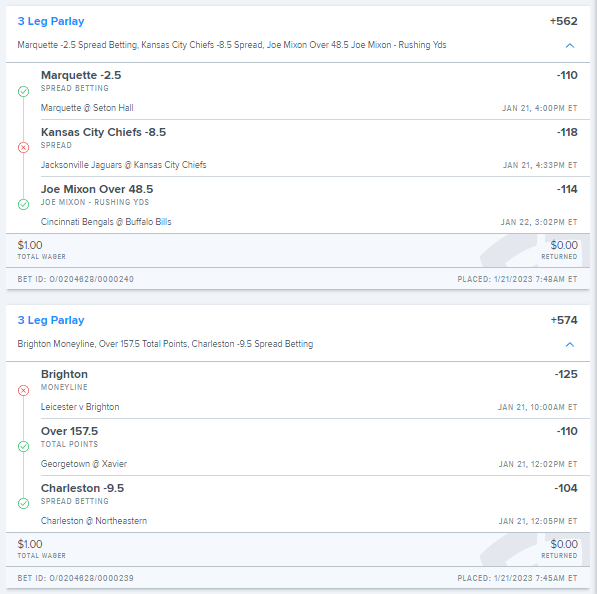 ---
Like I said in the opening, Pickwise has gotten me closer to winning than I ever could have done on my own. If I had to guess, I think 90% of my bets this week that didn't win only fell short by one leg in the parlay. That is pretty impressive and gives me a lot of hope that continuing to bet like this might just hit more than it misses.
We all know by now the Chiefs had a tougher game against Jacksonville than we thought they would. If Mahomes had stayed healthy the whole game, there is a good chance they might have covered the 8.5 point spread. As it turns out they didn't and I lost $1 instead of winning $5.
I'm not really mad about that first parlay, but the second one just drives me nuts. Freaking soccer bets and those dang ties! They literally get me every time! That would have been a really nice $6 pickup if Brighton could have just scored one more goal. Instead, they tied with Leicester and I fell short by one leg on this parlay.
Stupid ties!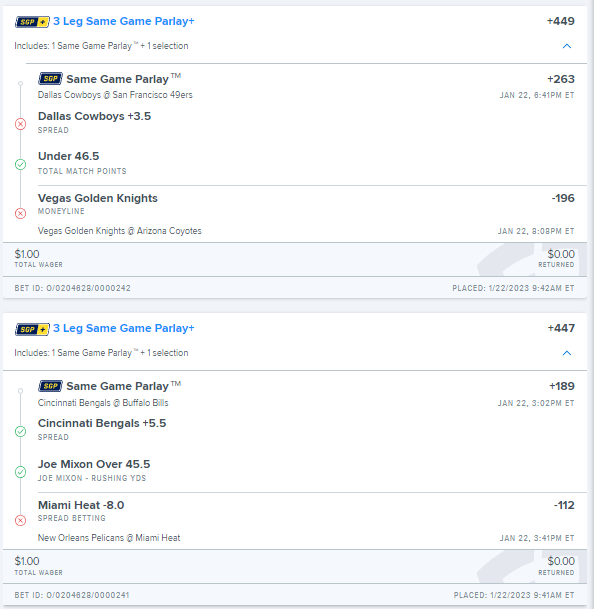 ---
Finally, we have the rest of the NFL games that I bet on over the weekend. As you can see, these were same game parlay pluses. Which I guess just means that two of the legs were in the same game and the third leg was outside of it. That first parlay on the Cowboys game is the farthest off I have seen Pickswise be yet.
I guess they can't be right all the time though. It wouldn't be much fun in that were the case. Okay, maybe it would be, but we all know it wouldn't last. There's no way the casinos would be okay paying out that much money all the time!
It would have been a cool boost heading into next week if that second parlay for $4.50 could have hit. That would have put me back around $170 heading into the games tonight and this weekend. I guess I will just have to see what I can do to fix that.
You best believe I will be looking to Pickswise for some advice on that!
---
---

---
All pictures/screenshots taken by myself or @mrsbozz unless otherwise sourced
---
---