Happy Thanksgiving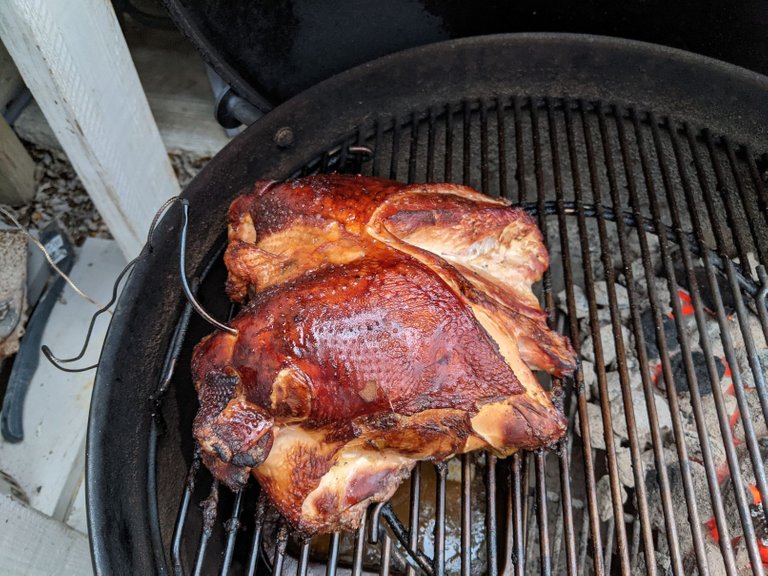 ---
If you happen to live in a country where they celebrate Thanksgiving, I hope you have a great one! If they don't celebrate it there, I hope you have a blessed day and you get to spend some time with your family or friends this weekend.
This picture is actually the turkey breast that my wife and I had last year because we decided not to gather together with family for Thanksgiving. I smoked this one on the grill most of the day and it was delicious.
This year we are going back to our old traditions and having a big dinner with our family.
Right now, I preparing myself for all the food by sitting on the couch and watching the Michigan State Spartans play basketball and the Detroit Lions play football.
Keep your eye out for a sports post on those topics in the next couple of days.
This is going to be a short post, but I would like to just give a shoutout to some of the people and communities on Hive that I am thankful for.
I honestly missed the big pump in price today, but it is really nice seeing my estimated account value being so high for once.
So first, let's get to the people:
@steevc
@slobberchops
@cryptictruth
@cryptoandcoffee
@tattoodjay
@ericvancewalton
@bdmillergallery
@verhp11
Have been great followers through the years. I really appreciate the comments and support they have given me. There are so many more that I likely should have listed here. I apologize if I haven't. If you don't follow any of these fine people, you need to fix that right now. It is imperative that you check out the awesome content they are putting out.
Finally, let's talk about the communities.
The LEO community of course is one of the must mentions.
Proof of Brain has been pretty great as a catch all for my content.
I'd also like to give a shoutout to the Whiskey/Whisky community that I am a moderator of. I think that could be a really huge community given the recent popularity of Whiskey and Bourbon. What a great place for everyone to share their reviews on their recent drinks.
There you go, those are just a fraction of the things that I am thankful for this year.
How about you?
---
---

---
All pictures taken by myself or @mrsbozz
---
---