Hauling out the past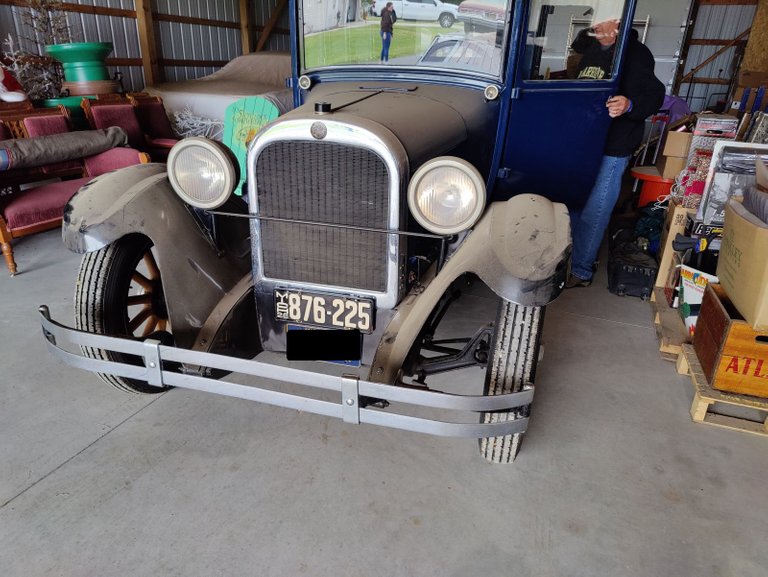 ---
I was hanging out at home the other day with @mrsbozz when I got an unexpected phone call. It was @a4xjeeper and he wanted to know if I had any plans for Saturday. I looked at my wife with that "do I have any plans for Saturday?" look and she whispered for me to see what he wanted.
He explained that he needed some help hauling some tractors from a town in the "thumb" of Michigan called Elkton, to a house just a couple of miles from where I live. It was about an hour and a half drive, so I figured I could definitely spend the morning helping my buddy out.
It's pretty rare that he calls me for help, usually it is the other way around, so @mrsbozz was pretty insistent that I do whatever I needed to help him out. It didn't take much coaxing anyway, I really enjoy spending any time I can with my friends.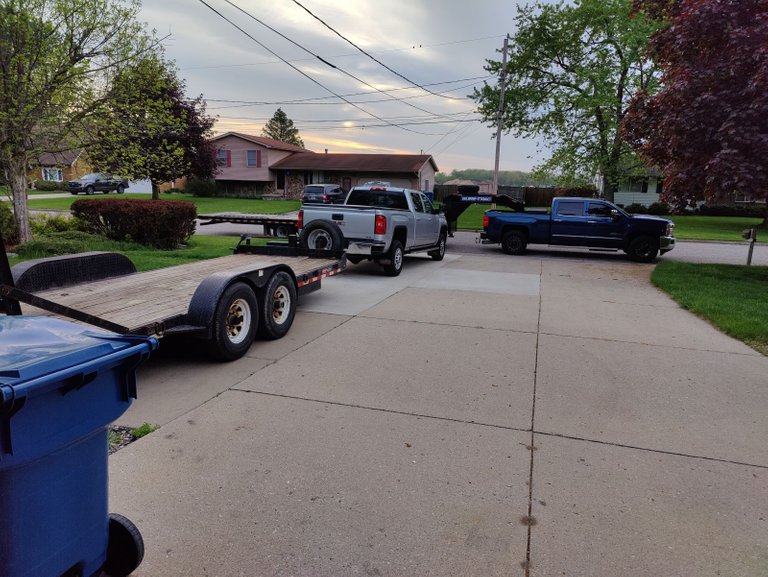 ---
When I first talked to @a4xjeeper, he thought we were only going to need to take one trailer. He has the goose neck trailer you can kind of see on the road in the photo above. We planned on riding together and picking the equipment up and bringing it back.
After he got more details, he realized we were going to need to take two trailers with us, so that meant my trusty 2500 was going to see some action. He brought his flatbed and a hitch for it, but the hitch didn't work with my truck, so we had to wait and see if he could find something different.
At 6:30 AM on Saturday morning he showed up with a different hitch and we were able to get the trailer connected to my truck and on the road.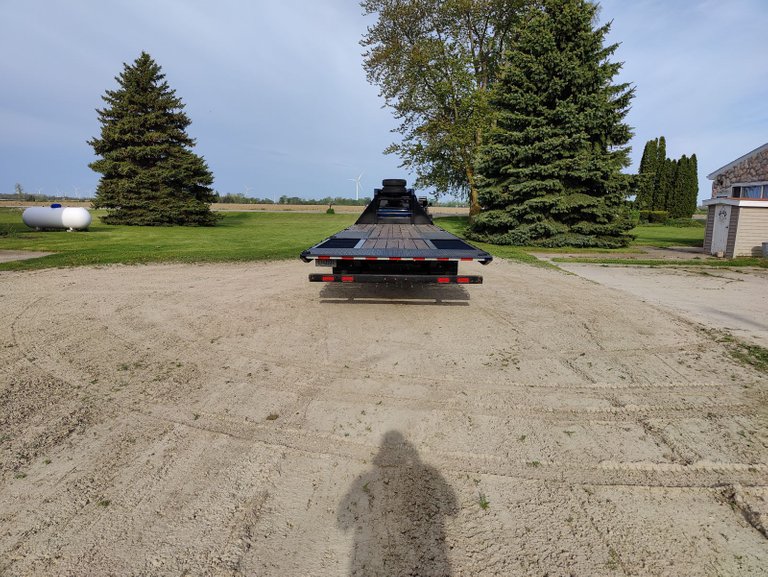 ---
What started out as picking up a couple of tractors had morphed into us picking up three cars at an old farm out in the "thumb". We call it the thumb because if you look at Michigan it is shaped like a left hand. The state is often referred to as the "mitten state", and the thumb is the portion that creates the East coast of the Saginaw Bay and looks like a thumb.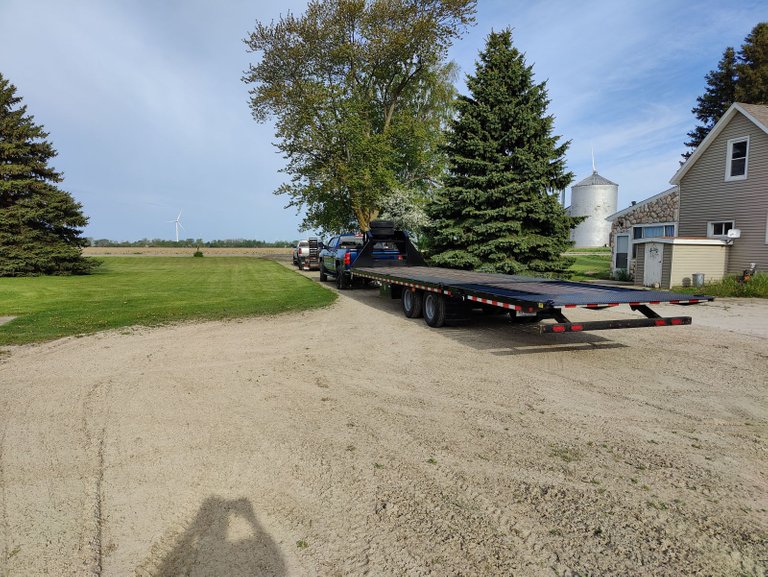 ---
The drive over to Elkton, MI was pretty uneventful. They are doing some construction near Bay City, MI and for many of us, that is considered the gateway to the thumb. It wasn't a big deal though because their are four bridges across the Saginaw River in Bay City and even though two of them were being worked on, the other two were open.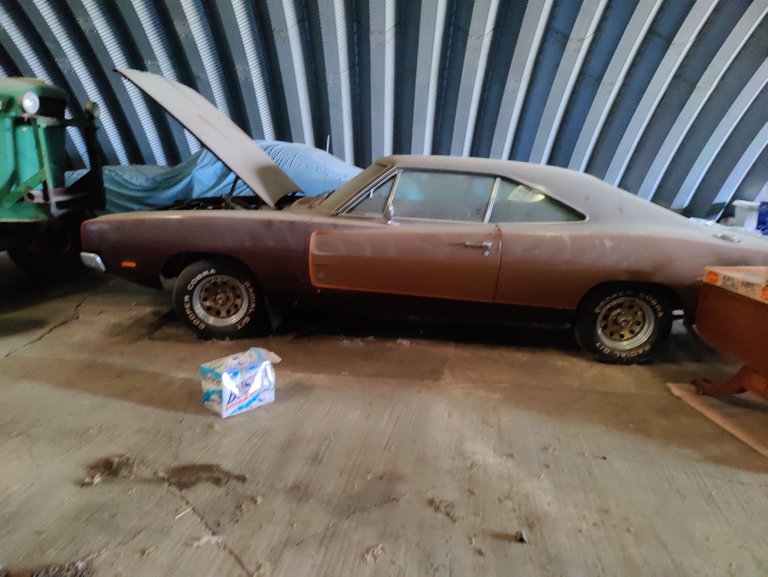 ---
As I was walking through the barn, I noticed this old Dodge Charger sitting along the other side. I'm not great with cars, but after looking it up online, I believe it is a 1969 or somewhere close to there. Unfortunately, we were not taking that car with us today.
If you look just beyond that car, there is another vehicle with a cover over it. Apparently that covered vehicle was a Plymouth Barracuda, but I wasn't able to get any pictures of it. It also was not one of the cars we were hauling that day.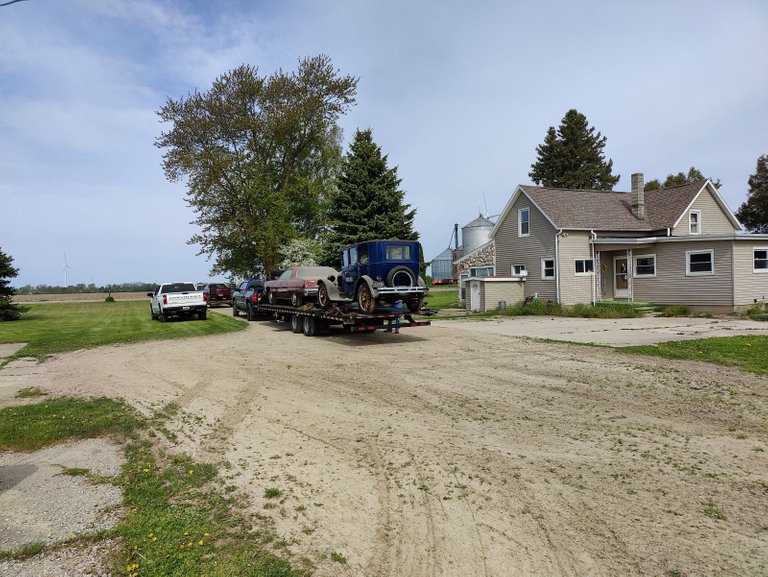 ---
Instead, we were tasked with moving a Chevy Beretta circa 1990 something, a 1972 Caprice Classic, and the Dodge Brother's antique auto you saw in the opening photo.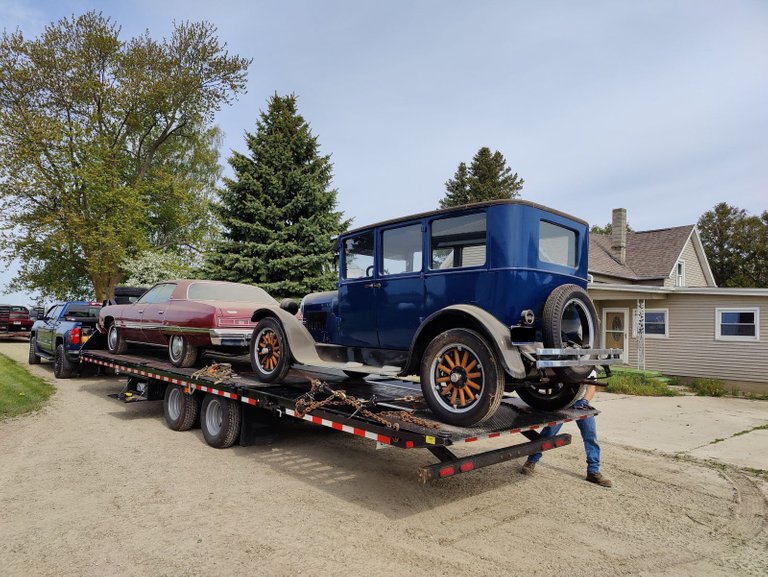 ---
It really felt like one of those stories you hear on the news where some old guy passes away and then they start exploring the property and find this barn full of classic cars. In this case, it was an older person who had passed away, but the family had hired my friend to move the three cars they were taking back to their house.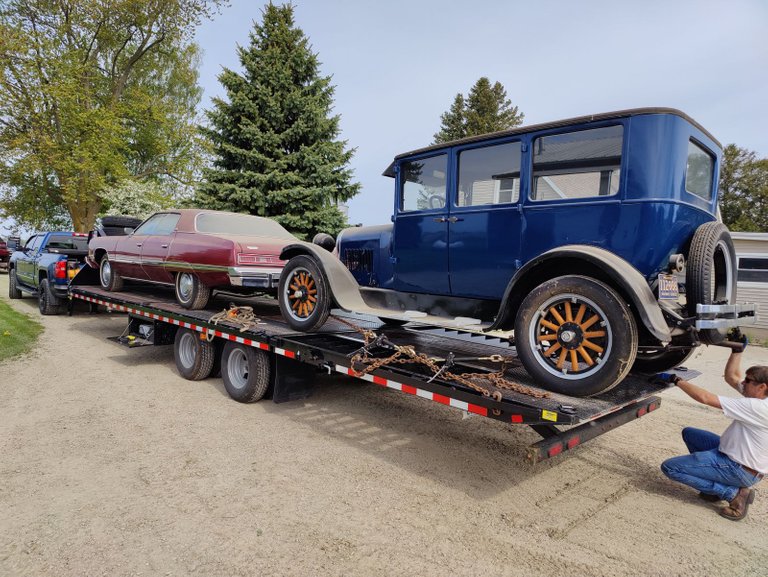 ---
Of course it is never easy. None of the vehicles were able to be started. We had to pull each of them out of the barn with another truck. Then we had to tow them with the same truck up onto the trailers that we were hauling them home with.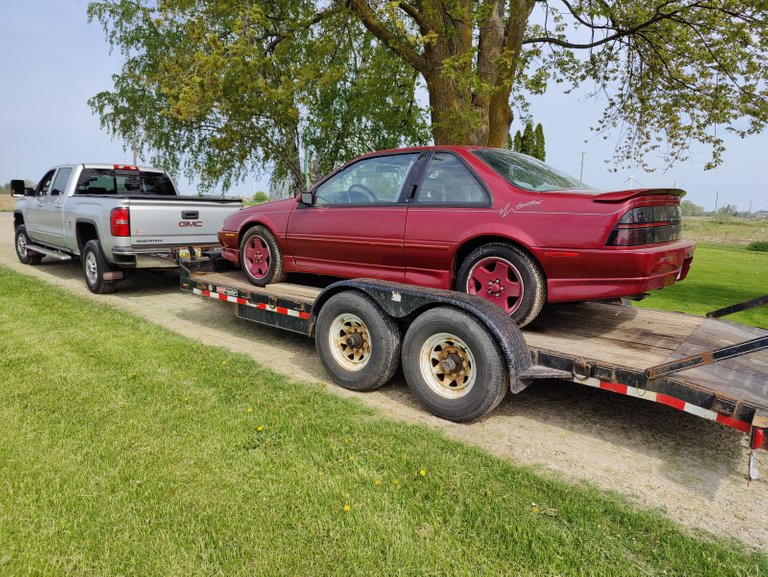 ---
The Beretta proved to be especially obstinate. The brakes had seized up on it, so one of the tires was completely locked. Then, once we got it moving and the brakes broke free, we soon found that I had no brakes at all. Which made it a bit difficult to control.
Finally, we got it up onto the trailer only to find that I was stuck inside of the car. I had been in the car so that I could steer it as they were pulling it up onto the trailer. Unfortunately, my friend forgot about the fact that the trailer had fenders over the wheels.
With the car up on the trailer, there was no clearance for me to get the door open on either side. The car was new enough that it had power windows, but with the battery dead, those weren't working for me to climb out that way. Eventually, the group of people that were there watching lifted the side of the car on the suspension so the door would clear the top of the fender and I could get out.
I'm not usually the claustrophobic sort, but it was getting hot and smelly inside that old car and I just wanted to get out!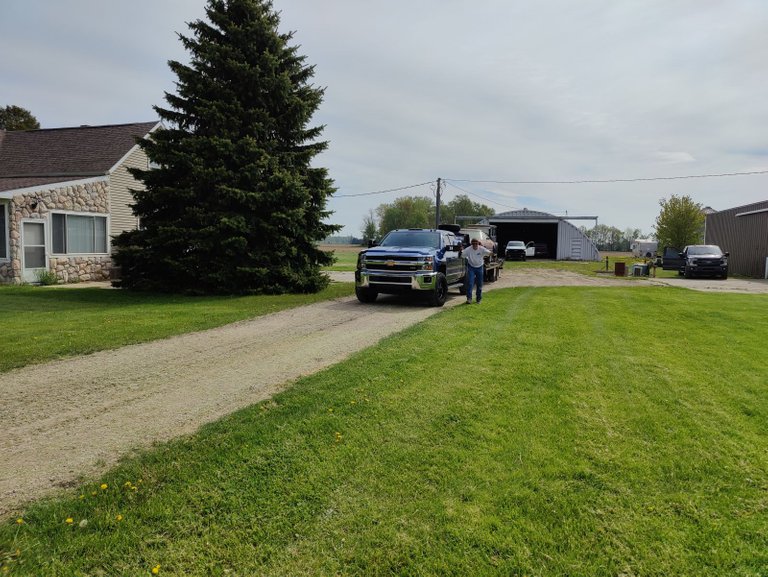 ---
With the three cars finally loaded up and chained down, we started our trip back home. We stopped in the town of Elkton to check the chains on the vehicles and we had several people stop and ask us about the cars. They wanted to know what year they were and if they were for sale.
I said, "I'm just hauling them, sorry".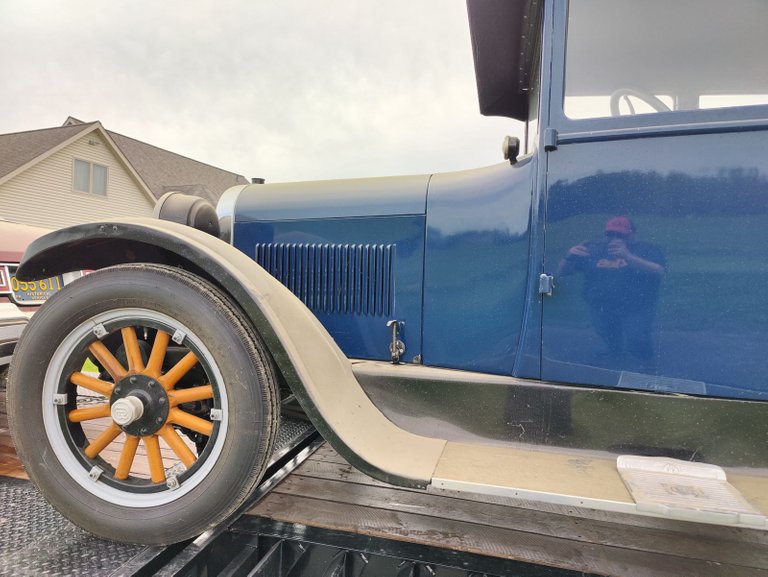 ---
We made the hour and a half trip back with only one slight issue which I will get to in a second. I tried to get some more photos of the old Dodge Brothers car because it was really cool. I especially loved the detail in the wheels with the old wooden spokes.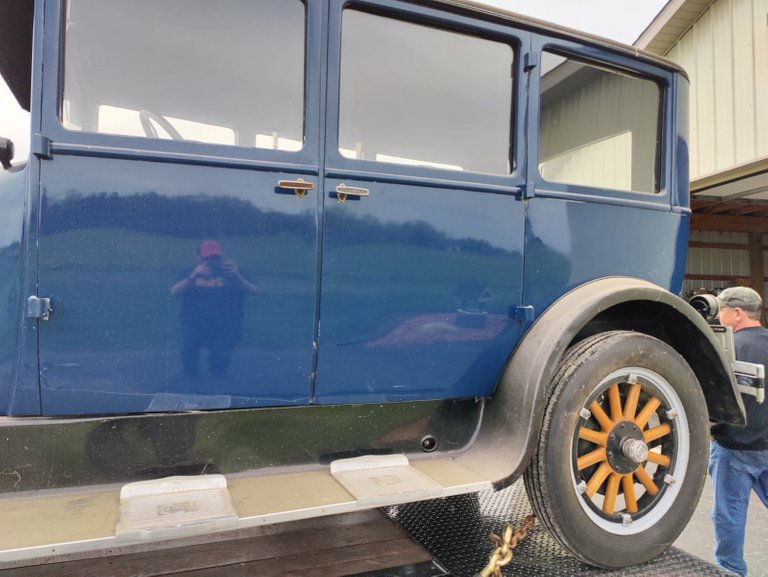 ---
I don't know the exact date of the car, but if I had to guess it was 1920's or 30's based on the images I am seeing online.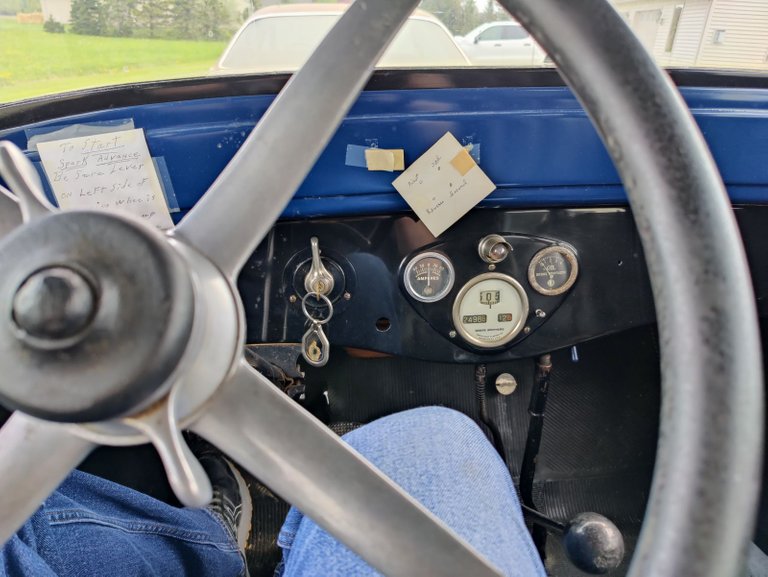 ---
One thing I do know is that there was very little space inside the vehicle. They must have made these things for short skinny people because there was very little room for a fatty like me to squeeze in between the seat and the steering wheel.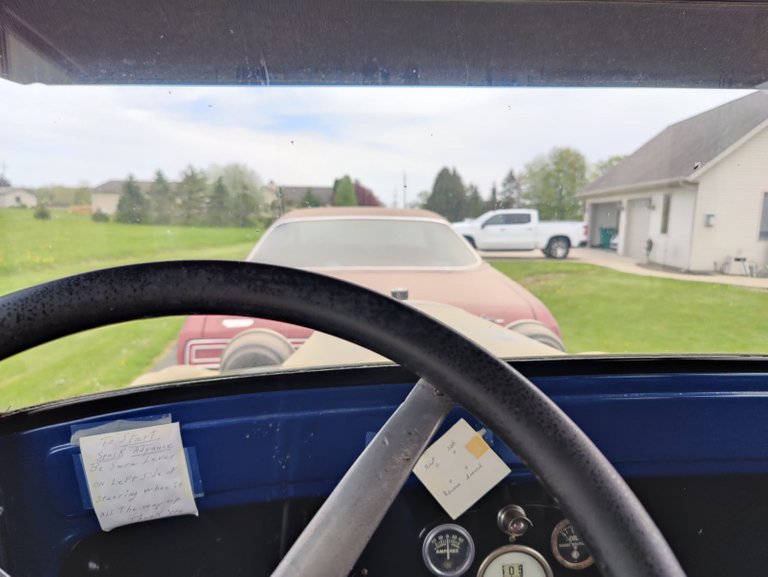 ---
It looked like at least until recently the car was in working condition. It would have been cool to get a photo of the engine, but since I was just the guy hauling it, I didn't want to be presumptuous. The seat itself was actually pretty springy and comfortable. It was just getting in and out that was a pain.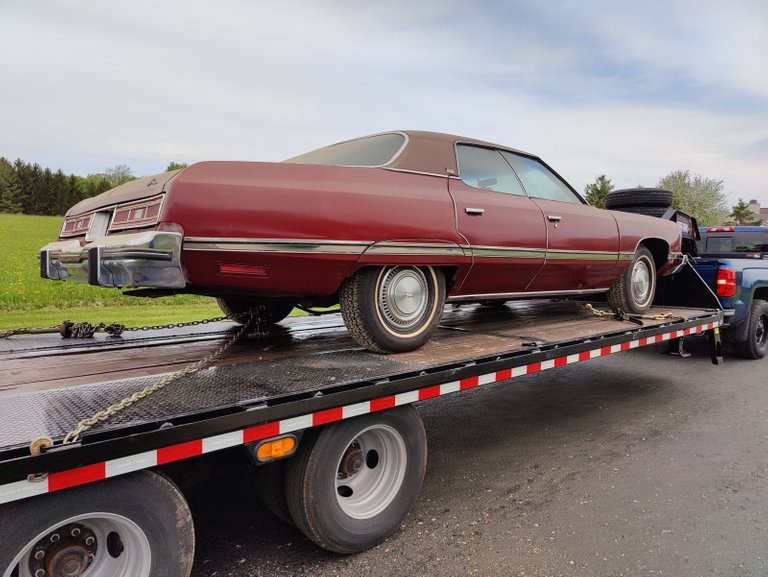 ---
Remember how I said there was a small issue coming back? Well, running over one of the sets of railroad tracks, the Caprice bounced and one of the chain connectors punctured the gas tank and my friend was dripping gas all down the road.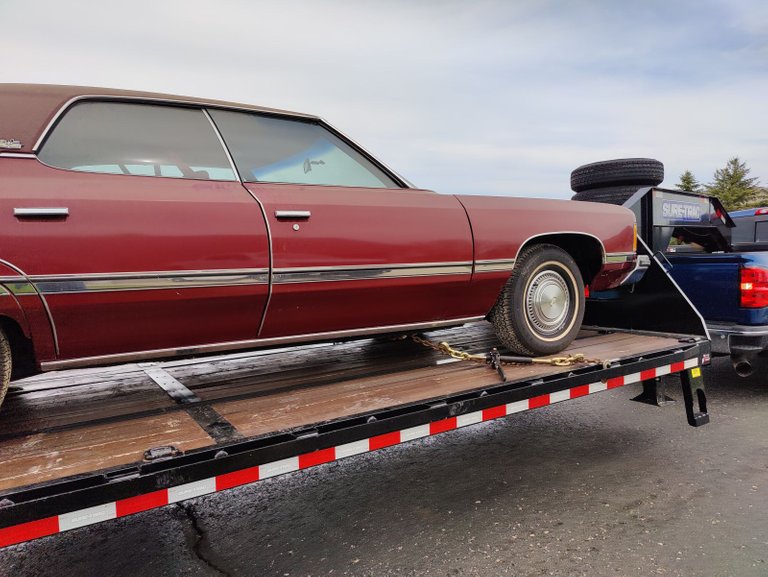 ---
It sounded like they were going to sell that car anyway, so they likely will just get it patched or sell the car as is. At least from the looks we got on the way home, there area lot of people who would be interested in this boat of a car. I'm not kidding when I say it was huge!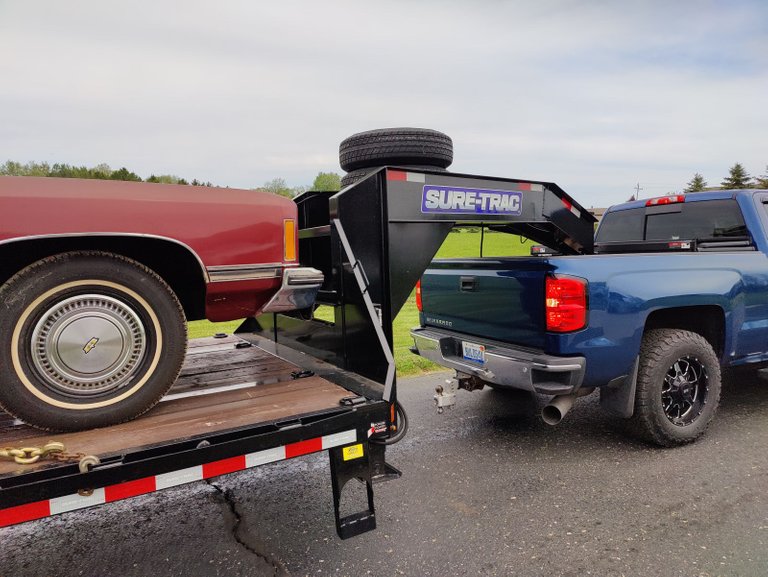 ---
Needless to say, with no brakes, the Beretta was a bit exciting to get down off the flatbed I was hauling. It almost ended up running into the front of the pole barn before they were able to stop it. I was just trying to steer it straight, but all I heard was a lot of screaming as I started gaining speed going backwards off the ramp.
In the end, it ended up being fine. The owners were very happy we were able to haul them and they handed us each a tip of $100.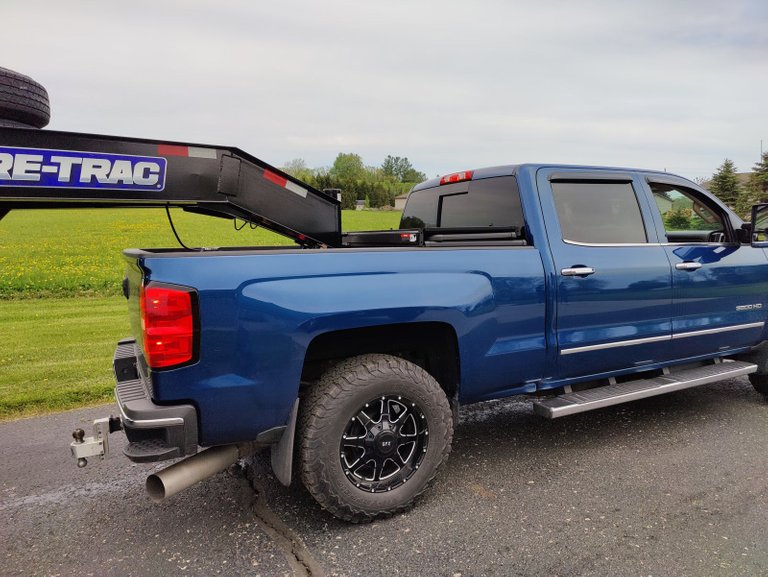 ---
By now it was close to 2:00 PM and what I thought was going to be a quick morning drive out to the thumb turned into a most of the day thing. We got the trailers back to his house and I was getting ready to leave when he handed me a stack of money.
He has given me money before in the past to invest in crypto (that's how he ended up with Hive account), so I thought he was just giving me more money to invest for him.
He said "I didn't tell you this was a paying job?". Here I thought I was just hanging out with my friend for the morning and I end up heading home with a wad of $100 bills in my pocket. Talk about a great day!
@mrsbozz was pretty happy too! :)
---
---

---
All pictures/screenshots taken by myself or @mrsbozz unless otherwise sourced
---
---