Introducting: BOID Avatars

---
I've been a member of the BOID community pretty much since its inception. I know I was one of the first people to consistently mine the token and for a while I was in the top ten or son on the global leader board for mining.
In case you haven't read one of my posts, or heard about it yet. BOID is a token on the EOS blockchain (and now TELOS) that you earn for donating your spare computer resources to the advancement of science.
For example, you may leave your computer on over night and allow it to process small chunks of data that are sent to it by [email protected] or the World Community Grid to do things like map cancer markers or find cures for various other diseases.
The BOID team is pretty small, so they generally have a lot on their plates. For the first couple of years, the BOID token only had one use. You would mine it to stake more so that you can earn more from mining. It's a pretty simple use case for the token, but one that most of us are very familiar with.
They gamified the experience by allowing users to be part of teams and the global leader board would track team and individual progress. Additionally, they had seasons where the teams would compete against each other for prizes and recognition.
Then everything changed
With the boom of NFTs, BOID launched their own line of NFTs. Additionally, they started working on a game that will use the BOID token. I was pretty happy about all of these additions to the use case of the token. Since I have been involved for so long, I have a decent stack of them, so anything that will drive the price up is fine by me.
I am not as involved as I used to be and that is part of the reason this latest announcement kind of slipped past my radar. A short time ago, the BOID team introduced BOID Avatars. I've been involved with a lot of NFT projects as a consumer, but I can honestly say this is probably one of the most unique I have seen.
Crafting
Crafting isn't anything new to the NFT world. There have been many intellectual property releases that use some kind of crafting metric to combine pieces of an NFT into one specific NFT. BOID has decided to take more of a "Mr. Potatohead" approach and allow you to create your own crafts.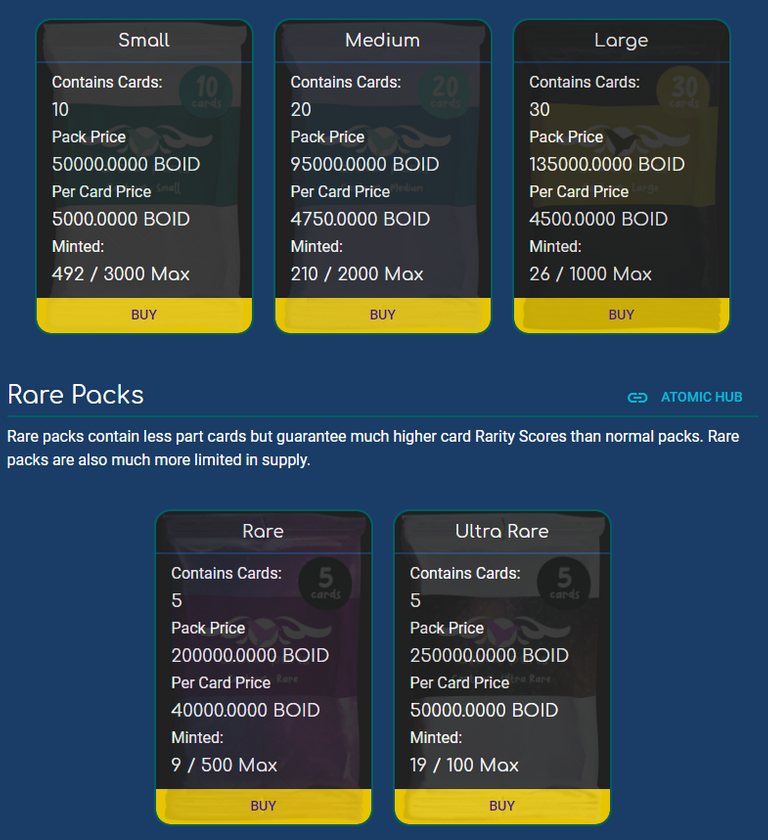 ---
Card packs must be purchased in BOID but that is pretty easy to get your hands on using one of the exchanges on the EOS network. You just need to have an EOS account and have some resources staked. I ran into an issue when I was trying to claim the 70 cards from the packs that I opened that I didn't have enough CPU and Network staked to claim them.
Thankfully there are free services that drip you a small amount of CPU a couple of times each day like eospowerup.io.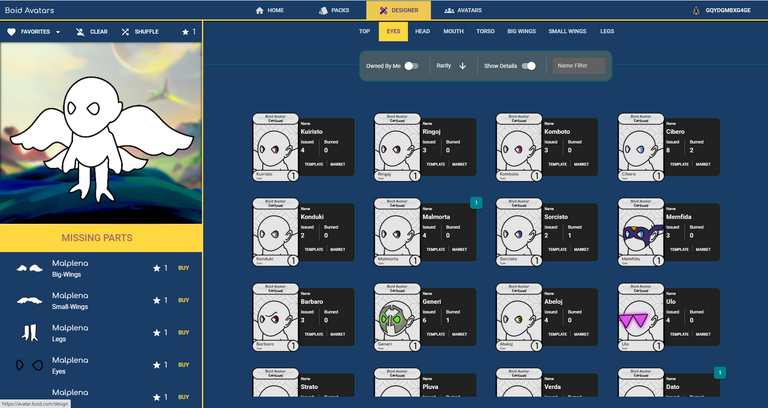 ---
Once you have your packs purchased and opened, you will want to jump over to the "Designer" section of the page. This is where you can design your own specific template based on the parts that you have from your packs.
You get to pick from a variety items to customize parts of the avatar like its wings, legs, eyes, torso, head, mouth, and torso. The rarer the parts you own, the more rare you can make your avatar template.
After you have finished creating your avatar, you can then choose to publish it for a fee of some BOID tokens.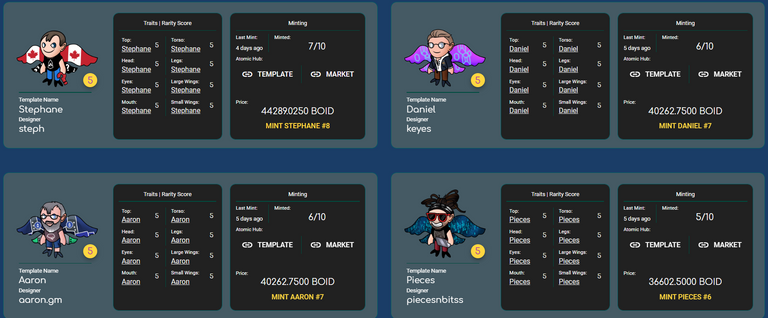 ---
Right now there are about 38 unique templates on the platform that various people have created. You can actually mint any of those avatars if you want to. Of course, it costs you BOID to mint one of the avatars, but this is where the cool part comes...
Every time someone mints an avatar you created, you get a cut of the cost paid back to you in BOID. That means if you create something really special or rare that everyone wants, you could make a decent amount of BOID back in commissions.
Pretty cool right?!
There are a limited number of parts, but the combinations of parts are pretty vast. Looking through the gallery, there are some really unique avatars that have been created. In fact, it looks like some of them have been fully minted out already and you can't purchase them anymore.
Knowing the BOID team, these avatars will not simply end with crafting. I have dug into it too deeply, but it wouldn't surprise me if they have plans to expand the avatars and integrate them into some form of game.
Anything to help raise the price of the BOID token is cool with me!

---
I just created this second avatar on the fly. When you create a new avatar you have the chance to be the first one to mint it for the first hour. After that, it is a free for all. I overlooked that with my first avatar and someone else snagged the #1 mint of it.
I also noticed that the avatars you own allow you to download the image so you can use it for your various social media outlets like Discord, Telegram, etc.
Final Thoughts
I think the BOID team has introduced a really different twist to the traditional NFT crafting system. I am not saying they are the first to do this, but this is the first one I have seen or had experience with.
If you have some assets over on the EOS side of things, it might be worth it for you to throw a little bit of money into BOID and create your own avatar. I am looking forward to seeing how they can evolve and grow this system. I think it has a lot of potential.
---
---

---
All pictures/screenshots taken by myself or @mrsbozz unless otherwise sourced
---
---