Why is everyone hating on the chicken?
Why is everyone dumping their chickens?
The market price of the Furious Chicken has tumbled from $35+/BCX to about $21/BCX for a single unlevelled chicken... and a lvl 6 or lvl 7 chicken is going to cost you just $8.88/BCX now.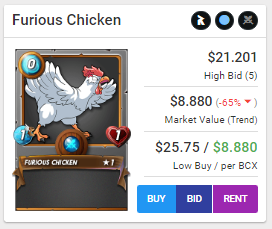 WHY? WHY? WHY?
Fair enough... I get that the new Chaos Legion Fiends are the newest (and better) 0-mana options, and if I have just 1 slot left in my line-up, I'm definitely taking a Fiend over a chicken... BUT... what if you have 2 (or more) slots open... as is often the case in very low mana cap games.
Take this battle ( https://splinterlands.com?p=battle&id=sl_b4f604f9d78955a3aec64ffff796b1fc&ref=braaiboy ) for example...
P.s. I was on a snipe quest, hence the inclusion of the (rather expensive) Mantoid in this game. I almost certainly would have had a different line-up were it not for the requirement of including a sniper... but even with 2 x lower mana cost cards, I would STILL have had 2 open slots.
Click below to view the battle play out: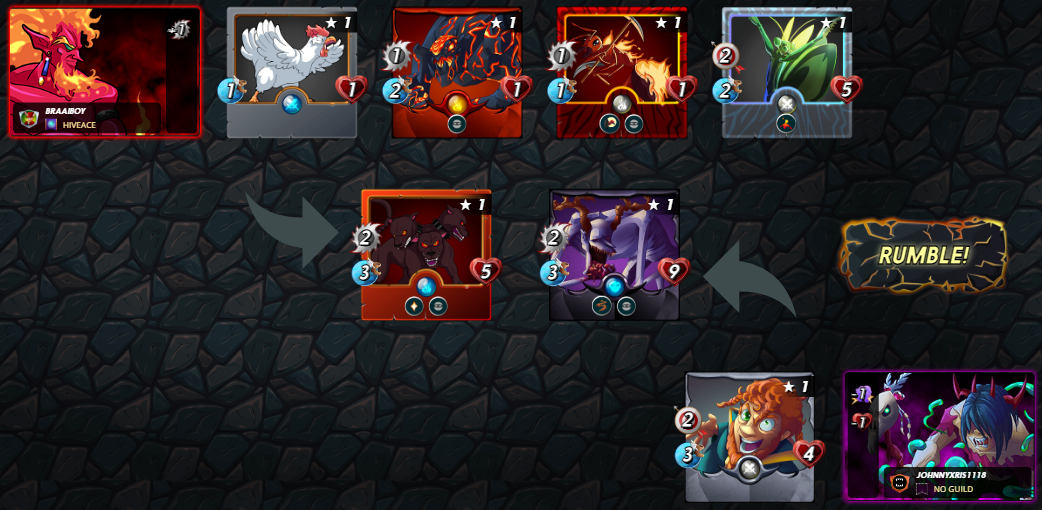 So yes, while the Scorch Fiend dealt the final blow, my fiend would not have survived were it not for the chicken 'taking one for the team', leaving my Mantoid in the first position, and unable to attack I would have lost the game.
Never heard of Splinterlands?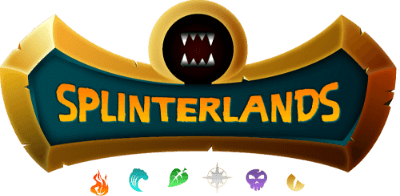 If you're reading this because of a Facebook or Twitter post, you might not have heard of Splinterlands before...
In short:
@Splinterlands is an online blockchain game built on the Hive blockchain. It is similar to Magic: The Gathering and other trading card games... but now each card is an NFT & these NFT's and other in game assets are tradable and have real monetary value. #SCORE!
Click here to play and/or to invest in Splinterlands today.
x-x-x-x-x-x-x-x-x-x-x-x-x-x-x-x-x
P.S. My website will be undergoing a revamp as well, so keep an eye on both http://braaiboy.co.za/braai-recipes & https://zapcast.org/bitcoin-like-a-braaimaster/
...and please connect with me elsewhere on Social... for now ;-)
Facebook: https://www.facebook.com/BraaiBoy
Twitter: https://twitter.com/braaiboy
Instagram: https://www.instagram.com/braaiboy
Posted Using LeoFinance Beta
---
---