How draw Lips - tips and tricks
´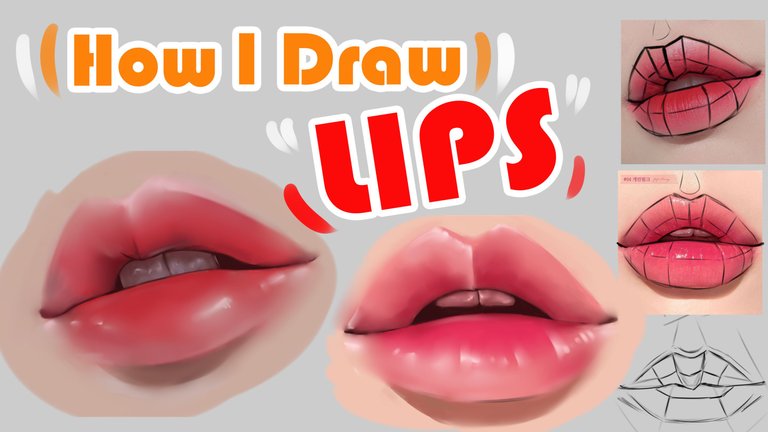 What's up people, how are you? welcome to a new tutorial on how I draw lips, especially aesthetic and sexy lips, as I am exploring how to make tutorials on youtube again, I am learning the art of teaching, today I decided to structure my post and my future video that I will upload on my channel in the next few days, why structure it? I feel that it will make it much easier for you to receive all the information in bits and pieces, going from the form, understanding the form and then going into the painting, to do it in a smooth way and that all the information I'm trying to convey goes directly to your brains hehe.
Que pasa gente, como estan? sean bienvenido a un nuevo tutorial de como YO dibujo los labios, especialmente unos labios estéticos y sexys, ya que estoy explorando la forma de hacer tutoriales en youtube nuevamente, estoy aprendiendo el arte de enseñar, hoy decidí estructurar mi post y mi futuro video que subiré en mi canal en los próximos días, porque estructurarlo? siento que se les hará mucho mas fácil el hecho de recibir toda la información por pedacitos, que van desde la forma, entender la forma y luego entrar en el pintado, para hacerlo de una manera suave y que toda la información que estoy tratando de transmitir llegue directamente a sus cerebros hehe.
Simplify / Simplifica
The first thing we must learn and practice how to simplify any object in this world, that will make it much easier to make lips or anything else we are trying to draw, the first thing I show you is the simple shape, the simplified foreground, very basic and useful, in the second image we have the secondary planes already structured in the lips.
Lo primero que debemos aprender y practicar como simplificar cualquier objeto en este mundo, eso nos hará mucho mas fácil poder hacer labios o cualquier otra cosa que estemos tratando de dibujar, lo primero que les muestro es la forma simple, el primer plano simplificado, muy básico y útil, en la segunda imagen tenemos los planos secundarios ya estructurados en los labios.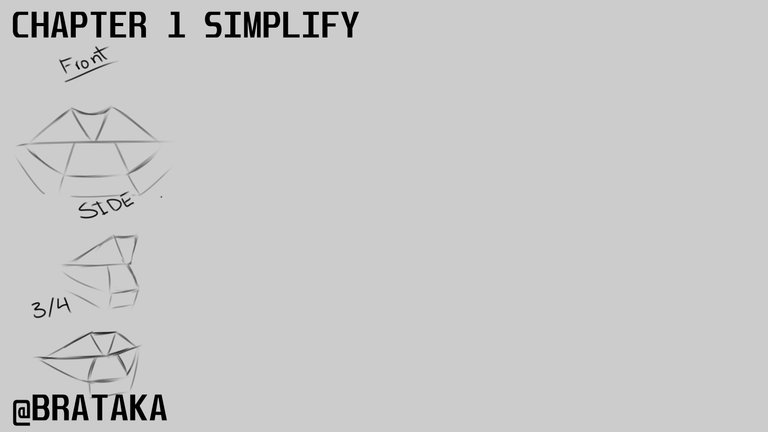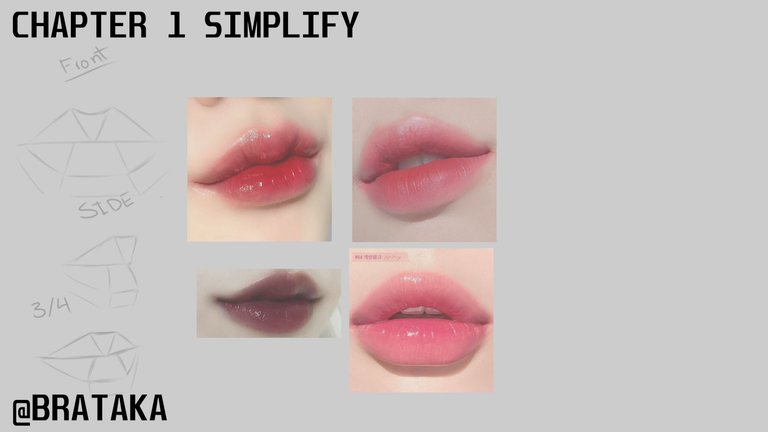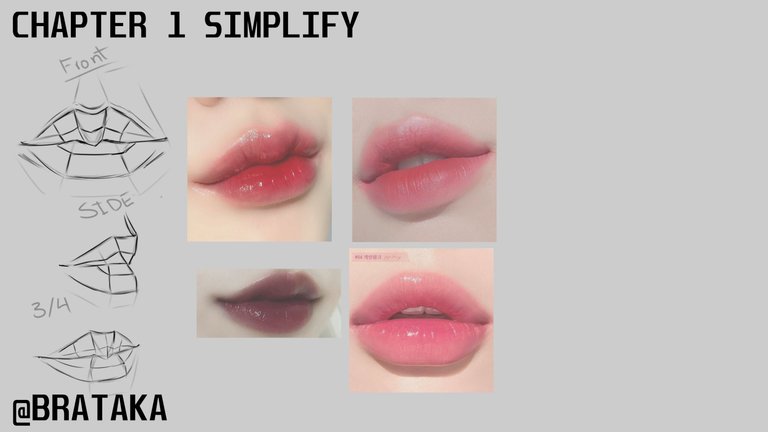 Identifies The Form / Identifica la forma
If you want to learn stop for a moment and make the primary planes that I placed and then the secondary ones, so you get used to separate the lips by sections, then you can the references that I looked for, you are going to structure each one of the lips with the secondary planes that you just practiced, then this same layer we lower the opacity to soften in some way or take a lineart of the lips without including so many lines, it is a way to soften what you are learning.
Si quieres aprender detente por un momento y realiza los planos primarios que coloque y luego los secundarios, para que te acostumbres a separar los labios por secciones, luego puedes las referencias que yo busque, vas a estructurar cada uno de los labios con los planos secundarios que acabaste de practicar, luego esta misma capa le bajamos la opacidad para suavizar de alguna forma o sacar un lineart de los labios sin incluir tantas líneas, es una forma de suavizar lo que estas aprendiendo.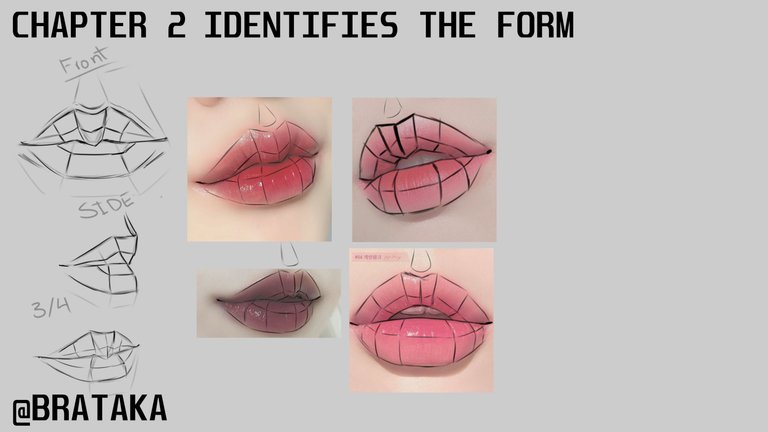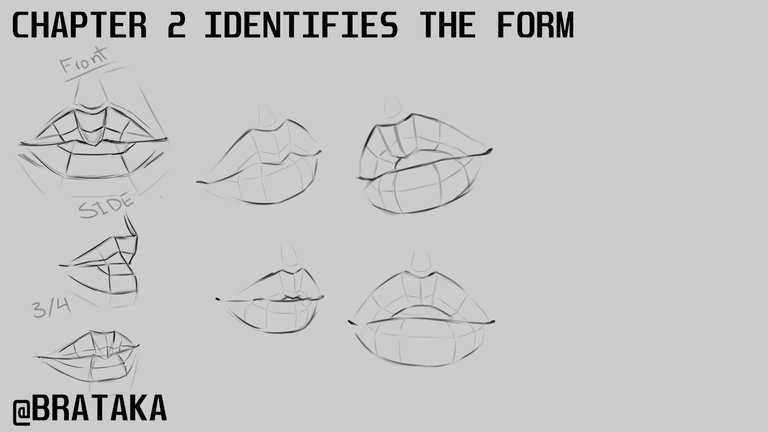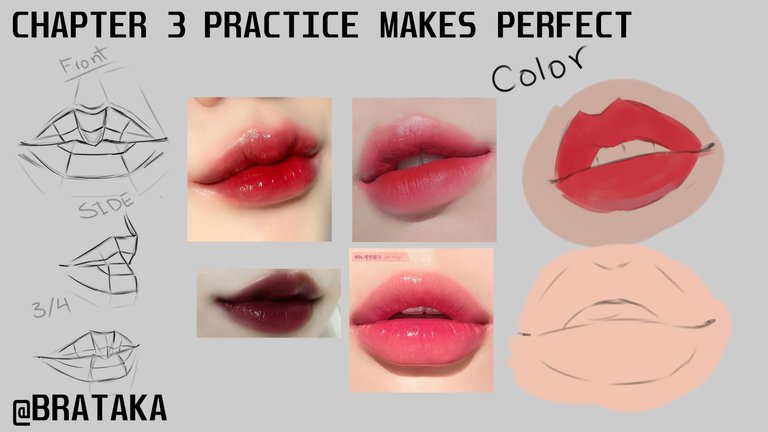 The color / El color
After you practice enough the bases and the structures you can skip all that and go directly to paint the shape of the lips, it is the process by which you get to perfect yourself, in my case I am using references, you can take the colors of the reference and try to get a realistic or softer painting, this time I tried to make very soft lips, semi realistic, something that I have noticed in many people is the way in which the colors of the lips are joined to the skin, they usually do it in a very rough way or not at all, the colors of the lips and the skin should be joined smoothly, creating a small pinkish tone in the edges of the lips.
Después de que practiquen lo suficiente las bases y las estructuras podrán saltarse todo eso e ir directamente a pintar la forma de los labios, es el proceso mediante el cual logras perfeccionarte, en mi caso estoy usando referencias, pueden ir tomando los colores de la referencia e ir tratando de conseguir un pintado realista o mas suave, esta vez busque hacer unos labios muy suaves, semi realistas, algo que he notado en muchas personas es la forma en la que los colores se los labios se unen a la piel, suelen hacerlo de una forma muy tosca o directamente no lo hacen, los colores de los labios y la piel deben unirse suavemente, creando un pequeño tono rosadito en los bordes del labios.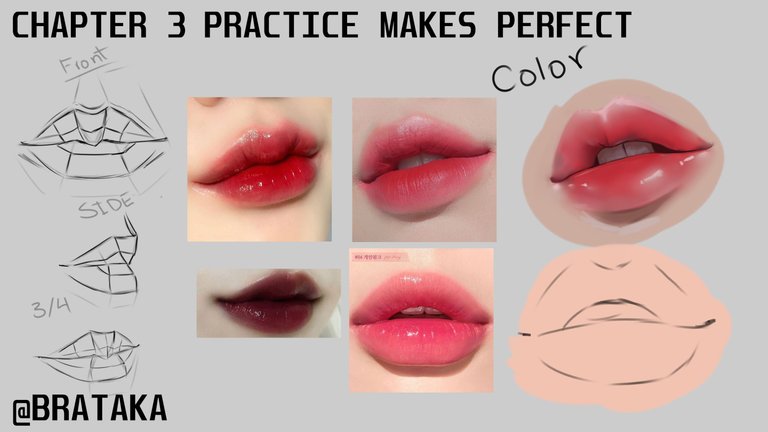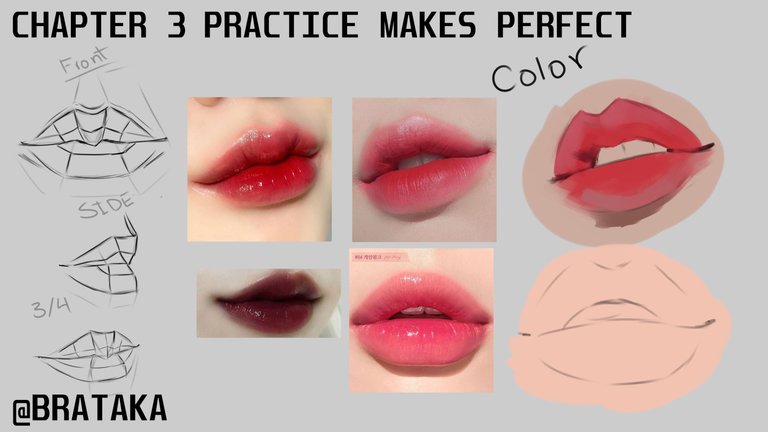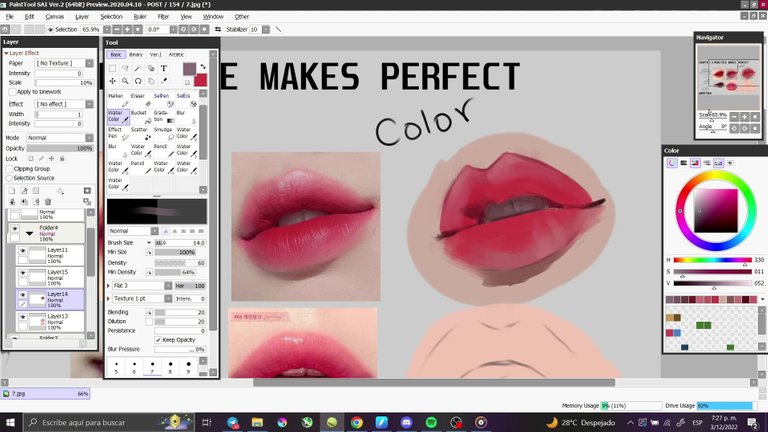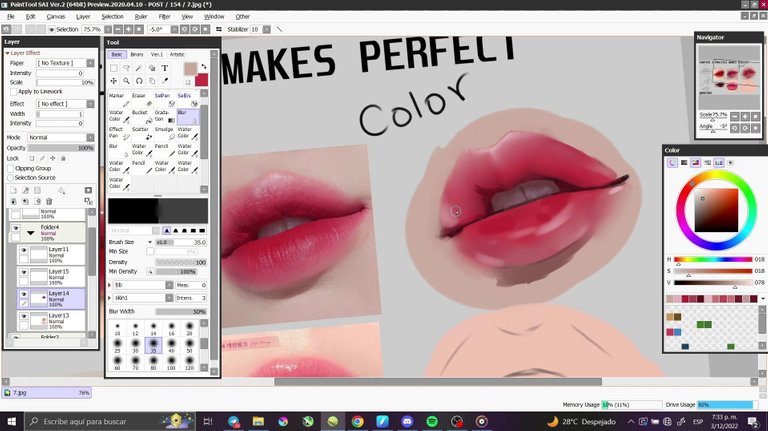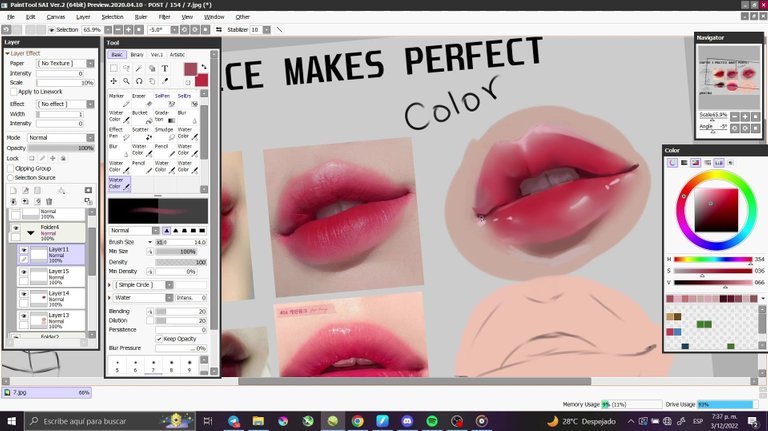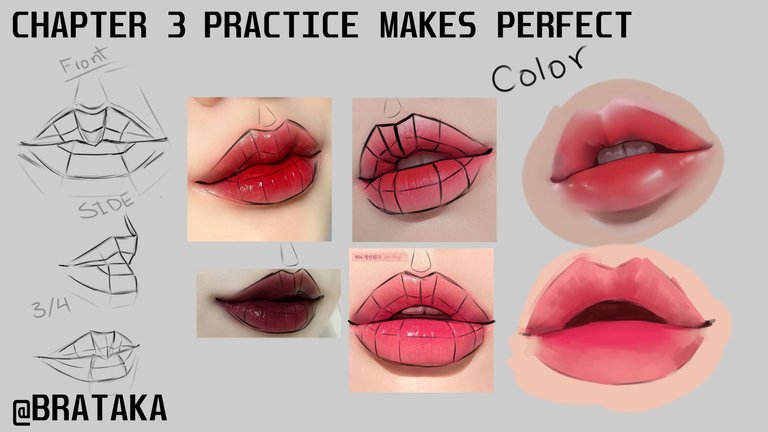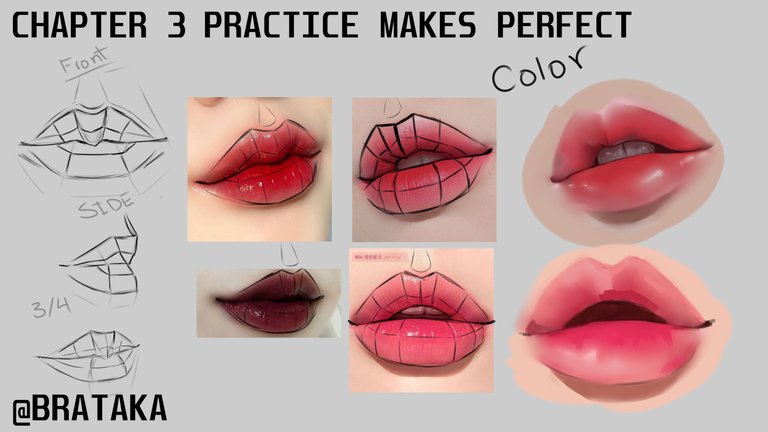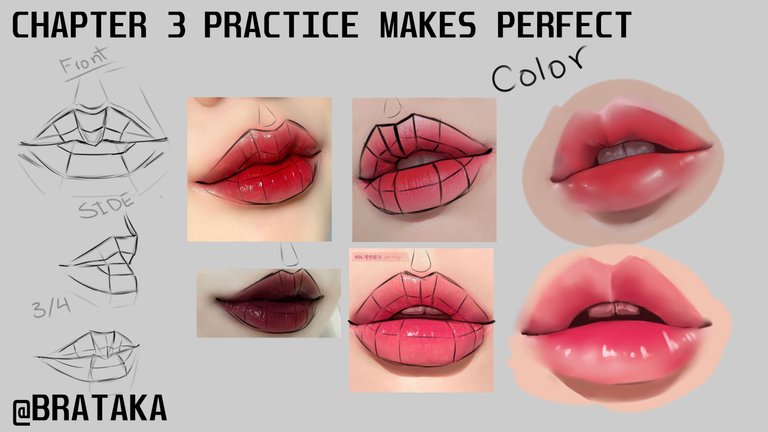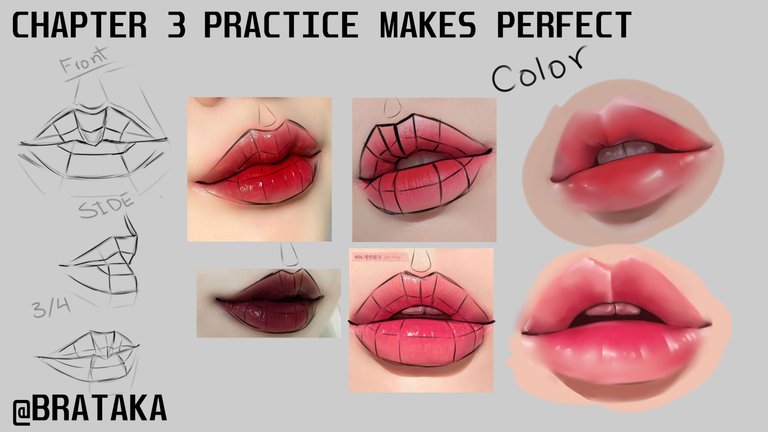 Referencias!
https://www.pinterest.com/pin/22588435620423827/
https://www.pinterest.com/pin/516365913540117122/
https://www.pinterest.com/pin/803118546064236575/
https://www.pinterest.com/pin/326299935513289213/
This was the whole tutorial, I hope you liked it, see you next time!
Este fue todo el tutorial, espero les haya gustado, hasta la próxima!
---
---