Camera Shell case for underwater photography, works like a charm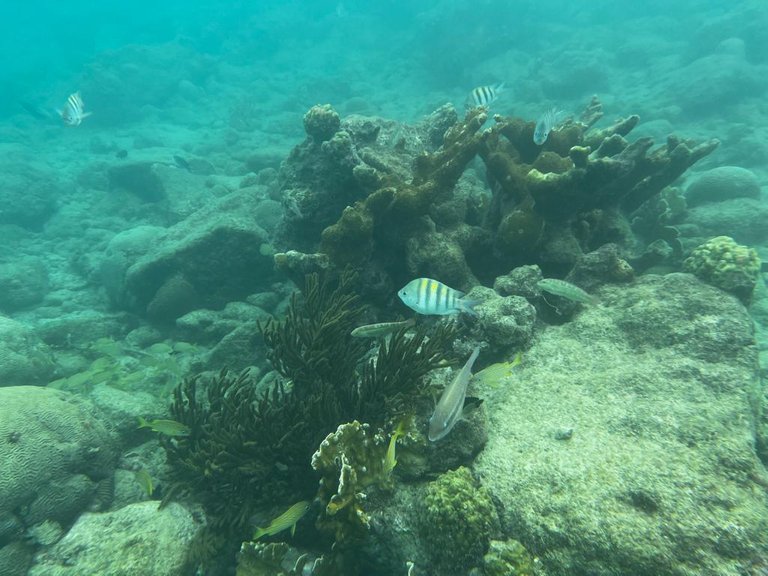 all the pictures in this blog after this one are mine , taken with iPhone in the waters of Curaçao last week
🤿🇨🇼🤿
Remember I did an unboxing blog about the shell case for my phone and photographing for this holiday? Well it's done , I used it and it works like a charm.
Well most of the times and I have to say that the video mode option works the best.
Taking photos and pressing the dot on the screen is harder under water than above!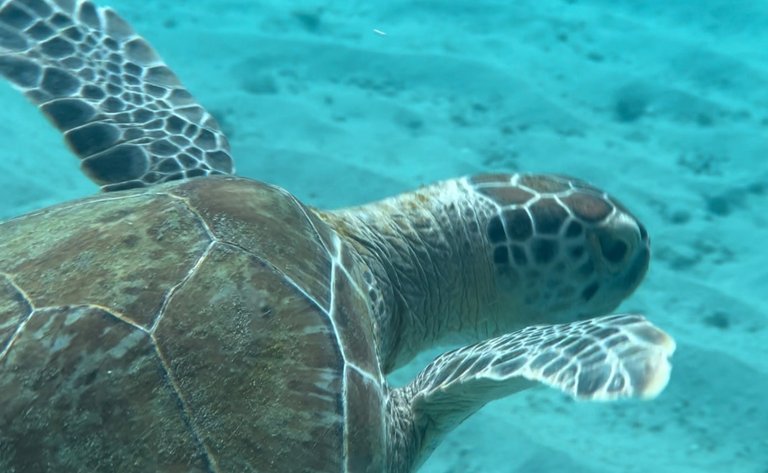 The sun was not that bright that day but the pictures are very nice! The water is the best when the sun is up right on the spot when you go snorkelling.
A good masks is also needed. We have these , full face masks with a snorkel above. With kids ideal and a great Christmas present when you know you will be going on holiday.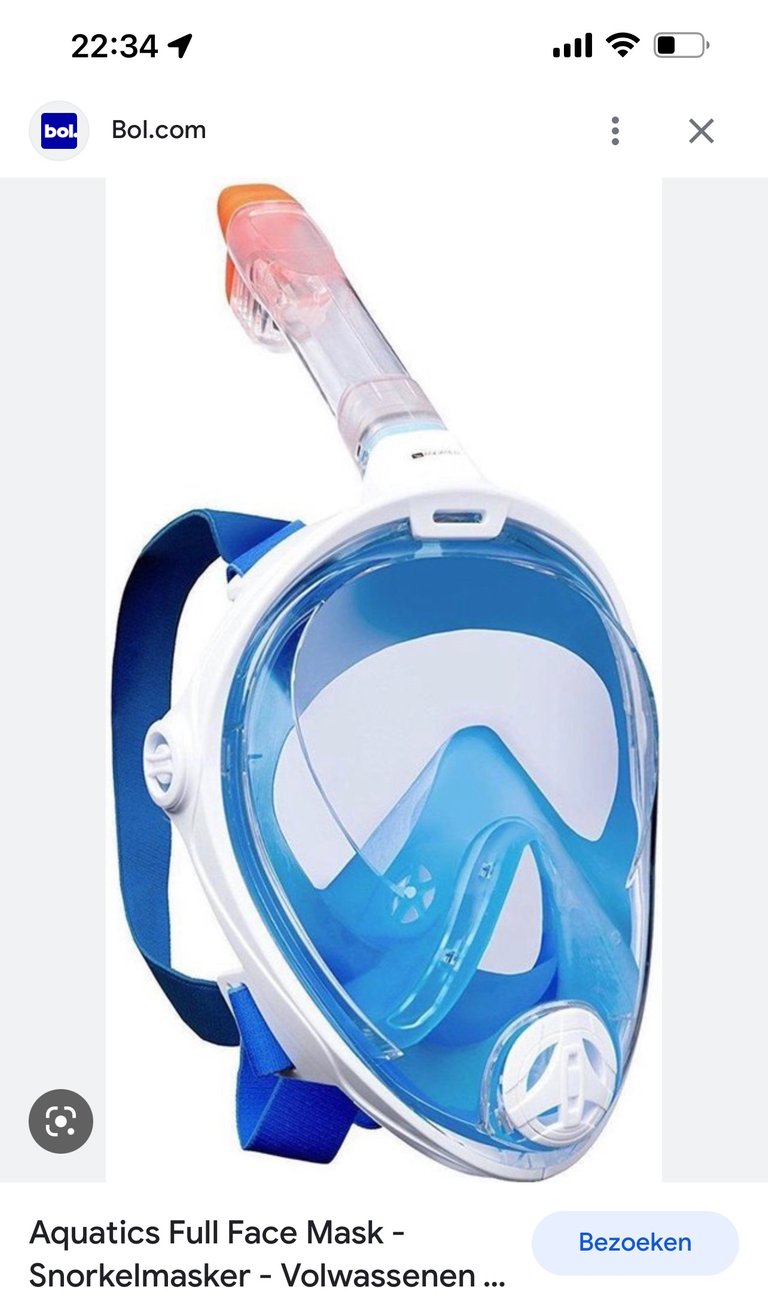 All available online at Bol.com
They also have the camera shell case.
We brought also shirts in white with long sleeves, while during snorkelling the sun burn because of the salt water on neck, ears and back can be major. So that is what the kids wore especially on the hottest days and we did twice.
Ofcourse when you go scuba diving you wear a wet suit. We didn't use this for snorkelling Ofcourse.
When snorkelling you have to go prepared. No boat needed all beaches are great to start from some do have shells and coral at the beginning so be carful with feet and toes.
Also salt is a …. so when you can have a beach with a shower to rinse off the salt after being in the water that is the best.
And I used suncreen 30 and 50 waterproof.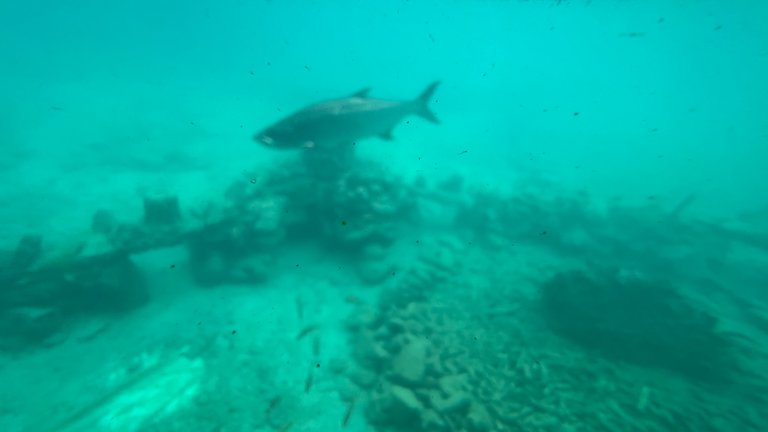 The murene and snake I filmed were dangerous some tourist said on the beach , well I didn't and still don't know if the ones I saw, photographed and filmed were dangerous I just started recording. I was very stil in the water so maybe he thought it was fine and did his thing ( or hers ) like I did mine.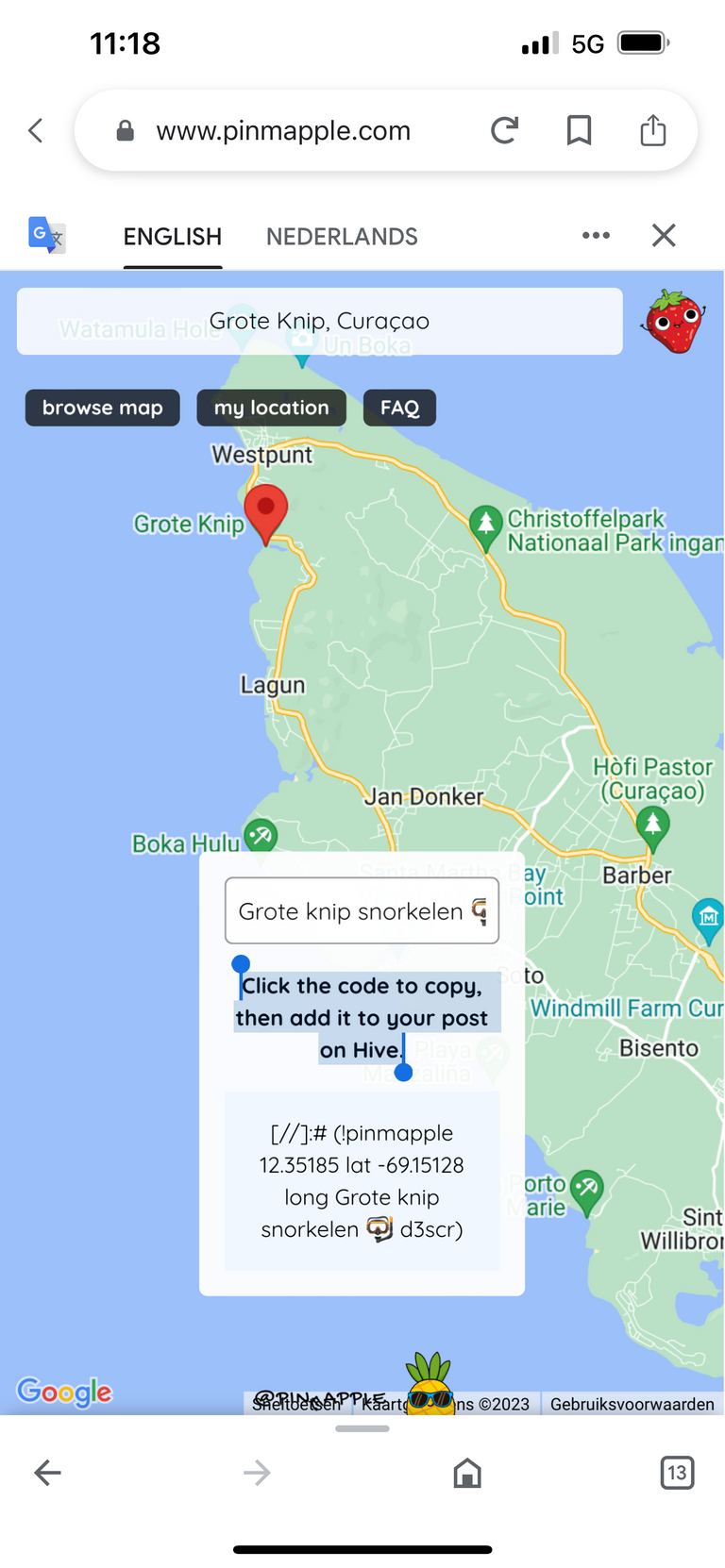 The @ecency bag was a snorkel back pack these days. Snorkel, dive camera case, sunscreen and you are good to go !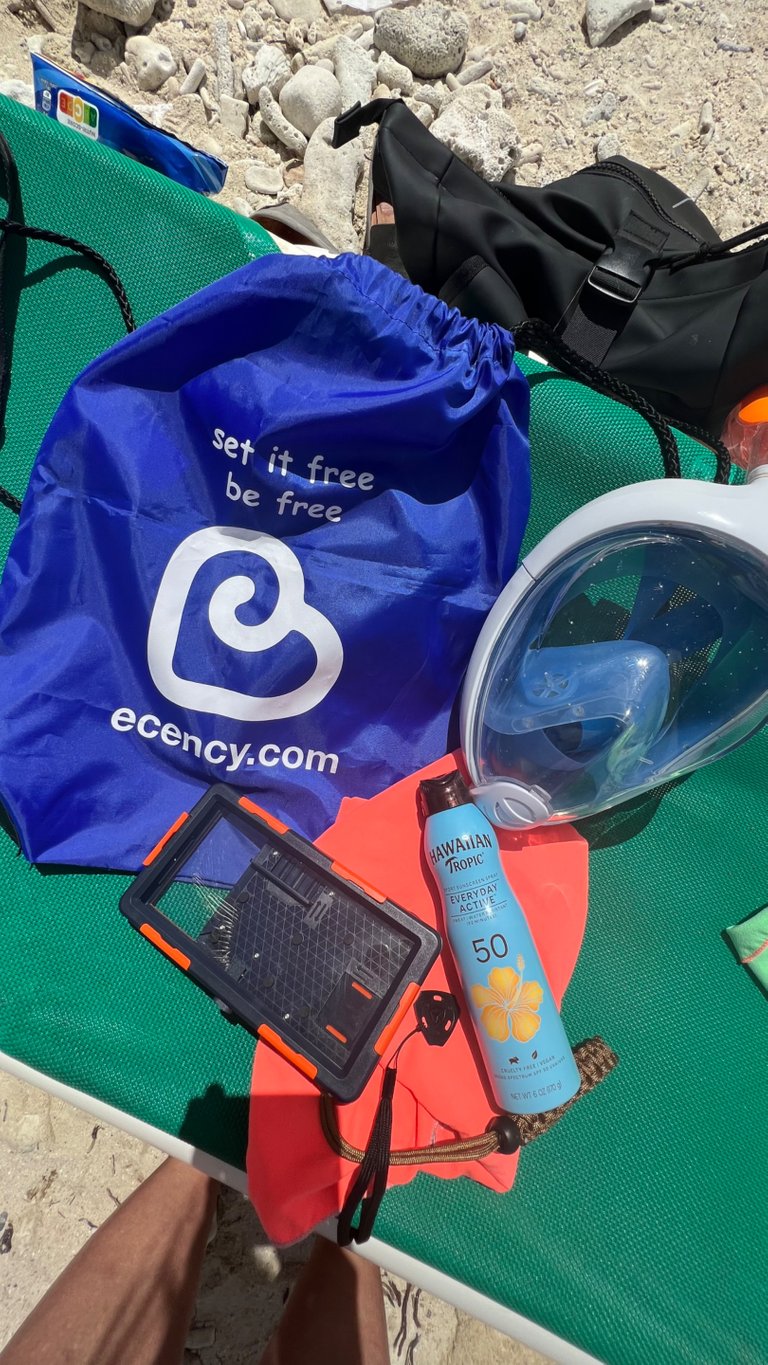 I love the ocean. I also have my diving licence and whenever under water the silence is soothing and you became one with them living there.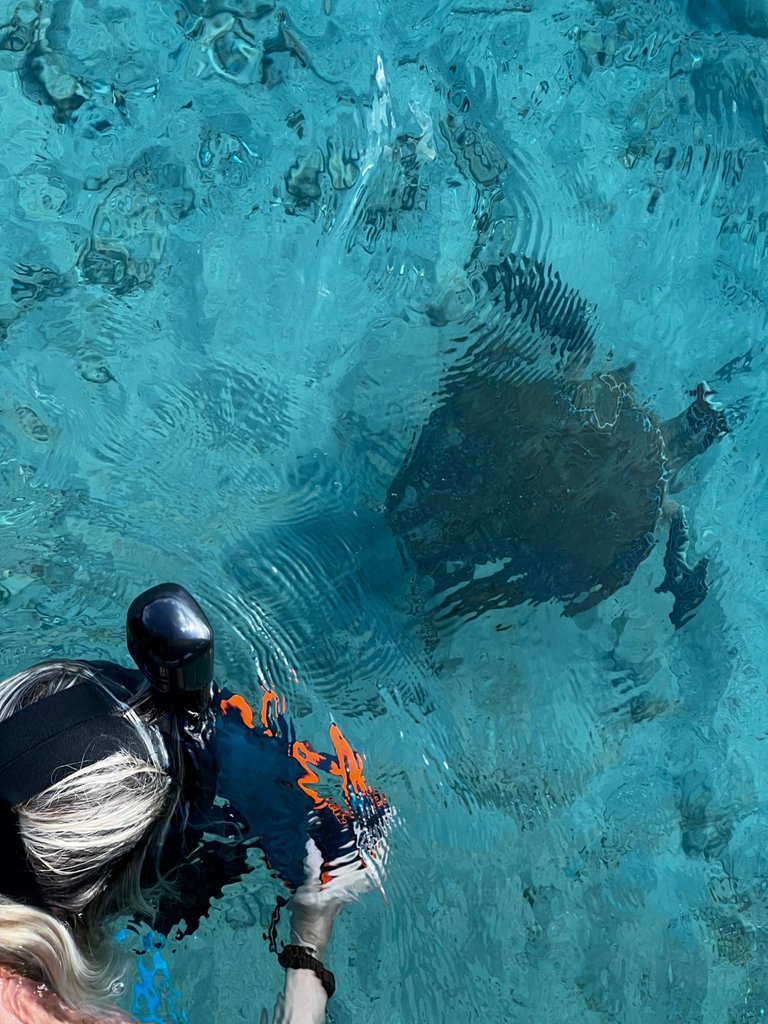 This is me in the water with the camera. Here the water is shallow so I am
On the surface but with teh case and mask it's also possible to dive deeper in the water.
Yes the blond is me !!
The turtle is not!!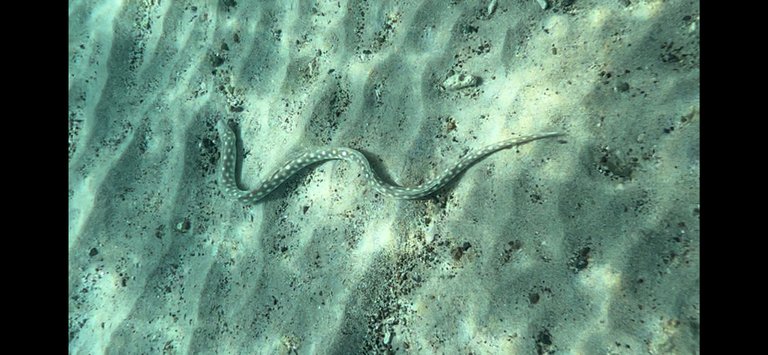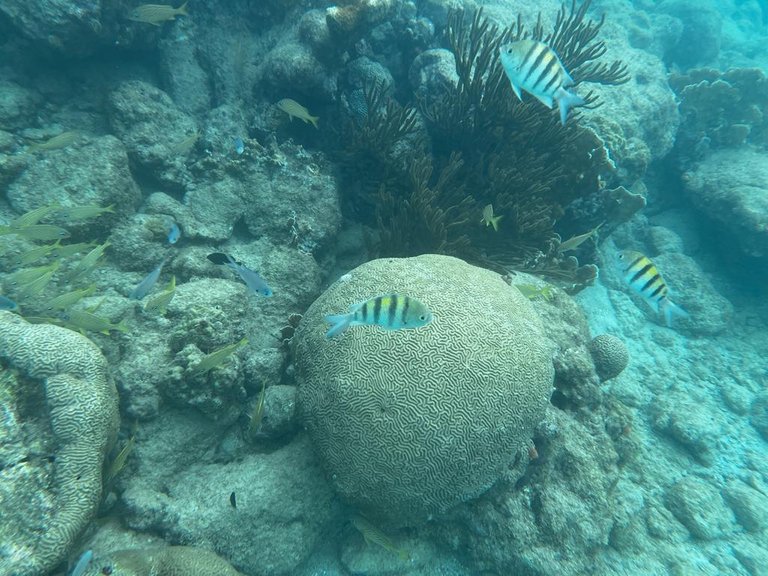 I bought a handle to screw in the device and that is easier to hold on to for when the kids use it and it's safer because it has a second strap attached.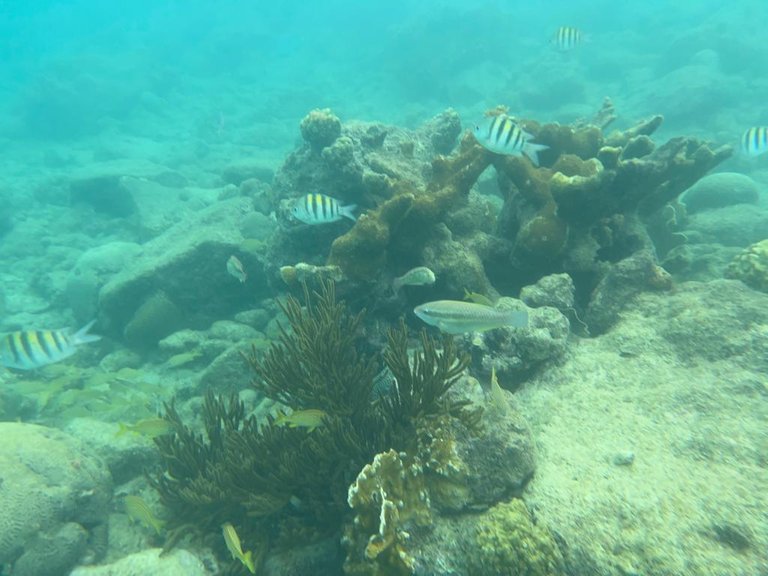 The water was not clear in all the places but tide was the main reason. I will share some of the pictures here and will use some in a animal of Curaçao blog. I made them myself. I used a full face mask and sometimes I wear fins but some beaches are not accessible with fins just by jumping or diving in the water so that said. The underwater world here is gorgeous.
https://peakd.com/hive-124452/@brittandjosie/i-bought-a-telephone-photography-shell-case-for-diving
Ofcourse I pinned it on pinmapple and grote knip is the place that you need to put on your to do list while you are there on Curaçao. On some beaches you only pay for an umbrella and a sun bed. Others also have a few for entering the beach but that's a gulden or two. And with that money they preserve the beach and keep it clean. In my opinion teh best way to nee everything neat. Ofcourse there are bins so everybody could also troe away the garbage themselves!
Fish / sea mammels seen:
Rog
Parrotfish
Turtle
Murene
Sea snake
Redfish
And all other sorts of small fish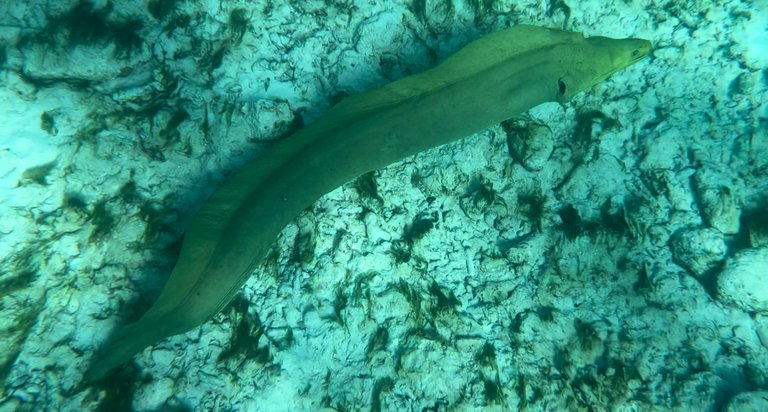 The yellow greenish murene and the black little fish.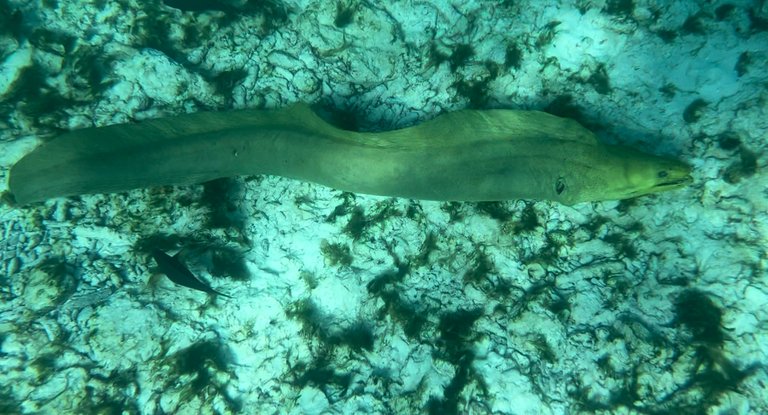 Next time I will order this card for the kids. They also sell Logbooks l.
There you can tell the place, the coordinates of you will, the fish, the way to enter the water and the amount of fish or mammels seen. For diving I have that but never thought to have one for snorkelling and the boys would have love that so that will be for the next time ordered for sure.
Documenting special things or amounts of fish is something they like and me aswell for the blogs I make afterwards. So that's on the wish list for next times travel.
It available by : scuba world, here is the site ~ https://www.scubaworld.nl/product/aquaview-viskaarten , they also have logbooks and water markers so the kids can note what they saw. Now they came up yelled what they saw and went under again. So that would be AWSOME to have aswel. Price is about 6 euros.
All pictures are made by me and there are more. I also took small videos and will share both in another blog about the under water life of Curaçao.
We snorkelled in many places on Curaçao, the sun turns apparently and so the colors of the water in teh pictures will be different every time. Under water on your screen on your phone to me it looked like the same always but when reviewing all pictures that does seem different.
Also when you have glasses, then you cannot use a mask and to see the screen and button to film of photograph is difficult to operate. I don't wear glasses but if you do this product might be not want you need.
I saw many people with a go pro on a hand stick handle. Much pricier but maybe an alternative for others.
My review on this product is :
price and quality are great
easy to acces with the special opener
But you need to put that on a cord and have it attached.
salt water needs to be rinsed off after use and dried out of the sun.
a must have when you have a phone and go snorkelling
Until we read again, Thanks for stopping by,
its appreciated and remember always focus on being creative instead of being bee-zy.
Consistent Actions Create Consistent Results.
Not everyone is a blogger but everyone has something great to offer.
Lover of Life and L❤️ve in General - @brittandjosie

I am a proud member of DISCORD #theTerminal
#ladiesofhive and #amazingnature but also
Co founder for @theterminal, @heyhaveyamet @rc-assist and @steem-aide
(c)
All images and photographs are created and owned by me so @brittandjosie originals otherwise it will be specified.
Made with phone and underwater shell case
Ordered online and blogged on before
Link to teh blog is in this blog
Sources used : It is mentioned in my blog.
Pinmapple for the pin
Scuba world for the fish map
https://www.scubaworld.nl
Bol.com ~ for the masks bought before we left
When the source is missing, please tell me I am only human and don't want to do anything wrong or even plagiarise. I do make mistakes. I only use a canon camera and my iPhone 13 pro max for my images.
I would like to thank you for reading my blog, feel free to leave me any feedback, if not, read you next time. #BENICE

Your personal Discord terminal invite : https://discord.gg/XZGPGpz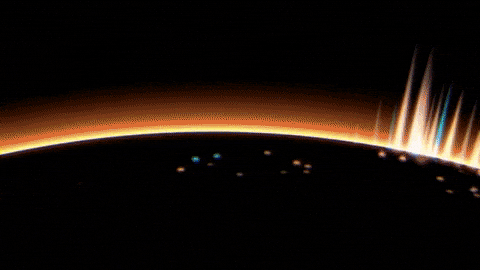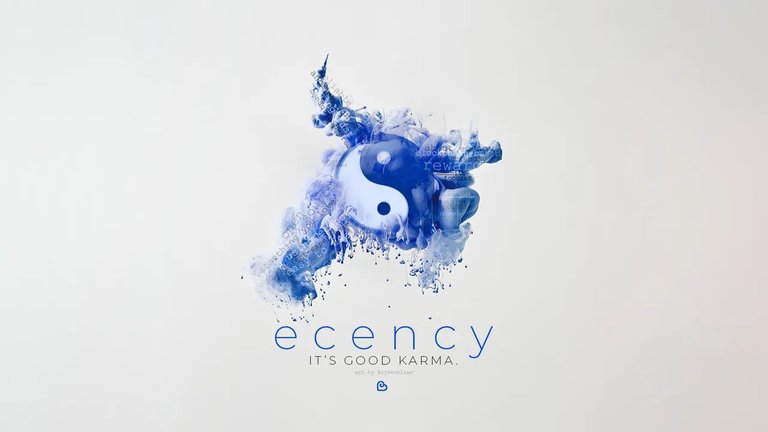 Date : 8 january 2023 Curaçao
---
---